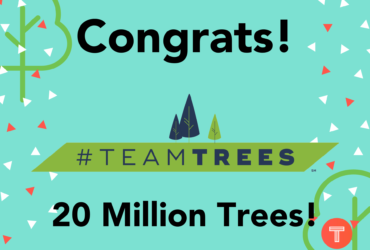 In case you haven't heard about it, #TeamTrees is the viral global phenomenon created by YouTuber MrBeast in late May 2019. The idea was simple but powerful: for every dollar donated, #TeamTrees will plant a single tree. Their goal was to raise $20,000,000 by the first day of 2020. 
The idea was pitched to MrBeast as he approached his 20 millionth subscriber. He had asked his followers to suggest a giveaway or prize for the lucky subscriber. Instead, his fans suggested that he save the planet by planting 20 million trees to celebrate the milestone. MrBeast spent the next five months organizing and on October 25, 2019, #TeamTrees was announced. 
What happens next? Who is planting the trees?
The proceeds from the fundraiser will be given to the Arbor Day Foundation. Since 1972, the Arbor Day Foundation has been encouraging the replanting of forests, improving urban quality of life through the "Tree City USA" community program, and delivering new trees to help communities affected by natural disasters.
A Viral Project from the Intersection of Influencer, UGC, and Media.
#TeamTrees showcases the combined power of Influencer and User Generated Content. The initial project was the brainchild of MrBeast, a YouTuber. He activated his community of YouTubers, streamers, and content creators to begin the initial push. 
Away we go! #TeamTrees

— TeamTreesOfficial (@teamtreesofficl) October 25, 2019

The initial launch was initially drive by YouTubers and their communities. But the cause was swiftly taken up by the digital elite. Elon Musk made his $1M donation "For Treebeard". This was followed the very next day by Tobi Lutke, exceeding Musks's donation by one dollar. (His was made "For the Lorax".)
Ok, sounds legit, will donate 1M trees

— Elon Musk (@elonmusk) October 29, 2019

Good idea. OK Boomers, on behalf of 1,000,000 Shopify merchants and my own defunct snowboarding store, I'll donate 1,000,001 trees. @MrBeastYT @elonmusk

— Tobi Lutke 🌳🌲 (@tobi) October 30, 2019

The original spike in traffic set the tone and created momentum for the entire project.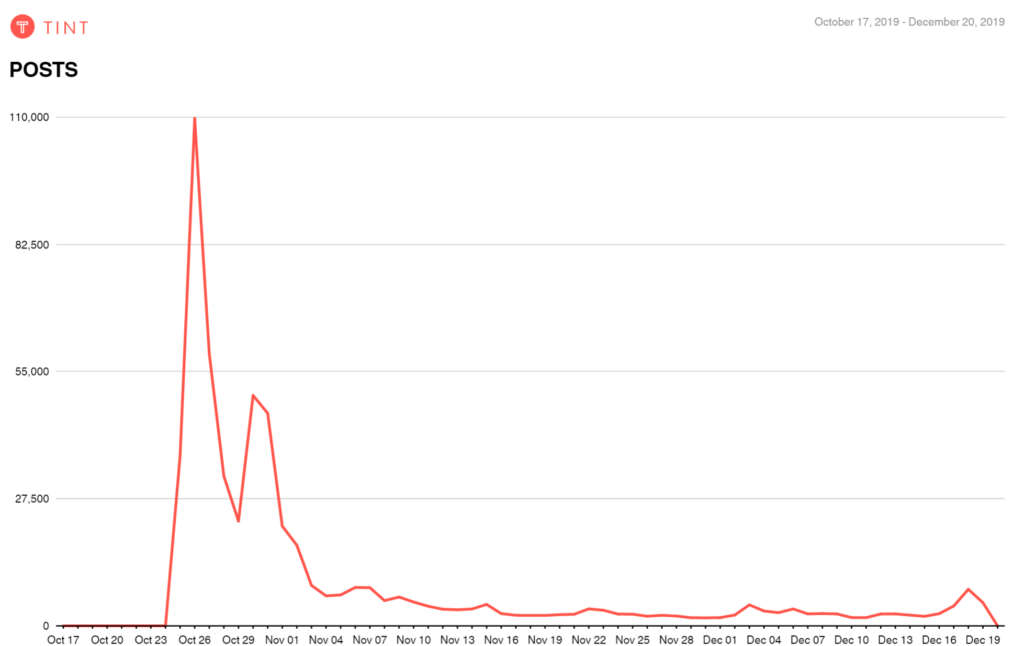 The funds collected grew proportionally as awareness of #TeamTrees grew. The top contributors may include some familiar faces. 
Top Contributors
Tobi Lutke
CEO, Shopify
 $       1,000,001
Elon Musk
CEO, Tesla
 $       1,000,000
Marc Benioff
CEO, Salesforce
 $          900,000
Plants vs. Zombies
Video Game
 $          500,000
Scott Chacon
Technology Evangelist
 $          250,001
ELF Development
Real Estate Company
 $          250,000
Susan Wojcicki
CEO, YouTube
 $          200,000
Jack Dorsey
CEO, Twitter  / Square
 $          200,000
Jack Dorsey
CEO, Twitter  / Square
 $          150,000
Bitcasino.io
Online Gambling
 $          101,101
Discovery Channel
Media Company
 $          100,200
Jean-Michel Lemiuex
CTO, Shopify
 $          100,100
Pewdiepie
YouTuber
 $            69,420
The people driving the conversation on social media were a potpourri of YouTube personalities, traditional media, and mega-influencers.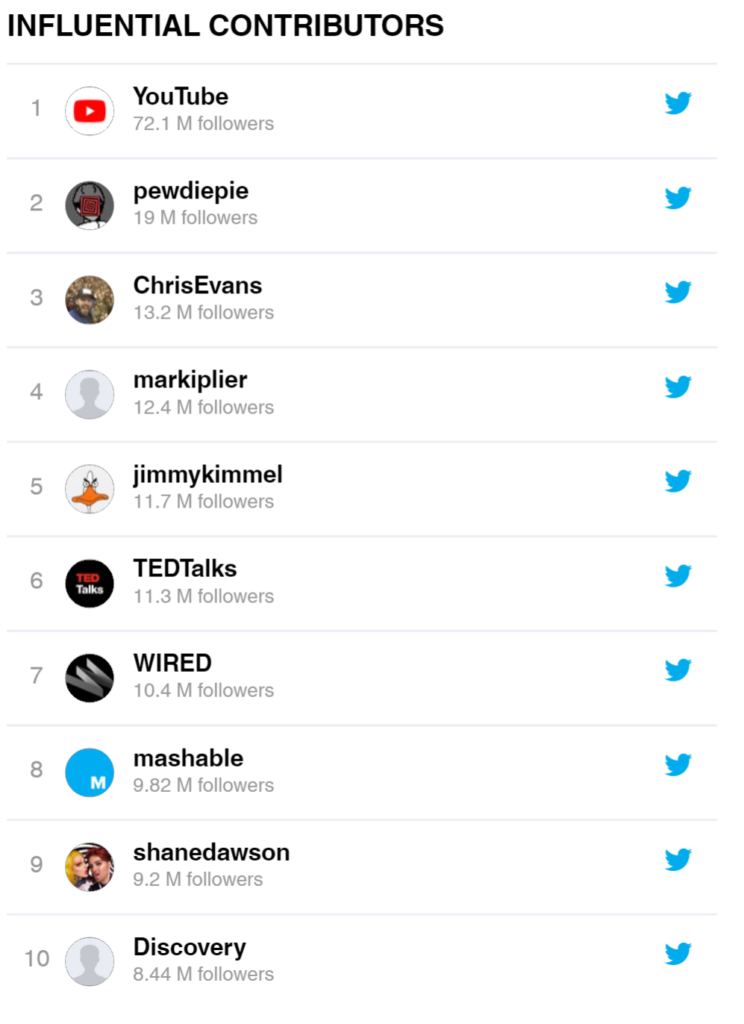 TINT's Humble Contribution to the Global Effort
As #TeamTrees prepared to launch they looked for a partner that could help them showcase the inevitable deluge of content that was to come. With just a week to launch, TINT partnered with #TeamTrees to be their social display tool of choice and contribute to the efforts to plant 20 million trees. The TINT website embed in place, the content began to flow. Since its creation, their social feed has processed some impressive amounts of content. 
Social items Ingested:
530,000+ Tweets
26,000+ Instagram Posts
220 YouTube Videos
This amount of content comes with a massive amount of eyeballs. Tweets and posts alone garnered over 4.6 billion impressions.  This sort of traffic was incredibly important to drive the conversation and establish the elements of social awareness that are conducive to developing any viral campaign. 
On the #TeamTrees home page, TINT has tracked more than 40.3 million unique visitors who have clicked on on-page social content over 920,000 times. This includes more than 215,00 "scrolls" where individual users perused the social feed before deciding to contribute.
Highly Curated Content
As with any social-driven campaign, there will always be naysayers and people attempting to ride on the coattails of the activity. This necessitates a social tool that can highly curate that traffic. On the #TeamTrees homepage, at any given time, there are only about 250 pieces of content displayed. This represents less than .0004% of the total content ingested. Content displayed must be engaging, meaningful, and drive action. Using TINT's curatorial toolkit, #TeamTrees ensured that only the best content floated to the top. 
Congrats #TeamTrees!
We're excited, pleased, and absolutely ecstatic that you've hit 20 million trees! It has been an honor to play a small part in this cause and appreciate you working so hard to save our planet.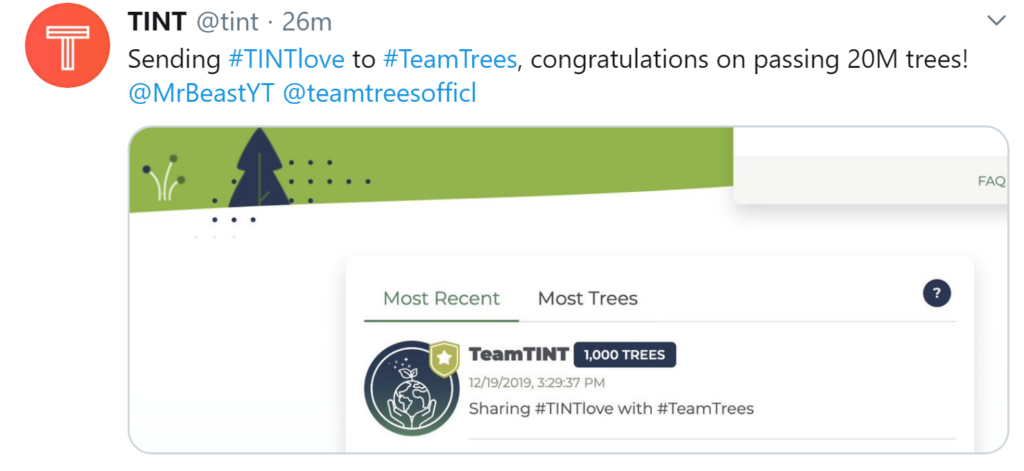 Sending #TINTlove to #TeamTrees, congratulations on passing 20M trees! @MrBeastYT @teamtreesofficl pic.twitter.com/rbxu8wkqI6

— TINT (@tint) December 19, 2019