Tis the season of giving thanks and appreciating what we have. It's also the season of brands launching festive-focused Thanksgiving marketing campaigns to drive revenue, generate engagement, and build awareness.
So, with Thanksgiving just around the corner, there's no better time for us to reflect on some of the best, most inspiring marketing campaigns to ever have graced our presence at this time of year.
Sure, we're all about giving thanks to our friends and family, but we're also thankful for these marketing campaigns that have made us smile and got our creative juices flowing over the years.
1. Share a Coke's "drinkable" name cards
Beverage giant Coca Cola is renowned for its marketing campaigns. The launch of their viral Share a Coke campaign left marketers applauding.
And, after the mega success they generated from that campaign (it actually
increased consumption of the soft drink by 7%
), they decided to repackage it for Thanksgiving.
It was a simple notion: take the personalized bottles and use them as consumable placemats around the Thanksgiving dinner table.
Great idea, right?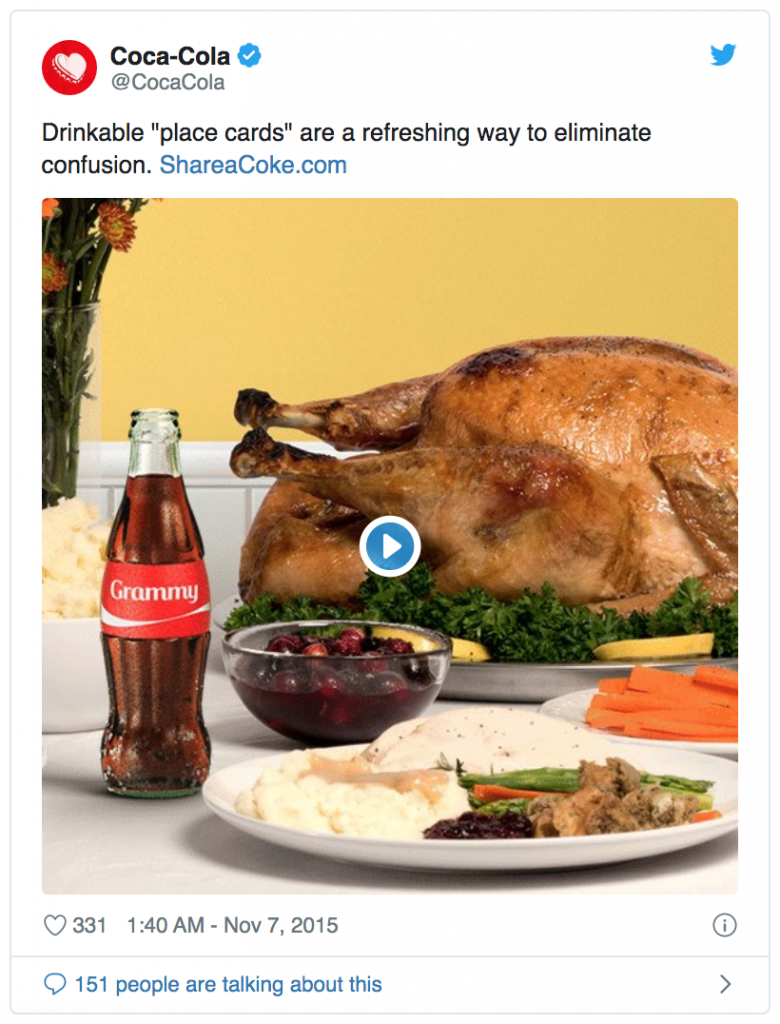 Along with the standard names that had been doing the rounds, Coca Cola added several other holiday-related tags for people that are familiar faces around the Thanksgiving table (we're talking bottles for "Grammy" and "Pops").
The brand encouraged buyers to hunt down bottles for the people who would be at
their
Thanksgiving dinner and share their experiences on social media under the #ShareaCoke hashtag.
The simple but effective campaign was rolled out across Coca Cola's social media channel and was supported by the use of hashtags, user-generated content, videos, and GIFs. All of these came together to create a fun vibe – the kind of vibe, perhaps, that you might like to replicate around your Thanksgiving dinner table.
The outcome of the campaign was 16,000 engagements on Instagram alone.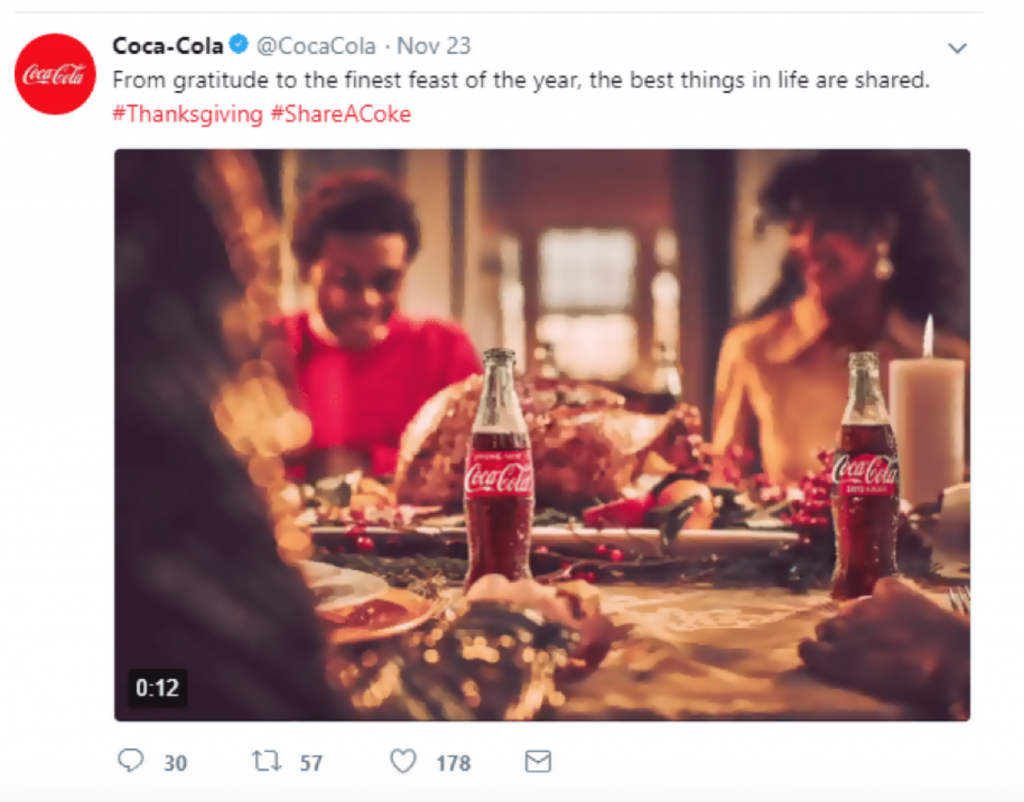 Why We Should Be Thankful For This Campaign
Coca Cola taps into the real emotion of Thanksgiving – spending quality time with friends and family. The campaign isn't an overt advert for the drink; instead, it focuses on the sentiments behind the drink and the value that Coca Cola places on time with friends and family.
It's also an incredibly simple campaign.
There are no all-singing, all-dancing elements to it. Coca Cola has essentially taken one of their previous successful campaigns and reworked it in light of what Thanksgiving is all about.
Thanksgiving Takeaways:
Don't feel the need to create a campaign from scratch just for Thanksgiving. See how you can rework past campaigns with a holiday twist

Encourage audience involvement through social media and photo sharing under a designated hashtag

Think about what values your brand and Thanksgiving have in common and bring those out in your campaign
2. HotelTonight's Visit, Don't Stay Campaign
Let's face it, Thanksgiving is a bit like Marmite – you either love it or hate it.
For some people, it's a magical time of year for spending time with family, eating delicious food, and having fun, but for others it means begrudgingly spending time with people you try and avoid for the rest of the year.
HotelTonight did something a bit different with their Thanksgiving marketing campaign and focused on the people who aren't such big fans of the holiday.
The last-minute hotel app encouraged its audience to book last-minute stays in hotels for Thanksgiving rather than bedding down with family. The sentiment behind it was that Thanksgiving is a time for treating yourself, and staying on an old, semi-deflated air bed was definitely not that.
Through a series of images and videos, HotelTonight promoted the notion of "visiting, not staying" on Thanksgiving, guiding people towards its app to book a last-minute stay if the thought of setting up camp in the spare room at great grandma's house is too much to bear.
At the centre of the campaign were a selection of posters featuring caricatures of common family members and splashed with quotes like
"Ready for Aunt Mary's annual charades tournament? This holiday – visit, don't stay"
and
"Grandma's ready. So is your 'guest room'. Here's another thought: visit, don't stay."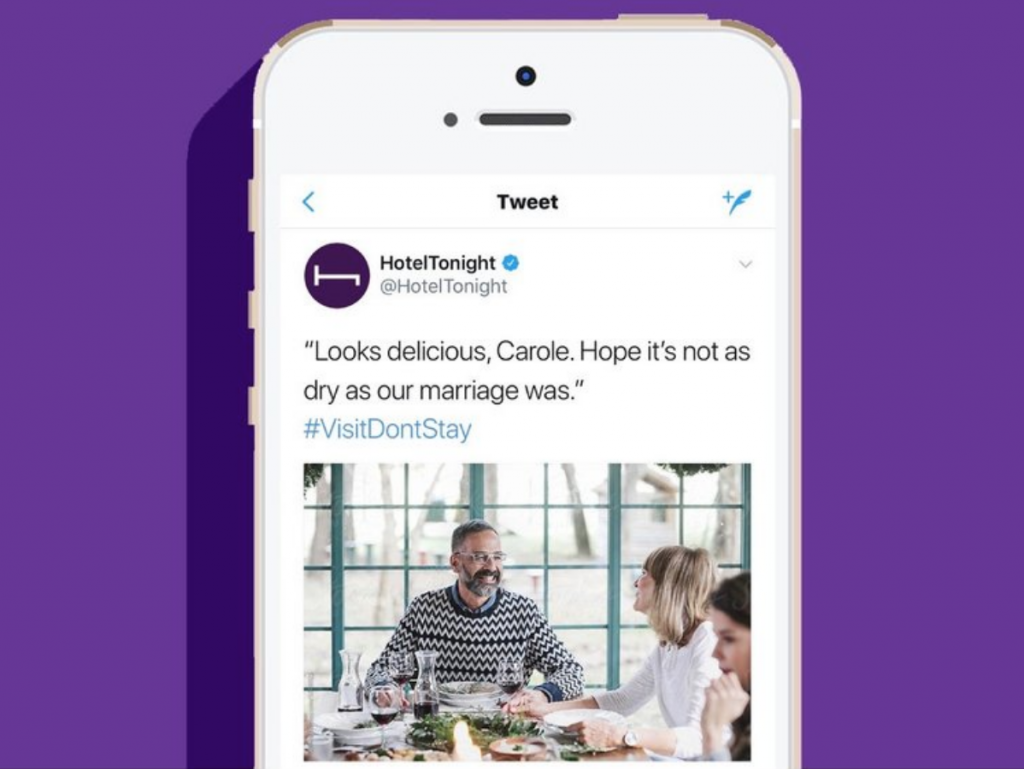 These were shared alongside tongue-in-cheek social media posts to keep the buzz around the campaign going.
Why We Should Be Thankful For This Campaign
Not everyone is a fan of Thanksgiving, and HotelTonight really connected with their audience based on this. Instead of giving into the curated image of Thanksgiving that the media has created through soppy holiday films, the brand put together a campaign that
truly
resonated with people.
It provided the perfect solution to a problem that thousands of people face at Thanksgiving: how do I enjoy my family but then get away from family members when I've had too much of them.
Thanksgiving Takeaways:
Don't give in to holiday trends. You don't have to go all glitzy lights, Christmas trees, and happy smiling families sitting around an uncarved turkey

Provide a real solution to a real problem that people have

Add a dash of humor to your campaign – make light of the situation to make your campaign as relatable as possible
3. The Artisanal Hipster Pilgrim by Stove Top
Stuffing is a stalwart at Thanksgiving dinner, but that's pretty much the
only
place you see it. For the rest of the year, it's relegated to the pantry, waiting for the one day of the year it's celebrated to come back around.
For a brand like Stove Top, a company that makes and sells stuffing, this is a problem. In their Thanksgiving campaign, they encouraged the use of the festive food throughout the entire holiday season, which the campaign dubbed "stuffing season".
To do this, they introduced "Artisanal Hipster Pilgrims", a series of Millennial-influenced characters who were on a quest to share Stove Top stuffing outside of Thanksgiving dinner.
The Artisanal Hipster Pilgrims appeared in a series of videos, print ads, and Stove Top even created an Instagram account dedicated to their new character.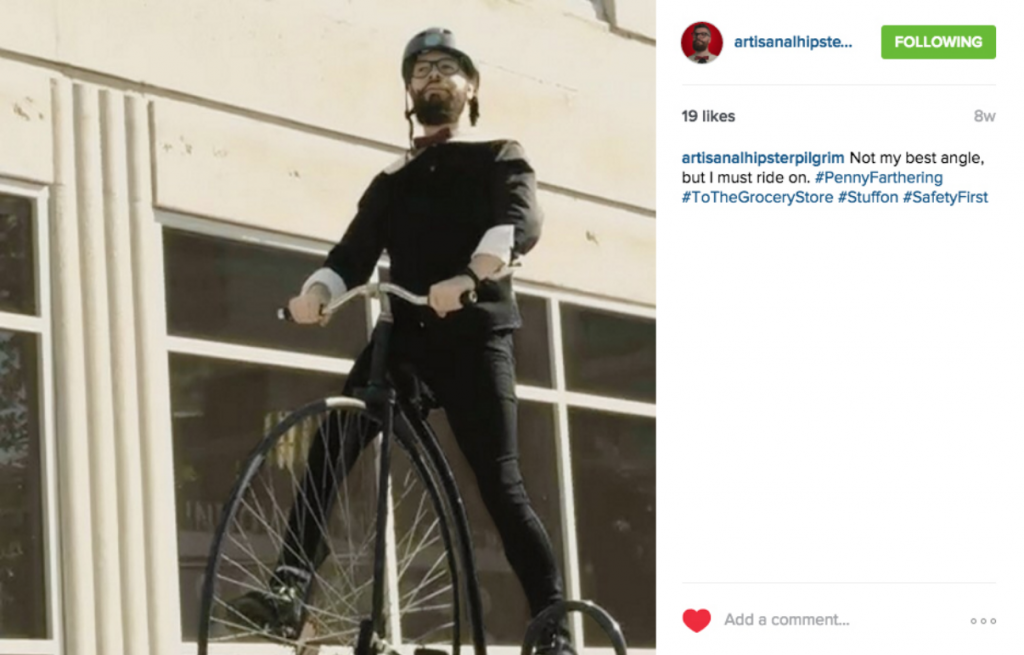 The campaign
resulted in 10 Facebook video
s which, altogether, generated over 4.7 million views. The designated Artisanal Hipster Pilgrim Instagram account acquired over 900 likes and an engagement rate of 5%, while four YouTube videos generated 35,000 and Stove Top's Twitter account doubled its number of followers and increased community mentions by 2,700%.
Why We Should Be Thankful For This Campaign
It's safe to say that Stove Top faced a tricky task trying to convince consumers to indulge in stuffing
outside
of Thanksgiving. But, through a dry sense of humor, tapping into the latest Millennial culture, and putting together engaging creatives, they managed to open people's eyes to the prospect of year-round stuffing.
The dedicated Instagram profile was a nice touch, as the platform is where the majority of Millennials hang out. Through this campaign, Stove Top has shown us that stuffing
can
and, more importantly,
should be
eaten at all times of the year.
Thanksgiving Takeaways:
Focus on one subset of your audience (like Millennials) and create a campaign specifically for them

Use humor to get your point across and to lighten up the topic of your campaign

Utilize all different mediums, and make sure you're engaging where your target audience is hanging out
Be Thankful For Creative Marketing Campaigns This Thanksgiving
The holiday season is, without a doubt, one of the busiest times of the year for brands, what with Black Friday, Cyber Monday, Thanksgiving, and Christmas to contend with.
The campaigns we've showcased here all have that little something special about them, whether it's a hearty dose of humor to tie into the frivolity of the festive season or go against the grain, like HotelTonight does with their anti-Thanksgiving campaign.
Regardless of whether these campaigns resonate with you
personally,
we can all be thankful to them for showing us how to think creatively and step outside the box when other brands stick to following the crowd.
We're here to help with your next holiday campaign. Speak with our team of marketing experts by
requesting a demo here