The Events Industry has never been stronger and event organizers will need to evolve to compete. The industry has seen an increase in the number of events, size of events, number of attendees, and overall spend on events. Special Events were estimated to generate almost $40 billion in direct spending in 2018 and held a sustained 2% rate of growth year over year. There are 4 Things Event Organizers must do in 2020.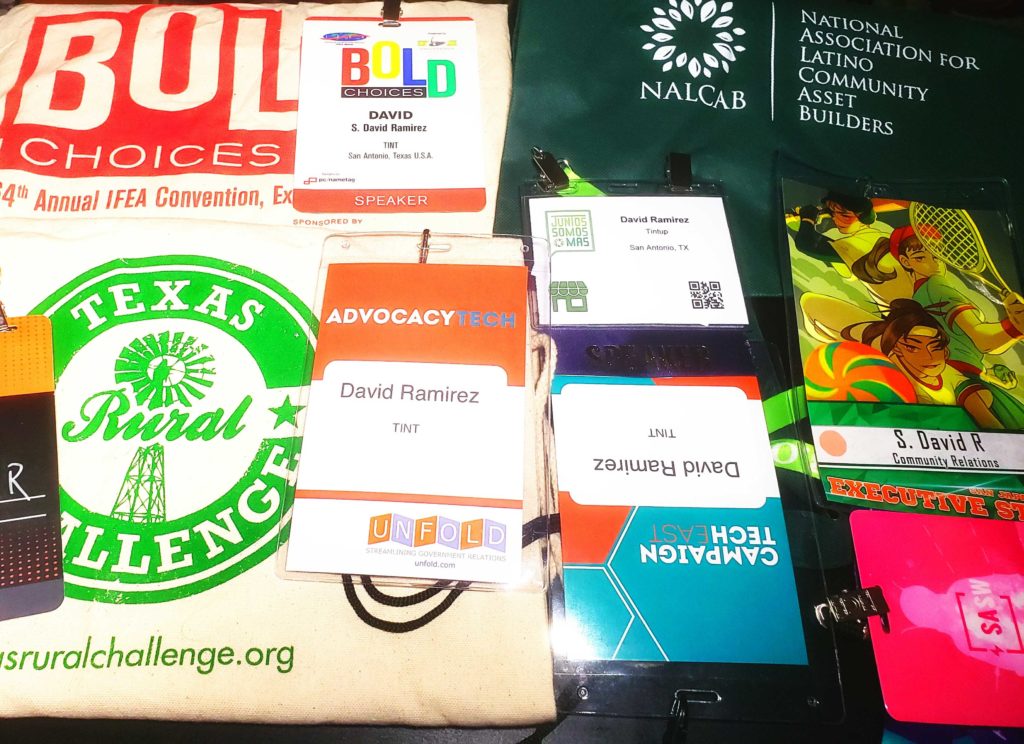 1. Create Better, More Meaningful, Swag
We've hit the tipping point on event swag. In 2018, the promotional products industry was worth over $24 billion. Conference swag is often the bane of event marketers' existence. The entire swag process is tedious and time-consuming.
The Swag Process
Ideation – Come up with ideas for the perfect conference item. 
Production – Source and contract a promotional services company to create the item. 
Receiving – Receive, store, and (occasionally) repackage the item. 
Outbound Transportation – Get the item to the event. 
Distribution – Organize, display, and refresh your event set up.
Inbound Transportation – Get the item back to the office. 
Storage – Inventory, store, and keep items stocked. 
Emotional Spiraling – Experience the turmoil of living in the neverending cycle of conference swag. 
Marketing and communications teams must invariably maintain a closet of endless branded pens, mismatched sizes of miscellaneous t-shirts runs, and boxes of last season's hot marketing item (undoubtedly, fidget spinners and pop sockets).
Instead, the thing events must do in 2020 is strive to create items that fall into one of two camps: Meaningful or Useful. 
Meaningful Marketing Swag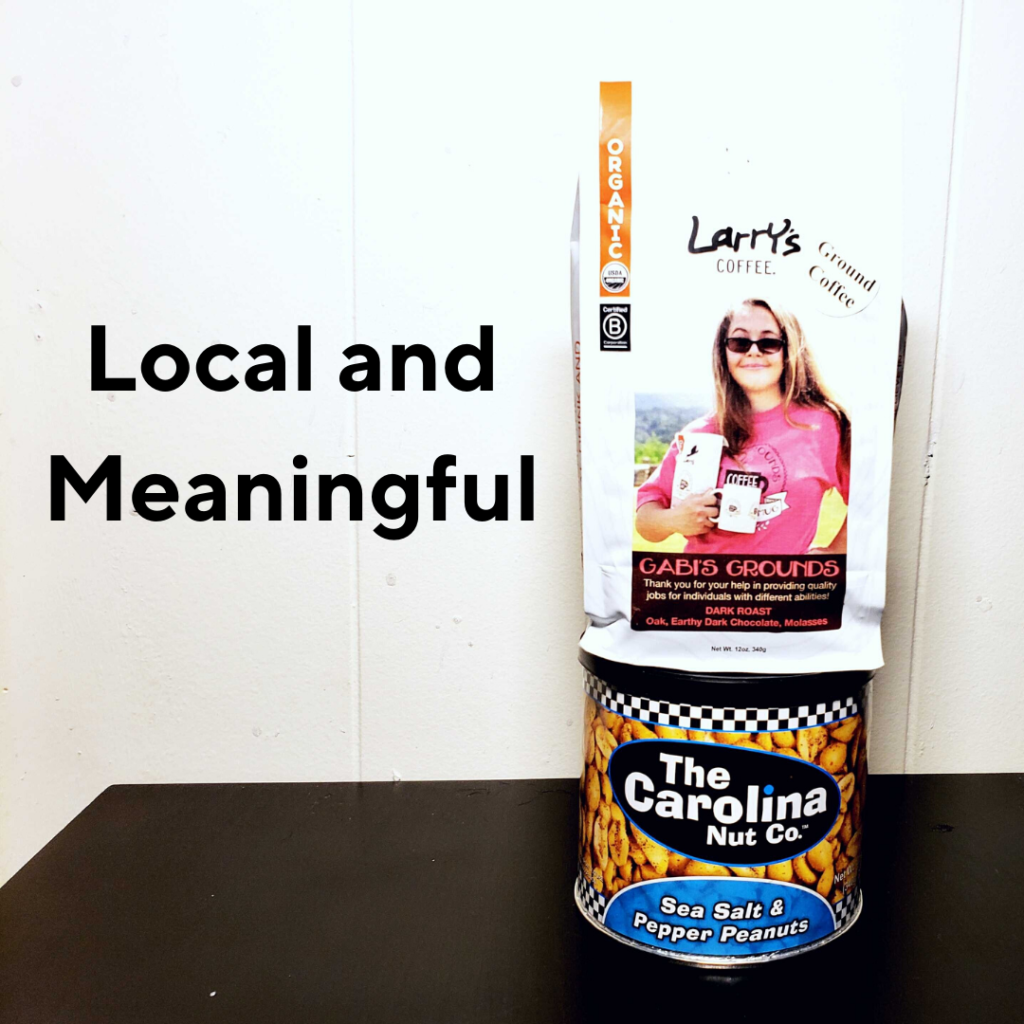 Recently, TINT attended a conference in Raleigh, North Carolina. The sponsorship team had swag bags for all exhibitors. We cringed, expecting the standard pens, stickers, and bottled water. Instead, we were delighted to find a North Carolina gift set. There were regional snacks, coffee from local roasters, and a local hot sauce. The vast majority of the exhibitors were not from the area so this swag bag was incredibly meaningful. The items were all consumables and packaged in a way that was conducive to travel. It was a great talking point when we got back to the office and obviously made an impact because we're including it in this blog. 
Think about how your marketing swag can be local, meaningful, and with a low environmental impact. All the food items were produced within 50 miles of the conference, meaning they have a much smaller ecological footprint than mass-produced stress balls that have been shipped from China.  
Connect with local vendors and seek out local artisans. Your swag will become meaningful, more ecologically friendly, and (most importantly) more memorable for your prospective customers. Creating meaningful swag should not be hard, but it does require work. 
Useful Marketing Swag
Meaningful marketing swag can be more expensive and harder to source. It can also be more difficult to buy in bulk which is necessary when attending some of the mega-conferences that have gained popularity in the world of tradeshows. When you're unable to be meaningful, you should instead be useful. Useful swag is more than just pens and stickers. We surveyed our events and success teams to discover our favorite items encountered at conferences around the world.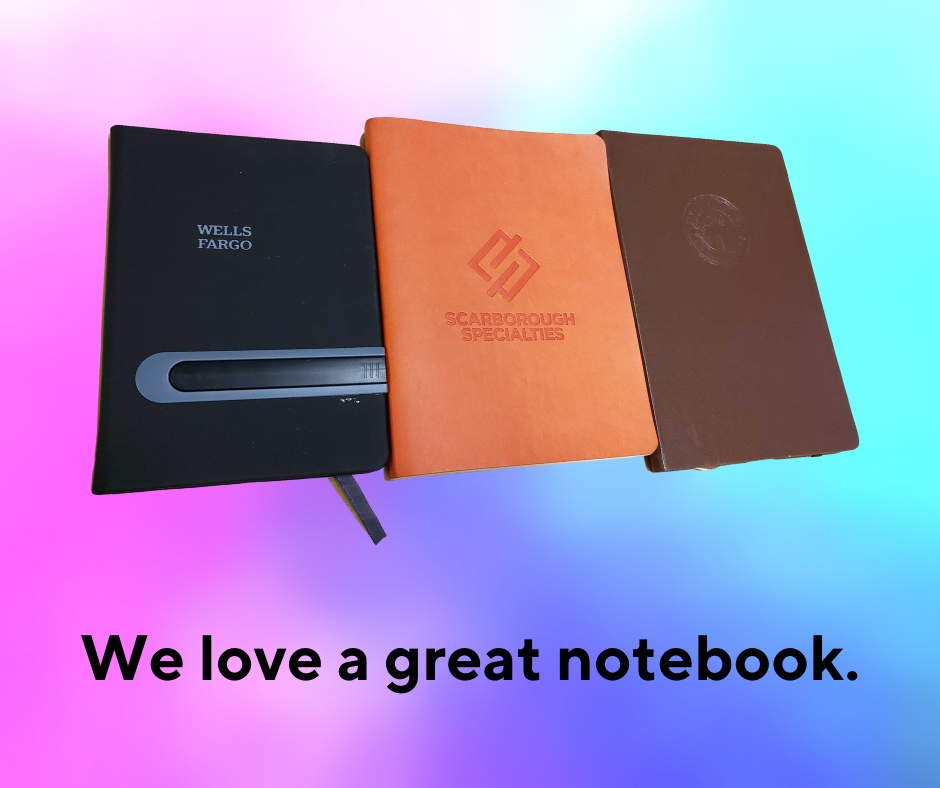 TINT's Top Useful Swag
Nice or unique notebooks
Laptop webcam covers
Power banks that can speed-charge
Headphones or airpod knock-offs
Hand sanitizer, sunscreen, or insect repellent sprays
Heavy-duty reusable conference bags (canvas or cotton)
Snacks and candy
Screen cleaners (spray or wipes)
TINT's Least Useful Swag
Pens and pencils (Particularly cheap ones that can break in luggage)
Charger cables or cable "squids" (they can steal data)
Thumbdrives, jumpdrives, or other memory sticks
Wooden coins
Cheap bags (plastic or nylon)
Cheap "grandparent" candy (no buttermints!)
Business card holders
This is not the end of swag.
We're not saying that this is the end of swag. We're saying that it is time to pivot from swag to chum. Kimble Bosworth, President of marketing promotions company On Target, put it best in her LinkedIn blog post. Swag is "Stuff we all get". Chum is used in fishing. You find the right bod of water and chum is the bait to find the perfect fish. Using that combination of useful and meaningful promotional products gets you a little closer to the right fish at the right time.
2. Diversity and Inclusion as the starting point, not the goal. 
Diversity and Inclusion (DNI) planning has advanced greatly over the past decade. The bar is moving higher and higher. Event attendees expect organizers to be woke. Meeting the bare minimum of state or federal law, like the Americans with Disabilities Act, is not enough. 
Attendees are looking for diversity and event organizers are responding. According to the Eventbrite 2020 Event Trends Report, 65% of event creators surveyed said that Diversity is an important focus for them while 85% know that promoting to a more diverse audience is key to growing their event. Knowing this, events should try to incorporate a full DNI strategy whenever possible. We've identified 4 tactics that Event Organizers must do in 2020 to support their DNI efforts. 
1. Promote Inclusive Language
If your attendees and stakeholders feel seen, they're more likely to engage. The easiest way to begin this journey is to start using inclusive language. Language is inherently nuanced. Try to be considerate of the "other". This includes using inclusive language in your marketing and using People-First-Language whenever possible. 
2. Add Pronoun Stickers or Ribbons
Pronouns are a quick and effective way to visibly showcase accessibility to gender minorities. There is nothing worse than misgendering an attendee or speaker. Pronoun ribbons are inexpensive and easy to incorporate into an existing registration process. 
3. Make Access Easy
Asking for accommodation can be difficult. You have to identify the right contact method and ensure that it is executed correctly. Event organizers will sometimes try to preempt access questions by making overly-specific or intrusive questions part of the event's registration process
Instead, clearly have a main point of contact for access needs and a dedicated page for any accessibility enhancement programs.  While planning the event, there are many possible accommodations to consider. 
Possible Accommodation Considerations
Neuro: Is there a quiet room or place for someone to decompress away from the noise?
Psychological: Is there a low-contact or low-tension way for people to ask questions of staff or presenters?
Dietary: Is there a way to request specific dietary needs beyond "vegan" or "vegetarian"? If there is not an option, can the organizer make a recommendation for food?
ADA: Does the organizer understand the difference between an ADA and ESA? Does the organizer ask appropriate and legal questions about animals?
ADA:  Are panel rooms, event spaces, and stages wheelchair accessible?
Gender: Does an attendee require a gender identifier to register? (Why?)  
Gender: When choosing a t-shirt or merchandise, do you use the binary "Male or Female" or can you use "masculine or feminine"?
4. Put Diverse People in Programming (And Not Just Diversity Panels)
The easiest and most visible way to support diversity is to incorporate diverse speakers or presenters into your programming. Content experts come in many shapes and forms.
"You can ask People of Color to speak at your event about things other than diversity," says Madison Butler, Recruiter and Diversity Advocate. 
This is indeed a possible issue for many events. Diversity is not represented by hosted diversity panels or "women in industry" panels or "LGBTQ+ in industry" panels. Diversity is represented by showcasing people of color, women, and LGBTQ+ individuals in all your programming. Beyond that, look to contract services with minority-owned businesses and book venues that treat their staff equitably. 
3. Stop Eventmaking and Start Placemaking
Simply defined, placemaking is the people-centered approach to planning, design, and management of space. People are tired of cement boxes, boring conferences, and formulaic events. Placemaking can reinvigorate a community and all of its stakeholders by incorporating innovative event design. 
The Project for Public Spaces identified Eleven Principles for Creating Great Communities in their 1999 book "How to Turn Places Around." Of them, 4 carry the most weight for event organizers. 
Placemaking Principles for Event Organizers
The Community is the Expert.
Start with the Petunias.
Create a place, not a design.
You are never finished.
1. The Community is the Expert
Listen to your events community. This includes all stakeholders like vendors, venue staff, and service providers. You should start with a historical perspective and work to understand the reason why events have succeeded (or failed) in the space. That establishes a clear starting point for your placemaking.
2. Start with the Petunias. (Low Cost, High Return)
Eric Reynolds from Urban Space Management recommends avoiding "mega-schemes" and working lighter, quicker, and cheaper. Think about inexpensive ways to create a major impact. Simple amenities make a major difference. 
Low Cost, High Return Placemaking
All-day beverage service (please keep your attendees caffeinated) 
Phone charging stations. 
Creative wayfinding inside and outside the event space. 
Area map that includes food, pharmacy, and hospitality.
Welcome materials preplaced inside event hotels and restaurants
A great example of low cost, high return is engaging with a "Show Us Your Badge" program. Some Destination Marketing Organizations incentivize event-goers to visit restaurants, bars, and attractions by creating discount programs and microsites. These are generally offered at no expense to the event organizers but it makes your attendees feel special as if the organizers had designed the program just for them. 
Notable Show Us Your Badge Programs
3. Create a place, not a design
Designs are focused on visual aesthetics while placemaking is concerned with how people will engage with a space. American architect Louis Sullivan, known as the "father of skyscrapers", coined the phrase "Form Follows Function".  As event organizers, this is more important than ever. Design your spaces for the people, then make it beautiful.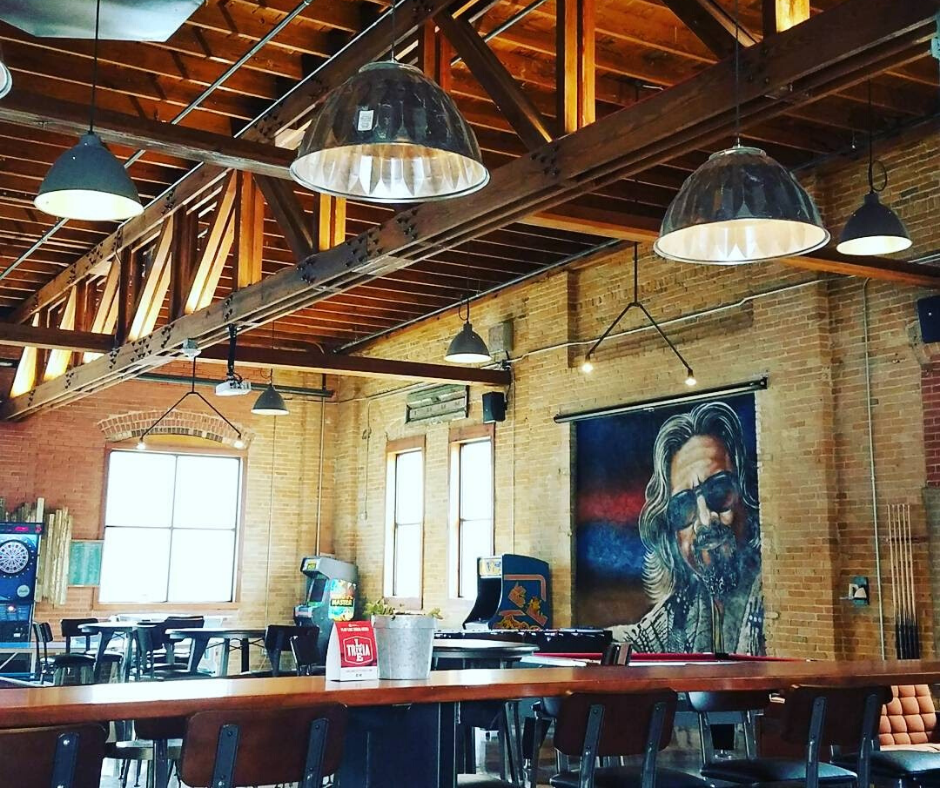 Questions to consider:
Who does this place serve?
What is the goal of this place?
Is this place accessible to all the communities within my attendees?
How does this space and layout contribute to the overall feel of my event?
How does this space contribute to the overall goal of the event?
Does the signage impede or obfuscate wayfinding in the place?
You are not the only event to take place inside any given venue. How do you make yourself stand out in the memory of your stakeholders?
4. You are never finished
Event organizers should practice some form of continuous improvement philosophy. Your event will never be perfect. There is always some room for improvement. 
Creating an environment conducive to improvement
Do mechanisms exist to allow staff, contractors, and attendees to make suggestions without fear of judgment?
Can ideas or perspectives make it to the leadership team without interference from middle management?
Is feedback collected in a variety of forms including anecdotal, qualitative, and quantitative?
Can you separate yourself from your event to provide critical feedback? 
4.  Social Entertainment over Social Engagement
Your attendees are already on social. They're on their phones, they're engaged. People love to post during events. Now you must push them to connect more deeply. Guide their participation with a clear strategy to not only activate but entertain on social media.
Social Activation Ideas
Social Wall
Let your attendees engage with speakers, share experiences, vote, and more by incorporating a social wall into your event. The best social walls will use existing projection or screens, requiring less A/V while still making an impact.

Make sure that your social wall is able to capture content from a variety of sources. Think about how attendees of different ages and backgrounds use social media. Each social media application has a core audience and your attendee base is likely intersectional. Also, be considerate of those who are not on social media. Is there a way for them to text to the screen or otherwise participate?
Scavenger Hunt
Scavenger hunts are fun for attendees and also drive traffic throughout an event. Coordinate with vendors, exhibitors, and programming to encourage visitors to have the full event experience. This is also a great way to drive participation of an event hashtag and get wonderful user generated content. 
Remember that gamification, like a scavenger hunt, is not for everyone. It is an engagement tool that requires an amenable audience. If your stakeholders won't engage, then don't use it. Some people attend events for specific purposes and won't be distracted by ancillary activations. Others will use activities like scavenger hunts as opportunities to network and relax from the often frantic atmosphere of tradeshows. 
Hashtag Wars
Coopetition, or cooperative competition, is the idea of people who work together for mutual benefit while competing against each other at the same time. Conferences unfailingly have factions within them. This could be geographic, topical, discipline, or other lines in the sand. Implementing a hashtag war is a way to productively redirect those energies into creating content and growing social engagement. 
Identify the competing hashtags early. If no factions exist, then make some up; dog people vs cat people, or rocky road vs. mint chocolate chip.  Share them with attendees and incentivize participation. Maybe the winner gets to break for lunch early. Maybe the losers have to wear a silly ribbon or hat. Finally, make sure that people can see the hashtags in action. This could be on social walls, website embeds, or microsites. 
—–
TINT helps events, big and small, to move from social engagement to social entertainment. TINT Experience Builder lets you create sweepstakes, start hashtag wars, and vote on your favorite user-submitted images from the event. Our full suite of event tools gives organizers access to social walls, multimedia mixes, and more. Chat with one of our event specialists and discover how TINT makes events better.