Users engage with only 5 percent of branded content versus 15 percent of sourced content. What's more, 51 percent of Millennials say they trust user-generated content (UGC) over branded content. The numbers are clear. People trust, believe, and respond to content produced by other people. Increasingly, digital out-of-home or DOOH media is helping brands leverage UGC within their marketing campaigns to bolster the impact of out-of-home advertising. Learn how you can boost your advertising impact from these five inspiring DOOH campaigns.
WWF Uses DOOH for Viral #EarthHour Tweets and Inspired Action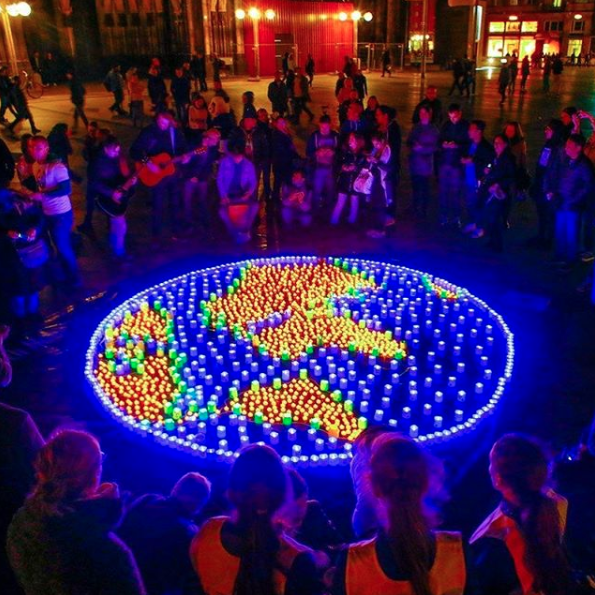 Conservation nonprofit WWF turned to social media and DOOH advertising to promote its Earth Hour event, an annual tradition where consumers turn off the lights at home for one hour to show they care about the planet.
To raise awareness of the Earth Hour event and increase participation in the United Kingdom, WWF used 140 LCD display screens to aggregate tweets tagged with their branded hashtag, #EarthHourUK. The digital displays showcased a rotating cast of tweets and images, with the help of UGC content aggregation platform TINT.
The DOOH campaign was a hit among consumers, who were eager to show their support for the planet and excited about the ability to have their tweets featured. It also raised awareness of the issue among commuters, to meet WWF's goal of raising public awareness of the conservation action and generating conversations among the general public of how they could take action to protect the planet.
This marketing effort was a new initiative for the environmental nonprofit, who wanted an innovative way to leverage social media on a public-facing scale.
The data speaks for itself. The DOOH campaign was extremely successful, with individuals from 178 countries who participated in the Earth Hour event.
While the general public participated by tweeting and dimming the lights for an hour, countries around the world also took unprecedented action to show their support of WWF's initiatives. In Paris, the Eiffel Tower went dark for an hour. In Finland, one-quarter of the country's population (an estimated 1.3 million people) held a candlelight vegetarian meal, an initiative intended to lower carbon emissions and result in a healthy way to combat climate change. In Ecuador, WWF leveraged the Earth Hour campaign to push a plastic-free initiative, in which plastic bags, Styrofoam, and other single-use plastics would be banned in Quito, the capital city.
WWF first captured public attention using digital out-of-home campaigns that featured user-generated content. Their social campaign piqued people's interest and led them to ask, "What can I do?" WWF had no shortage of suggested actions for this question. They leveraged public interest in Earth Hour to make a difference by directing people's attention toward concrete actions they could take to protect the planet, from eating less meat to ditching single-use plastics.
According to Talon Outdoor, brands that use DOOH ads in social campaigns, as WWF did, see campaign effectiveness increase by approximately 23%.
Hiscox Uses DOOH Ads to Boost Awareness of Cyber Threats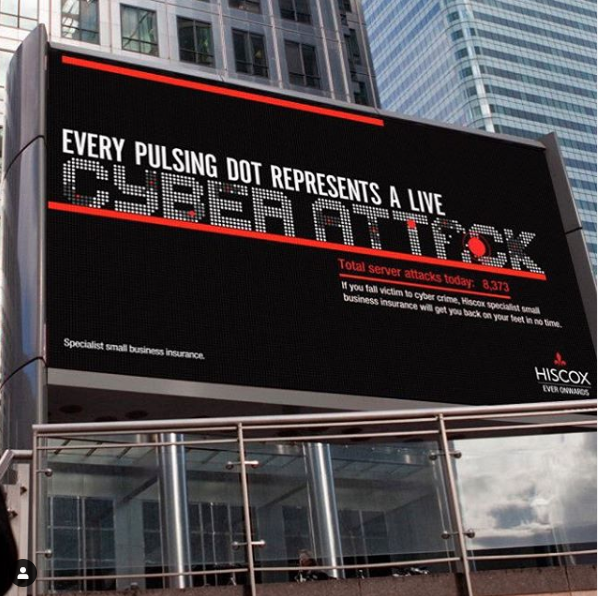 Cybersecurity is an issue that both businesses and individuals know they need to act on, yet resist taking action to protect their digital assets. Consumers may feel overwhelmed by their choices, or take a defeatist attitude in response to persistent hackers overcoming even the tightest security measures. Cybersecurity isn't the top-most priority for small business owners—who were the exact target audience for Hiscox's innovative take on UGC and DOOH advertising.
To highlight the need for a cybersecurity strategy, insurance agency Hiscox launched an intriguing DOOH campaign across the UK, with screens set along Glasgow roadsides and in popular destinations like London's Canary Wharf. By using DOOH in a range of locations, Hiscox could capture the attention of commuters, passersby, and the general public.
The intent of the campaign was to capture real-time data to demonstrate how many cyber attacks take place at any given time. To do this, Hiscox first set up honeypot servers, which are networked systems intended to lure hackers by mimicking high-value targets (such as servers with valuable user data). Hiscox then monitored the honeypots for attacks. Each time cyber security technology detected an attack, a red dot lit up on the DOOH screen to show where the attack was, in real-time. A separate counter kept a running tally of all the attacks detected each day, so viewers could actually see the extent of the problem. Since each red dot was connected to one data breach by a hacker, this campaign represented an unusual twist on UGC marketing. It relied on hacker user actions to run, yet the hackers who triggered the red dots were unaware of the user role they played in this UGC campaign.
The campaign ran for one week, where anywhere from 23,000 to more than 60,000 cyber breaches were detected in a 24-hour period.
The main goal of this unique DOOH campaign was to raise awareness using live data, and Hiscox was successful. The insurance company also wanted to have first mover advantage in this space by positioning their brand as the go-to insurance company for small businesses, who are historically least likely to be prepared for cyber threats. Bravo!
REI Expands Viral #OptOutside Campaign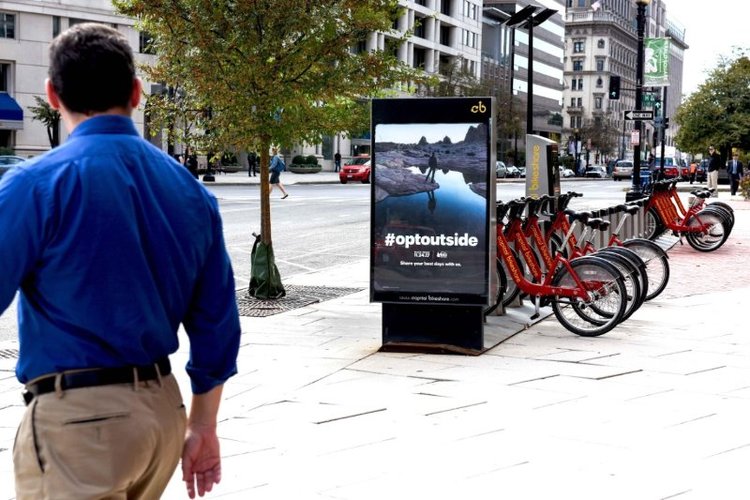 Outdoor brand REI broke the Internet with its legendary #OptOutside campaign, which started in 2015. In the campaign, REI announced its stores would be closed on Black Friday, so that employees could spend time outside rather than engaging in the commercial frenzy of Black Friday shopping. The campaign earned 1.2 billion social impressions and convinced 1.4 billion people to opt outside for Black Friday, sharing photos of their recreation on social media using the branded hashtag.
What's more, 150 other companies decided to join REI in their boycott of Black Friday, and many state parks offered a fee-free day to encourage physical activity.
REI invited user-generated content by asking brand fans to post images of their outdoor recreation by saying no to the post-Thanksgiving shopping craze and to opt outside instead. REI curates a UGC marketing library of social posts, where users can select their outdoor activity, upload their photo, and type a phrase that will be displayed with the image with a branded overlay.
While #OptOutside was intended as a seasonal campaign, the branded hashtag took on a life of its own as users adopted it throughout the year. This momentum gives REI a treasure trove of UGC marketing content that any other brand would drool over. While it may have started as a specific campaign, #OptOutside turned into a UGC marketing content hub for REI and continues to evolve.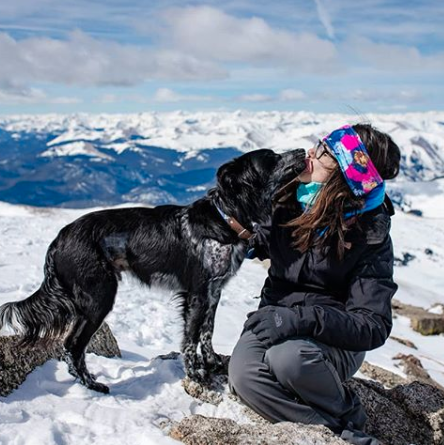 REI continued to push the #OptOutside envelope through a partnership with the University of Washington, where the brand pledged $1 million to study the health outcomes of spending time in nature and publish results in The Co-Op Journal, REI's digital storytelling platform. In an era where forest bathing has become a new trend, REI wanted to unite their UGC marketing campaign with scientific data on the beneficial effects of nature.
In 2018, REI also increased its outreach to new customers through DOOH and mobile advertisements. Working with Vistar Media, REI leveraged geospatial data to determine where brand fans and potential new customers would be throughout there day. REI then delivered targeted DOOH media to the predicted locations to keep the #OptOutside campaign top of mind. These tactics increased brand awareness by 14 percent and delivered a boost of over 3.6x in storefront traffic.
New Balance Uses AI for Fashion Week DOOH Stunt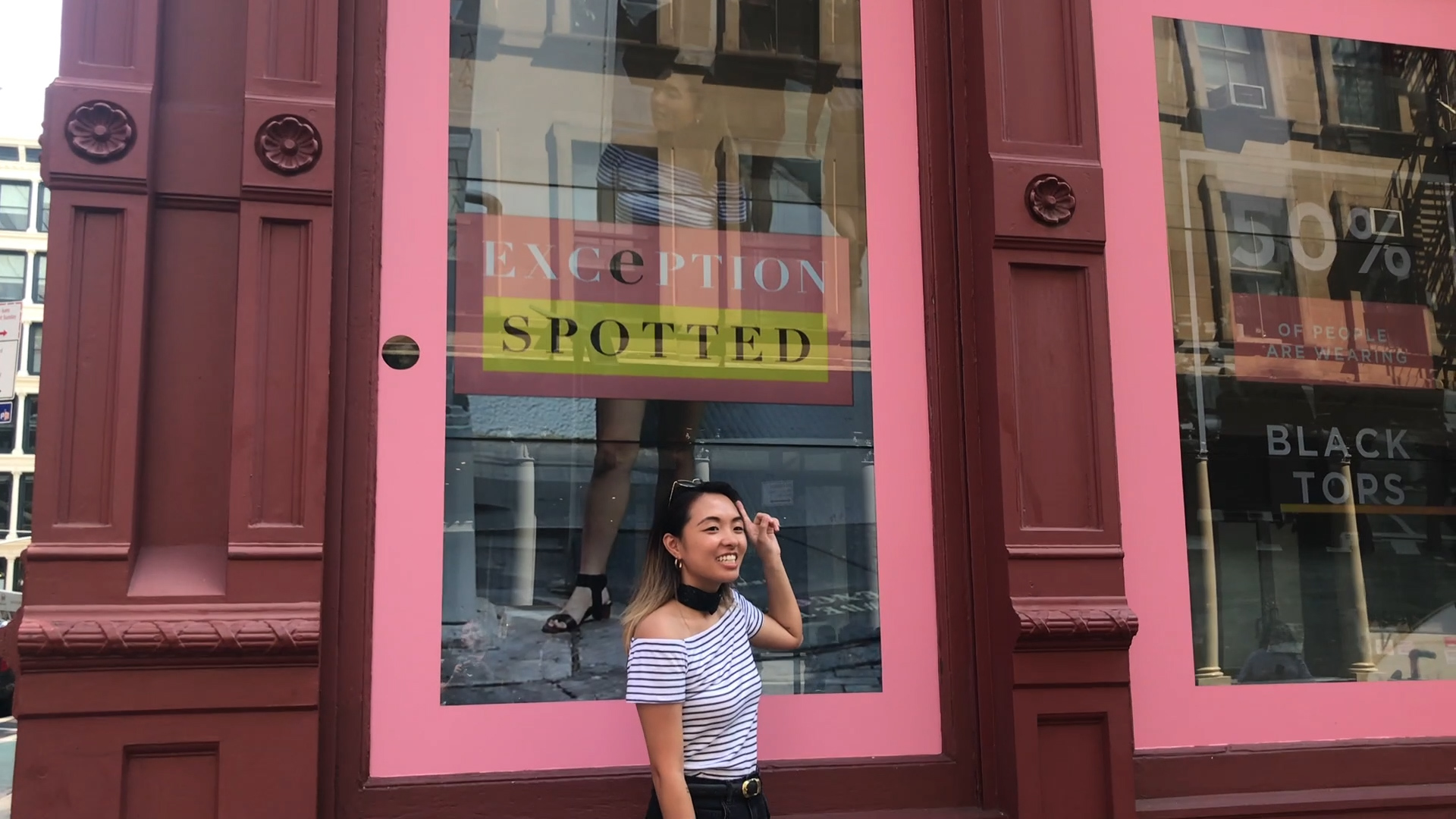 In New York, pedestrians became part of a DOOH ad campaign when New Balance combined artificial intelligence and digital display screens to highlight Fashion Week 2018. In the New Balance campaign, screen cameras monitored approaching pedestrians and used machine learning to decide whether their outfits were unique or interesting enough to capture on screen. If the AI decided someone looked stylish, the camera took their photo and displayed the winning outfit on-screen with the caption "Exception Spotted."
On the first day of Fashion Week, the New Balance team was on hand in the city's Soho district to watch the DOOH campaign unfold on screens. When the AI spotted an exception near the team's Soho tent, someone from New Balance would pop out, track down the stylish individual, and give them a free pair of kicks.
According to the footwear brand's marketing agency VML, the cost for the unconventional campaign wasn't much different from the cost of putting together a website. Yet the job involved unusual preparation, such as driving a mounted camera around the streets of New York to teach the AI what colors and styles New Yorkers typically wore, so it could spot exceptions.
While some consumers may scoff at the idea of being photographed without their consent, the creative team behind New Balance's DOOH campaign was quick to comment that all the information collected has been anonymized and that no personal data or facial recognition software was used. New Balance kept the data on NYC fashion trends and exceptions, which may inspire future footwear designs.
UNHCR Raises Awareness and Promotes Health With Multichannel #StepWithRefugees Campaign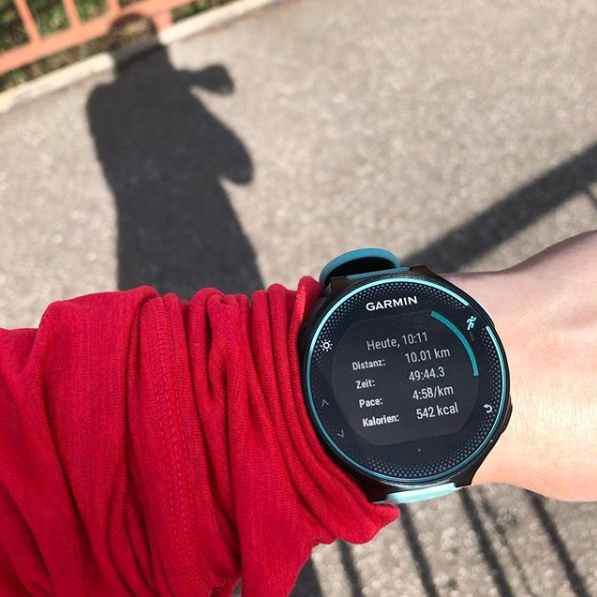 UNHCR, the UN refugee agency, recently unveiled StepWithRefugees, a website and fitness app to raise awareness of refugees while promoting health. The campaign intends to highlight the massive distance that refugees often have to travel to escape violence and instability in their home countries. While refugees may be traveling on foot, the general public is more likely to walk or run for recreation.
The omnichannel campaign, which has a social initiative that ties into fitness trackers, encourages users to "step with refugees" by registering on the website and connecting their fitness trackers or manually entering their user-generated data. The StepWithRefugees site displays the aggregate of steps walked with the goal of 2 billion kilometers to show solidarity with refugees.
The UNHCR campaign invites users to donate money to help refugees and raise awareness of the initiative by sharing the app with friends. Over 1.5 million steps have been logged on the campaign since its launch in January 2019.
A study from the UK revealed that DOOH ads are 2.5 times as impactful as traditional OOH ads, such as static billboards. As both the data and these inspiring examples show, digital out of home is growing in importance for marketers due to its unprecedented ability to engage consumers and encourage a stream of UGC marketing content to power authentic marketing campaigns.
DOOH is also evolving as UGC marketing and related technologies develop. Among the latest changes is the 5th generation of cellular mobile communication 5G, boasting rates 10x faster than 4G. Faster speeds and better bandwidth mean digital media loads faster, decreasing the lag time that causes a consumer to lose interested in DOOH ads.
Due to the fast pace of change in digital marketing, it's all the more important to identify trusted partners to help you execute your innovative campaign ideas leveraging the power of UGC and out-of-home consumer experiences. Don't overlook these powerful innovations in your authentic marketing strategy. Leverage TINT's DOOH solution to showcase your audience's UGC. Request a demo and opt outside!