You can't scroll through a single social media feed today without being greeted by a flurry of hashtags. That's the power of the trusty hashtag, one of the most integral parts of social media.
Their omnipresent nature means they are also pivotal in social media marketing campaigns. Not only do they expose your posts to more people, they help you garner engagement and start conversations.
However, it's no longer enough to pump out 30 generic hashtags and hope for the best. Instead, a successful hashtag campaign is all about finding the right hashtags and leveraging them to generate engagement and build and community.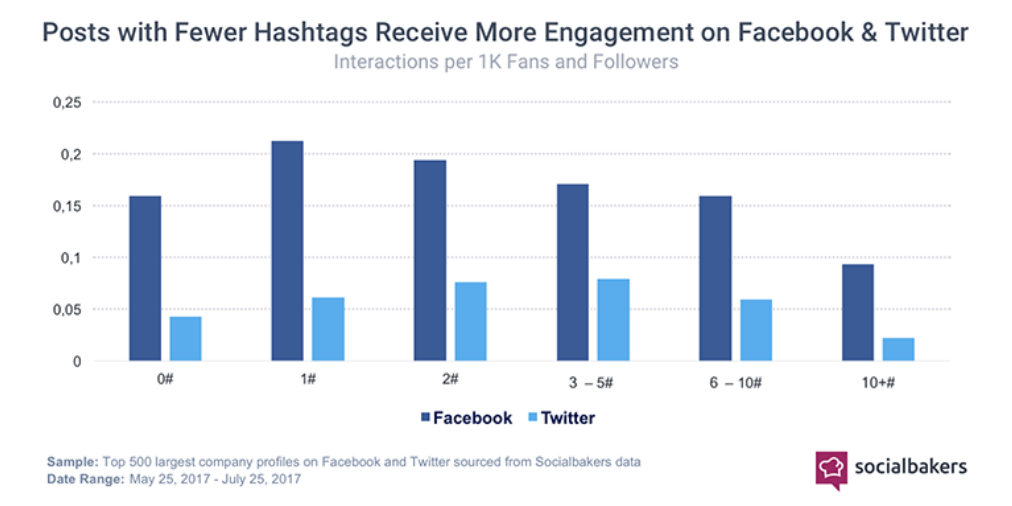 We've handpicked some clever ways brands have used hashtag marketing to reach their social media goals.
First things first… What Is Hashtag Marketing?
Hashtag marketing involves promoting your brand using carefully-researched hashtags to connect with a specific audience segment or to increase brand visibility in different verticals.
There are several important steps that go into creating a successful hashtag marketing campaign.
Research and find the right, relevant hashtags for your brand (you can use a tool or stalk the profiles of your competitors and see what hashtags they leverage the most)
Build content that supports the hashtag's niche audience (drive more engagement by joining conversations that are already happening under the hashtag or spark new discussions)
Monitor hashtag performance, to determine which hashtags are working the best for you
Optimize your use of hashtags so you end up only engaging in the ones that serve you and your audience best
Ready for some inspiration? Here are some of the best uses of hashtag marketing we've seen.
1. Hashtags as a Brand Movement
Lays famously crowdsourced ideas for new flavors using the hashtag #DoUsAFlavor. Their audience jumped at the chance to come up with weird and wacky flavor combinations, populating the hashtag with thousands of new conversations.
Once the brand had narrowed down their audiences' flavor suggestions to just three, they invited their followers to vote for their favorite – again, using the #DoUsAFlavor hashtag.
The hashtag eventually became an entire movement for the brand, which then launched a microsite around the campaign and continued to encourage people to share their flavor ideas long after the votes had been cast and counted.
How Lays' #DoUsAFlavor Campaign Boosted Engagement
The campaign encouraged users to get involved by using a topic that was simple, but that divided opinion and got people talking.
It riffed off of Marmite's infamous "love it or hate it" slogan, with social media users eager to jump in with whether they thought suggested flavor combinations were delicious or disgusting.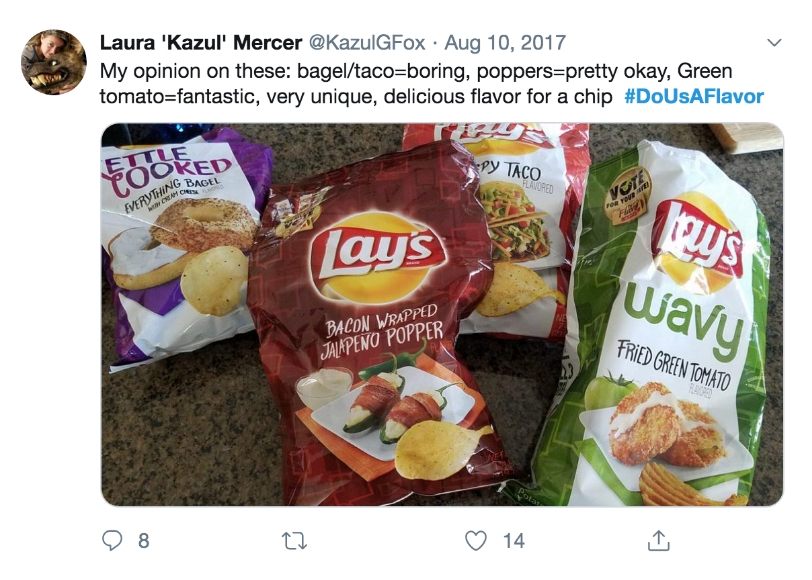 When Lays saw how much attention the campaign got, they expanded it further.
The act of listening to their customers and using initial engagement levels as a springboard to expand the campaign meant they ended up creating a whole subsection of their brand that had people talking for years after the event.
2. Promote Branded Hashtags With a Giveaway
It's no secret that we love to win – especially if we win something we really want.
Hashtag marketers have clocked onto this and, as a result, we've seen a swathe of enticing giveaways populating social media over the years.
Running giveaways not only means more people see your brand, but they also generate organic engagement, particularly if, like the majority of brands out there, an entry is claimed by "tagging a friend" or "sharing a post".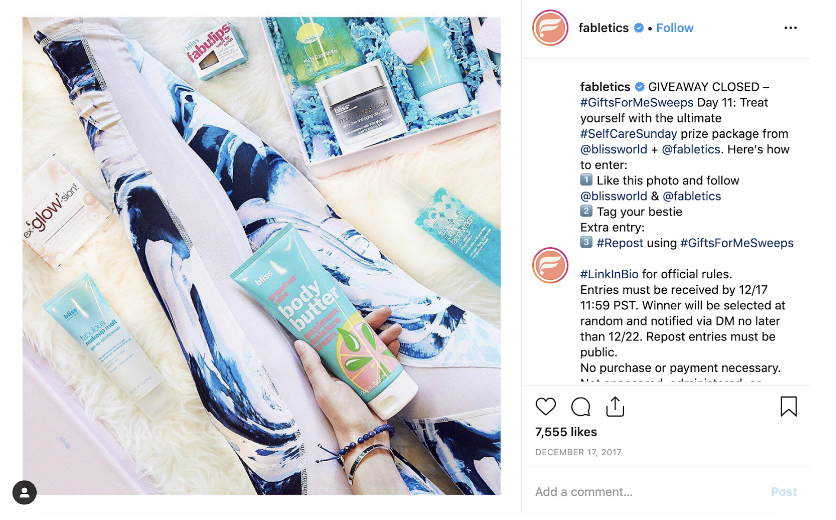 Fabletics is a veteran of running giveaways on social media. As part of their holiday campaign, they created a 12 day hashtag campaign called #GiftsForMeSweeps, where entrants could win different prizes every day in the lead up to Christmas.
To claim an entry, users had to like the accompanying photo, follow Fabletics on Instagram, tag a friend, and repost the image using the #GiftsForMeSweeps hashtag.
How Fabletics' #GiftsForMeSweeps Giveaway Boosted Engagement
To enter the sweepstake, participants had to engage on social, in almost every way, with the brand – they had to tag a friend, like Fabletics on Instagram, and repost the relevant image.
Not only that, but entrants had 12 chances to do this to win, which drove essentially 12x the engagement levels of the whole campaign.
3. Partner With Nano Influencers
The rise of the nano influencer has given brands access to incredibly niche and engaged audiences.
These influencers tend to have small followings. But, despite their low follower count, their fans are tight-knit and often hang on every word they say.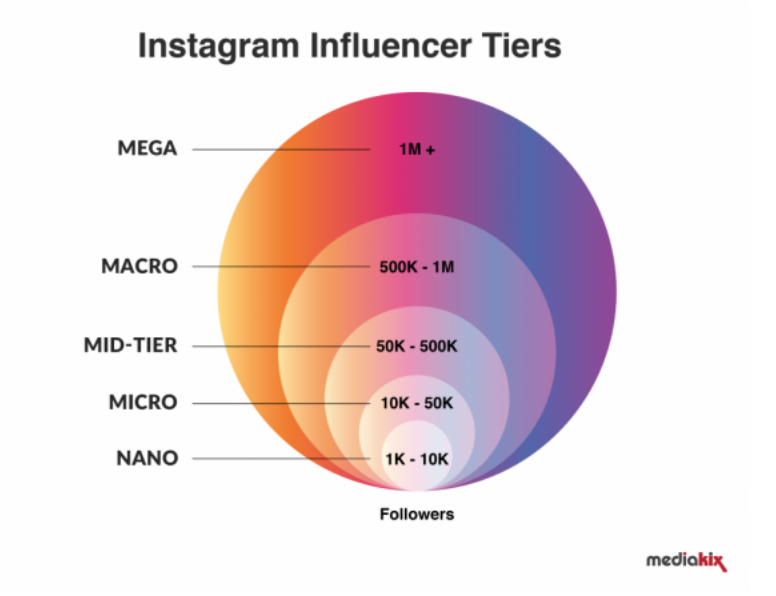 Working with nano influencers – or a series of nano influencers – to run a hashtag campaign not only generates engagement across new audiences, but it also builds trust and credibility for your brand. This is because the trust and credibility of the nano influencer is automatically passed across to the brands they promote.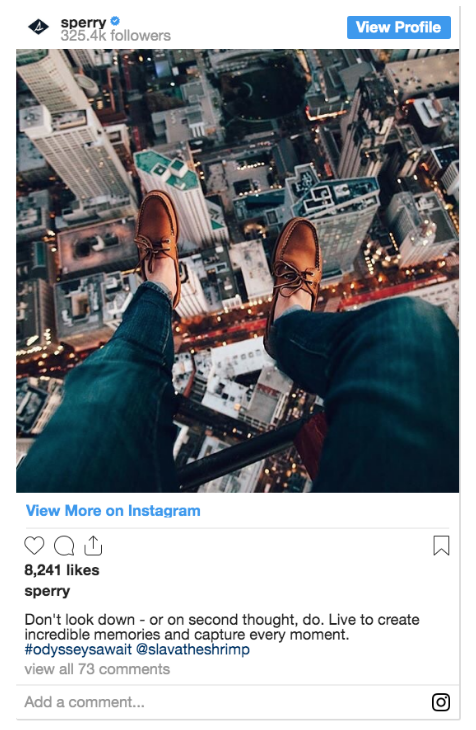 Shoe brand Sperry unlocked the power of nano influencers during one hashtag campaign on Instagram.
They kicked things off by identifying more than 100 nano influencers that were already sharing high-quality photos of their products and invited them to create more content for the official Sperry Instagram account using the hashtag #OdysseysAwait.
Because the influencers were already posting about Sperry, the brand didn't have to try hard to bring them on board.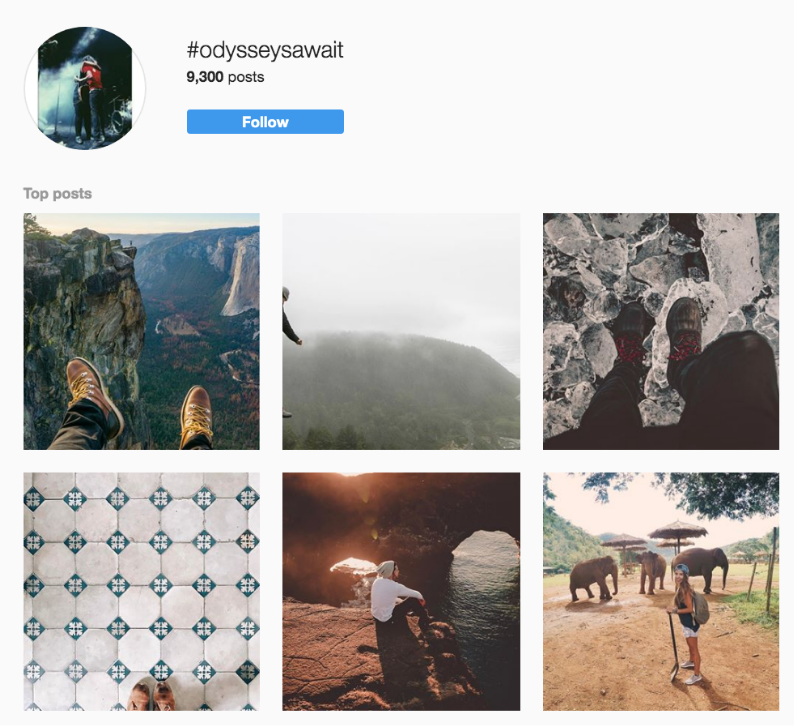 How Sperry's #OdysseysAwait Campaign Boosted Engagement
Because they started the campaign off by promoting the posts of people who were already sharing high-quality pictures of the products, it kicked off a kind of snowball effect that encouraged others to start sharing.
Other Sperry customers wanted in on the action and, as you can see from the hashtag landing page on Instagram, began posting epic pictures of their shoes in amazing places in the hopes of getting a mention from the brand.
It probably also helped that the #OdysseysAwait hashtag encouraged users to share pics in exotic and beautiful locations – content that tends to perform particularly well on Instagram.
4. Jump on Trending Hashtags
Creating an entire hashtag campaign from scratch can seem like a daunting task. However, the beauty of hashtags is that they're open for anyone and everyone to join.
Head to any social media channel and you'll be able to find the trending hashtags of the day.
These hashtags are populated with users and drive incredible amounts of engagement as they capture the most talked about topics of the day. Brands can capitalize on this by getting involved in relevant trending hashtags (the key word is relevant here).
Broader hashtags that can be twisted to fit your brand narrative are easier to high-jack than hashtags that relate to a specific event or person. For example, hashtags like #WisdomWednesday and #MotivationMondays are a good place to start.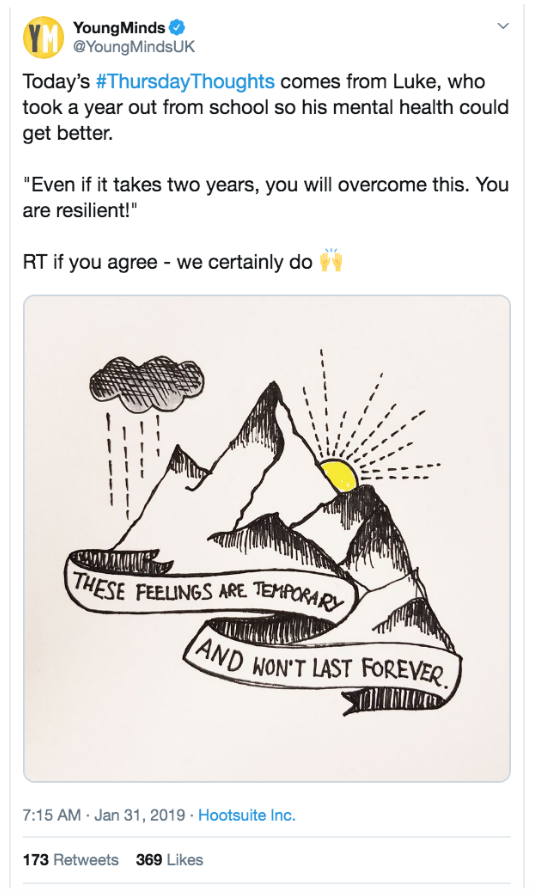 YoungMindsUK, a charity that promotes mental wellbeing in young people, high-jacked the trending #ThursdayThoughts hashtag in a meaningful way. Each week, they share creative imagery and inspiring stories under the hashtag to raise awareness of mental health.
How YoungMindsUK's #ThursdayThoughts Campaign Boosted Engagement
The brand's posts not only reached their followers (who we can assume are already in-the-know about mental health issues in the younger generations), the brand managed to reach a wider audience that were hanging out on the trending hashtag.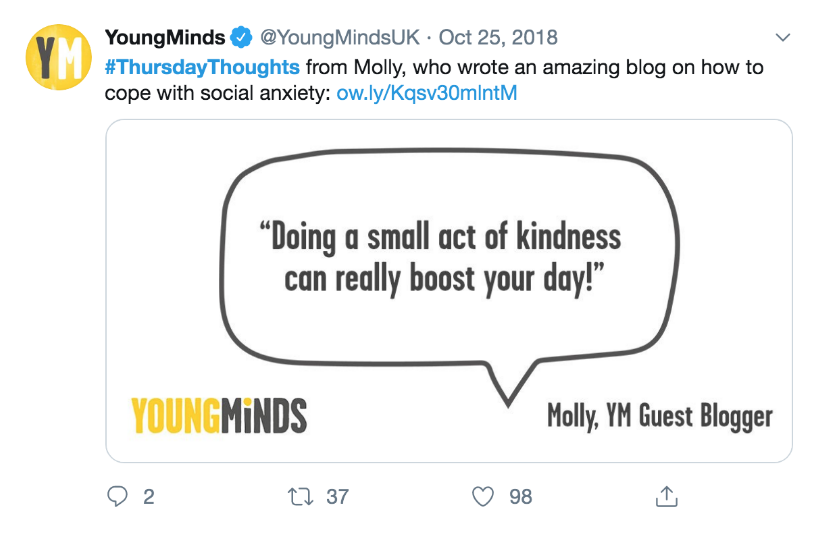 The eye-catching imagery captured the attention of serial scrollers, while their calls-to-action at the end of each post encouraged their followers to actively do something.
5. Encourage Action
Calls-to-action are a great way to push followers into action and get them to engage with a post or hashtag (the saying "if you want something, you have to ask for it" is particularly apt here).
The Make-A-Wish Foundation's #ShareYourEars campaign is one of the most prominent examples of this kind of hashtag campaign – mostly because the hashtag is the call-to-action.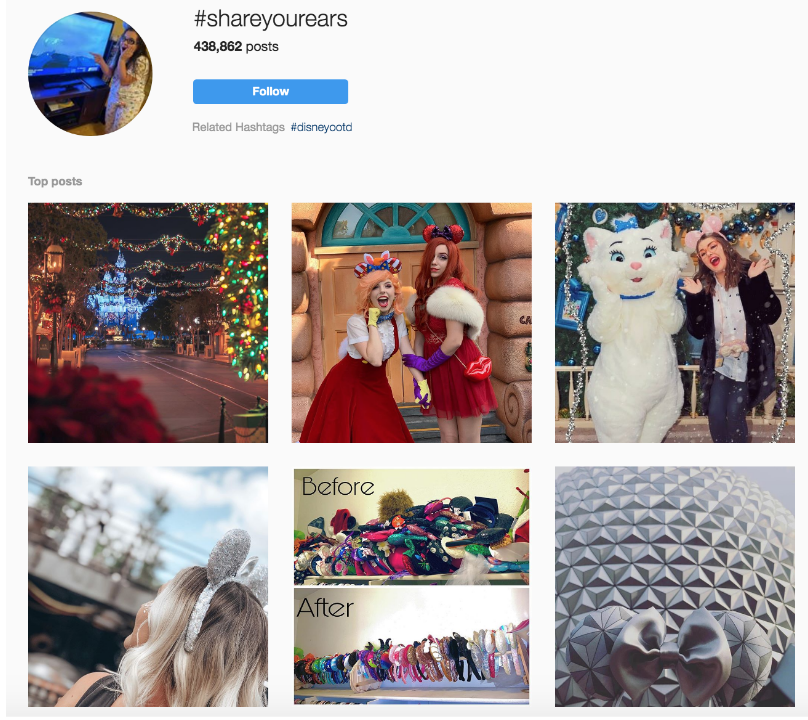 The aim of the campaign was to raise money for the charity, with Disney donating $5 (up to $2 million) to Make-A-Wish for every photo tagged with the #ShareYourEars hashtag and featuring a pair of Mickey Mouse ears.
It was a really simple way for social media users to raise money for the charity (which grants life-changing wishes to critically ill children) that they otherwise wouldn't have been able to.
How Make-A-Wish's #ShareYourEars Campaign Boosted Engagement
The Make-A-Wish charity is one that a lot of people can get behind. No one wants to see a child suffer, which is why this campaign worked so well.
Social media users were able to get involved and feel like they were making a difference and helping out a good cause. Despite the seriousness of the charity, the core message was positive and the campaign idea was fun. It also helped that the hashtag literally asked people to get involved.
Hashtag Marketing to Boost Engagement
Hashtags are a great tool for expanding your reach, tapping into new audiences and building a community around your brand – as shown in action by the examples here.
Take inspiration from these successful campaigns, which continue to prove that the trusty hashtag can – and does – have a powerful effect on engagement levels.