What are some of the biggest brands in their industry doing to get attention?
The attention economy is in full swing, with marketers like Gary Vee explaining, "Find the attention, bring value, and then everything else clicks."
But, how do you get attention when the average person scrolls the equivalent distance of summiting Mt. Everest every 20 days?
Patagonia, Liquid Death, Spotify, and other household names have figured out the science behind marketing for attention AND creating value that builds consumer sentiment.
Take a look through their campaigns and marketing messaging for inspiration.
5 Brands to Watch for Marketing Inspiration
Marketing Messaging Inspiration: Patagonia
Patagonia knows their audience.
Their outdoor gear is tailored for people who want to spend the majority of their time surrounded by nature. The Patagonia brand shares the same values as their customers: respect the planet. By regularly sharing their values they create a strong relationship with aligned customers. Their marketing messaging clearly displays who their brand is for and aims to bring together their community to fight related causes (like climate change).
Patagonia prioritizes their values so much that their homepage doesn't open up to a display of products and sales. The above-the-fold section of their website is dedicated to the message of helping website visitors connect with grassroots groups to "meet the climate crisis head on." This authenticity about their values is the ultimate marketing messaging.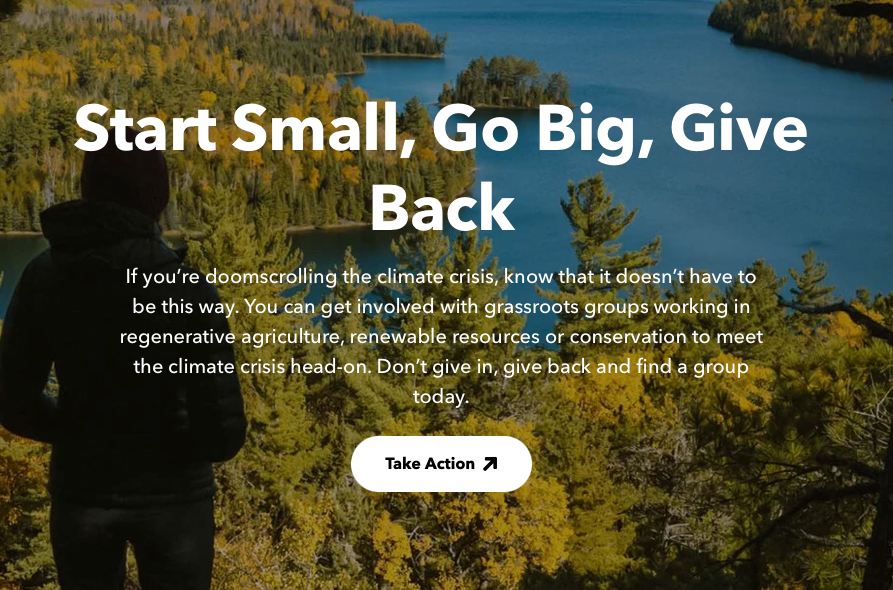 Consumers are 4-6X more likely to buy from and advocate for "purpose-driven" companies. Patagonia creates a relatable brand (despite technically being "faceless") that makes their customers want to share their experience. Customers talk about how much they love their products AND how aligned they feel with Patagonia's mission. This creates deeply resonating user-generated content that continues to spread Patagonia's message even in customer-created assets (like UGC).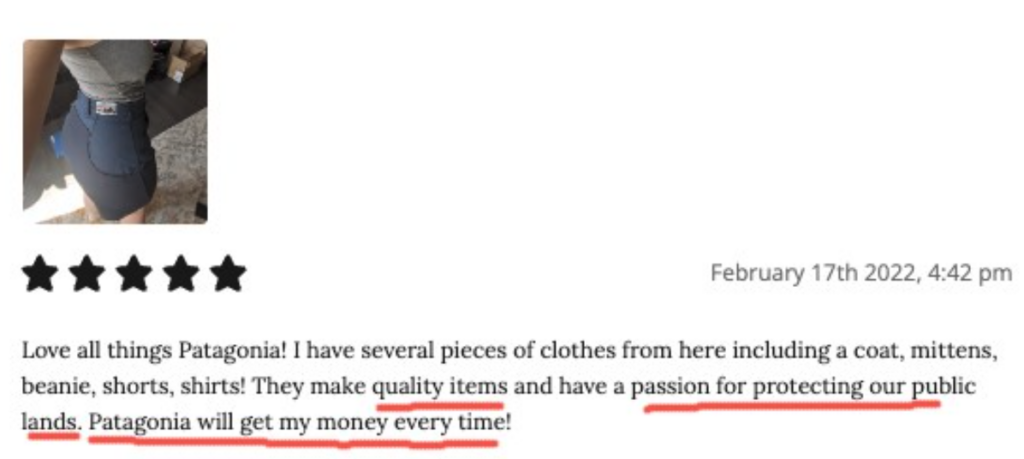 Take Action: What values does your brand share with your customers? Figuring out these values through customer research writers your marketing messaging for you. It shows you how your customers word their values and which products align with that identity. Share your customers' voices as they talk about their values across your marketing channels to create attention and value for your brand.
Brand Voice Inspiration: Liquid Death
Liquid Death came onto the water scene in 2019. On paper, it sounds like they were late to the water game. At this point, brands like Aquafina, Poland Spring, Dasani, and Arrowhead owned the water market. Only the boldest of entrepreneurs could attempt to break into such a competitive market.
Cue Mike Cessario, the founder of Liquid Death. "We launched on social long before we ever had a real product. Cut to three or four months later and our Facebook page has more followers than Aquafina and our marketing video has three million views," he explains.
Mike went against the grain of traditional marketing and created a unique tone of voice and entertainment around the brand. The tagline says it all, "murder your thirst." Through Buzzfeed-like videos, the brand continues to garner attention.
It's hard to look away from a brand that highlights negative reviews. It's even harder when you find out there's a taser involved. Liquid Death's marketing campaigns include attention-grabbing content of a blind taste test with people who have previously said it's the worst-tasting water. The caveat? If they say another water brand tastes worse, they get tased.
Take Action: When everyone in your industry is zigging, how can you zag? Saturated industries aren't impenetrable. Liquid Death proves that. The key is understanding how you'll differentiate yourself. Through an original brand voice (to that industry) brands can get attention and deliver value that creates novelty and loyal customers. (Bonus points for using negative user-generated content, like bad reviews, in your marketing campaigns!)
Trending Content Inspiration: Mastercard
Everybody knows Mastercard. They're not a company that needs to teach people about their products. But, they are a company that needs to keep people interested as more and more banking and credit card solutions appear. To stay relevant, Mastercard didn't try to reinvent the wheel. Instead, they looked at what was working and they doubled down on it.
Alongside video content, audio content is increasing in popularity. Big brands, like Mastercard, are taking notice of where consumer attention is focused. "Global giants such as American Express, Frito-Lay, Colgate, General Mills, and Walmart have significantly increased their sonic investments in the last 18 months," FastCompany explains.
Mastercard is leaning into the audio craze with their audio press reveal. They're grabbing their marketing inspiration from trending content and figuring out how to bring their brand into the trend. Instead of assuming consumers will always come to them, a dangerous assumption that has led to the demise of brands like Blockbuster, Mastercard is continuing to forge relationships with customers by adapting to their changing desires.
Take Action: Think of your brand as multi-sensory. Instead of reaching customers with just 1-2 senses, create opportunities for them to experience your brand with new ones. What content are you already creating that can also be posted as audio? Newsletters, articles, and social media content can turn into videos and audio content. 
Personalized Marketing Inspiration: Spotify
The best brands are relied upon. Their customers RELY on them for something (products, experiences, opportunities). When people think of Spotify, there's something they can rely on every year. Yep, we're talking about Spotify Wrapped. At the end of every year, Spotify sends a summary of users' music listening habits. Their most played song, album, genre, and artist are built into a pre-made easy to share template that takes temporarily takes social media by storm.
But what's so great about it? Spotify leans into hyper-personalization. They know their users care less about the top charts for the year and more about THEIR personalized top charts. Personalization is exciting…and shareable. People want to show what their favorite songs were each year – not what the favorite song was in the U.S.
Spotify Wrapped is a case study in the virality of personalization. Personalization generates, what we can only guess to be, at least one million user-generated content posts. The word-of-mouth marketing that comes from Spotify Wrapped is unmatched.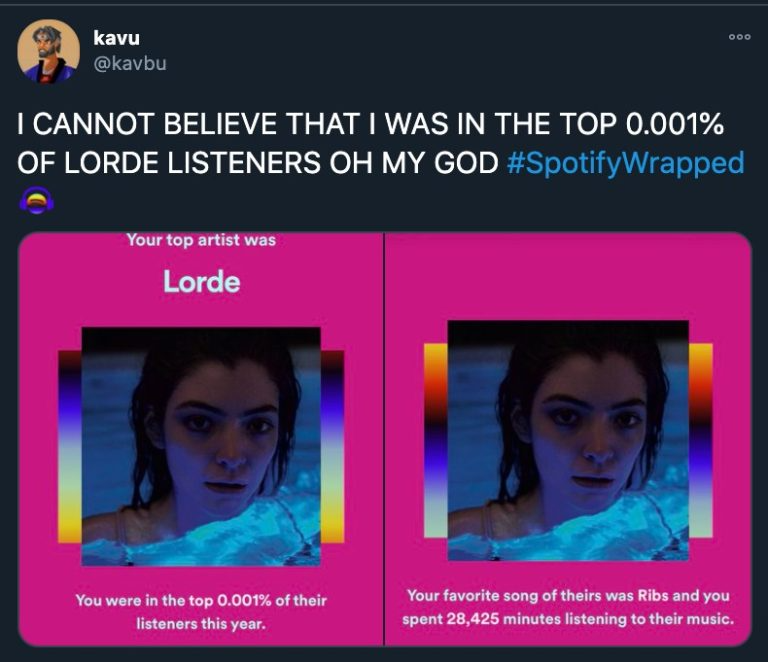 Take Action: Hyper-personalization in marketing creates moments of delight. It makes customers feel special and aligns them with the best product options. 77% of shoppers are more likely to buy from brands that personalize their shopping experience. How can you add personalization to your marketing that makes customers stop and pay attention? Personalization leads to user-generated content – so prepare to capture UGC to repurpose across your marketing channels for higher engagement, clicks, and conversions.
Influencer Marketing Inspiration: Hootsuite
Not every brand gets to market from the place of Patagonia, Mastercard, and Spotify. Like Liquid Death, they have to figure out a way to get noticed without a household name backing them up. Smaller brands and niche brands lean on user-generated content and influencer marketing to get attention and deliver value.
By tapping into the authority of influencers in their niche and amplifying user-generated content across their marketing channels they create buzz. Even without physical products, brands like Hootsuite engage with fans with relatable content. They work with influencers to create word-of-mouth marketing and highly engaging and converting content.
Hootsuite's Social Media Trends 2023 promo video features TikTok creators like Ben Kielesinksi (2.7 million followers), GirlBossTown (578,000 followers), and PleaseSponsorUs (625,000 followers). By leaning on the authority of influencers in the business space they can grab the attention of their followers – 3.5 million people collectively – and bring them through the funnel for their social media trends report.
Take Action: Your ideal buyer fangirls over several influencers online. Who are they? By tapping into the power of influencer marketing you create authority for your brand while garnering a larger audience. Strategies like white labeling also give you the option to put ad dollars directly behind their sponsored posts. 
Marketing Inspiration Done Right
Marketing requires a medley of strategies, like nailing your marketing messaging, standing out from the crowd, following consumer content trends, personalization, and aligning with authorities in your niche.
And each of these strategies generally needs to happen at the same time as the others.
If that sounds overwhelming to you – take it slow. Choose the one strategy that aligns the most with your marketing goals and figure out ways to automate the process along the way. Then, you can add more strategies faster without bogging down your team with too many tasks.
Use TINT to capture, collect, and repurpose user-generated content for your brand and products automatically. TINT is the sidekick that combs the internet for any related content and helps make sure that you get to add it to your marketing strategy.
TINT can even score content to predict people's attention before you post.
Schedule a TINT demo to automate the UGC process and fill your editorial calendar.