Driven by changing attendee demographics, the dynamic expectations of millennials are redefining event trends and changing what it means to execute a successful event. And it shouldn't be a shock: We're living in an era where elements of personalization infiltrate every area of our lives, and new options are instantly available with the mere swipe of a touchscreen.
The change is so prevalent that 80% of meeting and event planners report their roles require more experience creation than they did just two to five years ago. But the real questions are, just what does the industry mean when we throw around the word "experience" and what are the trends that are coming out of this push?
Here are the five trends driving the evolution of event planning and marketing today.
1. Experiences are purposeful events.
Experience creation starts with the notion of the "purposeful meeting" — a concept that's taken the industry by storm since Janet Sperstad published her much-celebrated white-paper, Purposeful Meetings: How to Plan With Deeper Meaning, Innovation and Insight in Mind.
A purposeful meeting is one that goes beyond just content, focusing holistically on an individual's education, interests, and well-being, while tieing each back to the purpose of the event at large. It's a meeting that fosters meaningful engagement — with the content, the city, peers, and, just as importantly, the self.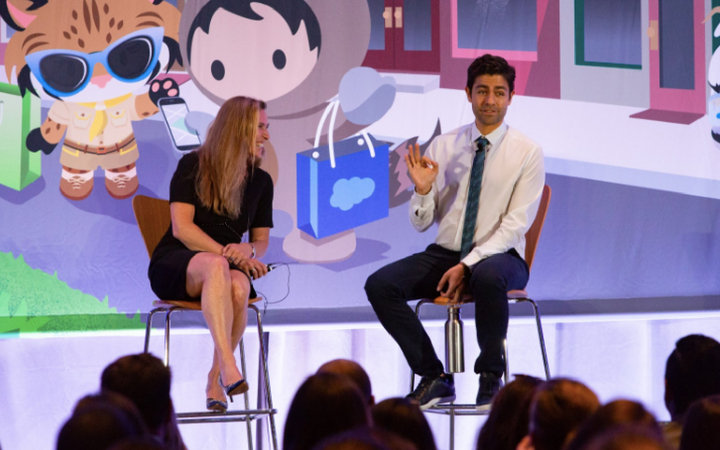 How Dreamforce Makes Holistic Happen
Dreamforce's focus on attendees' wellbeing has positioned the event as a leader in innovative event ideas that engage attendees. The annual user conference in San Francisco brings together industry pioneers, thought leaders, and IT professionals from all over the world — all with an experiential spin on the traditional conference format.
For starters, they incorporate guided meditation to help everyone involved stay centered and at peace throughout events. Why? Because they understand that a happy attendee is a more engaged attendee.
To do so, they partner with organizations like Plum Village Monastics and Wisdom Labs to add mindfulness sessions to their events that align with the goals of the conference as a whole. Some examples of these types of mindfulness sessions include Leadership Builder, Learning to Listen, and Igniting Creativity.
2. Event agendas are no longer linear.
Technology puts us in control of every little detail, and for attendees, the expectation is no different at events. As a result, control over meeting formats is shifting hands from organizers to attendees, evolving the linear nature of traditional agendas into a more dynamic and personalized event agendas that offer choices.
From the food and beverage offering to post-event activities, options are key, but providing those options is ultimately more work for event teams. To succeed, event planners need to stay on top of rapidly changing event trends, and give attendees remote control, crowdsourcing feedback before events, and adjusting agendas in real-time.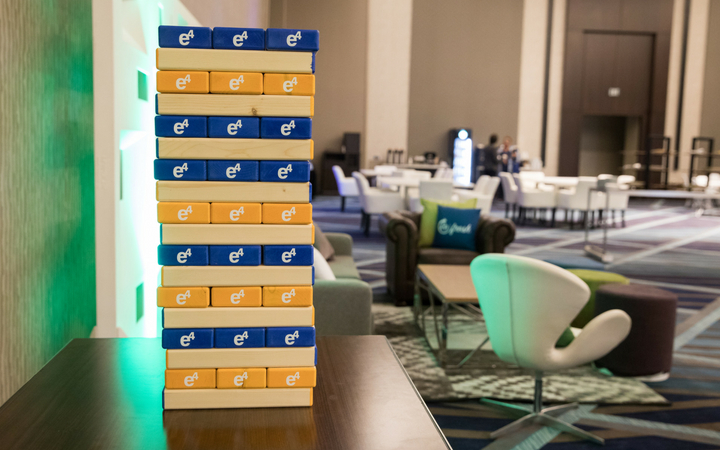 Experient centers the agenda around personas.
For the past 45+ years, Experient has been helping event planners create incredible events — so for their own event, you know they had to take it a step further. At a recent conference, they personalized event agendas based on the different personalities of attendees, using a portfolio of 20+ event personas they've created over time to personalize at every stage.
By surveying attendees beforehand, Experient was able to bucket individuals into like-minded groups that included the "Be-Wellster" and the "Post-Master." For the "Be-Wellster" — attendees who wanted a holistic, healthy experience — organizers put together healthy meals, meditation breaks, morning runs, and even yoga with dolphins. For the social-media-savvy "Post-Master" the event offered up a list of incredible local entertainment and set up mind-blowing backdrops that begged for photos.
3. Technology is empowering events to pull off more than ever before.
Not only are planners having to tackle the pains of personalization, but they're also dealing with larger events. In fact, according to the AMEX Global Meetings Forecast, while the total number of meetings per year has only grown 5.4% since 2009, the total number of participants attending meetings in a given year has grown 22.7%. More people, more moving parts, more personalization…. what's an event pro to do?
Luckily, event technology is coming to the rescue and helping planners pull off some pretty amazing feats. In fact, event technology can help improve productivity by 27%, increase attendance by 20%, and decrease costs by 20-30%. From better guest management to 3D event diagramming, event ROI tracking, and in-event additions like live polling, new apps are opening up possibilities we couldn't have dreamed of just 10 years ago.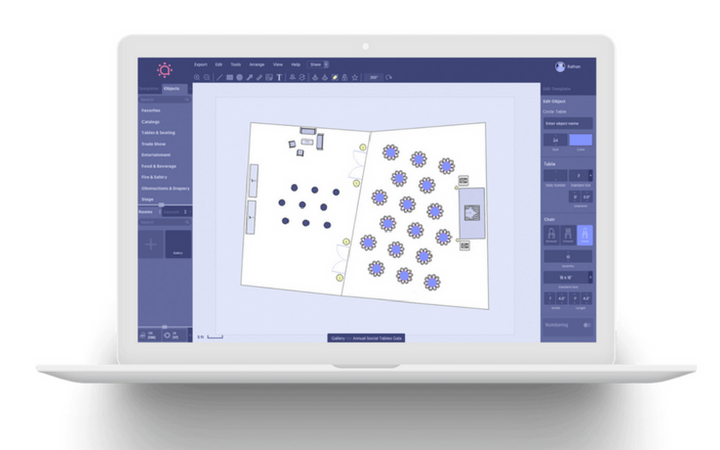 Forbes Under 30 Summit creates amazing events with diagramming software.
Rolling triumphantly into its fifth year as an event, the Forbes Under 30 Summit brings together a community of more than 7,000 young leaders, entrepreneurs, and visionaries for education and festivities that take events to new heights. Today, it features more than 200 world-class speakers, a music festival, fantastic food, a bar crawl, and beyond.
However, the Summit is just one of many events Forbes hosts in a given year, all of which include their own unique elements and intricacies. To be successful, the Forbes team needs to map out the many moving parts of each event beforehand, so as to leave nothing to chance. That's where a tool like Social Tables' event diagramming software comes in.
Forbes has been using the software since 2013 to improve the efficiency of events by visually verifying the placement of every piece as well as the viability of venues. Users of the software are able to create diagrams in a drag-and-drop platform and easily turn them into 3D walkthroughs of events, leaving nothing to chance.
As Cathi Culbertson, VP of Event Marketing & Conferences jokingly puts it: "The only thing I wish I could do on the software but can't, is to show where each water bottle is to be placed on stage."
4. Events are finding success in nontraditional venues and cities.
At the beginning of the year, the AMEX Global Meetings Forecast predicted that nontraditional venues would see a 3.8% increase in demand this year, in accordance with seemingly ever-growing nontraditional supply. After all, today, EVERYTHING is a meeting venue: museums, nightclubs, repurposed warehouses, outdoor spaces, corporate offices, and even multi-venue setups like we covered with Forbes. (In fact, at Social Tables, we even let groups in the DC tech community use our office space for meetings — completely free.)
And it's not just nontraditional venues. Major events are looking outside of the "first-tier" cities that have dominated demand over the years, instead of looking to midsize cities with authentic local cultures and flavors — cities that allow attendees to easily explore the elements that make them unique.
"In the U.S., a growing number of midsize cities are establishing themselves as meeting destinations by showcasing their local expertise in high-priority sectors," says Nan Marchand Beauvois, senior VP, National Councils, at the U.S. Travel Association.
It's an evolution in response to the growing desire amongst attendees to engage in authentic local experiences, making it now the number four concern amongst event planners. After all, events are beginning to realize that the destination alone can be a large part of the decision to attend. So much so, that it's a top driver for 78% of all attendees, eight out of ten of whom will return to that destination at some point for leisure purposes.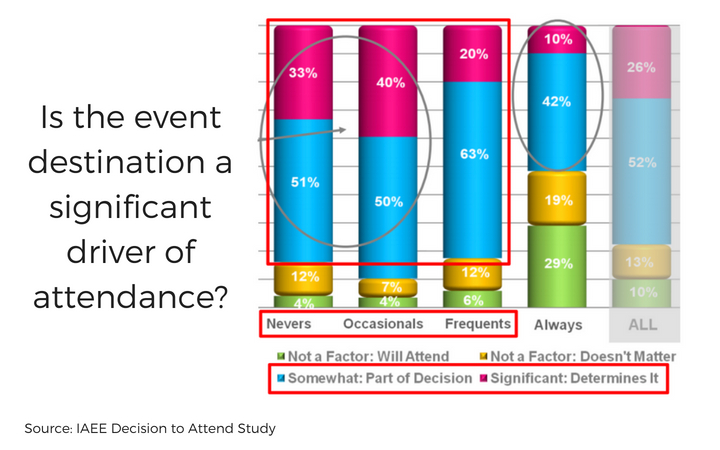 Portland's maker culture is making waves with meetings and events.
The influx of startups popping up in new and creative industries is having a huge impact on mid-size event cities, attracting attention and events at a rapidly growing pace. One such city is Portland, where delegates are falling in love with the maker culture.
The city's CVB (Convention and Visitors Bureau) is taking full advantage, developing their destination story around these makers and showcasing the city's "it" factor. They even take it a step further by helping events integrate Portland makers, musicians, and crafters into their agendas.
As Steve Faulstick, Chief Sales Officer of Travel Portland puts it, "That 'It' factor we have as a unique destination has been driven by a lot of the entrepreneurial spirit of our makers in Portland… Portland is as creative and weird as you want it to be."
5. Events are getting more creative than ever.
With successful events being defined as experiences, event teams everywhere are racing to "out-experience" one another — and it's a competition where creativity is key. What does that mean for attendees? Hanging trapeze chairs, adult Lego workshops, performance artists, and, yes, even 3D selfies.
Event teams realize that the key to engagement is incorporating ideas that are fresh, out of the box, and incapable of being ignored. These types of immersive experiences not only extend reach through their incredible sharability on social media, they also provide powerful tools for event marketers trying to make a splash in a competitive and cutthroat industry.
YourMembership makes attendees' wizarding wishes come true.
Dementors and Lord Voldemort aside, we've all secretly wished we could be Hermione or Harry Potter for a day. So the world's largest provider of membership-management software, YourMembership, made it happen — executing their Xperience17 event through an app that a whopping 88% of attendees were excited enough to adopt.
By developing a Harry-Potter-themed world through elements of gamification, they whisked attendees away to a magical world where they were greeted by a push notification welcoming them to Platform 9 ¾. Prior to the event, each attendee even received a Hogwarts acceptance letter informing them which house they had been sorted into.
During the event, participants could gain points for different actions using the app, such as scanning QR codes, attending sessions, sharing photos, and more.
Don't just follow, innovate (and start new trends!).
All of these event trends make one thing perfectly clear — in today's climate, staying put in the hotel ballroom means falling behind. It's high time that event planners and marketers let their imaginations loose, explore new event destinations, and use new technologies to bring engaging new ideas to life. Do this, and ROI will follow.
About The Author 
Elias Grouhi is an avid taco enthusiast and the content strategist at Social Tables — the turnkey sales, services, and distribution platform behind three million successful events. With its suite of cloud-based, user-friendly tools, Social Tables makes it easy for event teams and venues to communicate, collaborate and bring event magic to life.