The number of different tools marketers use daily is staggering, especially considering a new tool is created everyday. The challenge becomes integrating tools to seamlessly execute your marketing strategy.  At TINT, we take this issue seriously. That's why we've developed integrations with your favorite tools so you can easily move your UGC content into the system you need. Let's take a look at the integrations with TINT.
Facebook Ads Integration + TINT Integration
Facebook is a great place to showcase how your customers use your products. So we've made integration simple.  To get started, you'll need to link your Facebook ads account with TINT, then request content rights. Once rights are granted, the UGC will appear in your image asset library, which is found in Facebook Ads manager. From there, you can begin running ads featuring the user generated media.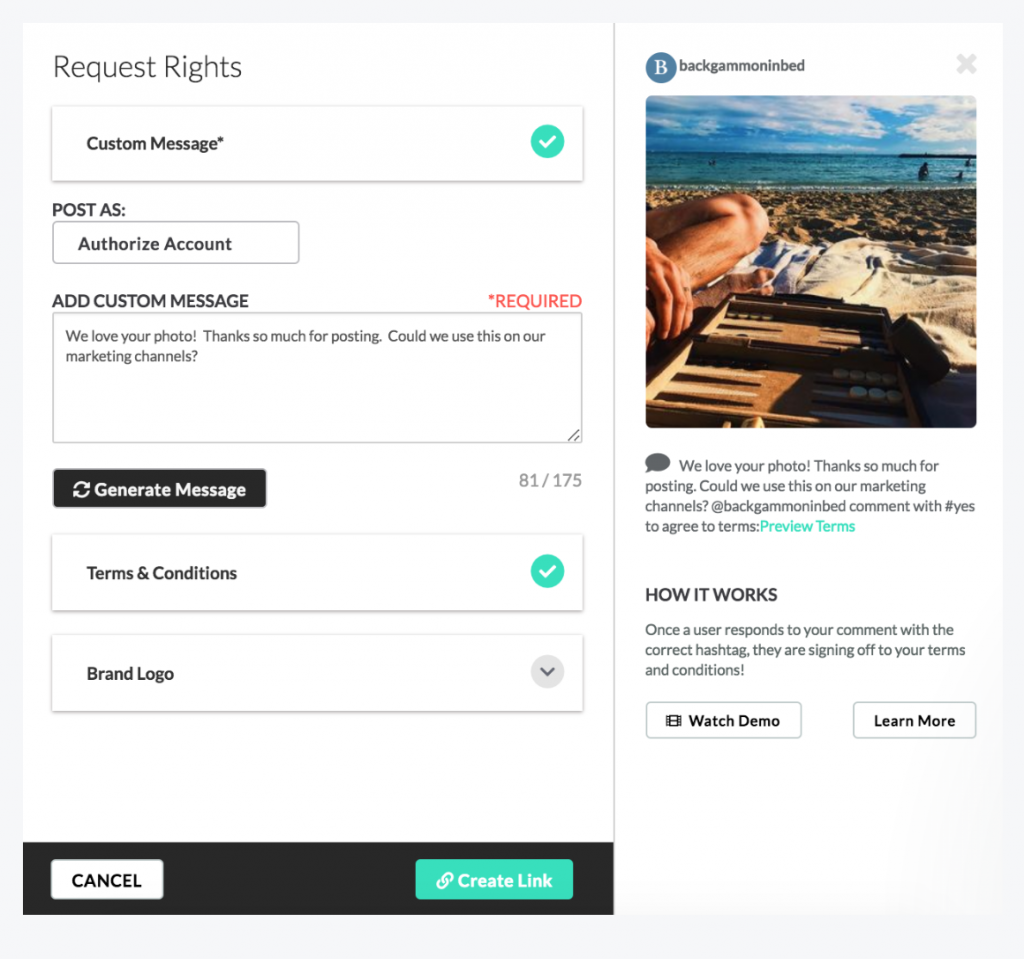 Widen + TINT Integration
Having your content in a central location will ensure your marketing teams are using approved, consistent imagery. With our Widen Integration you will be able to boost marketing performance and sales conversions with UGC. You will also be able to save money through a decrease in content creation cost, save time by being able to scale and manage content, and increase engagement through easily accessible, authentic UGC.
To get started, connect Widen with TINT, so you will be able to source your user-generated content via hashtags, keywords, location filters, and more, from various social media platforms. Then curate your brand's best images and videos with TINT's smart curation system, and request rights to the aggregated content in an easy, automated way.

When the user clears the rights, that user-generated photo or video will automatically flow into your Widen Collective DAM, where you tag, edit, share, and/or repurpose cross-departmentally to use as a single asset for the web, signage, email, ads, print, and more! This integration requires a bit more setup, but we are here every step of the way.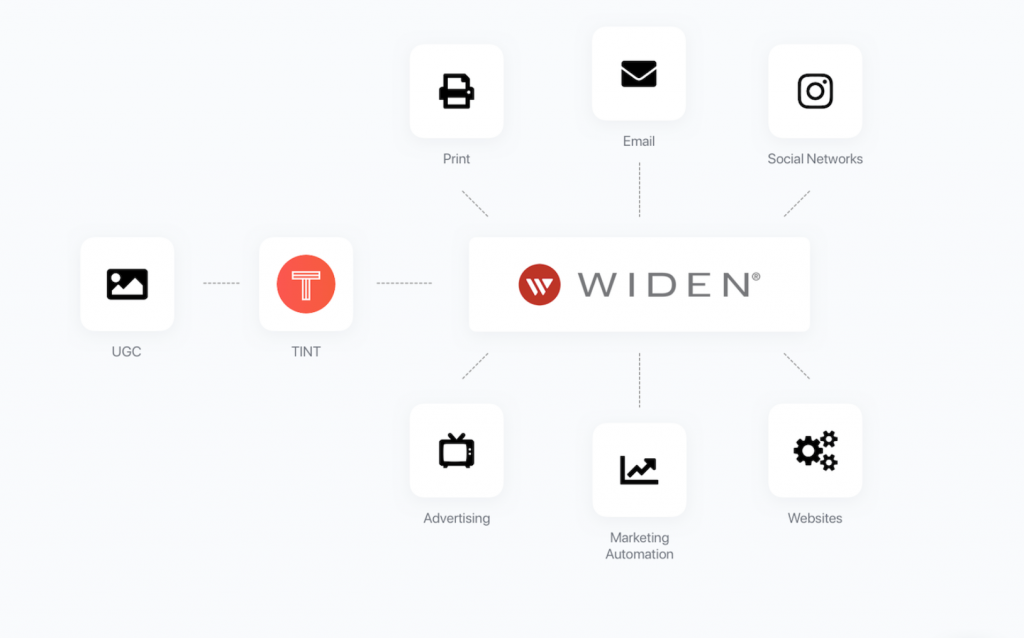 TINT Signage Video Link Integration
If you utilize digital signage within your marketing strategy, we've made it easy to set up video links to redisplay with TINT. We understand the power of video and this integration will allow you to display your content in two ways: By HTML or the direct video link. With either method, your content will be instantly updated on your digital sign. Depending on which display method you choose, simply load your TINT URL on a browser or use the external videos playback capability on your signage system to periodically sync and play back a video file from an external URL. This gives you the flexibility in choosing the best content to redisplay on your digital signage system.
Using TINT with BroadSign
TINT created a powerful integration with Broadsign to enable the incorporation of social media feeds in digital out-of-home (DOOH) campaigns. DOOH allows you to enrich your marketing initiatives, engage your audience with captivating user-generated content, and increase your brand's ability to engage with viewers onsite and online. This works similarly to our video link integration, where you simply copy the URL of the TINT you want to share, then, open BroadSign Control. Once inside, you simply click on Ad Copies, and then click on New, followed by the Web Redirect File. This creates a new Ad Copy Name, in which you will paste in the URL you copied from TINT, then hit save.
Mailchimp + TINT App Integration
With TINT's Mailchimp integration, you can seamlessly share UGC in places like your email. To get started click the Setup Integration button in TINT and follow the prompts to connect your Mailchimp account. You will need to request rights to UGC before you can reuse. Once rights are granted, authorized content will automatically appear in your Mailchimp Content Manager, which is accessible from Templates. From there, embed your UGC in forms, newsletters, or landing pages created with Mailchimp for better engagement.
Dropbox Integration
Never misplace a file again. TINT's flexible Dropbox integration allows you to save and share User Generated Content from anywhere. Log into the TINT dashboard and click on the Setup Integration button to get started. The integration creates a file within your Dropbox account for TINT media files. Your UGC will appear in this folder as users grant rights, which allows you to begin downloading or sharing media files.
Marketo + TINT App Integration
Make the most of your UGC when you include it in your nurture emails and landing pages. To set up this integration, log into Marketo, find Web Services (under the Admin menu), and look for the REST API box. Copy the REST API Endpoint, open TINT, and click on the button to Add Integrations next to Marketo. Paste in the REST API Endpoint where instructed. After you create the integration, you'll see a new TINT folder inside your Marketo Images and Files folder. After users approve your request, your UGC will appear in Marketo.
Adding TINT as a Tab on your Facebook Page
Not only can you connect TINT with your Facebook Ads, you can create a TINT tab within your Facebook page. To get started go to the Facebook Developers' Page (developers.facebook.com). Register (if you haven't already) and then head to the My Apps tab. Click the button that says  add a new app and create a display name for your TINT integration. Then create the App ID and follow the security check. This will redirect you to the Facebook developer tab where you must enter specific instructions to complete the link process. In the setup process, you'll make the TINT tab public and manage the settings to control what your users see.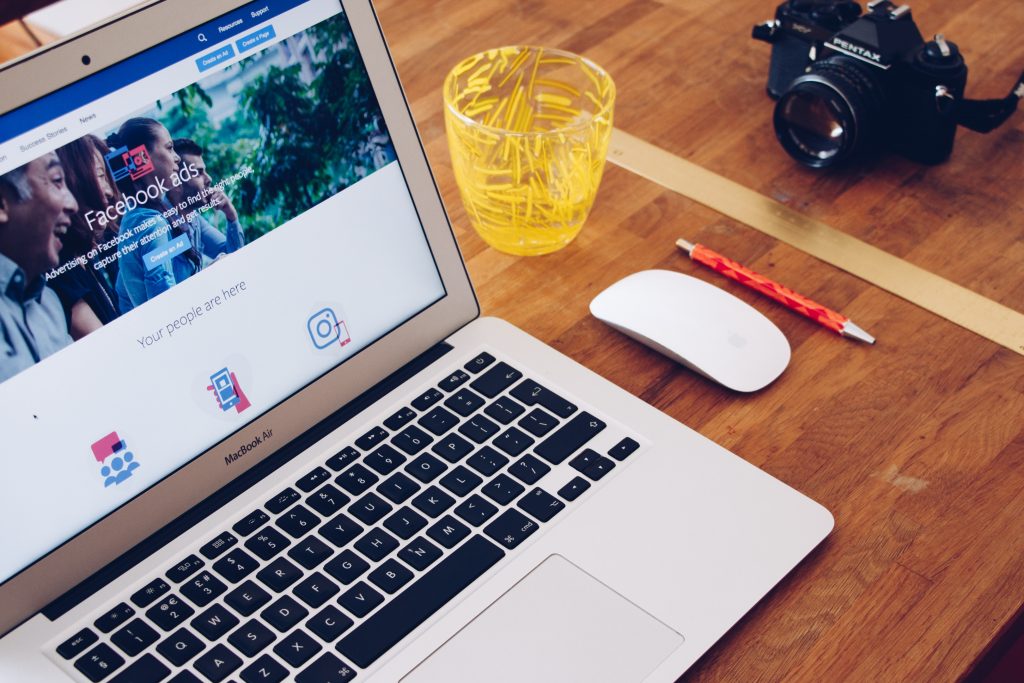 Marketing Integrations with Hubspot
Our integration with Hubspot is a marketer's dream. Imagine the ability to leverage all your user content in any marketing campaign. To get started, connect TINT with Hubspot, start by clicking on the Add Integration button in TINT, then enter your Hubspot login credentials. Once you activate the Hubspot integration, you can use TINT created user generated content in landing pages, newsletters, and lead-generation tools directly from your Hubspot dashboard.
Hootsuite + TINT App Integration
Hootsuite allows you to utilize your user-generated content, inside your brand social posts. Once the rights  to the content have been requested, and approved your UGC shows up in your Hootsuite Media Library, ready to to published on your social network of choice! With the TINT integration enabled, you can also take advantage of displaying your Hootsuite posts on any TINT feed! This means you can monitor social activity, send posts to a live display, or embed the content on your website with a click of a button.
To get started, go to TINT's Marketing Integrations tab (inside your TINT dashboard), click on Hootsuite and then click install. This will open a Hootsuite popup, in which you will need to click install again. Once access is granted, you'll find your UGC within Hootsuite's media library, which is accessible via the Composer tool.

TINT as a Screen Saver
Can't get enough of seeing all the content your users create? Set TINT as your Screen Saver! If you love your user generated content and want to set it as a screen saver simply download and install the screen saver utility.Once it's installed, you can enter any TINT URL to display TINTs as your screen saver.
Displaying TINT in PowerPoint or Keynote
If you are using user generated content from TINT in a presentation or creating slides, you'll want to start by downloading and installing LiveSlides. From there you copy the TINT URL and paste it into LiveSlides to share UGCs. Make all your presentations as stunning as possible with the content from your users.
For the full details on all our integrations, here are the step by step instructions to help you get started. If you are looking to learn more feel free to Request a Demo to get started!