What is the appeal of a microblogging website like Tumblr? How are some companies using it to build and sustain a young fanbase? Despite having a smaller user-base than Facebook and Twitter, Tumblr is still a vital social media site you can use to market your company. Especially if you're interested in reaching out to millennials and "generation Z."
How Many People Use Tumblr?
While Tumblr has been very private about the number of active users it has, estimates range from 30 million to 230 million. When Yahoo bought Tumblr in 2013, it boasted a whopping 300 million unique monthly visitors, which is different than registered users. Since then, outside organizations have estimated 150 million unique monthly visitors. Current numbers for Tumblr are difficult to pin down, but we do know that the audience skews young and female.
How to Market on Tumblr
Tumblr users tend to post small doses of text and other content compared to blogging websites like WordPress. This is why the site is considered a microblog. Users interact on the website by following blogs, posting their own original content and reblogging and/or liking other people's content. If a post is reblogged it will automatically show up on the user's main blog page. Liking does not have this same effect but it will still increase the number of notes (interactions) a post has.

The content on Tumblr creates an incredibly immersive platform that brands can tap into. Seventy percent of users surveyed by Millward Brown Digital visit Tumblr more than once a day and thirty four percent "would rather be on the site than sleep." They love engaging with this content and are more likely to put their faith in brands that provide engaging content. They're also more likely to share these brands with their friends.
If you're going to represent your brand on Tumblr, here are a few tips to get you started and maximize your chances of success:
Take advantage of the variety of content
There are seven types of content available on Tumblr: text, photo, quote, link, chat, audio, and video. For example, a quote allows you to include a source and on most layouts automatically includes quotation marks. Each type of post has visually striking details which allows users to easily recognize different types of content.
A company who is taking full advantage of this variety is Ace Hotel. They incorporate audio, text, photos, and videos into their posts. If you scroll through their blog, their content always manages to feel fresh. They could easily throw image after image at their followers but they don't. Instead, they mix it up with videos and text.
Speaking of images, Tumblr is known for its striking visuals. They even have an entire category of themes that highlight "big, beautiful images." Facebook is starting to catch up in this department—compared to just a few years ago, the images uploaded to Facebook are crisper and of a higher quality. However, it's still impossible to feature large images like you can on Tumblr. You can also pair multiple visuals into one unified post. On top of all of that, you can add social media sharing links to posts which is impossible to enable on Facebook.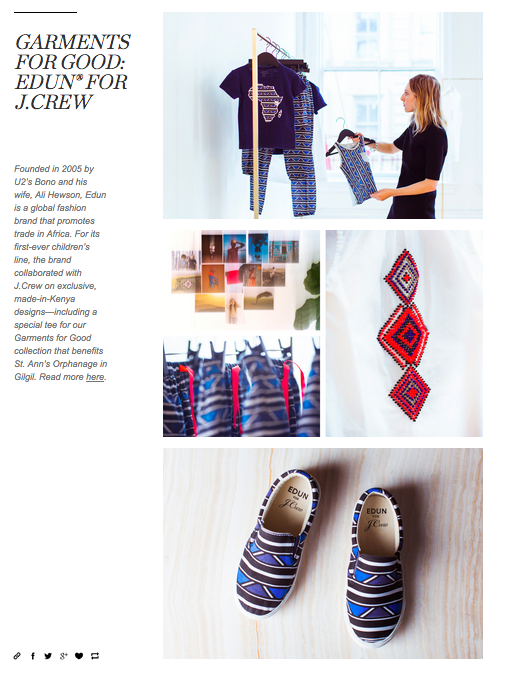 Fashion brands like J.Crew are using the ability to pair different image sizes together to their advantage by sharing their behind-the-scenes stories and images on their Tumblr.
Have you ever had the urge to get weird on social media? If you have, Tumblr is the right place for you. Numerous internet memes like Hipster Ariel have originated and/or gained popularity on the website. If you're stuck on where to start, try using animated gifs paired with snappy one-liners. Gifs dominate much of Tumblr culture so you'll fit right in. Coca Cola is a great example of a company who does this well. Much of their content uses animated gifs to market their brand and make users laugh.
Use tags for discovery
Both tags and hashtags group posts together under a specific topic. When it comes to tagging, Tumblr is miles ahead of Twitter and Facebook. Twitter, of course, is centered around hashtags. Because of the 140 character limit, Twitter users have to be a lot pickier about what hashtags they include and this can hamper a tweet's potential reach. Within a single Tumblr post, it's possible to tag as much as you'd like. Facebook began implementing hashtags in June of 2013 but they're used far less frequently and simply haven't caught on with users. Lately, they've also been deprecating their API.
GE utilizes just the right amount of tags to get their point across and allow consumers to discover their posts. They understand combining generic tags like "inspiration" and "quote" with specific tags like "jet engine" can capture both a general audience and a niche audience.
Tumblr's "Ask Box"
One of Tumblr's best features is the ask box. The ask box allows users to submit questions to a blog (even anonymous questions if it's enabled). Answered questions show up in the main feed along with posts. Questions that aren't answered will never show up on a blog so it's easy to filter out ones that have been asked before or are offensive.
Denny's knows how to get the most out of their ask box. Most of the questions they choose to answer are either humorous, call for a humorous answer or both. The results lead to highly shareable content and amused consumers.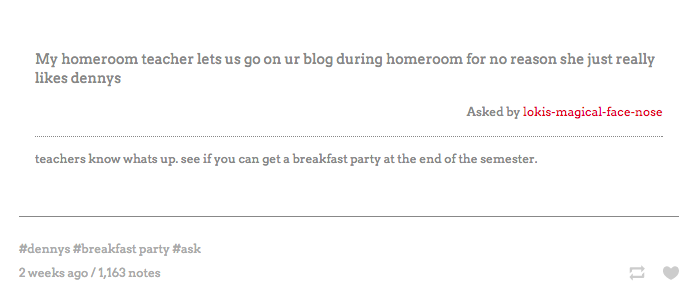 The most important thing to know is Tumblr users value high quality content, and are willing to share with their networks. Thankfully, Tumblr is focused on providing helpful tools for anyone who is interested in making their mark on the site. The above examples are just a few ways a company can begin to break into this social network.  Will yours be next?