Holiday season is upon us. 
Aside from eating our body weight in turkey, this means that Black Friday is fast approaching. 
It's like the Superbowl of ecommerce and is widely known as one of the busiest shopping days of the year. Along with Cyber Monday, it's set to break traffic and sales records both sides of the Atlantic.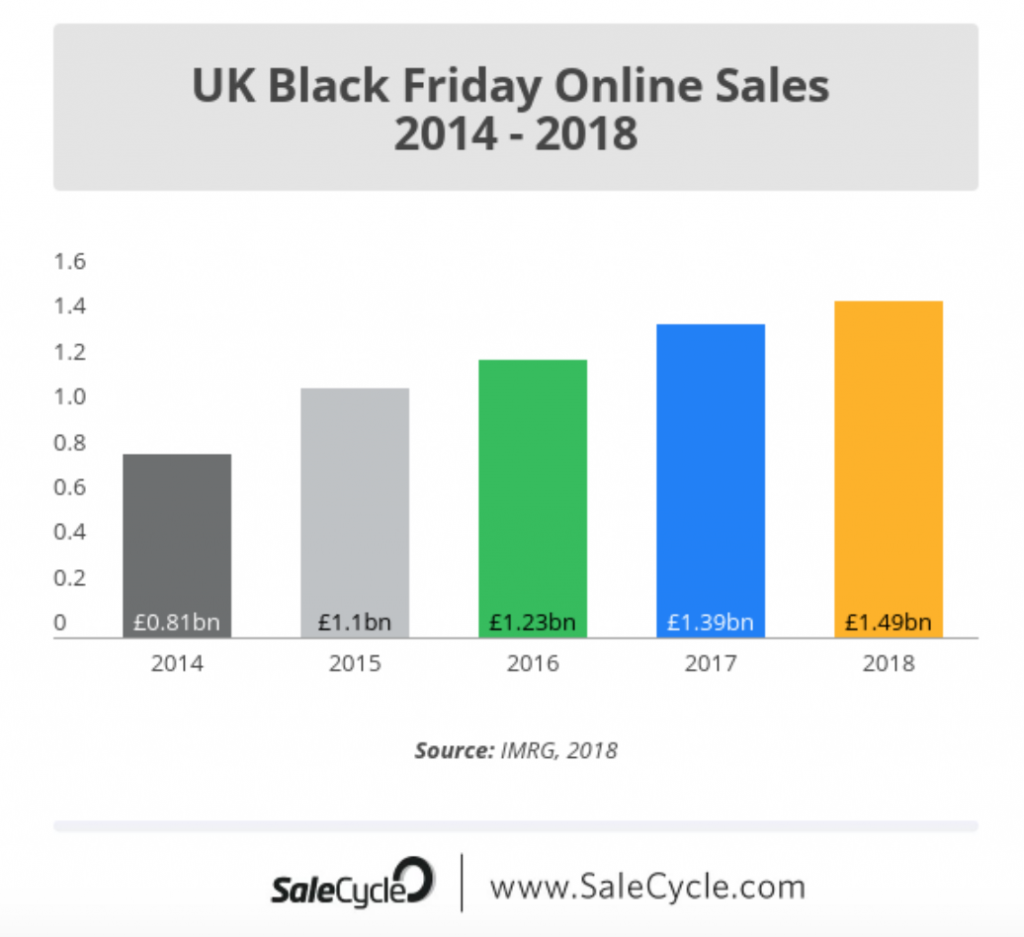 Its massive popularity means that ecommerce brands of all sizes can take advantage o
So, as an ecommerce marketer, do you know how to prepare for a Black Friday Ecommerce Campaign or how to market it on social media?
Here are some creative marketing ideas to get you started. 
Top Black Friday Marketing Campaigns and Ideas
1. Have a Deal of the Hour
By offering deals by the hour, you're tapping into the round-the-clock buying habits of consumers for Black Friday Marketing. 
People buy stuff at 6am, while others make purchases at 11pm at night. Usual shopping hours go out of the window as people clamor to get the best deals and fit their purchasing activities around the rest of their daily life.
And, because things can change so quickly from one minute to the next, you'll want to do all you can as an online store to put measures in place to maximize sales and keep on top of the day's hectic events.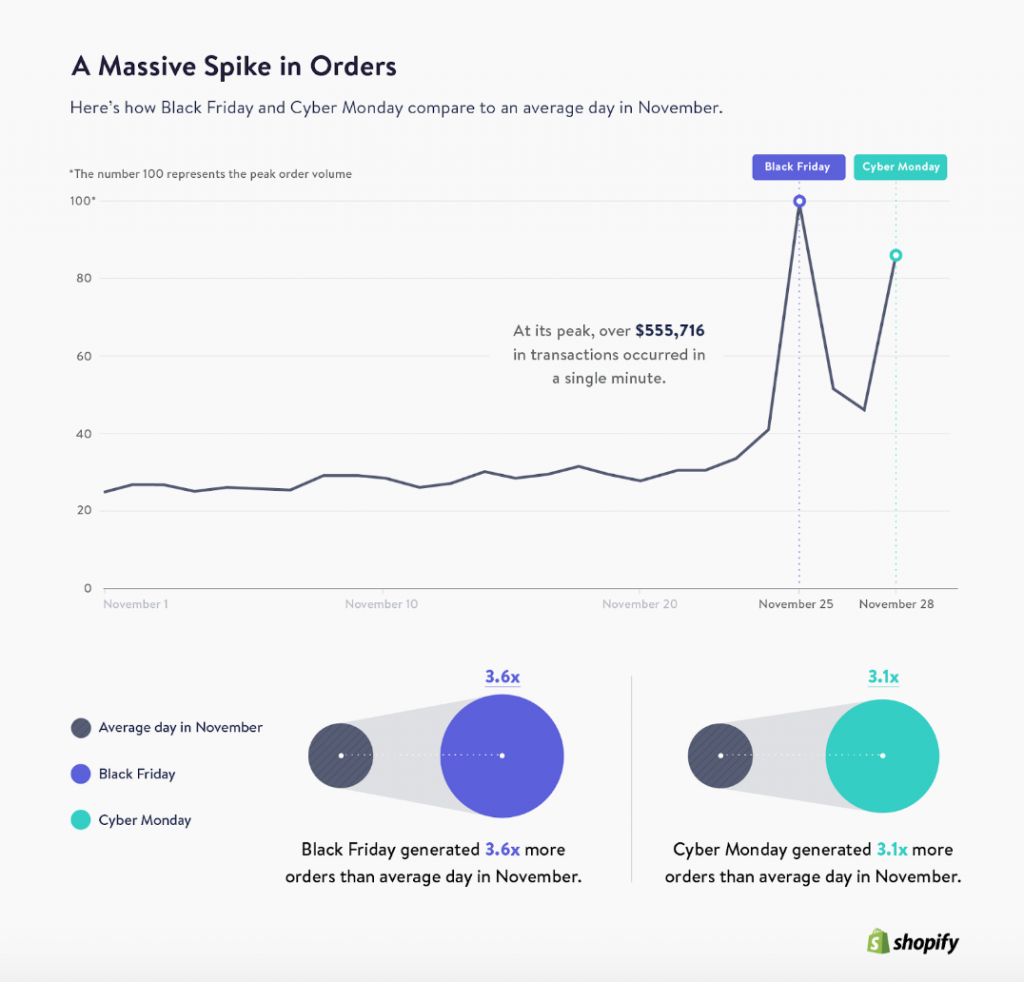 You can tap into round-the-clock buying habits by offering a "deal of the hour". This can work particularly well if you get high traffic to your ecommerce site.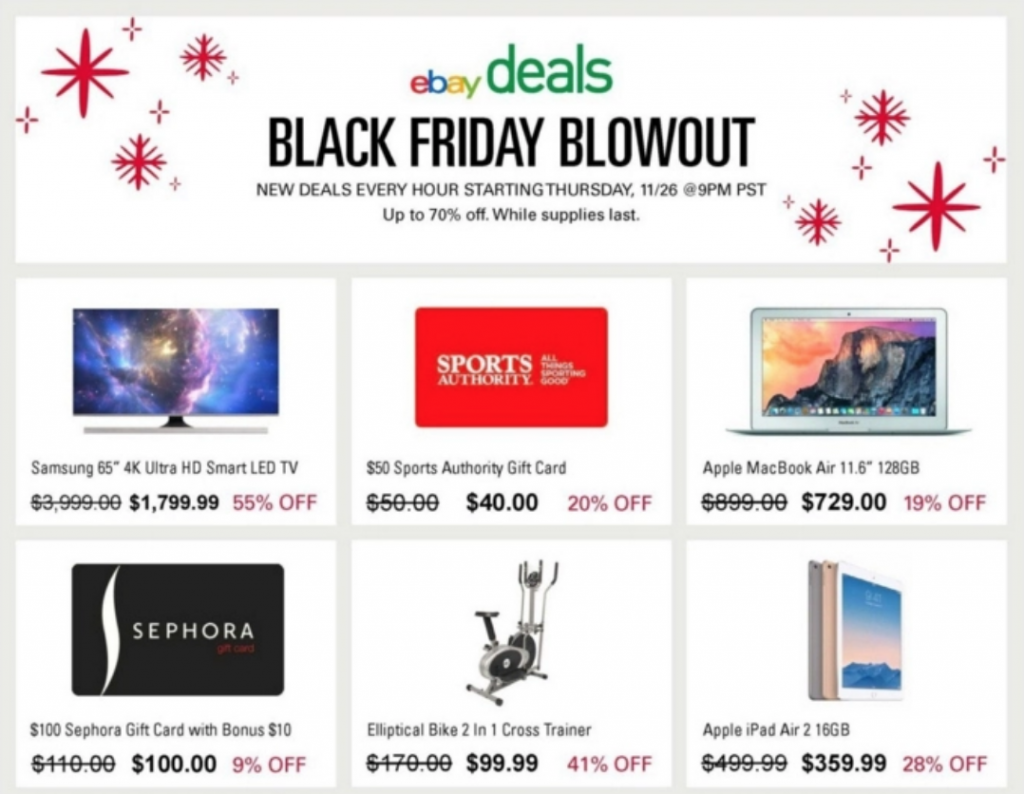 eBay offers "new deals every hour" with up to 70% off. 
Basically, you set a new product (or a range of products) as the "deal of the hour" each hour. 
During one Black Friday sales event, Tesco used real-time data to determine what products were converting the most and offered deals on those throughout the day. By identifying which deals were doing the best, the store could maximize their return on those products and make snap decisions about what deal to offer next. 
2. Create a Gift Guide
Trying to find the right holiday gifts for friends and family can be overwhelming. 
As a result, tonnes of searches for "gift ideas for him" or "gift ideas for kids" are run through the search engines as consumers desperately try and come up with the best gift. 
Many online stores create detailed gift guides that categorize their products for different recipients. You can take advantage of all the searches being made by creating a gift guide (or several gift guides) that showcase your products. 
This is a great way to showcase to potential customers that you understand their needs and are creating curated collections to fit a specific persona.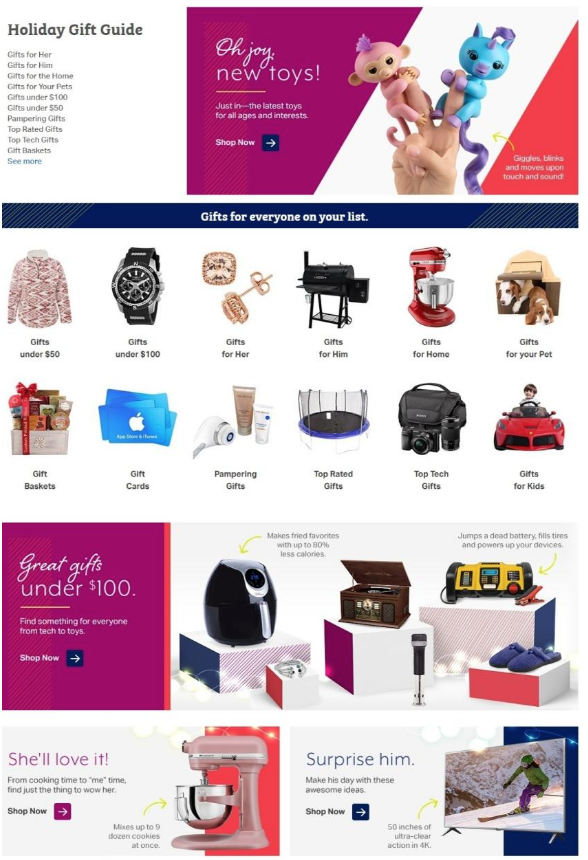 Consider  creating gift guides "for him", "for her", and "for under $100". 
The key to creating a high-converting gift guide is to get specific. There are tonnes out there all ready that offer generic suggestions and always seem to be a disappointment, which you absolutely don't want to do. 
Instead, make your gift guides irresistible by: 
Really honing in on what you're offering so it resonates with a highly-targeted subsection of your audience 

Looking at online sales data to see what's already selling well. Chances are, if an item is popular throughout the year, it's going to be popular during the holidays, too 

Using a tool like

Google Trends

to determine what's hot this year and to identify any trends that you can tap into with your gift guide

Asking your customers to vote on their favorite products so you don't waste any space in your gift guide with unwanted goods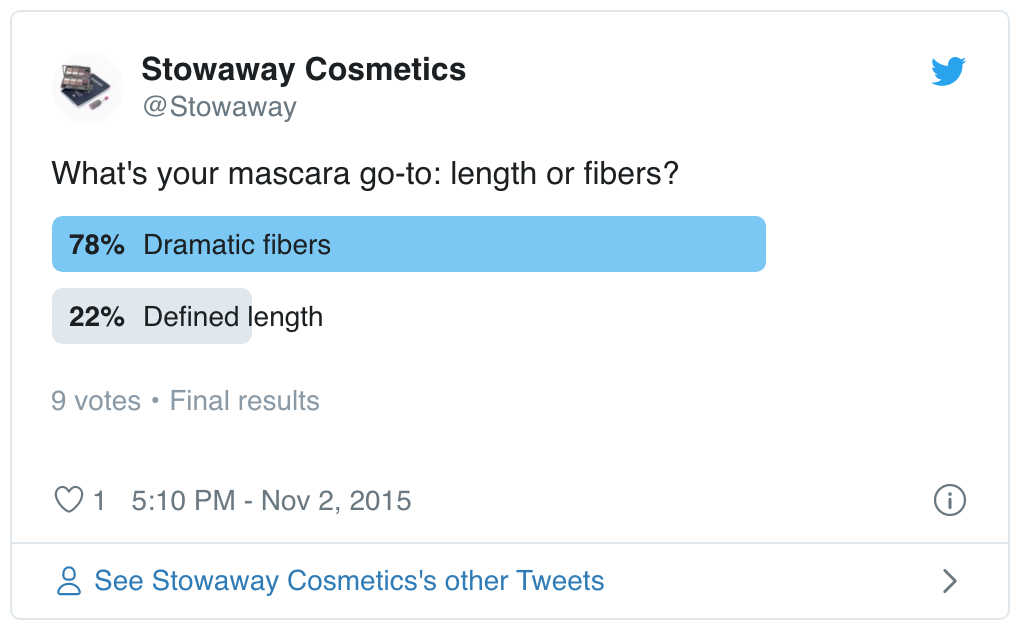 3. Offer Free Gifts
People love free gifts. It's a fact.
On Black Friday, you're competing with all the other online stores who are also clamoring to get the attention of consumers and push them to purchase their products. 
The key is to make your offer extra special so that it's a no-brainer for consumers to buy from you. A great way to do this is to provide customers with a free gift when they purchase a certain item or spend a certain amount of money.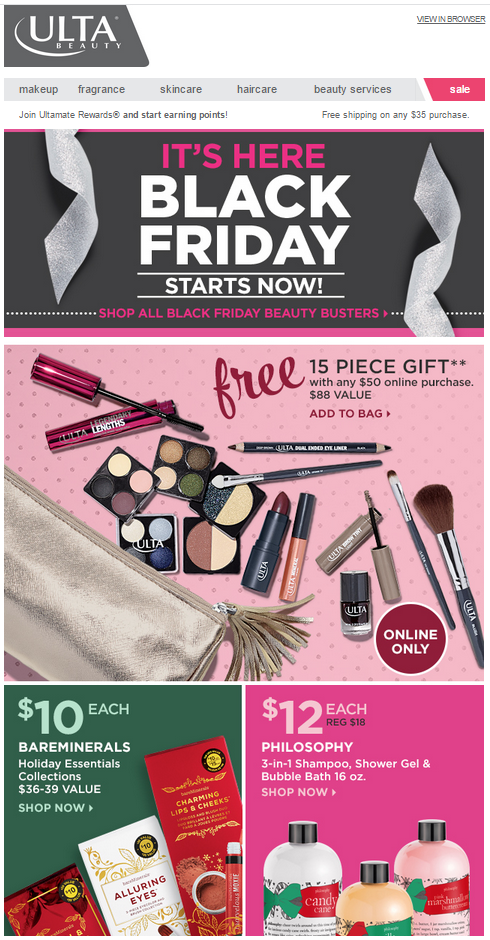 Ulta Beauty offers a free 15-piece gift set with any online order over $50. 
For example, if they spend over $50, you can throw in a freebie to sweeten the deal and make their experience more enjoyable. Plus, if they know they can unlock a free gift if they spend a certain amount, they might bulk out their cart until they reach that number. 
4. Have Customers Create Your Content
Black Friday promotion often comes and goes in an absolute blur.
You're trying to keep your head above water sending out emails, keeping social channels updated, staying on top of orders, and everything in between.
If you also have to create new content, you might just tip over the edge into Black Friday burnout.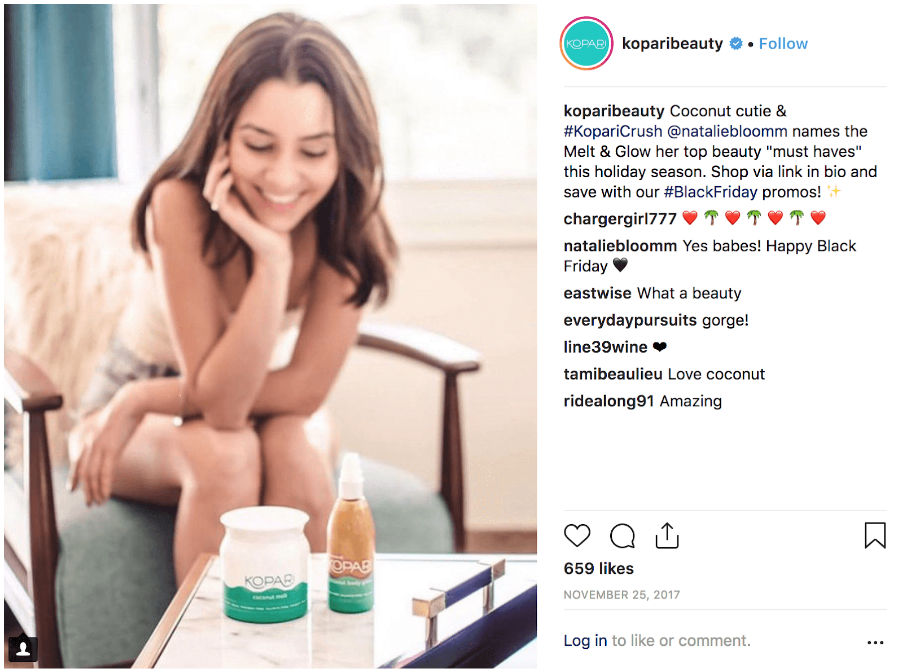 Kopari Beauty shares a UGC piece to promote their Black Friday deals. 
So, instead of spending hours creating your own content, why not tap into content created by others? 
If past customers have shared their own photos, videos, and reviews about particular products, ask to reshare those on Black Friday to save yourself the time and effort it takes to create fresh content from scratch. 
This will also encourage consumers to buy from you, as research shows that 90% of shoppers are influenced by UGC. 
5. Put Your Contact List To Work 
Anyone who has opted in to receive emails from you, wants to know about your Black Friday deals.  A quick note into your customers email, at regular intervals, will keep them looking to see what you have to offer next. 
Kick your promotions off with an email at the start of the day and then continue to send relevant, upbeat emails at various offers during the day. 

Send an email highlighting the mega discounts you have on certain products. 
You might use these touchpoints to promote specific products, offer free gifts, share gift guides you've created, or simply remind your subscribers how long they have left to take advantage of the deals. 
6. Have a Year-Round Black Friday Landing Page
Black Friday only happens once a year, which means most ecommerce brands create a landing page from scratch every twelve months. However, this takes up precious time and doesn't help your SEO pursuits either.
Think about it: if you're creating a brand new landing page every year, you're basically going right back to the start with your SEO each year.
Instead, create a landing page that can be left up all year round to gain link juice and boost SEO. Pages that have been around longer are automatically seen as more authoritative by Google and other search engines.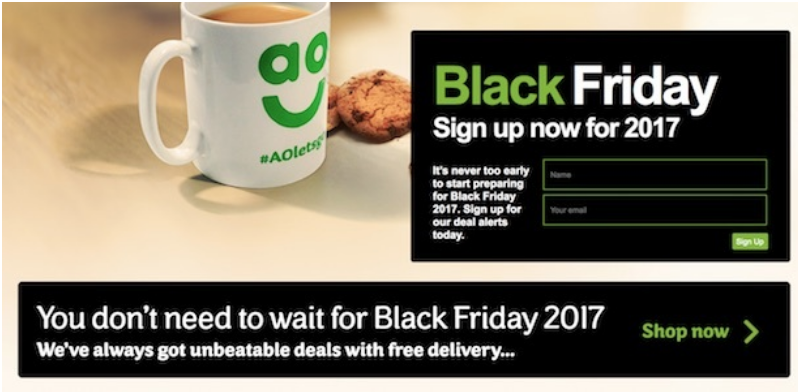 Then, when Black Friday rolls around, all you need to do is dust off your landing page, freshen it up with this year's hot deals and voila! You're already ahead of the SEO game after twelve months of cementing and securing SEO juice. 
7. Stay Active on Social Media
It's safe to say consumers will be all over social media on Black Friday as they try to scout out the best deals and join in with the shopping merriment. 
It's a great place to build connections, start conversations, and keep up with the questions your customers have about your brand and products. You can really push for a community vibe, as well as take the opportunity to share social-only deals, respond to comments, and generally create a buzz around your brand.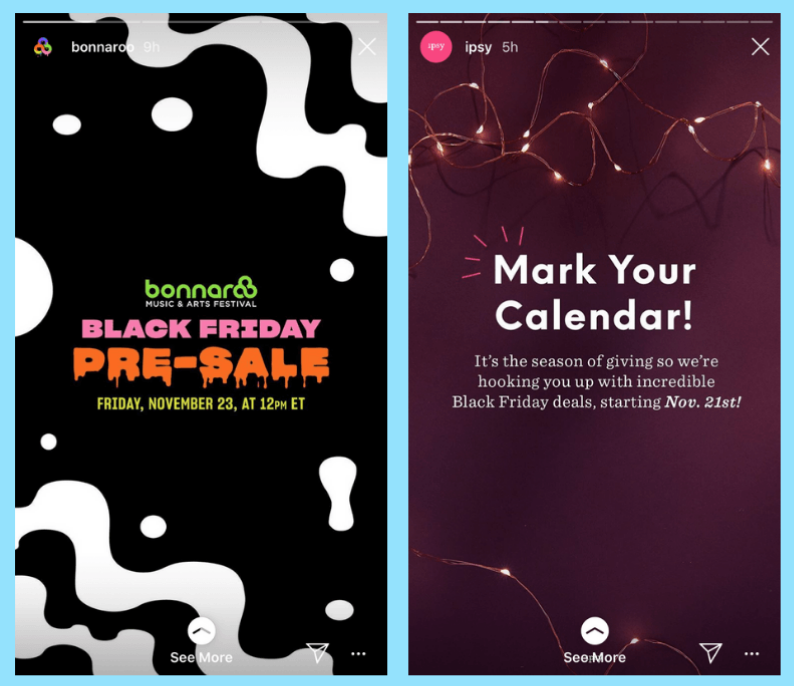 These brands use Instagram Stories to create excitement around their Black Friday deals. 
8. Use a Chatbot 
Here's the thing: just because it's Black Friday, it doesn't mean that people don't have normal shopping objections or questions.
Customers are going to have questions before they buy your products, and the busy nature of Black Friday means that you might not have the capacity to answer all objections and queries in a timely manner. 
As a result, customers might go elsewhere.
To avoid this, you can incorporate a chatbot to answer common questions, personalize suggestions for customers, and share relevant gift guides if they're still on the fence about what to buy.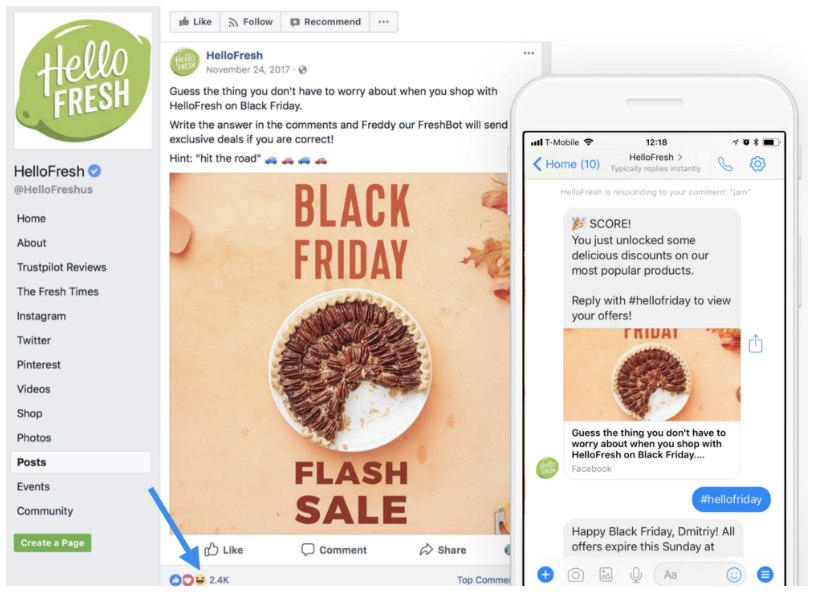 HelloFresh has a chatbot to share "delicious discounts" with its audience on Black Friday. 
Black Friday is one of the busiest shopping days of the year and you'll find yourself spread thin at one point or another. A chatbot will help ease this pain and allow you to scale your efforts. 
9. Create Bundles
If you have a lot of products that generally sell well together in a group or are regularly bought in a bulk order, take advantage of this on Black Friday.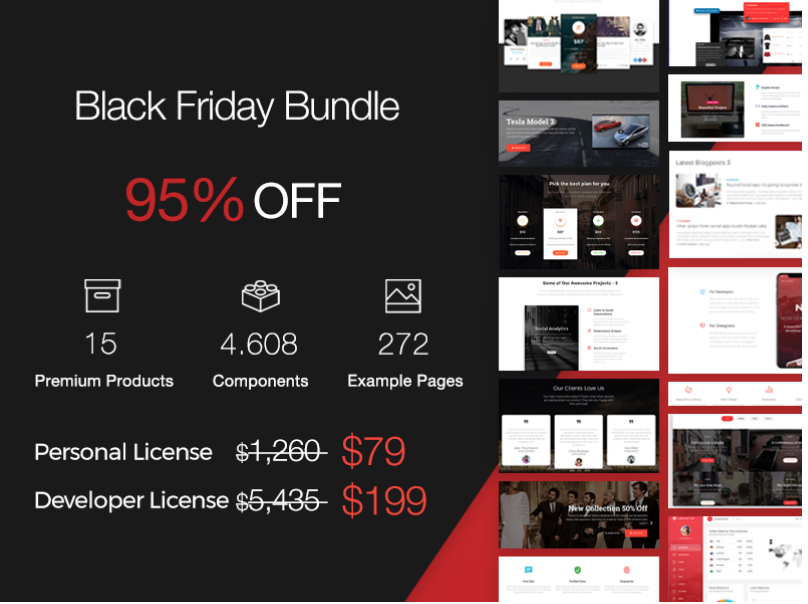 This brand bundles together 15 products for a very reduced Black Friday rate. 
Group together similar items or offer your bundles at a discounted rate so consumers get more bang for their buck. 
This will introduce customers to products they might otherwise not have bought from you, which can lead to loyalty further down the line (and more sales in the short-term!).  
10. Retarget Those Who Have Abandoned Their Carts
Abandon rates on online shopping carts are high, it's just a fact of ecommerce life. 
On Black Friday, expect abandon rates to rise as consumers try to find the best deal. As a result, they leave carts half-full all over the place.
Don't let their interest go to waste, remarket to those who have left items in their cart on your site without making a purchase. You can do this through Facebook ads by serving them a quick reminder that they still have unpurchased items in their cart.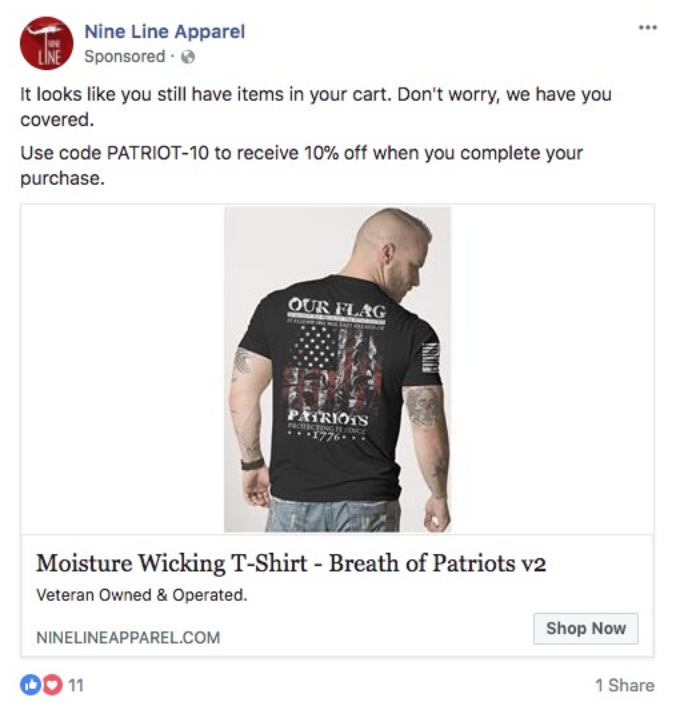 Nine Line Apparel pops up on Facebook for customers who have left items in their cart. 
Facebook does this by tracking the pixels of people who have visited certain pages of your website and then finds them on Facebook (and Instagram) to serve them a reminder ad. 
You can even offer a little incentive – like a discount or a free gift – to encourage them to go back and redeem the items in their cart. 
Get Black Friday Ready
With a great plan and all hands on deck you'll be ready to take advantage of Black Friday Marketing Strategies. 
When you keep your customers needs first with gift guides, bundled goodies, and freebies, they'll respond with the sales to make your day shine. 
We're here to help you boost social eCommerce with UGC. Schedule a demo today to learn more.