Social media marketing apps are all the rage at the moment.
The ability to access your accounts and communicate with friends, family, and followers all in one place is so valuable in this fast-paced world.
And, having the chance to converse and communicate with their audience and customers with the click of a button is hugely beneficial to businesses of all sizes in this day and age where instant connections are a must-have.
In light of the hunger for social media apps that let us carry around our networks in our pockets, GetApp have put together a ranking of social app leaders.
The list features 25 cloud-based business apps for all sorts of operations – think social media, HR, marketing, and everything in between – and guess what? We're sitting pretty at number eight. ?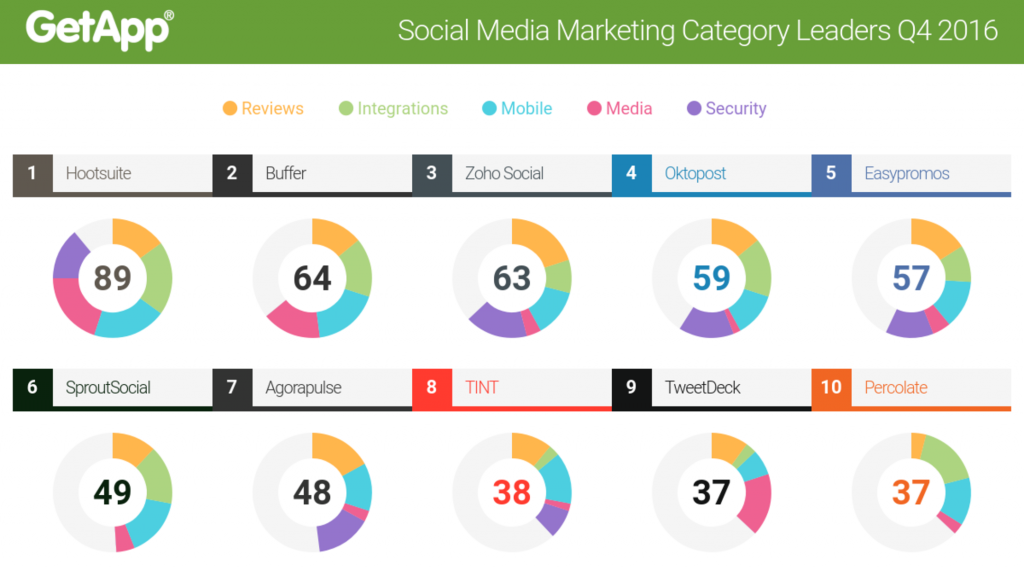 For the purpose of this post, we're only going to delve into the top 10.
So how does the ranking work?
GetApp uses five different data points to determine an app's ranking. Each data point is worth a grand total of 20 points, so, if an app is super-duper in all areas, it can get a total possible score of 100. The data points take into account user reviews, different integrations that are available, availability, media presence, and security.
Let's dig a little deeper before we get stuck in.
User Reviews

– GetApp takes into account the total number of reviews an app has along with its average rating. The better the reviews, the better the ranking in this section.

Integrations

– this covers the number of integrations available with other apps. The more integrations, the higher the ranking.

Mobile Platforms

– taking into account how available it is on Android and iOS, as well as its rating in Google Play and the Apple Store. The more availability an app has, the better it ranks.

Media Presence

– this takes into account the number of social fans and followers the app has on Twitter and Facebook. The more followers an app has, the higher up the list they go.

Security

– GetApp also measures how secure an app is. The more secure the app, the better the ranking.
Each section can land an app up to 20 points, but each one also comes with its own weighting. For example, if two apps come neck-and-neck with a score, their rankings in certain categories will be given more weight. Security is the most important, while media presence is the least important.
So without further ado, let the games begin.
10. Percolate
In at number 10 is Percolate, a digital marketing campaign management app that allows users to plan and analyze campaign results.
Its features include an easy-to-use and customizable calendar and planner where you can bring together all your campaigns, organize them, and create collaborations with other businesses.
The real USP of Percolate is its ability to personalize your campaigns by using data from your target audience, objectives, and brand identity to make sure your campaigns are well and truly a part of your brand.
With the in-built calendar, you can schedule content across a range of social channels, share content internally with fellow team members, and create a storage space where you can keep all your collateral in one safe place.
9. TweetDeck
The desktop social media app TweetDeck comes in at number 9. Once downloaded, it becomes your personal browser for keeping up to date on the latest news and trends across all your designated social platforms.
As well as Tweeting out the latest updates, you can also see all of your activity, messages, and streams in one place at the same time.
8. TINT
Oh look, it's us!
TINT places at number 8 in the rankings (#1 if you're measuring it on social display). Our social media marketing app was built for brands who want to reach their audience in new and innovative ways by bringing together all your user-generated content in one compelling place.
Real-time social media visualization? We got it covered. Want to gather together your hashtag campaigns in one place? That's our jam.
7. AgoraPulse
Swooping in at number 7 is AgoraPulse, a social media management tool that helps you manage and organize your Facebook, Twitter, and Instagram accounts.
The app has been designed specially to help businesses manage their communications via private messages, comments, and Tweets while they're on the move. With it, you're able to deal with your social media in less than 15 minutes a day.
6. SproutSocial
Climbing the list to take up the 6th spot is SproutSocial, run by digital marketing legend Neil Patel.
The app provides a home for all your social media management tasks to help you focus on growth and engagement.
Key features include the ability to publish drafts, team content calendars to streamline your message, monitoring with a specialized inbox, deep analytics that give you detailed reports on your social profiles, the ability to collaborate on the spot, an in-built CRM, and a HelpDesk, where you can turn conversations and feedback on social media into customer service tickets.
5. Easypromos
Taking the middle spot at number 5 is Easypromos, an app designed especially for digital promotions. With the easy-to-use interface, you can set up, run, and manage digital campaigns that run across a number of different social platforms.
Inside the app, you can engage with your audience, generate leads, and gather feedback from your campaigns using a variety of performance-focused tools on offer. With it, you can easily run sweepstakes, contests, quizzes, and surveys to build awareness of your brand and grow your user base.
4. Oktopost
Oktopost comes in at number 4. This is another social media management platform that allows businesses to manage their presence on platforms like LinkedIn, Facebook, Twitter, and Google+.
Designed specifically with B2B marketers in mind, the app specializes in tracking social posts in order to convert users into leads, and the data gathered can easily be synced up with big-name marketing platforms (think HubSpot and Marketo).
Oktopost also features an in-built employee advocacy board, where marketers can share social content with other members of their team.
3. Zoho Social
The bronze medal position is held by Zoho Social, an app that helps marketers working in huge organizations grow their social media accounts and keep track of them over a number of different platforms.
As well as insights based on engagement, Zoho Social gives marketers predictions on how many people will likely see their posts, and suggest ideal times to publish content.
In the dashboard area, you can see real-time updates through instant notifications and glean statistics that are specific to different platforms.
2. Buffer
In second place comes scheduling giant Buffer. This app allows users to schedule and share pictures, content, and videos across social platforms like Facebook, Twitter, and LinkedIn.
The easy-to-use interface is what makes Buffer such a coveted platform, what with its ability to simply publish content posted in your Buffer queue at the best times throughout the day. You basically just drop in links, stories, and updates to your queue and sit back and watch your social channels grow.
Hootsuite
Taking the top spot is Hootsuite, another social media management platform that allows you to schedule out posts, videos, and stories at the best times.
As well as featuring an in-built "publisher", where you can schedule specific posts to go out at certain times, you can also create personalized feeds that showcase conversations in different hashtags. This means you can easily monitor campaigns and get involved in them all from the same place.
The emergence of so many social apps has meant businesses can really start to connect with their audiences on a personal level.
Being able to manage campaigns, research analytics, and grab data with the click of a finger means businesses are more likely than ever to deliver successful campaigns that their audiences can't wait to devour.
And, as GetApp's list shows, there is a whole range of apps that support all different kinds of needs. Whether you're looking for an easy-to-use app to monitor campaigns with, a place to schedule all social media, or a platform to bring together user-generated content in a compelling place (hey, that's what we do!), there is a social app out there for you.