Online marketing has more facets today than it ever has before; your website needs to be immaculate, your blog needs to be helpful, and having a strong and consistent presence on an always-growing number of social media accounts is practically required. This means that more time, effort, and money must be put into tackling all these different factors of online marketing.
Fortunately, there are methods that can be used to reduce the time requirements. Building an online community with an interested audience can inspire brand ambassadors that do some of the hard work for you. In this post, we're going to take a look at how to build an engaged community that can reduce your marketing workload while increasing success.  
Community Building with User Generated Content
One of the most effective ways to build your online community is with user generated content. UGC comes in different forms, including reviews, testimonials, and images, videos, or posts that users share. UGC is exceptionally valuable, particularly in today's world of marketing, where it counts a great deal when it comes to bringing new customers to your brand and increasing user loyalty.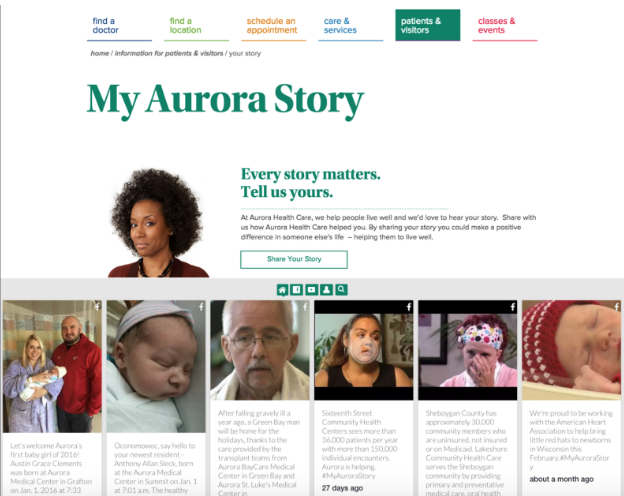 Aurora Health Care has built an active, advocating online community around UGC.
The content users create can be shared across all platforms online, including your website, your blog, and any and all social media sites. Sharing UGC can be a vital part to building your community further, but it will never be created if you haven't begun to establish an online community first. To create a community that can transform your online presence (including through UGC), there are 4 important tactics to implement right away, starting with engaging with your audience.  
1. Engage with Your Audience  
If you want your online community and your followers to care about you, they need to know that you care about them, too. This is the first and the biggest step towards creating an engaged community that will create and share UGC for your brand.
The most important part of this step to interact with your users as much as possible. If they share an image with you that they've created it, share it on your site or on social media. Respond to comments and reviews on your site and on social media, and try to facilitate conversations instead of just comments.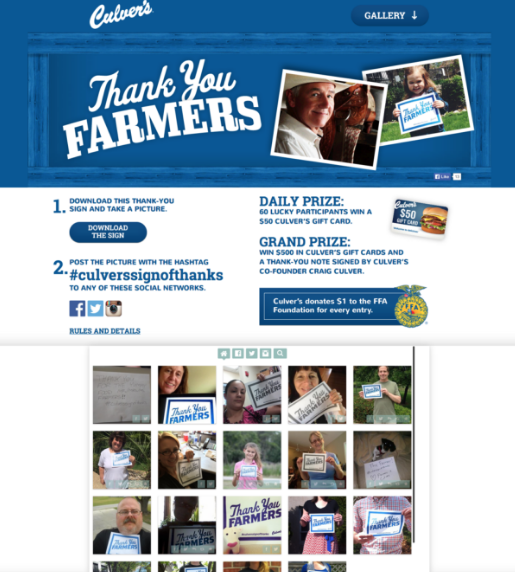 Culver's uses contests to boost engagement in their social media communities.
To increase engagement on your site, blog, and social media sites, you can also use strategies like:
     

Hosting social media contests, which can generate a ton of engagement and excitement quickly while effectively promoting your brand

     

Asking questions, which can be applicable on social media or your blog, and encourages users to share their opinions (and who doesn't love to do that?)

     

Share customer stories, which allows people to connect with your brand on an emotional level, and can prompt UGC
2. Create Content That is Designed to be Shared
When looking to increase engagement, expand your reach, and increase your following, good content is an essential part of that plan (or at least it should be). You not only want to focus on creating enough content, but also on creating that that is designed to be shared.
Some types of content will automatically be more likely to be shared more than others. Videos on social media, for example, have incredibly high engagement and share rates. Brand-posted UGC also has high share rates on social media.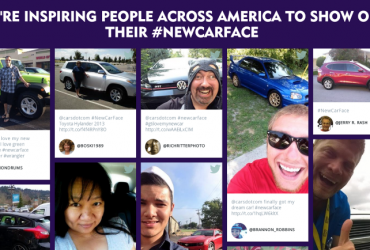 Cars.com shares UGC on their site, knowing that UGC has higher share and engagement rates.
Include a CTA on your content whenever possible; even asking users outright to share content at the end of a video can be enough to result in higher share rates, while you can also add a clickable CTA onto UGC to encourage them to purchase it. Similarly, ask users to share new content with you; it can be a reciprocal relationship that works both ways.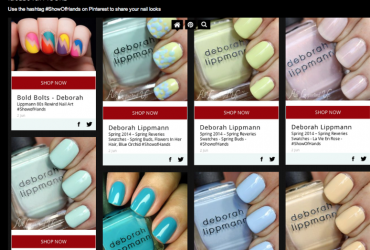 CTA's can be placed on UGC to prompt users to share content, or, in the case of the example above, to purchase an item from a UGC image.
3. Provide Value and Support
Offer value in your community with the expectation of nothing in return. This is easier said than done, but if you're offering value, users are more likely to view you as a valuable resource, trust you, and share your content with others. This value is best when it's offered to your community for free.
Providing valuable content and support for your community can come in a variety of ways, including:
     

Free resources like blog posts or brief PDFs

     

How-to tutorials on youtube

     

Answering questions users ask, particularly when you can answer them in a public way

     

Share information and updates in email newsletters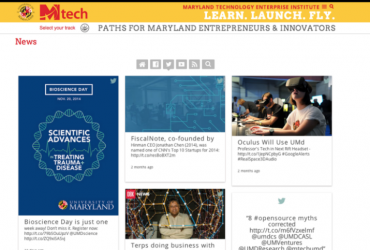 MTech UMD's site has UGC mixed in with content that is relevant and valuable to their audience.
When you provide value to your community, you're offering them a valid reason to keep coming back to your site and social media platforms. The more they come back, the more likely they are to engage with your content, and the more they engage, the more brand loyalty they feel. This familiarity and loyalty is essential as we move into our next step.
4. Promote Brand Advocacy
Have you ever been so excited about a product or an experience with a brand that you immediately told a friend? After I bought my car, I loved my salesperson so much I gave their information to every person I knew (and a few I didn't) who were even just thinking about purchasing a car. The end result? That salesperson and Honda dealership made 6 sales that drove an extra hour out to them—past two Honda dealerships that were on the way—which they almost certainly wouldn't have made if it hadn't been for one vocal advocate.
While cars are big purchases, even small brands with smaller purchases can have brand advocates. I buy soap from a small shop that a friend recommended, and I get my groceries from a local store a family member told me about. If I had just seen their names or an advertisement, I probably would have ignored it. This is what makes brand ambassadors so powerful.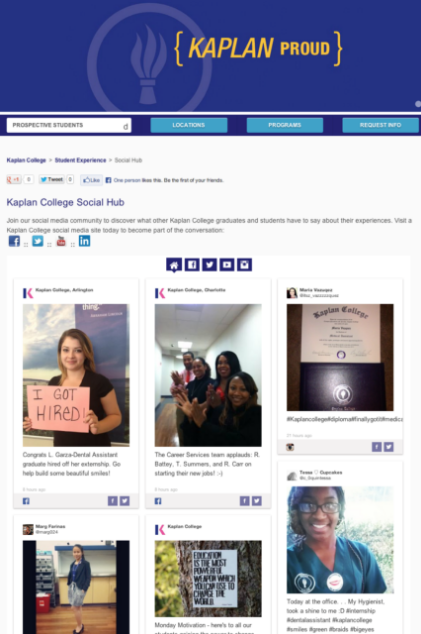 Kaplan college posts UGC images of alumni and descriptions of their new jobs, allowing them to be proud advocates of the college.
One method of promoting brand advocacy is by offering referral programs, where a user gets $15 off for every friend they refer to you that purchases, for example. You can also promote brand advocacy but continuing to share UGC, reminding users who visit your page that other users are advocating for you.
Promoting brand advocacy and creating brand ambassadors will be easier to do once the first three steps on this list have already been implemented, as both engagement and brand loyalty will likely be higher than it was before.
Final Thoughts
While maintaining a strong and consistent online presence today requires more work than ever before, it's possible to build an active and engaged community that will do some of the work for you. By providing value and support to your community and showing them that you're invested in them, you can inspire UGC and brand advocacy from users that can increase marketing success more than any regular campaigns would.