As consumers increasingly use social media to research and plan their travel, brands must find a way to pierce through the noise and stand out. It's been proven that consumers trust their peers to a much greater degree than they trust brands. In fact, there is a wealth of data that points to user-generated content (UGC) as a great resource for hospitality marketing efforts. One study shows that 50% of Facebook users say their friends' travel photos inspired their own travel plans. Consumer-generated content campaigns have also boasted 29% more online conversions than their brand counterparts. Here are four ways that hospitality brands can use UGC to boost their marketing ROI.
Leverage UGC to Develop Creative Assets for Hospitality Marketing
A creative team always aims to develop content that sticks out yet feels genuine. But with the rise of consumer content, it may not be as necessary for a brand to start from scratch. Thanks to UGC, there's a massive pool of content from the unique perspective of the audience they're targeting! Creative teams can spend more time curating user posts and building upon the free UGC that guests are already providing.
And UGC isn't doomed to be buried in a sea of Instagram stories that are here today and gone tomorrow—on the contrary, a great user-generated post can be the centerpiece for entire campaigns. Savvy brands spread user content across multiple marketing channels to get the most value from it. Loews Hotels, in particular, maximizes the power of UGC by utilizing it across their website, print ads and even key cards.
Focus on the Guest Experience
It's easy to get caught up with the features of a property and lose sight of what matters: the guest experience. This is where UGC can really shine—it puts the guest at the forefront of your marketing efforts. After all, that consumer posting to social may not be as concerned with the room's square footage or the specs of the swimming pool as they are in showing—or bragging about—what their experience is like. This is where UGC can be solid gold for hospitality marketing: consumers are sharing photos and status posts about their feelings and overall impressions of a property.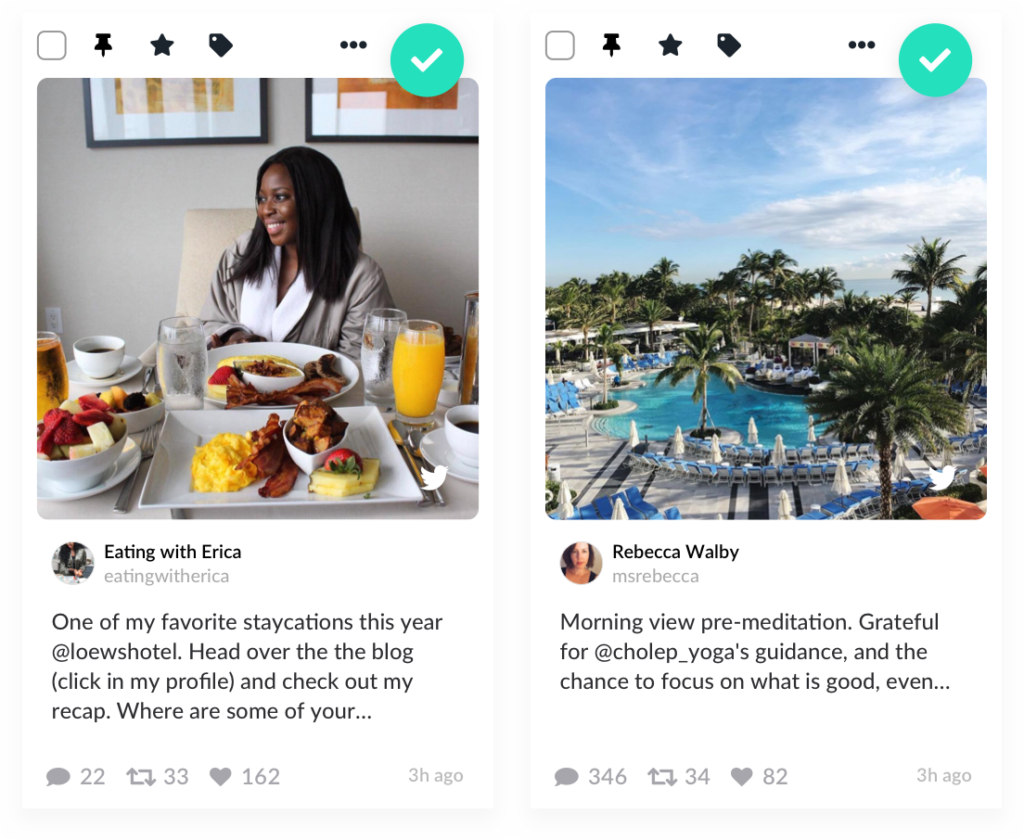 Need some proof? Look above at the photos two Loews guests posted to social media. In one, you have a "staycationer," a local vacationing in her hometown, who's enjoying her picturesque morning, complete with breakfast in a robe. In the other, we get a moment of gratitude—with a view of the pool, of course—before meditation. The specific thread count of the robe, extensive menu available for room service and the number of jets in the pool are immaterial. Instead, the amenities are more of a complement to the experience that the guest is having. Trying to evoke that kind of emotion from an internal team is tough. While the guest is "in the moment" and having an experience, the brand team has to approximate what the experience is like from their workstation.
Increase Volume of UGC By Running Contests
When it comes to compelling your consumers to create content, contests are a great way to get started. Take a cue from the luxury hotel group Four Seasons, which recently hosted a photo contest. The chain often receives upwards of 5,000 entries and enormous engagement from their large Instagram following. Guests simply use the hashtag #FocusFSChallenge and share photos based on the topic for the month, which have included Design and Architecture, Local Culture and Nature's Wonder.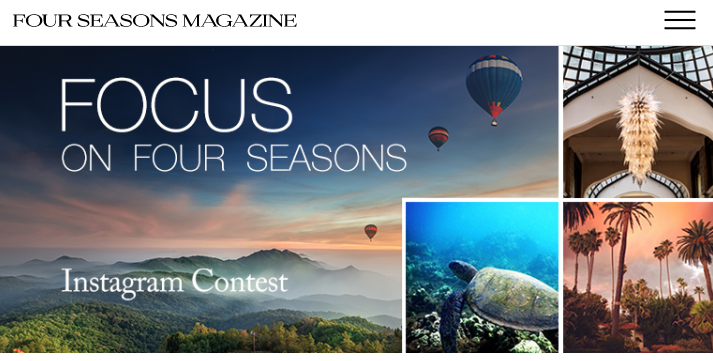 Creating a contest around a specific topic gives entrants some guidance while ensuring that Four Seasons is encouraging UGC that's consistent with the brand's messaging and marketing efforts. And beyond the fact that Four Seasons is seeding marketing content through this UGC contest, the brand is increasing engagement on social platforms that may catch the eye of a potential guest.
Create an Emotional Connection and Build Trust
A McCann study (discussed in The Hospitality Industry's Guide to User Generated Content by TINT) asserts that 42% of Americans think brands are less truthful than they were 20 years ago. Today's consumer isn't fooled by the cookie-cutter smiles and staged fun; they demand something more substantial. UGC is an authentic way brands can prove to consumers that real people enjoy their product every day. It's the all-powerful word-of-mouth recommendation, at scale.
Additionally, using a customer's content on a brand's social media pages is a great way to further develop loyalty among your most ardent promoters. The simple act of a brand acknowledging a story with a like or comment or actually reposting a guest's photo is a way to share the love with their fans. Giving this type of attention to individual customers builds lasting relationships and is especially important for the hospitality consumer, who represents the opportunity for repeat visits. But it is important for a brand to secure the rights to use a customer's image prior to reposting—this is one of the reasons TINT has a built in UGC rights management tool.
Take Your Hospitality Marketing to the Next Level
Today's guests are motivated by content featuring genuine and honest accounts of real people's experiences. And the most powerful marketers available to hospitality brands are guests. Looking to incorporate authentic content from a guest's experience into your marketing ads with user-generated content? Let TINT help.
We have a UGC platform that lets you rapidly discover, select and publish user-generated content to help promote your hospitality brand. And we have a built-in usage rights management system to ensure that you don't tread on anyone's copyright. If you want to learn more about implementing user-generated content into your business, contact TINT to schedule a demo today.
Garrett Heath is a social media and content marketing consultant and founder of MarketingBytes.io. Chrissy Chavez also contributed research and writing to this article. Header photo by Dariusz Sankowski on Unsplash.