Black Friday until Christmas Eve is often the golden season for eCommerce operators. Year over year, online holiday spending has increased by almost 20% with Black Friday and Cyber Monday alone accounting for $14.1 billion in eCommerce revenue. Seasonal fluctuations will always be part of the shopping experience, but the best retailers are seeking innovative ways to maintain the boom post-holiday.  
We turn to Ashley Hilton, Sales Enablement Director at SearchSpring; and S David Ramirez, Marketing Manager at TINT, for trends that will help brands break the mold and keep the momentum going into the New Year. 
This blog is a companion piece to a webinar. Watch the full presentations for additional stats, insights, and information. Available on Demand Here.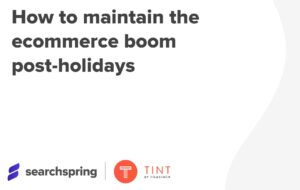 The State of eCommerce
eCommerce has experienced 10 years of growth in just 90 short days of 2020. Shoppers who have long preferred the in-person experience were forced to shop online. 75% of US consumers have tried new brands for the first time during the pandemic. 60% of those shoppers plan to keep shopping from these new brands.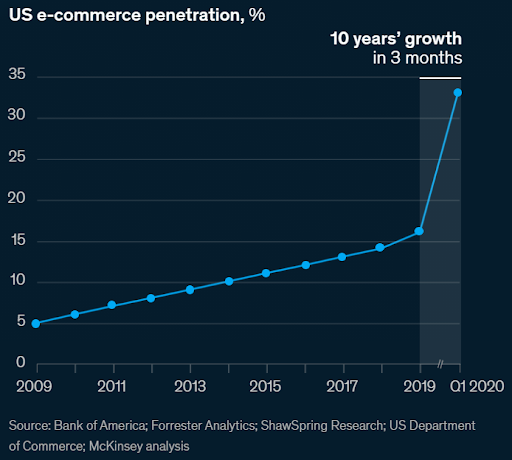 Personalization and Connection are Key
With that demand comes higher shopper expectations. To capitalize on this potential growth your store needs to stand out from the competition. While 80% of consumers state that they are most likely to buy from a brand that offers a personalized experience. We should never forget that over 97% of eCommerce shoppers don't convert. 
Personalized shopping experiences drive stronger conversion rates, higher return on ad spend (ROAS), and larger average order values. We'll be covering four major trends to consider to make your shopper experience even more relevant in 2021. 
Four Trends for a More Relevant Shopping Experience
Micro- and Nano-Influencers

Merchandising and Site Search

Social Commerce

Special Product Recommendations
Trend 1: Micro- and Nano-Influencers
 2020 was the year of the rising stars in the influencer space. Everyone was at home, everyone was stuck with their smartphone or smart device. And so everyone was creating content. As we look forward to 2021, and beyond, this has started a wave of content creation across a variety of demographics and psychographics. 
When it comes to your best brand advocates, you need to think small. The mega-influencers of the world continue to increase in price, with the top creators' cost equivalent to a traditional media ad buy. A recent article shared that Kim Kardashian makes $1 million for a single round of social media posts. Even smaller, more niche influencers like Jeffree Star charging $900,000 for a single round of posts. 
Micro-influencers Drive More Action by Building Community
In some verticals, influencers like that are really relevant; but we have found that people prefer engaging with micro-influencers. 82% of consumers who receive a recommendation from a trusted micro-influencers are more highly likely to follow it. The reason for that is because micro-influencers have a small but dedicated following. They actually understand the products, they understand their audience, because they are one of their audience's tribe. It is a collectivist perspective: if you follow XYZ micro-influencer, then you are an XYZ type of person. 
See the TINT Primer to Micro- and Nano-Influencers here.
People do this all the time. Whenever I say I'm from Texas, I can go to almost any airport in the world and say, hey, are there any other Texans, and other Texans will immediately connect and identify this Texan tribe. The same happens with sports teams, universities, and movie franchises. That same process happens in smaller microcosms in digital spaces. 
Micro-influencers have increased rates of likes and an increased number of comments. Overall, micro-influencers see a 5% to 10% increase in reach compared to organic posts from larger mega-influencers and brands.
Nano-influencers are Local Experts and Tastemakers
Nano-influencers have social presences with less than 10,000 followers. Nano-influencers do not aspire to be mega-influencers. Their goal is to prove that they are content experts in their own community. And you really don't need more than a couple of hundred followers to do that. Being able to activate and engage nano-influencers at scale can be three times as powerful as activating a single mega-influencer.
Key Benefits of Smaller Influencers
Brands can acquire content rights and control distribution.

Micro-influencer "pool" grows as a brand grows

Micro-influencers are more likely to have brand affinity or connection with existing brands

Cost to scale micro-influencers remains maintains a proportional ratio

Properly activated micro-influencers do not require Federal Trade Commission supervision
Yeti Cast Study
My recent favorite micro-influencer program was executed by Yeti. They launched a microsite called #BuiltForTheWild where they asked fans from all over the world to share their epic shots of Yeti gear. They really focused on finding people that were all about the outdoors lifestyle; people that were passionate about enjoying nature.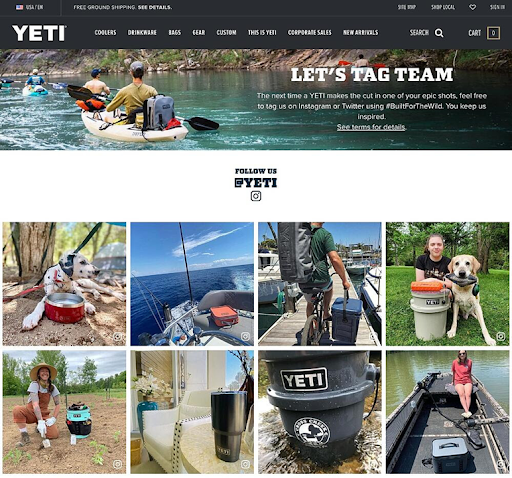 First, they were able to capture a ton of content. By incorporating calls-to-action and hotspots on the content, they drove people directly to their eCommerce shop..They further cultivated a micro-influencer ambassador program by hosting lunch-and-learns about topics that would interest their biggest fans: how to start a fire, how to pick a travel companion, how to pitch a tent, how to start streaming.
Not only was #BuiltForTheWild a fantastic, feel-good campaign. It drove a lot of engagement and accelerated the customer journey which ultimately led to conversion on Yeti and affiliate eCommerce sites. 
Trend 2: Merchandising and Site Search
Merchandising has always played a big role in the overall retail strategy. With eCommerce, "merchandising" often has different meanings for different people, and rightfully so. Relevancy is in the eye of the beholder, and this is no different. 
So your eCommerce strategy should be influenced by your business and your customer, and there's no one-size-fits-all approach. There is a disjointed experience between shopping online versus shopping in a store. With the right tools and planning, you can take complete control of the customer shopping experience.
Landing Pages
It's important to leverage dedicated landing pages on your store to complement marketing campaigns and to resonate with the shoppers. As they see your products in ads and social posts they're enticed to learn more. By creating these pages you're giving the shoppers an easy, frictionless way to shop for featured products. 
If you have influencers that like your products, create a dedicated landing page for them. That gives the influencer's followers easy access to shop for what they've seen, and what they've liked in their social posts. 
Regardless of how a new prospect comes upon your brand, a specialized landing page helps with retention and conversion. 
Automated Merchandising
We're going to put a large emphasis on the automation part. You shouldn't need a full team of merchandisers spending a ton of time on your site. Think about the effort that goes into merchandising a brick and mortar store. They're not going to have a shoe on the end cap that's completely out of inventory. They want to leverage that kind of highlighted exposure for products that are in stock that are popular, that might be new, that are of trending styles, and so on.
With brick and mortar stores it is harder to merchandise; it takes physical effort to move products from one place to another. Virtually, we have tools to make big changes across the store with a few clicks. By automating those rules, you're keeping up with the demands and data as it updates. You might have had a full stock of a product yesterday, but it's hot and now it is gone except for a few odd sizes. Automated processes should remove them from valuable positions that would benefit the customer journey.
Automating roles requires some specific housekeeping. Stock status is important, typically newness and sales data are important. Some retailers like to promote products that are on sale. Then expand beyond that. Are any products out of stock, or not popular, or in broken sizes?
But don't let those products take up that valuable real estate above the fold. The average prospect isn't making it to pages two or three. They're window shopping. They're kind of walking down an aisle that is page one. This is your opportunity to get the right products in front of the right customer at the right time
More Merchandising Tips
Push down products that have missing images or bad thumbnails

Be mindful of seasonality

Push up content that has UGC like photos or reviews
Finally, look for global relevance. In 2019, if someone was searching for "face masks" they were likely looking for skincare products. In 2020, if someone is looking for a mask, it is something completely different. Annual data is important but also keep running tabs on purchasing trends at 30, 60, and 90 days. 
Show Your Banners
Banners are a great way to highlight special offers and promotions, to tell a story, to provide useful content, and more. There is no limit as to how you can leverage banners. 
Banner Uses
Showcase New Products

Promote Seasonal Offers

Promote Specific Brands

Celebrate Influencer Relationships

Encourage action with flash incentives
Think Beyond the Hero
Banners are traditionally part of, or just beneath, the hero. They are called banners because they hang from the top of your website. Newer trends in web design add banners to new places:

Hero

Headline

In-Line or In-Grid

Footer
Reimagine banners as a mechanism for storytelling. They should be designed and curated the way a landing page would be. Think of it as a way to enhance the overall user experience by sharing information that accelerates the customer journey.
Site Search
When a shopper uses a site search, they are close to converting. This high purchase intent can be destroyed if they're unable to get accurate results. When engaging with site search, they are motivated and need to find items quickly.  
It isn't enough to have good search software, your tools should be able to predict how shoppers are going to search for your products. Think about variations of keywords. There are many synonymous terms for every single retail vertical. Listen to your data, the proof is in the pudding. This is going to give you the answers to the questions you want to know. Look at how your shoppers are engaging with your store, what they're searching for, what categories they frequent, what filters they're using, and you'll discover what is important to them.
If you're unsure where to start from on a search merchandising strategy, filtering and sorting reports can be really helpful, they can uncover some of the basics of what's important. It's important not to focus also on a single metric. 
If you're analyzing his data, do not only look at clicks.  Clicks don't tell the whole story. You may get false trends if they're clicking and not converting. Analyze things like exit rate and bounce rate. Identifying what's performing well, and what isn't. You likely have a treasure trove of answers in your eCommerce platform, it is time to use it. 
Trend 3: Social Commerce 
Social commerce is a hot topic and practice that will continue to develop and grow in 2021. Social Commerce is all about looking at social media as a tool to drive the entire customer journey. It's about optimizing and examining journeys through a social media lens. 
Read our Definitive Guide to Social Commerce Here.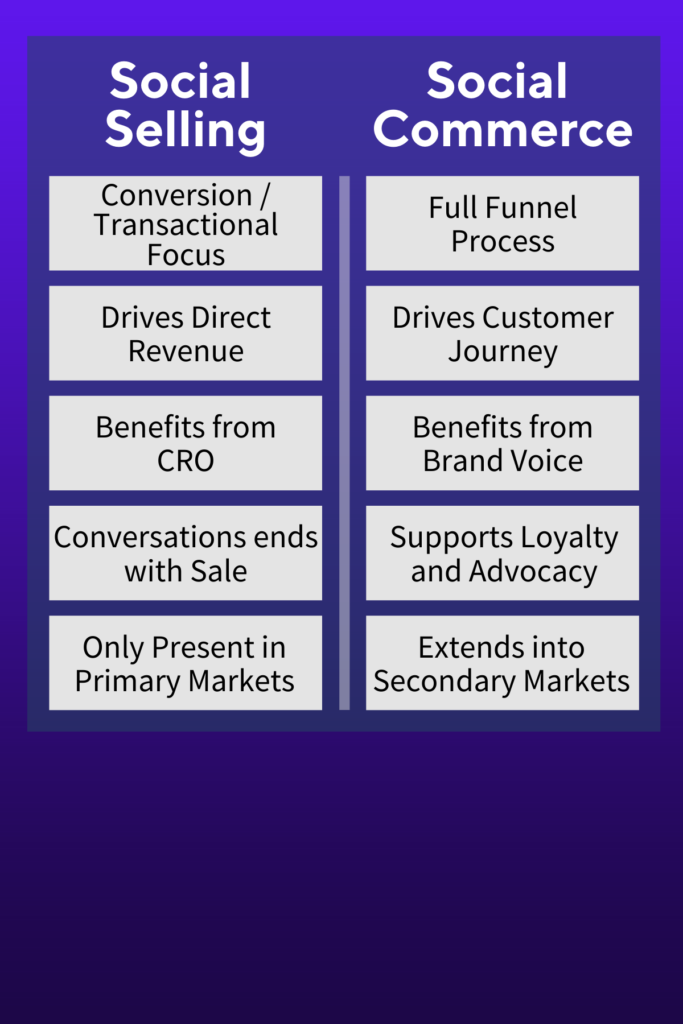 eCommerce brands of yesteryear are still focused on only the sale. For them, social media is a means to an end. It's all about building awareness quickly, retargeting quickly, and then driving conversion. If you're not considering the way that your social affects your entire funnel and your entire customer journey then you're just social selling. 
Social selling is transactional. It's all about driving a direct revenue metric, which is not a bad thing. But it may not necessarily be the right thing. Social selling benefits from CRO and A/B Testing. Social selling, generally, the conversation ends with the sale. And that's it. 
Social commerce is all about a full-funnel journey. People are exposed to content both on-network and off-network. It drives the customer journey. Every time the customer thinks that they're out of the funnel, something either on- or off-network will bring them back in. Social commerce is all about establishing that strong brand voice.
Studies have shown that Generation Z, Generation Alpha, and of course Millennials, all prefer to have a brand that has a strong brand voice, a strong brand narrative, and a strong brand perspective. 
Consider the two sides of the coin of social commerce, off-network and on-network. We know that websites that feature user-generated content have a higher increase in visitor returns. UGC and emails drive click-through rates, and ultimately shopping pages containing user-generated content, increase web conversions by 29%. 
Looking at 2021, the number of pieces of content that a consumer has to peruse before they're ready to purchase is trending upward. Make sure that you are creating as many opportunities for your customers to share their content, and that you're also capturing it and using it to drive that conversation. 
On-network, sharing a simple customer review on Twitter drives action increases traffic. Using customer content or micro-influencer content in social ads highly increases clicks. As you design your social commerce programs, think about how you can replicate this missing element of in-person interaction. The only thing that people don't miss is talking to salespeople. So think about how you can turn social media into a parasocial experience, and get them to see or experience those products in a socially driven way.
Trend 4: Product Recommendations
Recommended products that a shopper should consider purchasing should be contextualized with the item that's currently being viewed. It could be something like a complete look, matching coordinates to that outfit, or some accessories to go along. Make it easier, be a one-stop-shop for the customer to find all the products that they're looking for. It is a great tactic to kind of keep the shoppers engaged and browsing. 
Leveraging one to one personalization, and product recommendations is important as well. Once the baseline is in place you can start weaving in one-to-one personalization on top of that. Recommendations will become more and more personalized as a shopper engages with your store. As they browse you'll quickly discover attributes, categories, collections, and brand affinity. Returning to the merchandising conversation, this information will dictate what is displayed and what is not. You don't want to waste valuable real estate on items that are irrelevant to the searcher. 
You want to personalize those recommendations but not at the expense of causing friction with the shopper. Prioritizing brands and categories that should be recommended first, in conjunction with making sure we're delivering those relevant items.
 —
This blog is a companion piece to a webinar. Watch the full presentations for additional stats, insights, and information. Available on Demand Here.