In today's digital landscape, social proof is critical in the effort to elevate brand status. People respond more positively to brands that engage with their followers and provide authentic, appealing opportunities for them to interact. As a way to boost social interaction at an event, social walls are unmatched as a method to connect with event attendees and the User-Generated Content (UGC) they share in real-time.
If you manage social media for your brand's upcoming events, you may be feeling overwhelmed with all the details you need to plan for. Whether it's an event, a product launch, or a contest, there's a lot that goes into planning for a social wall. You may have already evaluated your What, Why, and How questions behind using a social wall solution, and decided this is the interactive experience you'd like to create for your event attendees.
Once you've decided to host an interactive social wall experience for your event, how do you plan out the preparations? Not to worry—we've put together a handy downloadable checklist so you can debut a stunning social wall at your event without missing a beat.

3 weeks before the event
◊ Choose a hashtag for your event and start posting
If you want to use different hashtags per social outlet, now's the time to choose which to prioritize on which social networks.
◊ Begin promotion of the hashtag across all your social media and printed materials.
Consider an incentive to help drive activity on the hashtag. This might be a contest, a meme, or a challenge. The potential for your reach to grow is incredible. Think about each person who actively engages with your brand and then consider their own followers, and so on; this is influencer marketing you can't just buy.
◊ Check your TINT account to make sure your plan fits your event needs.
Will you need to handle both event and web use-cases for your social wall? Do you want to use the content on a website or microsite? What kind of support will you need? What level of moderation are you anticipating as the content is posted in real-time? Your social wall plan should fit your budget and it should be able to scale if you need it to.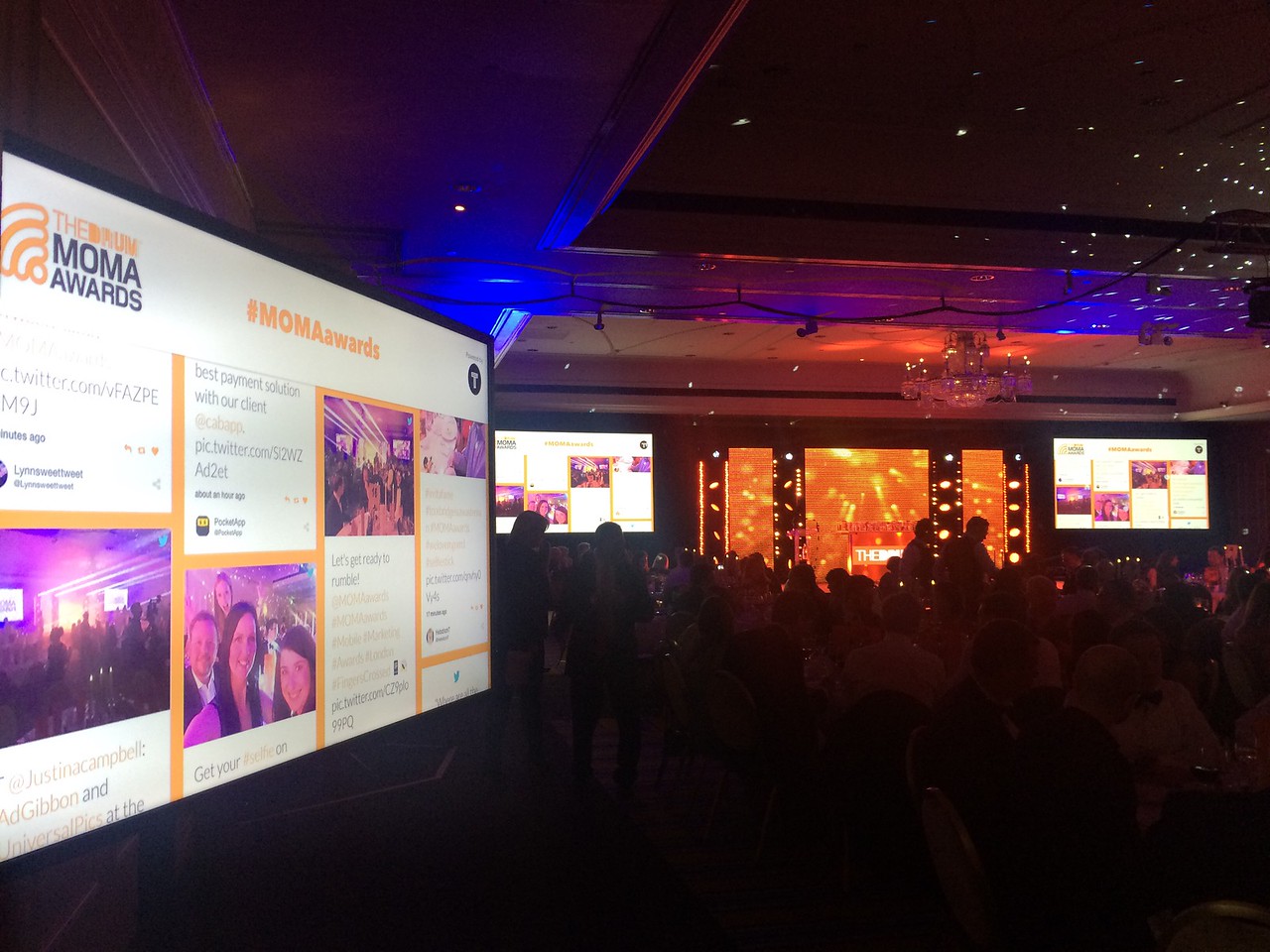 2 weeks before the event
◊ Create your TINT for your event social wall – now's the time to personalize.
Test the social wall display on your screen to ensure optimal resolution.
The look of your social wall makes a huge impression with your audience and communicates your brand aesthetic. You should be able to create consistent branding for your event, so it's important to ensure you can add your own logo and unique branding. Consider leveraging TINTmix to optimize your digital screen display and leverage customized themes.
◊ Check your equipment, troubleshoot any inconsistencies.
Check the screen for your display.
Does the screen you'll use suit the resolution you'll need for your social wall? Do the dimensions work for your needs? If displaying outside, does the projector/screen have sufficient lumens to be seen?


Do you have all the electrical connections needed?


Check hookups. Do you have the HDMI/Lightning connectors needed?
How does your content get to the screen? Are you a Mac user or do you use PCs? Consider hookups to the hardware at your event venue or with the digital signage software installed on the screens. Your venue technicians may also have these details.


Check Wi-Fi/internet connection.
What internet is available?  If you plan to use Wi-Fi, is the connection sufficient when crowded with users?


To ensure a smooth event, tell your Customer Success team how you plan to use your social wall feed.
Which hashtags are you promoting, and on which social networks? What format of social posts do you expect from your audience during the event—photo, video, text? Are you planning to moderate social wall posts on mobile or on a connected desktop?
◊ Check your hashtag engagement. Do you have the activity you need? If not, adjust promotion.
Engage influencers to post to your hashtag.
If you considered an incentive to boost social engagement, now is the time to remind your audience about the details.

Week of the event
◊ Create guidelines for your event hashtag(s) moderation.
Outline what type of posts you'll push to your social wall and share with your audience.
◊ Assign moderators and have them download the TINT mobile app.
Simply swipe left or right to moderate.
Day before the event

◊ Set up your physical screen(s) for a dry run.
◊ Connect your electrical and internet.
◊ Check your hookups and display connections. Troubleshoot if needed.

Day of the event
◊ Post to your hashtag! Encourage everyone you interact with to do the same.
◊ Log in to the TINT mobile app for easy moderation.
◊ Recognize top or most interesting hashtag contributors.
This might be a prize, a thank-you post, or simply exposure to your brand audience.
After the event
◊ Log in to the TINT dashboard to evaluate User-Generated Content (UGC) from the event and hashtags.
◊ Check analytics to see how your hashtag(s) performed.
◊ Consider requesting rights to any content you'd like to use for post-event marketing and website.
TINT helps you redistribute UGC content from your social wall back to your website or to your digital ads across the web.
TINT UGC Rights helps you manage all your requests and make sure you're not infringing any copyrights.
Get ready to stun
Social walls are the perfect way to introduce immediate interest for your brand promotions and encourage people to contribute their own opinions, insights, and visual stories at any event. Social walls have proven themselves as an authentic, effective way to capture the imagination of event-goers and engage an audience in real-time. Now that we've detailed all the preparations you should consider when using a social wall solution for your event, you can focus on doing what you do best—creating beautiful, engaging campaigns to drive authentic audience experiences.
We're excited to see how your creative ideas elevate your event and foster a memorable experience for your audience! Snap a photo of your stunning social wall in action and post to #TINTlove.
A multi-faceted digital marketing platform, TINT offers a range of plans and engagement options for both project-based and long-term use to suit your unique needs. Get started on your own stunning social wall and see how a social wall can enhance your event audience's experience. We can't wait to see your stunning work in action!