Back in March, Ben Stiller and Owen Wilson made a splash at Paris Fashion Week. The two actors surprised audience members and the internet when they walked down the Valentino runway as their characters from Zoolander—Derek Zoolander and Hansel.
Instagram, Vine and Twitter soon exploded with the hashtag #Zoolander2, originally used on Ben Stiller's and Valentino's Instagram pages. Gifs, videos and images from the event quickly hit the front page of Reddit.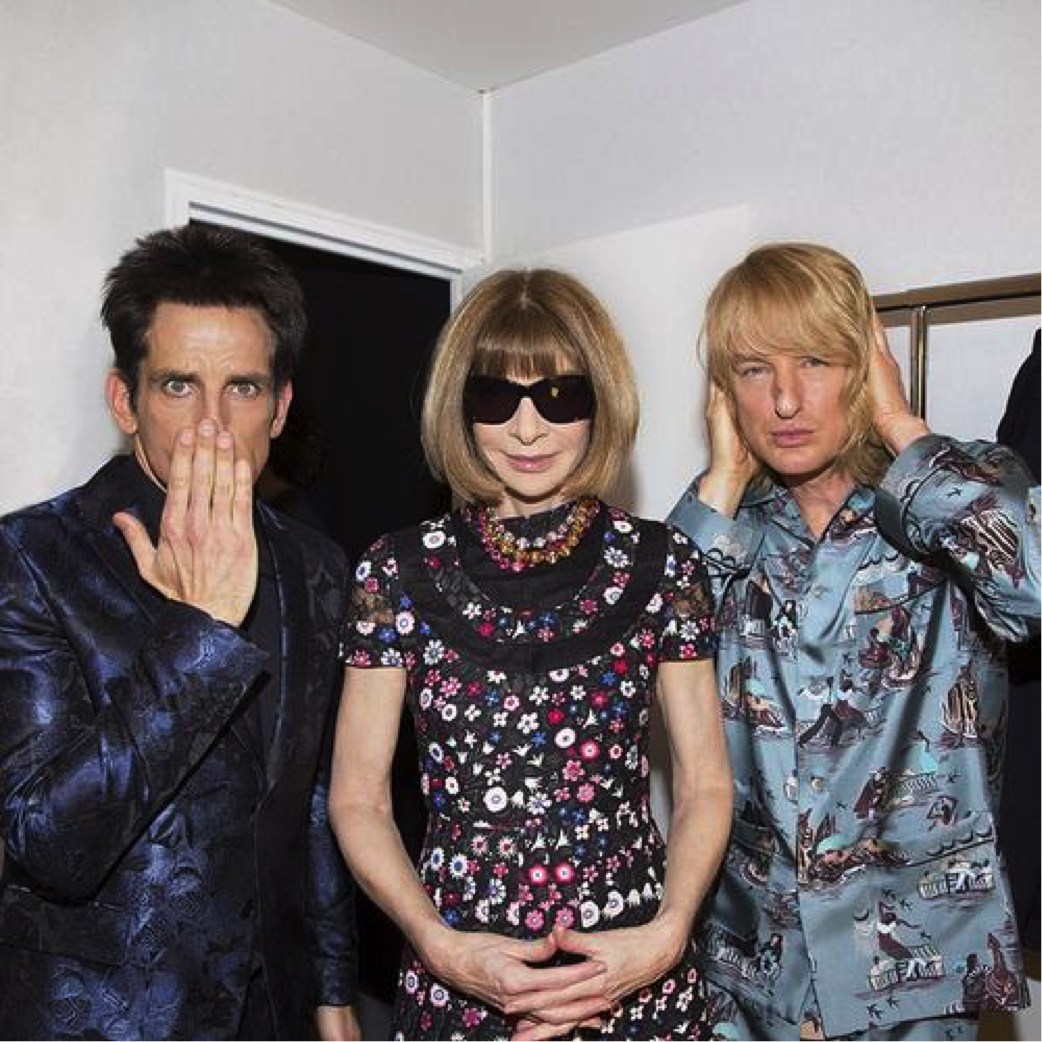 Ben Stiller, Vogue Editor Anna Wintour and Owen Wilson
Popular Viner Jerome Jarre was in attendance at the event. He was filming Stiller's walk down the runway when Stiller stole his phone in the middle of it and posed for the camera. The vine instantly went viral and currently has over 25 million loops. While Jarre hasn't confirmed he was part of an official marketing campaign, Stiller and Wilson appeared in his Snapchats that same day and his Vine included the #Zoolander2 hashtag.
If the video was a setup, it was an incredibly clever marketing tool. Jarre has a huge following on Vine—8.4 million followers and counting. His fanbase was already in place. All anyone working on the film had to do was get Jarre on board, sit back and watch the internet rave about the sequel. The hashtag allowed people on various social networking platforms to talk about the movie and generate buzz. The surprise of Stiller and Wilson making an appearance at Paris Fashion Week made it impossible for fans not to tweet about the sequel.
Why Social Media Matters
Movie makers everywhere should be using social media to market their films if they aren't already. 74 percent of people in the 18-65+ age group are on social media, including Facebook, Twitter, Instagram, LinkedIn and Pinterest. Marketers can use these social media bases to reach several types of audiences. Instead of simply uploading a movie trailer to Youtube, you can tweet about it, post movie stills onto Facebook, Instagram behind-the-scenes moments and more.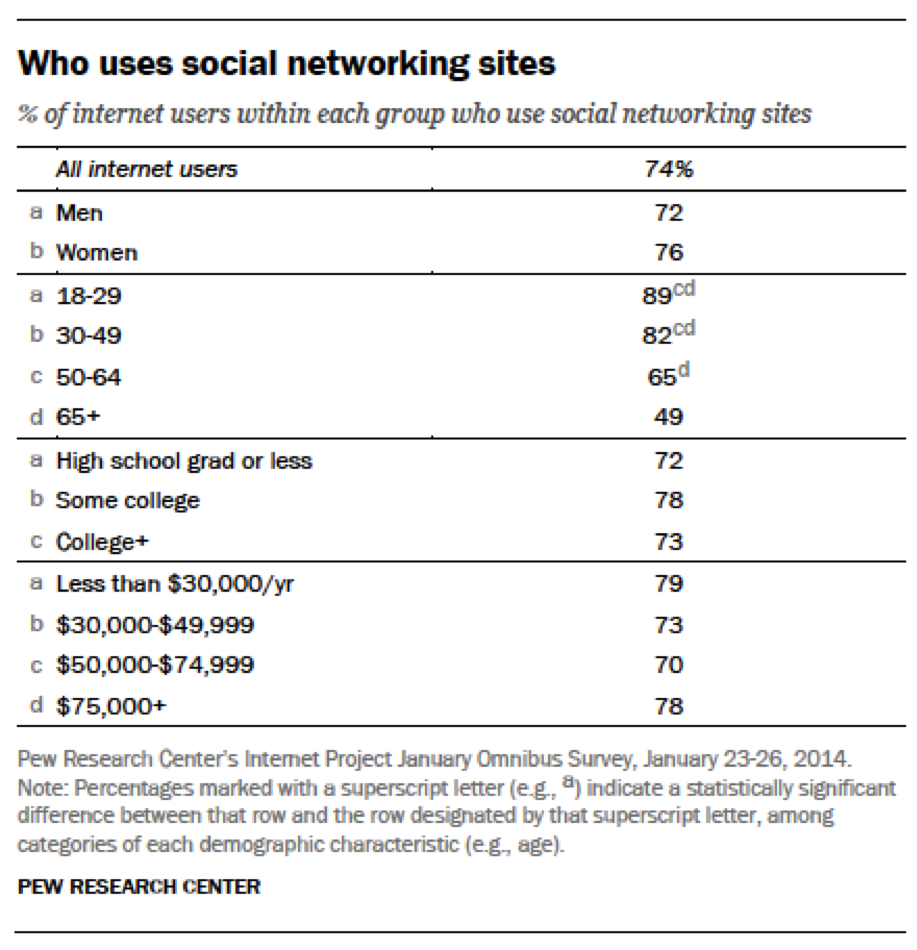 Social Media is lucrative for movie marketers for the same reasons it appeals to many: the ability to measure and interact with your audience on a two-way street of communication, and the lucrative allure of going viral. If you can convince fans and movie-goers to talk about your movie on social media, your audience expands.
Below are three real-world examples of movie campaigns that used social networks in creative, fun, and impressive ways.
The Hunger Games
Shortly after The Hunger Games: Mockingjay—Part 1 was released last November, a dance remix of the already popular song, "The Hanging Tree," featured in the movie hit the airwaves. The original acoustic version had already debuted at number 12 on the Billboard charts. Movie execs clearly wanted to capitalize on this success. Both versions of the song have gotten over 20 million views on Vevo's Youtube page and they were both played on radio stations across the United States.
Why was this a smart move by Lionsgate? Because the songs are catchy and people who have no concept of what The Hunger Games is about might be interested in learning more about the movie and books. Or, at the very least, share the song with their friends.
It's a Disaster
Just weeks after Vine launched in 2013, creators of the low budget Indie film It's a Disaster decided to publish the entire movie on the app in six second segments.
The stunt was accompanied by a playful press release, "From the moment it launched just three short weeks ago, it was so clear to us that six-second loops of video, edited in-phone, and posted in real time was and will be the future of film distribution.  While we still endeavor to release films via some other methods, we didn't want to be left out in the cold and we are proud to be an early adopter of tomorrow, early."
Many websites failed to recognize the sarcastic tone of the release and criticized the film distributor, Oscilloscope Labs, for releasing the film through Vine. This generated quite a bit of publicity. The next day another press release was published, jokingly apologizing for the failed stunt. Whether or not distributing a movie via a phone app is a good idea, it certainly got the internet talking.
Alternate Reality Games
A slightly more complicated and involved movie marketing strategy is alternate reality games, or ARGs. ARGs create a fictional world that users in the real world interact with, often through online communities. Games I've encountered have used anything from  social media accounts to coded websites to GPS coordinates that players must travel to in order to uncover clues.
42 Entertainment, a marketing and entertainment company, has created several popular and successful ARGs for movies such as The Dark Knight, The International, Pirates of the Caribbean and The Girl with the Dragon Tattoo.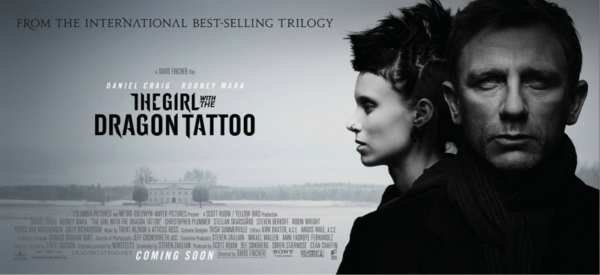 The Girl with the Dragon Tattoo is a film adaptation of Stieg Larsson's novel of the same name. The movie is dark and suspenseful — it centers on the investigation of the disappearance/murder of a girl named Harriet. 42 Entertainment composed an ARG for the film, called "Mouth Taped Shut." They used a Tumblr account to kick off the game. From there, players solved clues and went on scavenger hunts for real-life evidence and memorabilia including, "characters' diaries, books, clothing… and 40 framed flowers believed to be sent by Harriet's killer."
ARGs provide an incredibly immersive way to engage with movie audiences. They're fun for everyone involved and can also persuade fans to become more invested in a film and its characters, thus creating "brand" loyalty. This could be especially useful for movie franchises.
Social media provides many different avenues for movie marketing. You can choose to focus on one specific platform or branch out across several. No matter how big or small you need your marketing campaign to be, remember: creativity is key. Social media users want to be blown away and entertained.
Blaze your own path, research what other films are doing in terms of marketing and create new angles. Surprise them, immerse them in the film's world and make it impossible for people on social media not to talk about you.