Management of social media can be a tedious task. Regardless of the amount of effort that you put in, it seems like the results you want never seem to happen. There are so many platforms to tackle and tasks to complete on social media that it quickly becomes overwhelming and even confusing, with no end in sight.
There are an endless number of options for different types of social media tools, with many offering features that assist with social listening, analytics, scheduling, or content distribution.  These are the 18 tools we most recommend for every marketer to be using in 2016.
1. Dlvr.it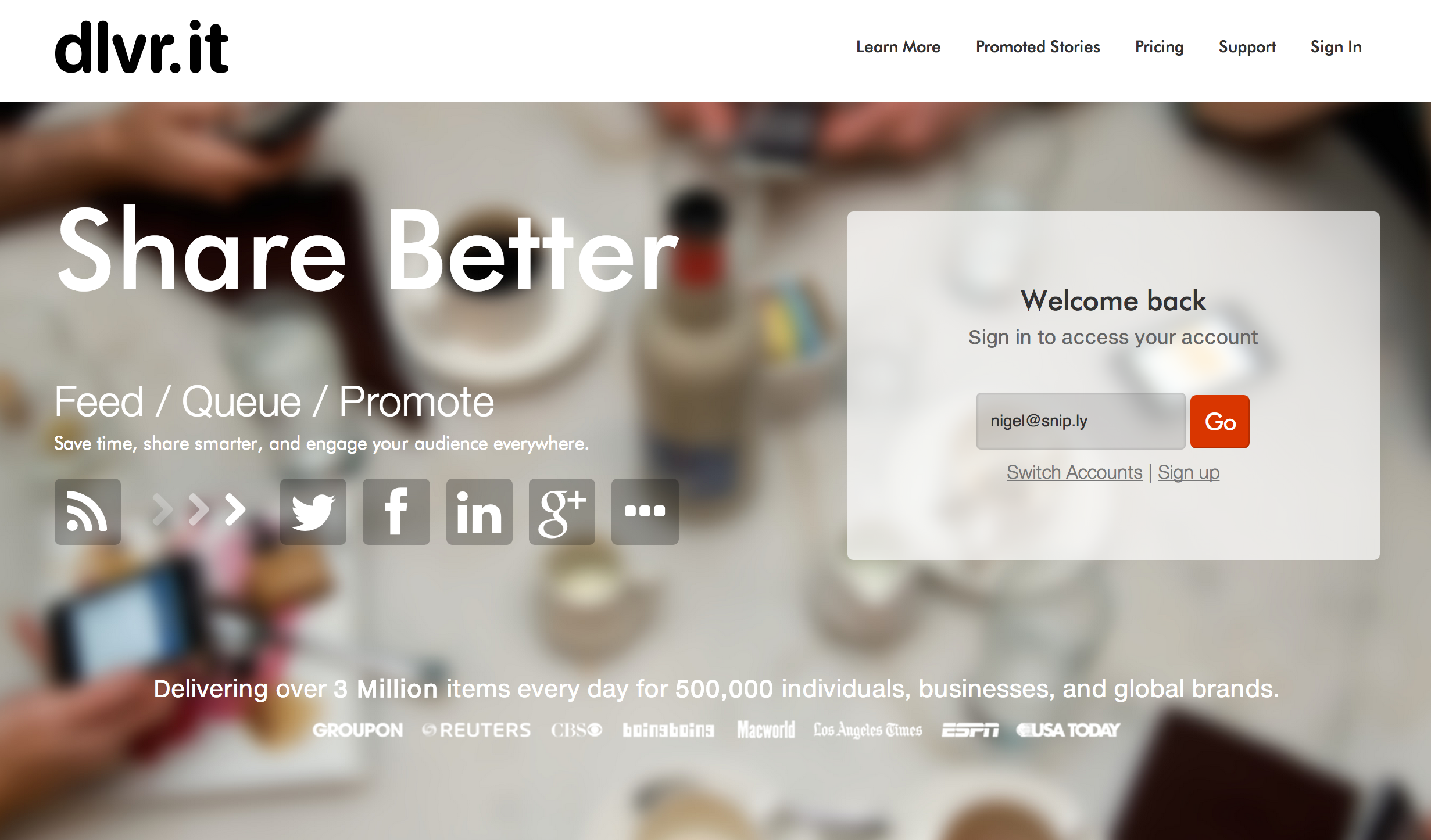 Dlvr.it is a tool that aids in content distribution, and it can post your content to some of the major platforms colleges are using to target their audience. It supports Twitter, Facebook (both Pages and personal profiles), LinkedIn (both commercial and personal profiles) and Google+.
This software also automatically adds hashtags to your post after scanning the content you'll be posting, and makes it easy to schedule content ahead of time.
This software also allows you to shorten URLs in your posts and track the number of users who clicked on it. This type of analytic information can provide you valuable insight into what types of posts your users are responding to and why.
Dlvr.it extensions are available for Chrome, Firefox, and Safari.
2. Post Planner

Post planner's most unique feature is its exclusive content discovery engine. This engine helps you to search the web for content that will be most likely to boost the level of engagement you receive. It is most often used as a Facebook management tool, as it automatically shares relevant and interesting content to your Page on your behalf.
With Post Planner, you can manually add the content you like to a queue to be posted later. You also can choose when you want your content to be shared, optimizing for best posting times and increasing the circulation of your post.
The highest performing content will be shared most often. Add your favorite account pages from Facebook, Twitter, or Instagram and it will display content related to them. You can then choose accordingly.
3. Snip.ly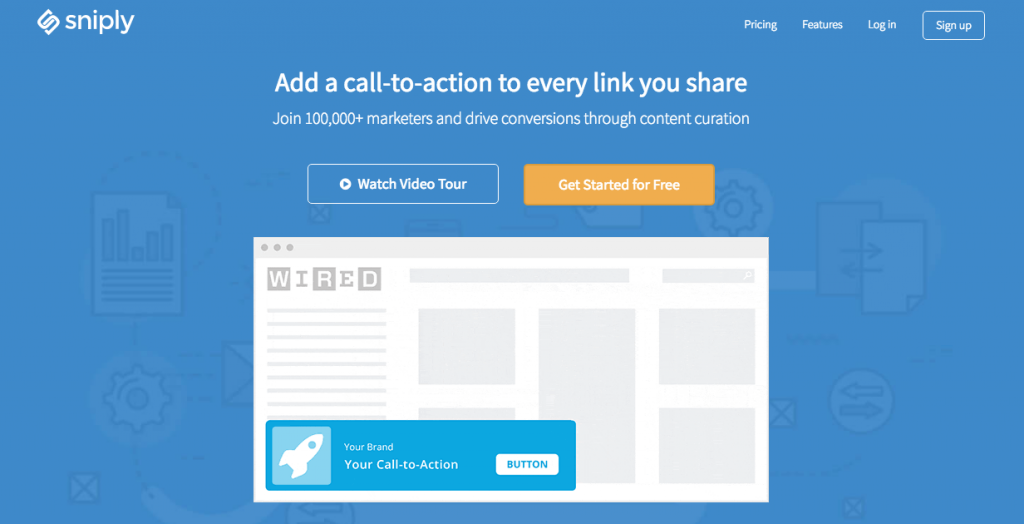 You might think that Sniply is just another common URL shortening tool, but Sniply's true value comes in the form of bringing attention to your content– even when it's shared on other people's websites. It does this by adding CTAs to every link that you share, making them more actionable and resulting in more clicks and conversions.
4.  CoSchedule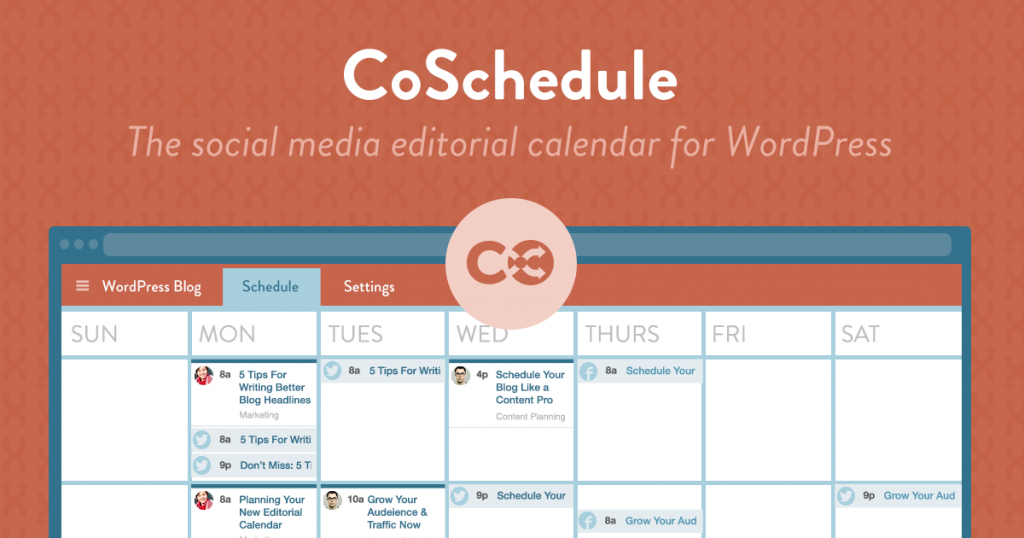 You can plan your digital strategy with CoSchedule, which has a user-friendly calendar interface. This tool enables you to schedule your upcoming posts. You can even reschedule a post by simply dragging and dropping it to the date you've appointed.
The free version allows basic functionalities, though it limits you to use only five different accounts. The paid version allows you to add more social media networks and even team members on a project.
5. Pablo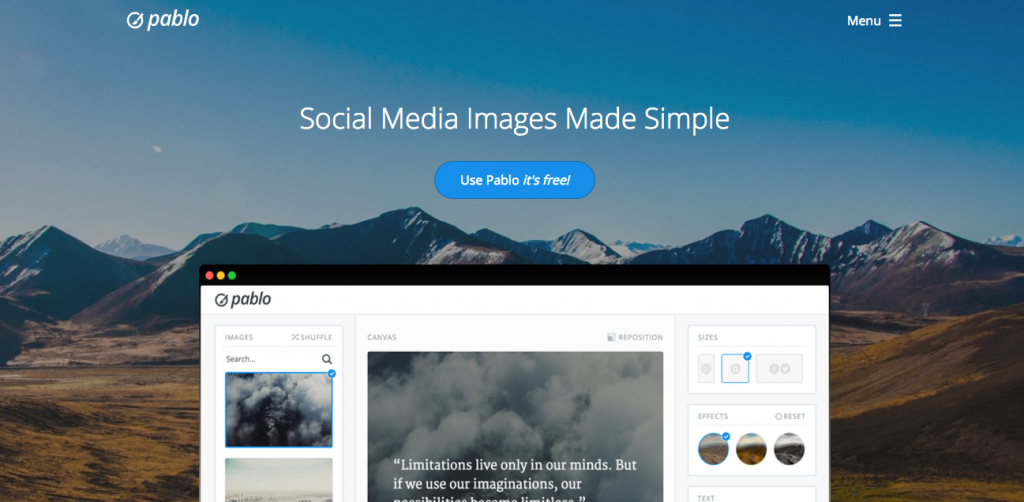 Images carry a great deal of weight and power on social media marketing, but they can be time-consuming and expensive to create yourself. Pablo offers you a directory containing over 50,000 royalty-free images, making it easy to find the perfect (and free) photo for your blog posts and social media content.
Pablo also has allows you to add your logo or text to your images, offering different fonts and colors of text so that you can truly customize the image you'll be sharing.
6. Buffer
Buffer is a very popular tool, especially among brands that market on Twitter.  It is incredibly useful for planning your tweets and later analyzing them to see what content is performing best with your audience. Buffer's analytics system will also recommend what to post on other social media platforms. Buffer has a simple interface which provides better understanding between you and your clients. They can be aware of all the activity on your profile and engage with it. Buffer is also a great tool for social media teams, enabling more effective social team collaboration.
7. Sprout Social
Sprout Social is a social media management tool that is beneficial for businesses of all sizes. Sprout Social offers amazing features like detailed analytics and social listening tools, and supports most major platforms, including (but definitely not limited to) Instagram, Facebook, and Twitter.
With Sprout Social, you can respond to users quicker, resulting in happier followers and more engagement. Their analytics can also help you track number of followers and engagement over time, enabling you to detect patterns in what's working and what isn't.
8. Hashtagify
Hashtagify claims to be the most advanced search engine for Twitter. It searches for and locates trending hashtags, finding the ones that will be most relevant to your audience. It can, for example, tell you the top ten hashtags related to your brand or to a current event.
The results of these searches are based on a large sampling of tweets, and the software offers in-depth data about a trending hashtag, like its popularity or its correlation to the search term. Hashtagify also has a Hashtags Lab, which is updated daily to keep up with the current trends, and can be monitored by your social media team to see if there's a trending topic that you can jump in on.
9. Mention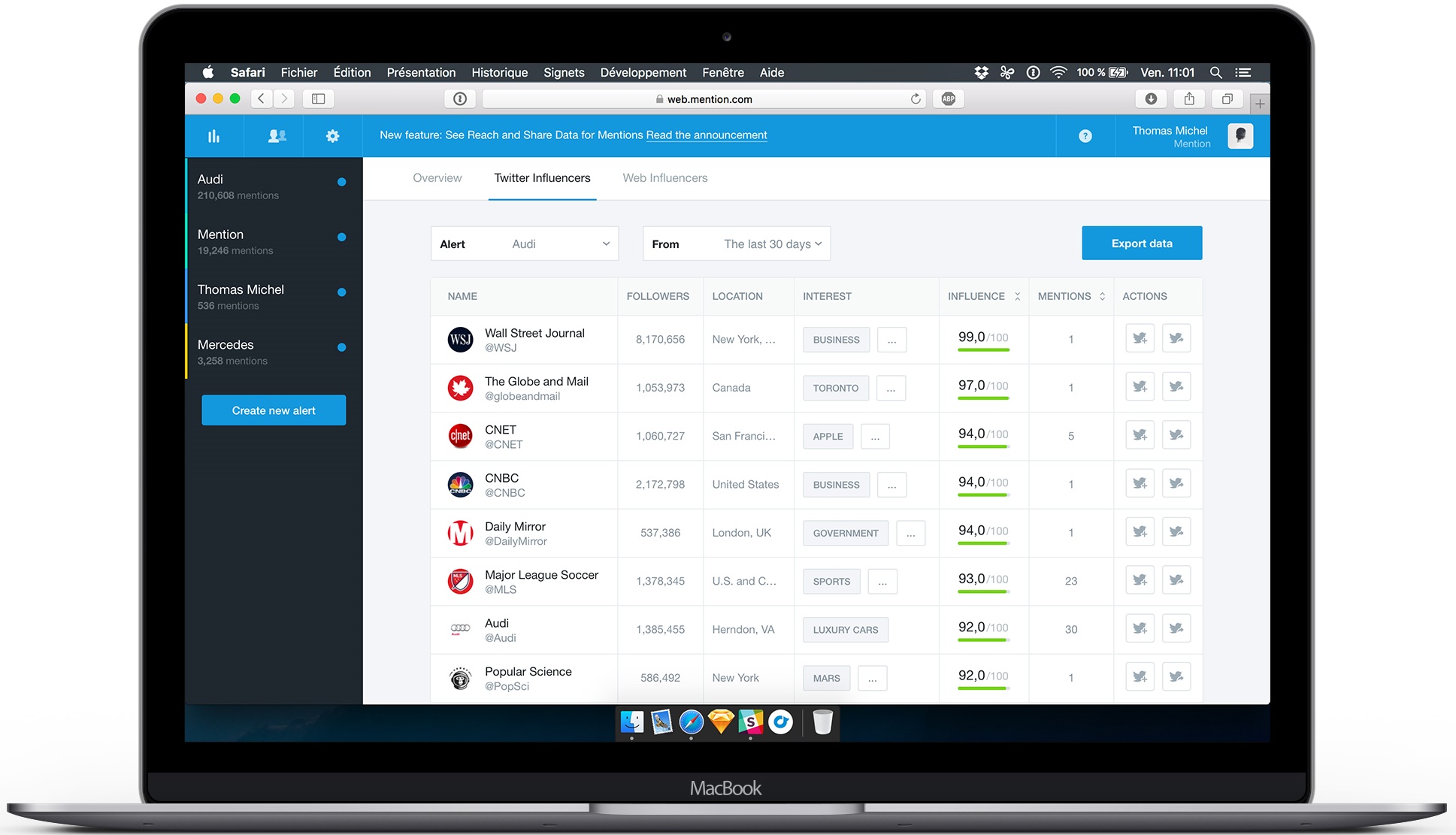 Mention is like the big brother of Google Alerts, and tracks mentions of your brands across social media. Mention even allows you to search in over forty different languages so that you won't miss a single mention.
Mention works in real time, so you'll never miss something important if you're looking for it. When people have something to say about your brand, you'll be able to join the conversation and respond right away.
10. Followerwonk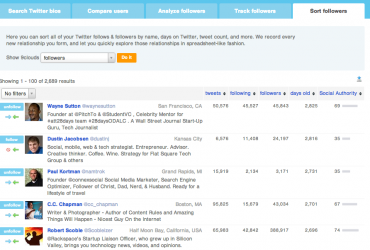 Followerwonk is another valuable tool for those that market on Twitter. It provides you with insight about your followers, giving you information like their geographical location and peak times to post. It also assists you with locating and connecting with new bloggers and influencers in your niche. Influencer marketing can be a massive part of building an engaged and thriving community, so this feature can't be overstated.
11. Bit.ly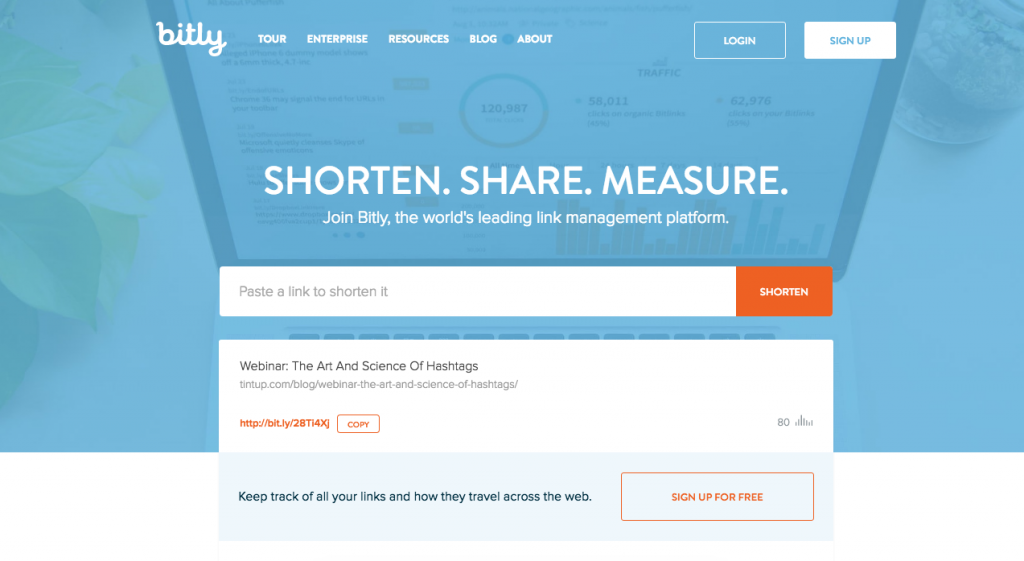 Bitly is a famous URL shortener. Shortening your URL is important because you can only use a limited number of characters on some platforms, like Twitter.  It also reduces textual clutter in posts. You can even create a customized short domain to match your brand or service, adding personalization to the shortened link.
Bitly also lets the user track the clicks that the URL has received, and even tracks clicks on the shortened link when shared in posts by other users.
Guest Author: Ashleigh Everston is a social media trend analyst for a start-up that offers peakdissertation.co.uk. She has a pure love for sweet tweets, interesting pins and more. When not roaming around in social channels, she spends her free time with her favourite books and novels.