Reviews are an important component of an effective UGC strategy, allowing would be buyers of your products and services to see your brand through the eyes of customers. They highlight sentiment and real life experiences, and create a more authentic connection with your customers.
TINT advanced reviews sourcing through ReviewTrackers allows brands to add an additional layer of UGC-driven results on web and other channels, increasing both the number of marketing touch points and the number of conversions.
What Does ReviewTrackers Do?
Our ReviewTrackers functionality pulls authentic customer reviews from an enormous number of online sources and mediums. These reviews can then be shared and displayed anywhere that you can place TINT, just like our UGC feeds.
The reviews pulled will be specific to one physical location. Any brand with  brick-and-mortar locations can especially benefit, including businesses in the hospitality, travel, tourism, real estate, restaurant, automotive, and retail industries.
There are over 80 sources available to pull reviews from. Some of the sites include:
Yelp
Google
Yahoo
FourSquare
TripAdvisor
Facebook
Apple App Store
List of review sources: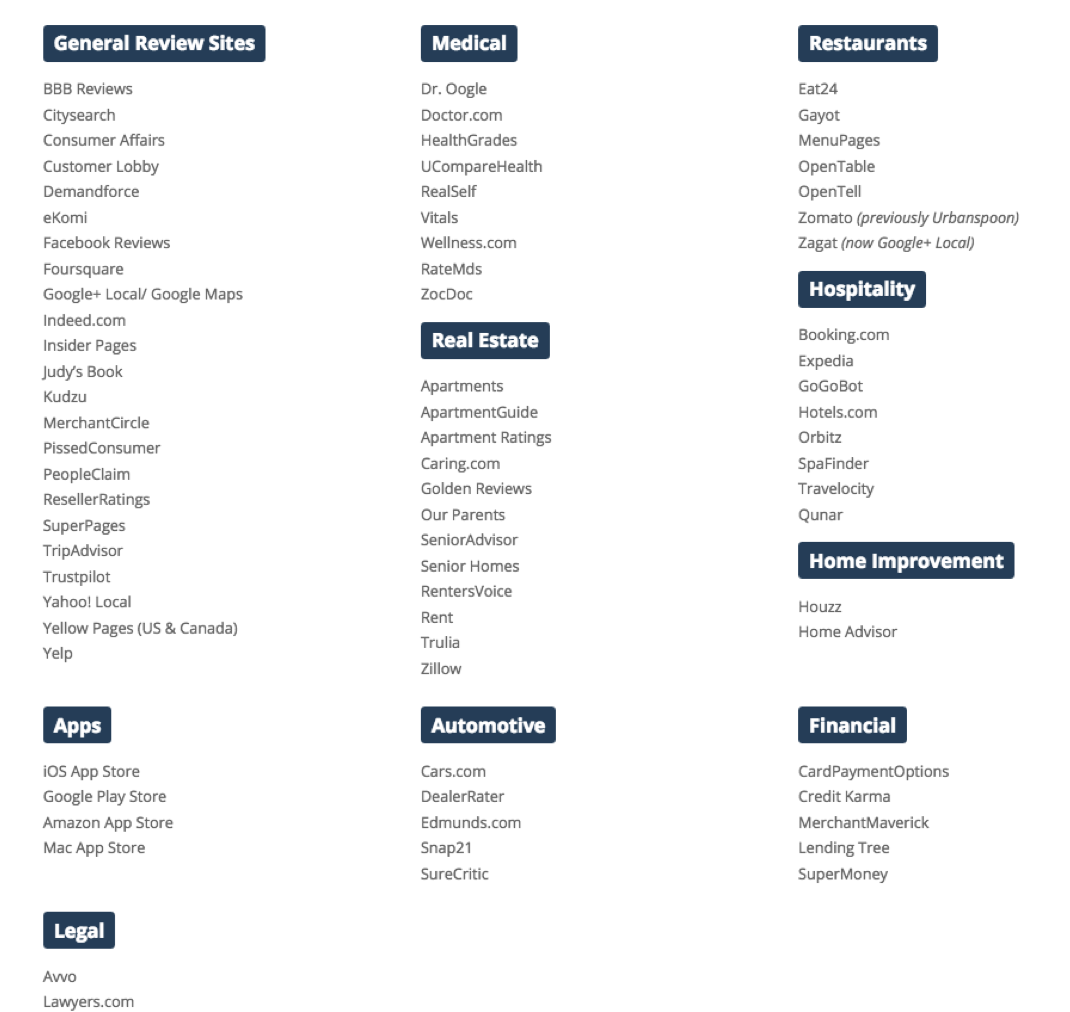 Once set up you'll be able to access and display live client testimonials as they're posted in real time. These reviews and testimonials can be displayed anywhere that you can place TINT– including in a mobile-friendly brick-and-mortar store.
How To Add ReviewTrackers To TINT
Adding ReviewTrackers to TINT is a simple process that produces powerful results.
Pull reviews information for locations and physical address. Support for multiple locations is standard and new locations can be added easily at any time.
Reviews and testimonials can then be moderated and placed on your site or any marketing channel.
Why Use Reviews: Use Cases & Benefits
Reviews and testimonials that users share online are an exceptionally valuable form of user-generated content. When placed strategically, they can increase appeal to more customers at different stages of the digital sales funnel. They can increase lead generation and conversions. They can make an enormous dent in your appeal to get consumers to trust you, which is the first step towards building a loyal community and brand ambassadors.
While it's hugely beneficial to place reviews in general on your site, it's incredibly powerful to be able to source all your reviews from a large number of sites and share them in one place. You don't have to depend on users visiting Yelp and Google and Facebook in order to see your best reviews; you can broadcast them on your site or in your store live.
Featuring live, dynamic reviews in-store can directly impact your sales and client rapport– especially when the reviews are specific to your location.
When we say live, we mean it. Reviews are sourced continually, allowing for new reviews to be uploaded in real-time, creating dynamic customer testimonials that you can feature in a number of ways. Positive reviews on specific mediums now have much larger reaches, creating additional marketing touch points that can be used in your favor.
All reviews and testimonials are additional content sources that can be added to your TINT displays to craft the narrative you're looking to tell. Examples of use cases include:
Featuring reviews and testimonials of your brand, quality, and customer service on the homepage of your site
Placing relevant reviews on specific product pages
Placing relevant reviews near specific products on live displays in your store
Since many reviews are specific to location, you can use the reviews pulled to appeal to local consumers, showing them that while the brand is great, your specific store is excelling in customer service, too. This can help individual locations shine and increase traffic.
Ultimately, reviews will provide written, direct affirmation detailing exactly why customers love your brand. These can have a bigger impact than a quickly-posted Tweet or a UGC image shared on Instagram of your product; they're telling other consumers why your brand and your product are so great, and that value can't be overstated.
How can TINT ReviewTrackers Help My Brand?
Consumers often rely heavily on reviews when researching purchasing decisions, with 92% of customers reading online reviews and 40% of consumers forming opinions about a product after reading only 1-3 reviews. More than 50% of customers will use reviews to decide on whether or not they think a local brand is a good business. These statistics are only mere reminders that online reviews are powerful marketing forces that should be used whenever possible.
By leverage our vast ReviewTrackers repository, you can pull reviews from over 80 sources, combine them all in one place, and display on any marketing channel. Whether you feature customer reviews on your homepage, on product pages, in your retail store, or all three, you can help shape the narrative and boost the reputation of your brand in an authentic way that consumers will respond to while increasing your marketing touch points.
Ready to get started with reviews? Request a demo