The rise of messaging apps and new algorithm changes to Twitter and Instagram in 2016 have changed everything about social media marketing. Despite the new challenges for marketers, social media campaigns are still an effective strategy for reaching new audiences. However, brands now need to be more creative and targeted than ever to soar over these new marketing hurdles.
The start of 2016 has been remarkable, with many brands facing these challenges head on! Here's a roundup of the best social media campaigns so far in 2016.
#MarchMadness – Reese's
Reese's partnered with the NCAA to become the official sponsor of #MarchMadness for the 4th year in a row. Content strategy is clearly a strength for Reese's. They curated incredible pieces with beautiful visuals that celebrated both March Madness and the Reese's brand. Moreover, the copywriting for these posts was right on the money. Bravo Reese's!
#BALLOTBRIEFCASE ON SNAPCHAT – PwC
Why would a B2B company invest in a social media campaign on Snapchat? And how did it manage to win the Shorty Award for best use of social media in B2B marketing?
PwC usually doesn't come to mind when thinking of the best in social marketing, but their #BallotBriefcase campaign is an interesting case. The financial firm wanted to raise awareness of their 82-year involvement in the Academy Award's ceremony and reposition the brand to appeal to a younger talent demographic. The campaign story revolved around the journey of the Oscar ballot briefcase as it raced around the country, arriving in time for the live awards ceremony. Celebrities like Neil Patrick Harris joined the briefcase journey, which helped generate buzz and interest around the Snapchat campaign. The Ballot Briefcase campaign increased PwC's social impressions by 136x on Twitter and led to strong gains on Instagram and Snapchat.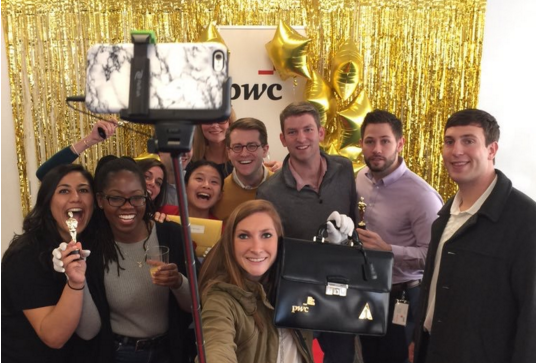 #ShareYourEars – Make-A-Wish Foundation & Disney
A social media campaign for good! The Make-A-Wish Foundation and Disney partnered together to invite their audience to share images of Mickey Mouse Ears on Twitter and Instagram with the hashtag #ShareYourEars. Each social media post unlocked a $5 donation to the Make-A-Wish Foundation from Walt Disney Parks and Resorts, which was capped at $1 million.
The campaign used TINT to display their social media entries on their websites to drive audience engagement and boost campaign awareness. The end result? The #ShareYourEars campaign became a trending topic on Facebook, and Disney Parks doubled their original pledge, donating $2 million to Make-A-Wish®.
#LowesFixInSix – Lowes
#LowesFixInSix is an ongoing social media campaign that shares clever home improvement tips in six seconds. The campaign uses stop-motion and clay-like animation to demonstrate each tip. BBDO, the ad agency behind the campaign, contracted Meagan Cignol, a photographer and Vine user who had two entries at the Tribeca Film Festival.
#EarthhourUK – WWF
WWF, formerly known as The World Wildlife Fund, teamed up with TINT and Exterion Media to launch an ambitious social-out-of-home (SOOH) activation in the London Underground as part of its Earth Hour 2016 campaign. WWF displayed all its social media content (tagged #EarthHourUK) across LCD screens in the London Underground, encouraging passengers to declare their support for and engage in conversation around Earth Hour.
#EsuranceSweepstakes – Esurance
Even though everyone was talking about Beyoncé's halftime performance at this year's Super Bowl, Esurance was able to steal some of the spotlight. The social intelligence platform Sysomos analyzed the data and showed that Esurance was one of the most talked about brands on social media during Super Bowl Sunday. Esurance didn't run an official Super Bowl ad during primetime, but they did run pregame and postgame ads paired with a compelling social media campaign.
The campaign revolved around giving away $1 million to 17 lucky winners who retweeted Esurance's social media posts. They also informed the winners via FaceTime call, and then posted the videos of their reactions to winning the giveaway. What a great example of real-time marketing!
12,000 Mini Miracles – West Jet
Although this campaign occurred a few weeks shy of 2016, it's one we couldn't skip. 12,000 Mini Miracles was a campaign by WestJet that won the 2016 Shorty Award for best use of social media.. The goal of the campaign was to motivate 12,000 WestJet employees around the world to perform and submit videos (via social media channels) of 12,000 mini miracles (or random acts of kindness) over a 24-hour time period on December 9th.
The campaign was mentioned in 400 media outlets in 214 countries with over 2 billion media impressions! A campaign miracle indeed!
---
What were some of your favorite social media campaigns in 2016? Drop us a line below and share your thoughts! Also, if you have any social media campaigns you want to launch and need some help, feel free to reach out and we'd love to strategize with you!