2020 is just around the corner and we're catapulting full steam ahead into a brand new decade, too.
This means it's time to start thinking about what marketing trends will arise in the next 12 months.
But now, thanks to the rapid advancement of technology, we're about to come face to face with a slew of even more powerful trends that will help increase brand awareness, boost leads, and deliver an incredible customer experience.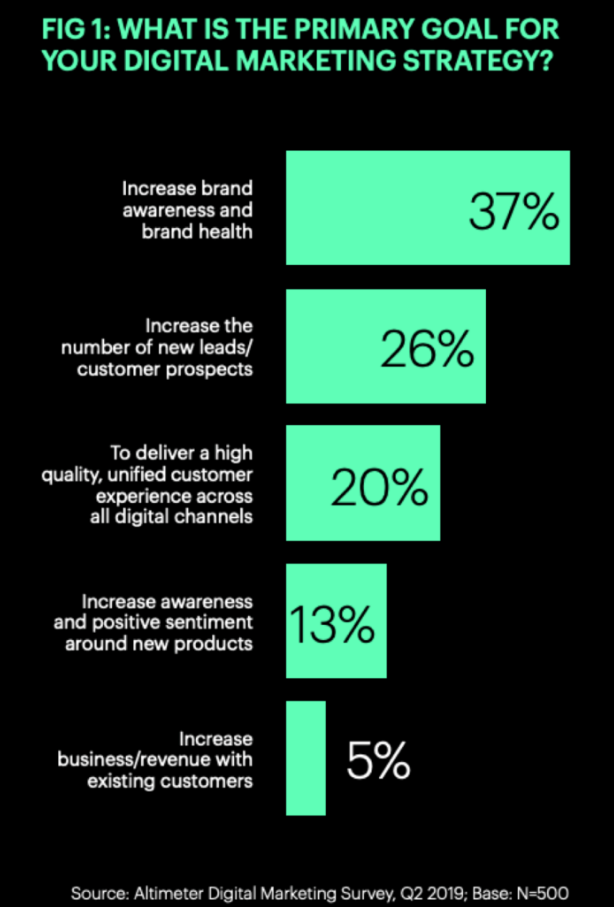 So what can we expect from 2020?
Shoppable Posts that Make Buying Online Easier Than Ever
In 2018, Instagram switched up the ecommerce landscape entirely by introducing shoppable posts.
Essentially, this means users can make in-app purchases without leaving the comfort of their feed.
Today, more and more shoppers are choosing to make native purchases when browsing social media apps, so we can expect to see even more ways to make posts shoppable – and we'll see the feature spreading out across even more channels too.
According to research, 72% of Instagram users have actively purchased a product on the app, while 70% of Pinterest users specifically scour the platform to find new and interesting products.
So far, brands can create in-app product pages and checkouts that link directly to Instagram posts and Stories (via the Swipe Up feature), they can link directly from Pinterest posts, and add the "buy now" button to Facebook ads.
In 2020 there's a high chance we'll see even more ways to sell products through social media and we'll see more brands tapping into this powerful selling technique. Is this a trend you'll be exploring in 2020?
One Brands Approach to Shoppable Posts
Retail brand William Sonoma goes all in with their shoppable posts. Each Instagram upload is packed full of products that users can purchase directly through the app.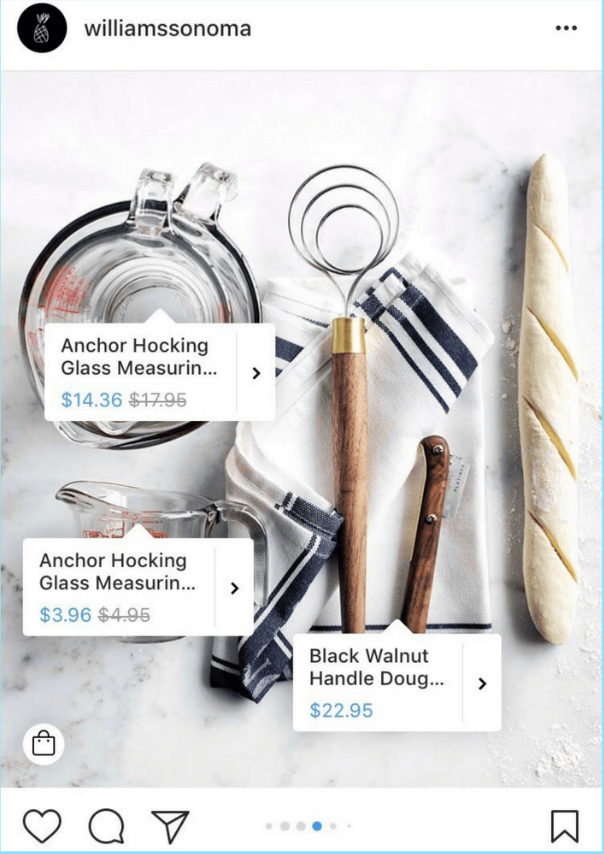 Virtual and Augmented Reality that Provides a More Realistic Perspective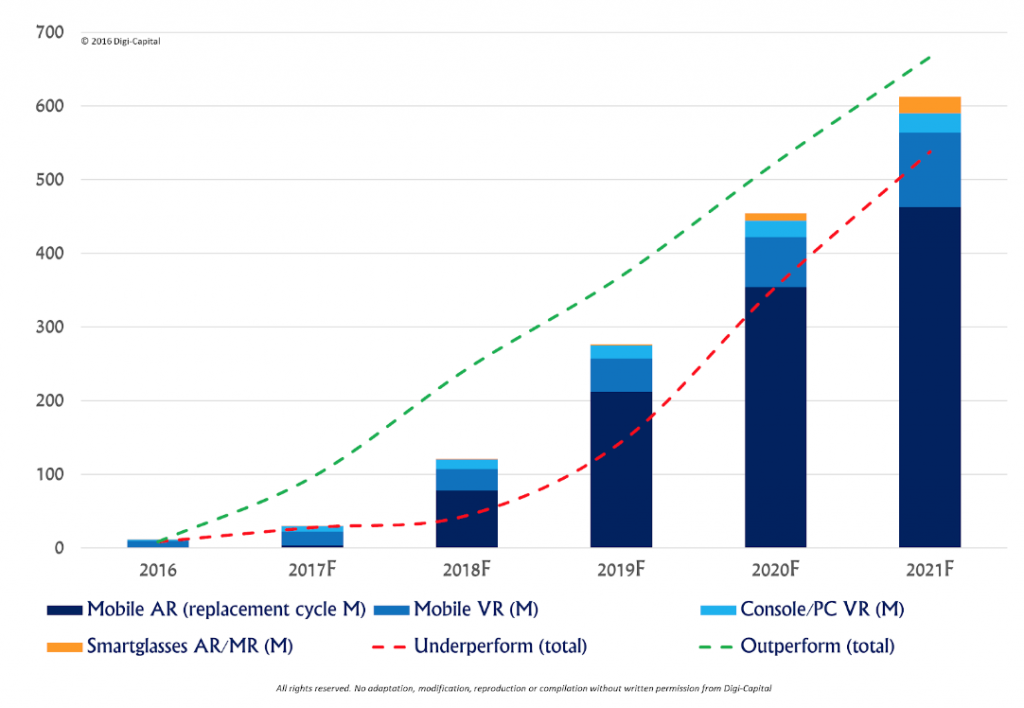 We're starting to see a number of brands playing around with virtual and augmented reality to show off their products from behind a screen. This is particularly useful for ecommerce brands that can't offer consumers the opportunity to see a product in-person before they buy.
Instead, virtual and augmented reality allows an in-depth, 360 degree view of a product which means consumers can get a better feel for it than they can from a static, 2D image.
VR and AR in marketing is still in its infancy, but we can expect to see brands getting creative with it in 2020.
As the technology advances, there will be more ways you can implement this technique to provide an enjoyable customer experience and speed up the sales cycle.
How Ikea Uses VR and AR
Ikea is a great example of a brand that has successfully implemented AR.
They use the advanced technology to show users what a piece of furniture will look like in their home without them even having to leave their house.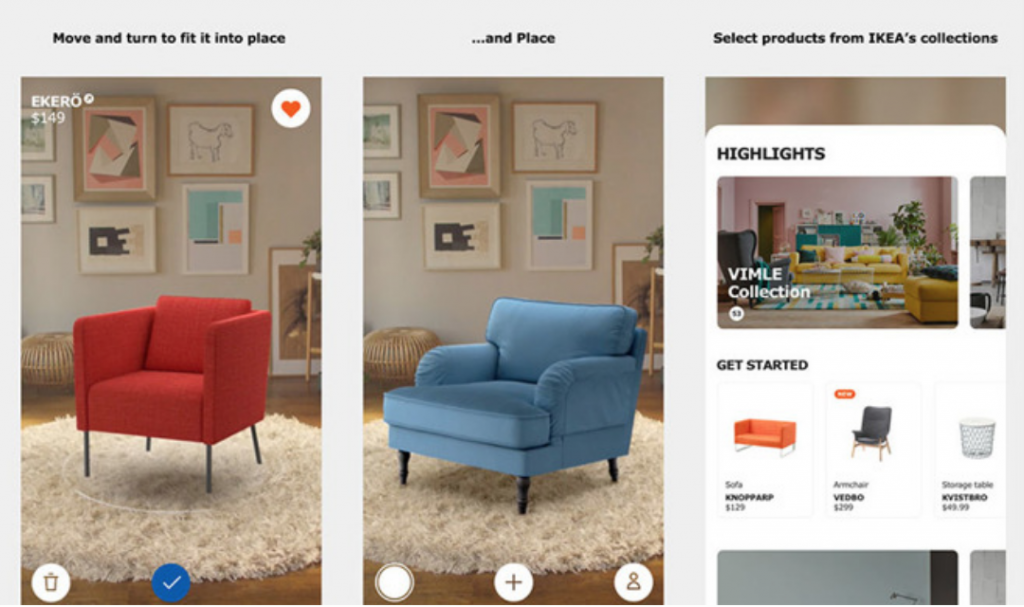 How to Use VR and AR
You need the right tools, skills and technology to use VR and AR successfully, but if you have those at your fingertips, the possibilities are endless.
You can start simple and provide users with a 360 degree idea of what their products will look like in-person, or you can try something more creative. The key is to consider your customers and how you can use these technologies to improve their customer experience and tap into their needs.
User Generated Content Personalization to Reach Segmented Audiences
User generated content (UGC) has been at the forefront of content marketing for a while, but 2020 has something more in store for this technique. As consumers crave increasingly personalized experiences, brands are turning their UGC into unique and individual journeys for different audience segments.
When you consider that 90% of consumers find personalization from a brand appealing, it's a no-brainer that UGC would be part of this.
One Brands Approach to User Generated Content Personalization
Beauty brand LUSH understands that consumers want personalization, but instead of throwing money at creating their own content, they use a more organic personalization strategy by tapping into content that has been created by their loyal customers.
They select the right UGC – whether that's a video, image, or review – to answer specific questions that different consumers who are at different stages of the buying cycle might have. As a result, LUSH has built trustworthy customer experiences that listen to customer needs and provide unique solutions based on those needs.
How to Use UGC Content Personalization
Start by segmenting your UGC into categories that relate to different stages of the buying cycle. For example, you might gather a handful of reviews to share with prospects who are nearing the end of the funnel, or you might collect eye-catching images of customers using your product to serve to prospects at the top of the funnel.
Then roll out campaigns that include the relevant pieces of content throughout the different stages of the funnel. E.g. create an email sequence for prospects at the top of the funnel that includes images of past customers with your product.
Micro Moments That Help Consumers Take Quick Action
Picture this:
Your stomach is starting to rumble.
You've planned dinner with a friend, but you're not sure your hunger can bear the thought of aimlessly wandering around trying to find the right spot.
What do you do?
If you're like the majority of the population, you'll grab your mobile and run a search. From there, you can make a quick decision.
This is called a micro-moment: you want something, you take action, you get it. It's a growing trend in the marketing world, where brands make themselves visible for these specific moments of action – it could be by showing a relevant ad at the right place and at the right time, or it might mean serving a push notification when someone is walking past your store.

In 2020, we'll see an increasing number of brands leveraging micro-moments to keep up with the "I want this and I want it now" consumer mentality.
How Red Roof Inn Uses Micro Moments
Red Roof Inn took advantage of micro-moments by triggering targeted search ads for their hotels near local airports. This method attracted a large number of travelers who were experiencing delayed or canceled flights, as well as those that hadn't already booked a place to stay on landing.
As a result, the Inn experienced a 60% increase in bookings across search campaigns.
How to Use Micro-Moments
Identify key points in the customer journey where consumers are most likely to take action and consider how your brand can tackle the four key micro-moments: "I want to know", "I want to go", "I want to do", and "I want to buy".
How can you ease the pain and provide a solution for each of those moments? Once you figure that out, you can create a strategy for each type of micro-moment depending on what your customers need at that point.
Conversational Marketing to Drive Impulse Buys
More people than ever are using voice-to-text features and voice messages rather than thumbing out a text, and TVs are introducing voice-to-activate remotes. While this might hint at a type-less future, we're not quite there yet.
However, voice-driven search is becoming more common as consumers increasingly crave a way to get information in a split-second. In fact, a study by Juniper Research predicts that the number of people using voice-driven interfaces will jump by a whopping 1000% in just five years.
This is where conversational marketing comes in.
It allows brands to engage their customers in real-time and tackle their needs while they're on the move. It ties into the notion that consumers want immediate information about a product or they'll go elsewhere where they can get that information.
In the past, this has usually been done in the form of live chat or inbound phone support, but in 2020 we'll see this start to change.
Instead, we're more likely to see brands using voice-activated chatbots and AI to provide consumers with in-the-moment information.
Brands Using Conversational Marketing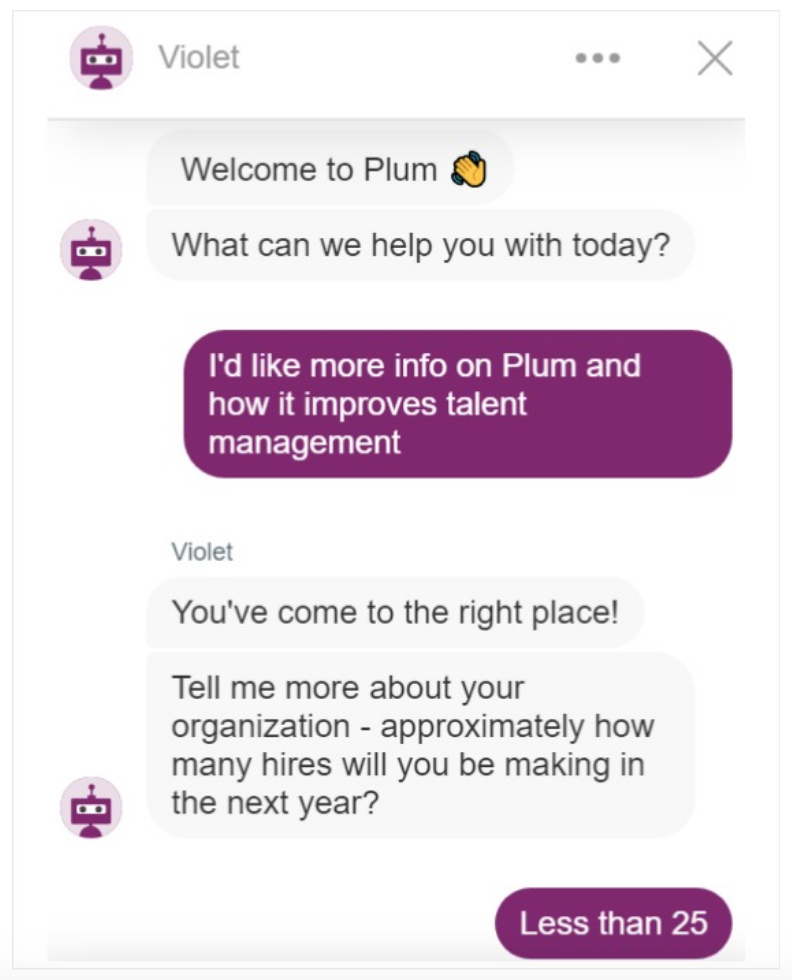 Talent management tool Plum provides a voice and text-based chatbot service that answers prospects questions as and when they have them. This saves people waiting around for an answer from support, which means they're more likely to make an impulse purchase.
How to Use Conversational Marketing
Determine the key places where potential buyers are most likely to have questions for you and incorporate a space where they can ask those questions and get them answered ASAP. You might choose to integrate a chatbot tool, whether that's a voice-activated one or a simple text-based app.
They key is to be human and think about the customer and their needs at all times.
Start Planning For 2020 Now
As we head full throttle into 2020, it's vital that you start planning your marketing strategy and we hope you'll consider these trends.
But, instead of blindly following trends just because they're popular, it's important that you identify the techniques that are most relevant for your audience and brand.
Like with anything, what works for one brand might not work for another and vice versa. So, take the time to consider where your marketing strategy could be improved and whether any of these trends might be the solution you need.