The place brands commonly repurpose user-generated content (UGC) is, naturally, social media. After all, social platforms are the places UGC is born. However, there is a whole world of possibilities beyond social media, both online and offline, where UGC can shine as a powerful content and storytelling vehicle. Here are 4 ways that brands use UGC beyond social media.
Make an Impression with Image Walls
A successful property isn't simply providing a comfortable bed and a place for guests to safely rest—it's creating an entire experience. And one way to drive home that experience is provide a sneak peek at the front desk of what's to come by repurposing other users' photos on a digital image wall.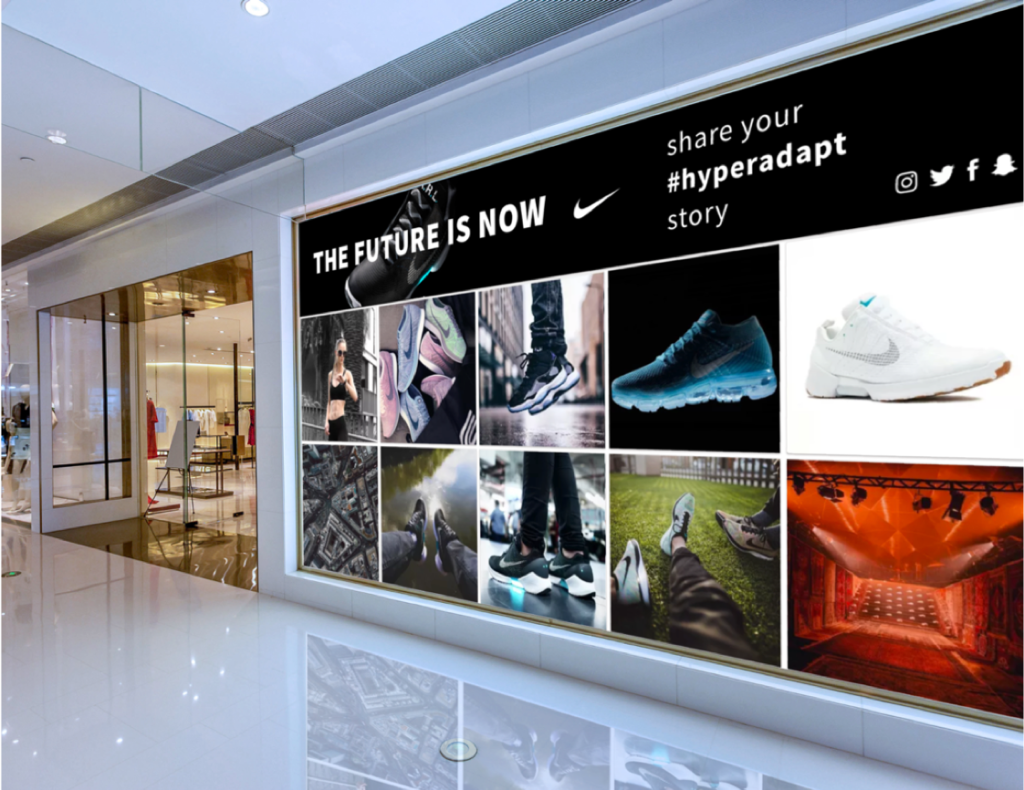 This type of dynamic content creates connections to other real guests and encourages customers to leave their own mark and contribute to the conversation. San Antonio Startup Week recently used the TINT Digital Signage product to help connect event guests across 14 different venues. The product helped this small team curate content across multiple venues while organizers focused on keeping the event running smoothly. Hospitality brands can create that same wow factor by implementing this strategy: as guests check out the amenities of your hotel, encourage them to check in via social to be featured on the image wall right in front of them.
Show Authentic Guest Experiences on Your Website
Web content is a great place to incorporate UGC. While there are merits to spending money on a staged photo shoot, UGC complements those highly produced images by bringing free content with the unique and authentic perspective of the consumer. This style of content is relatable for potential guests as it gives the inside scoop of what the property is really like.
Hospitality brands can tap into that honesty by using UGC on booking pages to show potential guests the type of experiences they, too, can expect to have when booking a stay. Loews Hotels & Co. has fantastic UGC web implementation on their website's #TravelForReal landing page. It's word-of-mouth advertising at the last touch point before a guest books—a crucial time to turn a prospect into a paying customer.
Take Online UGC Offline with Printed Material
Many loyal customers don't just support their favorite brands, they love them. This is one of the key drivers to guests posting about your hotel or hospitality brand while traveling. Return the love and put your guests—and the guest experience—at the forefront by repurposing online UGC in the offline world of printed material.
Once again, Loews Hotels & Co. really capitalizes on this strategy. They have repurposed high-quality UGC in a number of their print ads, creating a glimpse into their hotel's experience that may be lacking in a typical corporate photo. Rather than having their creative team approximate the types of lifestyle photos that are insanely popular on social media, they go straight to the source by repurposing their guests' photos.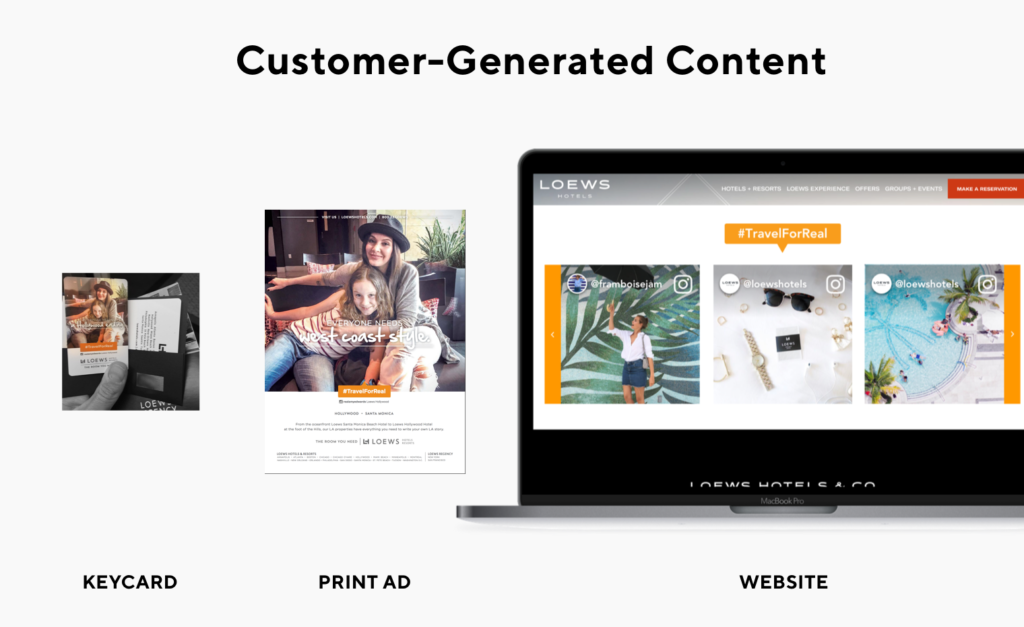 Furthermore, Loews has even used UGC photos on their guest room keys. This seemingly small change has a big impact. Now, every time a guest opens their room, they won't just be looking at a nondescript key card, but getting a glimpse into another guest's experience—and maybe inspiration to create one of their own while on the trip. None of those reminders are focused on the specs of the state-of-the-art Olympic-sized pool or the chef's accomplishments at 4-star restaurant. Instead, photos by guests that focus on the outcomes—the experience, memories and moments—over a hotel's features is where UGC really shines.
Email Newsletter Spotlights
While social media algorithms and policies can change on a dime, email is one of the few channels brands have almost complete control over. An opt-in channel like this is a perfect place to utilize UGC for a variety of reasons:
Make Customers Feel Special
Taking the opportunity to celebrate and spotlight customers is a fantastic way to say thank you to loyal customers and make them feel like they are a part of the community around a brand. Starting a "Customer of the Week/Month" is a great way to engage customers and show off the Insta-worthy aspects of the product or experience.

Educate Customers About Other Products
Newsletters are a great way to turn what might have been one-time guests into loyal customers by showing what else the brand has to offer. If a customer has only stayed at one property, showing UGC from a different locale might entice that customer to book a new trip or set their default to your brand the next time they happen to be traveling to that city. Giving customers otherwise nonexistent exposure to the rest of the brand's portfolio is a leg up on your competition.portfolio is a leg up on your competition.

Create a Positive Feedback Loop
Being featured in a newsletter read by thousands or millions creates a positive feedback loop for your guests. By repurposing other guests' photos in your newsletter, you incentivize customers to use the hashtag and tag the brand when posting photos to social media in hopes that maybe their experience will also be shared. This makes your customer feel important and benefits the brand.
Expand the Power of Your UGC Beyond Social Media
The power of UGC is in its ability to tell authentic stories that connect people to your brand. The possibilities for that connection are endless and extend well beyond social media. That's where TINT can really help out your business.
With tools like TINT's Content Aggregator, Machine Learning Content Curator and Digital Signage, we can help elevate your hospitality brand's story and connect to more customers. If you want to learn more about how to expand your brand's use of UGC, contact us at TINT to schedule a demo today. 
Garrett Heath is a social media and content marketing consultant and founder of MarketingBytes.io. Chrissy Chavez also contributed research and writing to this article.