Once upon a time there was a boy named Seth who lived in a magic bubble. This is the story of a how one boy, his parents, and a tiny non profit with no full-time employees can capture global attention.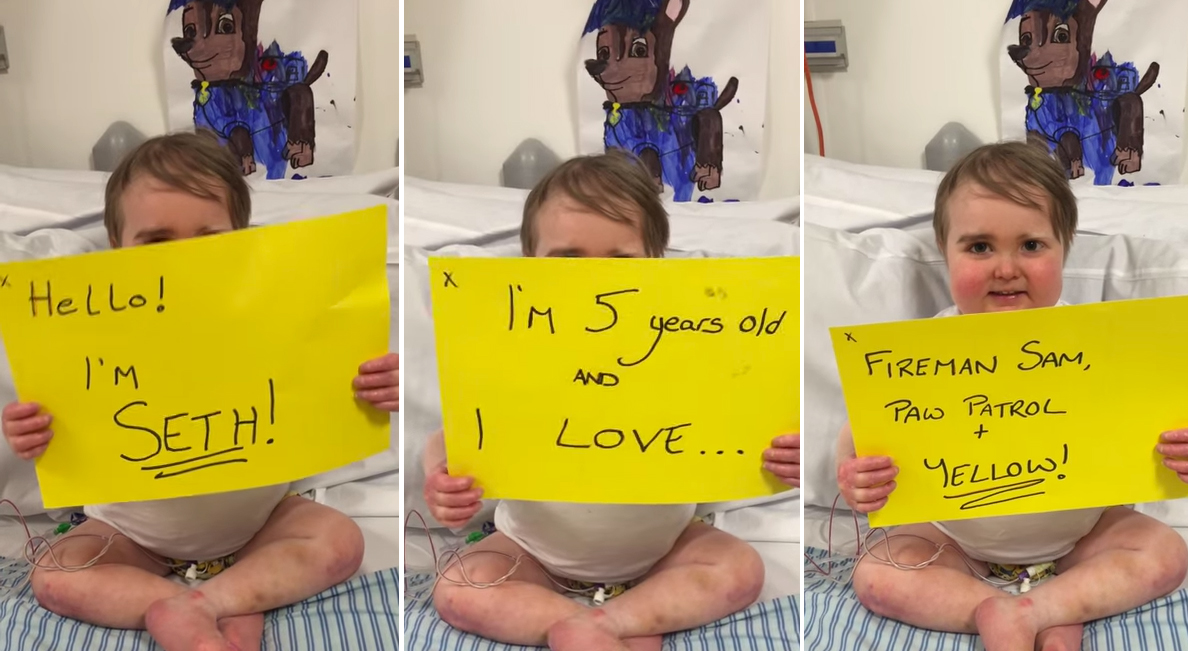 It starts, as so many stories of viral campaigns do, with youtube:
Seth has SCID, a life-threatening disease that means he has no immune system. 
Treating SCID often involves getting a bone-marrow transplant – it is difficult to find a match, and once you have a match, there is no guarantee the transplant will not be rejected. Seth, who is five years old, is scheduled to receive a second transplant this spring, after the first one failed.
When Seth received his first bone marrow transplant in 2010, Seth's parents got a handful of people to show their support by wearing yellow, since yellow symbolizes strong immune systems. Gradually that became Seth's favorite color. So when he needed to receive a second transplant, Seth's parents decided to do it again. 
"Oh this is big now,
this is going somewhere." 
Maybe they would get a few more supporters than last time. A "handful" of people to cheer up Seth's day. So they filmed Seth's adorable plea from his hospital bed: #WearYellowForSeth "and my mummy and daddy will show me all the pictures and print them for my room."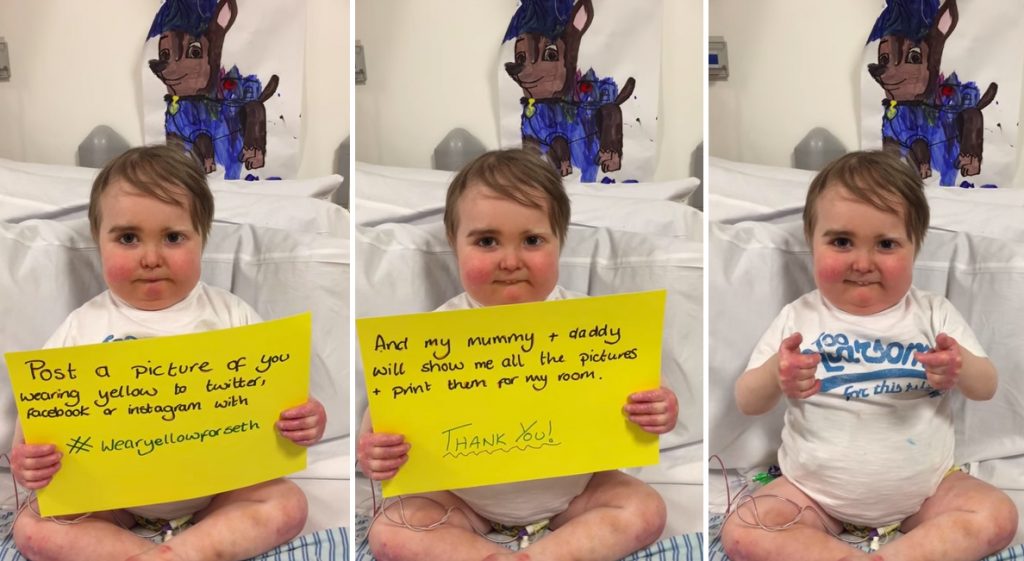 "We never meant to start any sort of campaign, and only expected friends and family to join in," Seth's mom, Leanne, told the Daily Mail. Then, as social media has a tendency it do, it snowballed.
Going Viral: #WearYellowforSeth
The campaign went viral extremely fast. Celebrities like Ashton Kutcher shared the campaign to their networks, and Snapchat offered their services as a partner to help spread the word. At the one week mark, Cosmopolitan and Buzzfeed posted articles about the campaign on Facebook. That was the moment they realized, "Oh this is big now, this is going somewhere."

In the course of just a few days, over 97,590 posts poured in from around the world on every social network, generating 188.2 million social impressions.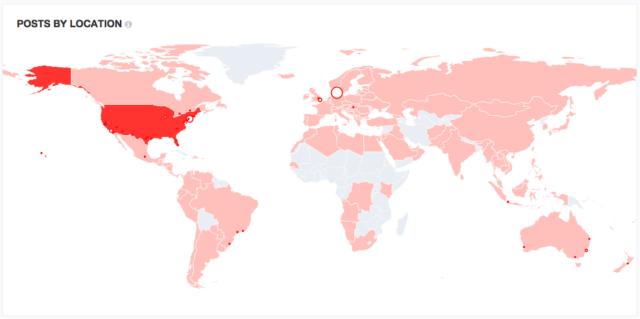 For Seth, seeing the posts has been a great way to boost his morale. "It all helps show Seth that people are thinking of him," said he mom, "I told him about the views and he asked, 'Is it more than 20?' I said, 'yes it is' and he said, 'wowee.'"
Small Foundation Big Campaign
For The Bubble Foundation, the tiny non-profit that supports Seth and other children born with SCID, the scale of the campaign was more than they could have dreamed of. We spoke with Dan, who volunteers his time to the Bubble Foundation, and got in touch with us to help aggregate the posts after the campaign started to blow up.
"This is a huge thing for us," Dan explained, "because this charity is run by one lady in an office – Gill Johnston — she's a part time fundraising manager. I volunteer for her." The Bubble Foundation does amazing work with their tiny team – as Dan pointed out, "Huge charities pay a lot of money for this kind of exposure."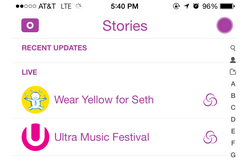 Snapchat gives #WearYellowforSeth a boost with a special filter and story exposure
Dan started volunteering for the Bubble Foundation when he was 16 — at that time they had no digital presence, and Dan helped in whatever ways he could – designing a poster, setting up social media profiles for the small organization: a Facebook page, a twitter account. 
After Dan graduated from high school, he kept volunteering as their social media manager, even though he has a full time job as a graphic designer. 
"To go from no social presence at all to this huge campaign… It's all paid off eventually, at the most unsuspecting times."

Reacting Quickly
Like many successful social media campaigns, this one required the Bubble Foundation to react quickly. Since the hashtag wasn't the charity's idea, Dan describes it as a responsive campaign. As it took off, "all we could do was respond to it and get involved."
 The campaign went viral so quickly, there was almost no time to get the website up. "We had to move pretty fast," Dan explained, "it was a lot of late nights for me."
Dan got in touch with us at TINT, and quickly put together a microsite with posts from celebrities, friends, and supporters around the globe: http://wearyellowforseth.com/. There is even a musical component, which we thought was pretty neat.
Once they got the site up that aggregated and displayed all #wearyellowforseth posts into their page, they sent the link to Nik, Seth's father, who used it to share the thousands of images with Seth. The family was aware of all the posts rolling in, but seeing it all together – "the scale of it was quite overwhelming," Dan told us. Their original plan to print out all the posts seemed absurd now.
Lets make this little dudes day! #wearyellowforseth http://t.co/WMsTsx6JHA pic.twitter.com/RslnmBlNSf

— ashton kutcher (@aplusk) March 27, 2015
Small details helped the Bubble Foundation get the most out of this sudden spike in awareness about their cause: They added Call-to-Action buttons on a few of the posts, directing site viewers to an opportunity to donate. "The CTAs were really good," Dan said, "that worked to get donations online."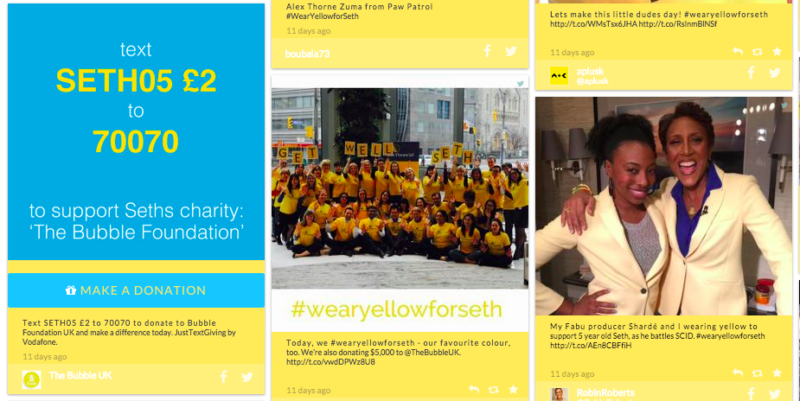 Other details they will know about for next time — for example, text donations didn't work in the US, where the majority of supporters actually came from. They weren't expecting any worldwide donations, so they didn't have any abilities in place beyond the ability to donate online.
"So many things happened so fast," said Dan, who has been putting in more than a little volunteering overtime these past few weeks, "its amazing how it came together – I wasn't expecting this at all."
Advice for other non profits: Keep it personal
When asked what advice he would give to other small nonprofits hoping to replicate their social media success, Dan focused on keeping it personal: "Involve the patients more," Dan said, "people want to hear their stories."
 "This campaign might not have worked to the scale it did if we had set up this whole thing as a charity. Since the idea and the video came from the parents, it was a lot more personal." Charities will be most successful on social media when they not only tell the stories of the people their cause supports, but let those people tell the story themselves. Isn't that what social media is all about?
And as for Dan, quietly modest about all his hard word, he would only say, "It all paid off."
If you'd like to learn more about Seth, you can read the blog his parents keep, and check out The Bubble Foundation's website and twitter.