Creating great content is hard work.
Ideation, outlines, writing, filming, editing—it's a process before you get that little dopamine increase from finally hitting the publish button.
Immediately our marketing brains turn to what's next. The next piece of content moves through the editorial process, and you're back to the publish button. While consistency is a crucial ingredient for successful brands, it's not the only necessity determining success.
Distribution is just as important yet, often overlooked in favor of the next piece of content.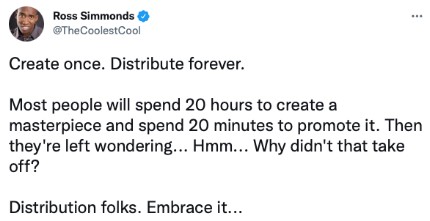 If you want to create impact with your content, you have to add distribution to your marketing strategy. It'll save you time, money, and resources.
Why Brands Distribute Content
Social media feeds move quickly. A great Instagram Reel is gone in a few days. It gets pushed back by your new content and quickly becomes a distant memory. Twitter, LinkedIn, TikTok—they all work the same way. Your content is gone as quickly as it gets attention. The hours put into ideating, writing, filming, and editing are gone within 24 hours—if you let them.
Content distribution takes your existing content and repurposes it natively across other platforms. Your tweet can become a LinkedIn post. Your Instagram story turns into a TikTok. Your TikTok transforms into a tweet. Tah-dah! You have a flywheel of content across platforms pointing back to your website (and products).
Add in user-generated content from your audience, fans, and customers and your editorial calendar starts bursting at the seams. You'll have more content than you know what to do with and tap into the increased engagement and conversions with UGC. Seventy-five percent of people surveyed report that they are likely to search for reviews and testimonials before making a purchase.
Want to take it one level further? Ask your employees to create content to repurpose across your marketing channels (like Cisco). Brand messages are shared 24x more when distributed by employees instead of brand social accounts.
Now that's an omnichannel marketing strategy.
What do you do with all of this incoming content? You continue to distribute it across your varying marketing channels to amplify the message and get more eyes on your brand.
10 Marketing Channels Perfect for Content Distribution
Web Gallery
Avoid the 24-hour cycle of social media and give user-generated content a place to live long-term. Create a web gallery on your website where UGC automatically uploads. This web gallery becomes the ultimate product placement ads showcasing your product in the wild with happy customers. Companies adding UGC to their websites see a  29% increase in conversions!
Chacos uses the hashtag #ChacoNation to curate UGC that gets featured on their homepage. Website visitors can scroll through and see like-minded adventurous Chacos customers proving the durability of their shoes. This UGC turns Chacos customers into the voice of their brand.
Product Pages
Your product pages are full of hot leads. People reading the description of your products and poking around the page are looking for something to tip them towards the buy button. This is the ideal moment to show hot leads why other customers love that specific product and create a personalized marketing experience. Seventy-two percent of consumers believe reviews and testimonials submitted by customers are more credible than the brand talking about their products.
We're Not Really Strangers makes sure their hot leads can see customer reviews. This relatable and trusted UGC shows that We're Not Really Strangers isn't just making up how much people love their card game. The proof is in the 2,029 happy reviews left by customers!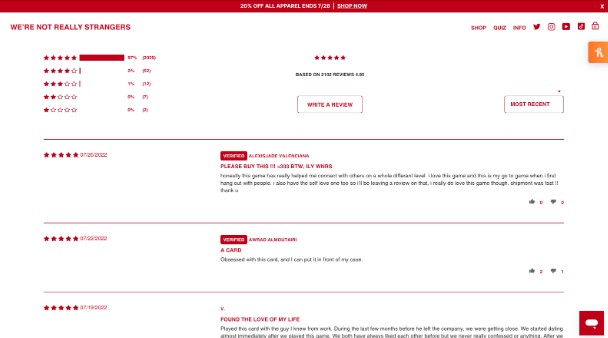 Social Media
Social media is one of the largest parts of the marketing world today. With people spending an average of 147 minutes on social media per day, it's become an obvious platform for garnering attention and conversions. In our 2022 State of User-Generated Content, we found that people want to interact with their favorite brands on social media. Using user-generated content in social media ads can reduce cost-per-click (CPC) by 50%.
Chipotle has dedicated its entire TikTok feed to user-generated content. They curate content from their fans and customers and repurpose it across their marketing channels to get the most out of the incoming UGC. This creates an omnichannel strategy that doesn't involve a huge content team or budget and lands more engagement than brand-created content would.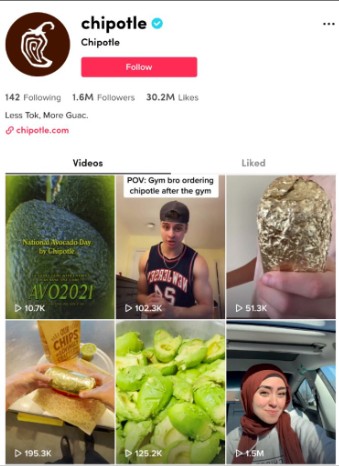 Paid Ads
UGC creators are proof that paid ads featuring real people garner conversions. Brands are working with professional influencers and creators, as well as UGC creators, to make high-converting content they can put ad dollars behind. Social media, advertising, and email marketing are the top 4 channels marketers use UGC today.
UGC creator agency Lauren Labeled sees a 2x increase in conversions from UGC content. Brands hire their talent to create UGC videos and testimonials that get repurposed across marketing channels, like paid advertising, in place of traditional brand-created content. Brands are also white labeling through influencer-sponsored posts. CUTS Clothing white labeled a sponsored post with Zack Alter to grow awareness for their Chileno Camp Collar.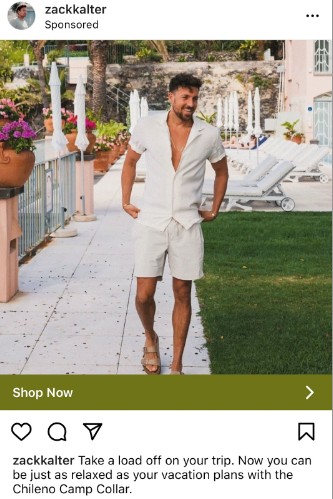 Contests and Giveaways
If a contest or giveaway is coming up in your marketing strategy, look for user-generated content that inspires your audience to participate. Put UGC on your promotional pages and social media posts to increase engagement and participation. Contests and giveaways are also a great way to grow your UGC library so you can continue repurposing content.
Canon hosted a giveaway through TINT's Experience Builder in the hopes of getting a new wave of Generation Z interested in photography and videography. Contestants shared their photography with Canon and had the chance to win a grand prize. The contest helped fill Canon's UGC Studio with 2,000+ UGC images they've distributed across their marketing channels.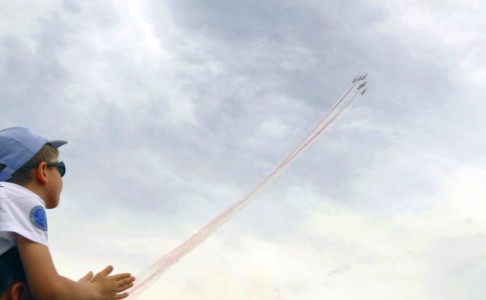 Social Walls & Event Screens
Social walls and event screens marry the offline world to the online. With digital signage, conferences can showcase UGC to their attendees. This UGC positively impacts attendees' experience while inspiring them to make content while at the event. Event UGC can be organized and distributed to your other marketing channels to show your followers an inside look at attending. Event screens can increase social media impressions by 40%.
iHeartRadio added UGC to their event screens at concerts to highlight fan experiences. Attendees share social media posts that land on the big screen—turning them into part of the talent!
In-store signage  
UGC isn't only for small screens. Digital in-store signage turns walls into product promotions built around customer advocacy. These in-store signs also inspire customers to create content after their purchase. Brands see 40% more engagement with displays and 25% more revenue per visit.
Brands like Nike proudly share UGC in front of their storefronts. They promote their customers by sharing their story with the hashtag #hyperadapt creating a flywheel of incoming content that gets repurposed across their digital signage (and can also be used offline as needed!).
Billboards 
Offline channels still exist—and work—in your marketing strategy. They're a viable channel for growing brand awareness, and brands like Oatly, ClickUp, and Twitter are happy to tap into them. Offline channels are ideal for brand awareness and creating FOMO for online experiences (like not being part of the Twitter community). 
Twitter took user-generated content and made it lifesize by posting hilarious tweets through major cities. Using tweets with high engagement online meant they knew their audience would also find them funny offline. They posted tweets about 2020 and highlighted celebrity tweets manifesting future success.
Print Marketing Materials  
Aside from looking up at billboards, people also spend time looking down at their favorite magazines. Print marketing materials are another opportunity to add brand-created and user-generated content to another touchpoint in your buying journey. A Stanford University study found that purchasing intent is 53% higher with native advertising than with traditional banner advertising.
Airbnb.mag is Airbnb's print magazine that features user-generated content from the eclectic and unique homes available on their website. The brand strategically created its own marketing channel, instead of renting space from a third party, so it could distribute content to an audience they own.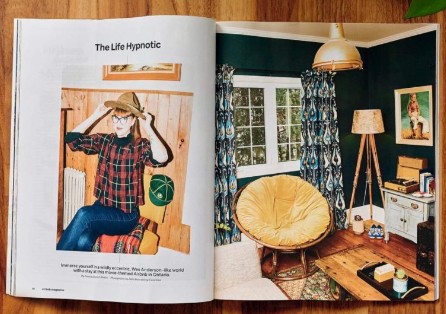 Get Creative!
Marketing is a creative process (even though it involves a lot of spreadsheets). Getting creative is a crucial part of every strategy and why brands see virality across their online or offline marketing channels. What touchpoints do your customers experience with your brand and how can you add brand-created content and UGC where it normally isn't?
The Loews Hotel came up with a brilliant idea by placing UGC on their keycards (they also placed UGC on their print ads and website). Their creative spin on UGC helped increase social media engagement by 62%, increase time spent on bookings page by 85%, and increase revenue from brand-site bookings by 4x.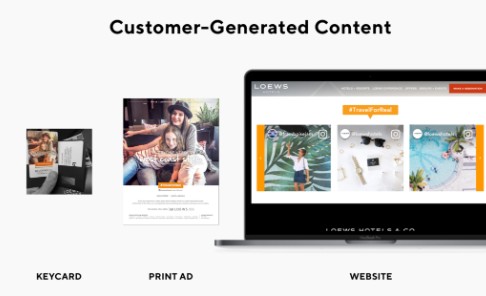 Where Should You Start Distributing?
Your distribution strategy doesn't have to involve every single touchpoint available today. A great distribution strategy looks at the marketing channels most important to your customer and determines how to add your existing content. Even better—it asks your customers on varying channels to create UGC that you can repurpose natively to aligned platforms. (For example, you can't distribute an Instagram Reel to a print magazine, but you can distribute a product review).
Think about these marketing channels and how you can add UGC and ask for UGC from your audience:
Social media
Website
Event
Newsletter
In-store 
Packaging
Etc. 
Use TINT's UGC Studio to keep your user-generated content organized and ready to publish. Build out automated workflows and deliver visual assets easily across your tech stack without spending extra time trying to figure out where to find content and how to make it fit the necessary platform.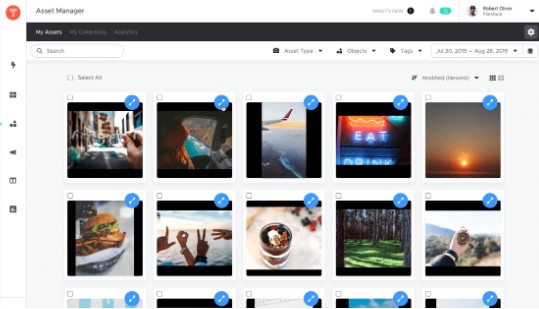 Create Content 🤝 Distribute
Great content shouldn't disappear after 24 hours. Your team worked hard to create it or inspire your audience to make it. Instead of letting highly engaging and converting content only get one go around—allow it to make an appearance across your multiple marketing channels.
Create an omnichannel marketing strategy that doesn't require a massive content production budget or team by tapping into the power of user-generated content.
Schedule a TINT demo to see how leading brands leverage social content for big results.