The Best
Twitter

Wall
Need a Twitter wall that displays in real-time what your event attendees are tweeting via hashtags on a big projected wall or TV? Tint is the best Twitter wall for your next event, party, wedding, conference, concert... you name it! Get started by clicking below or request a demo by contacting us at sales@tintup.com.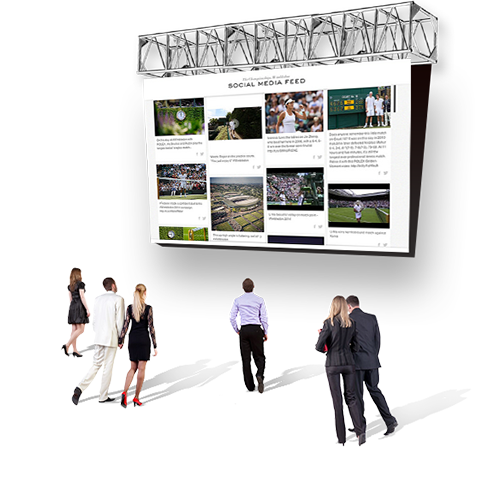 Connect all your sources
Get the plan that fits your event!
Event
---
Most engaging display for daily events
Purchase
what you get
12 network connections
full & auto moderation
event consultation
insTINT updates

$250 daily value
FAQ
DO YOU HAVE A FREE TRIAL?
You can start with our free 7-day Premium Trial above and try out our product. We don't collect your credit card until you're confident TINT is right for you and you decide to upgrade to one of our paid plans.
HOW LONG ARE YOUR CONTRACTS?
You have 3 options for contract length:

Single Day - Our daily Event Plan paid for one time upfront,
Month to Month - Our Monthly RECURRING Plans paid month-to-month.
Yearly - Annual Plans offer a 15% discount when paid upfront

You can cancel at anytime from within the platform.
CAN I SWITCH PLANS?
Yes, at any time, within your TINT account. When you upgrade or downgrade your TINT plan, you will receive a prorated charge depending on the cost of the new plan you choose. HOW DO I CANCEL MY TINT PAID PLAN? If you are on either our monthly or annual recurring subscription plan, you can "Request to Cancel" inside the Payments tab of your TINT dashboard. A Happiness Hero will confirm your cancellation, and you will have access to your TINT account until the end of your billing period. IMPORTANT: If you cancel your TINT paid plan, all your TINT data will be deleted. Why? It takes a lot of server power and expenses to keep your TINTs running. CAN I CUSTOMIZE TINT WITH MY OWN BRANDING? Yes. It is easy to customize your TINT in the "EDIT" section of the platform. We have over 14 themes to choose from, customized colors, posts, call-to-action buttons, banners and more. Further customization can be achieved with our custom CSS capability and even access to our API through our Platinum Plan. HAVE MORE QUESTIONS? Our sales team is available and usually responds within 1 business day. Please email them at sales@tintup.com or call 213-973-TINT.