UGC Rights Management Simplified
End-to-end workflow for quick, easy, legal rights to User-Generated Content with TINT UGC Rights Management software.
Scale your content production with our simple, straight-forward User-Generated Content legal rights management workflow to obtain original poster approval. Stay compliant with GDPR, CCPA, and other privacy standards. Repurposing UGC legally and safely throughout your marketing channels is one of the most effective and authentic strategies for converting leads to customers, as well as achieving scale for your content needs quicker and at a lower cost.
The complete workflow to obtain and track legal rights approved content from across the social web while creating a documented audit trail to prevent any potential costly legal issues in the future.
Easily gain and manage legal rights to UGC across a variety of social platforms like Instagram, Twitter, and more.
Start by crafting a personalized note to users to request rights to their content.
Requests are marked and reported in TINT, making it easy to keep track of content that is pending approval.
Once approved by the user, UGC rights content is stored in UGC Studio for easy organization, search, customization & editing, download, or to automatically integrate and send to other platforms in your tech stack like Hootsuite, Salesforce, AEM, HubSpot, Marketo, Facebook Ads, and more.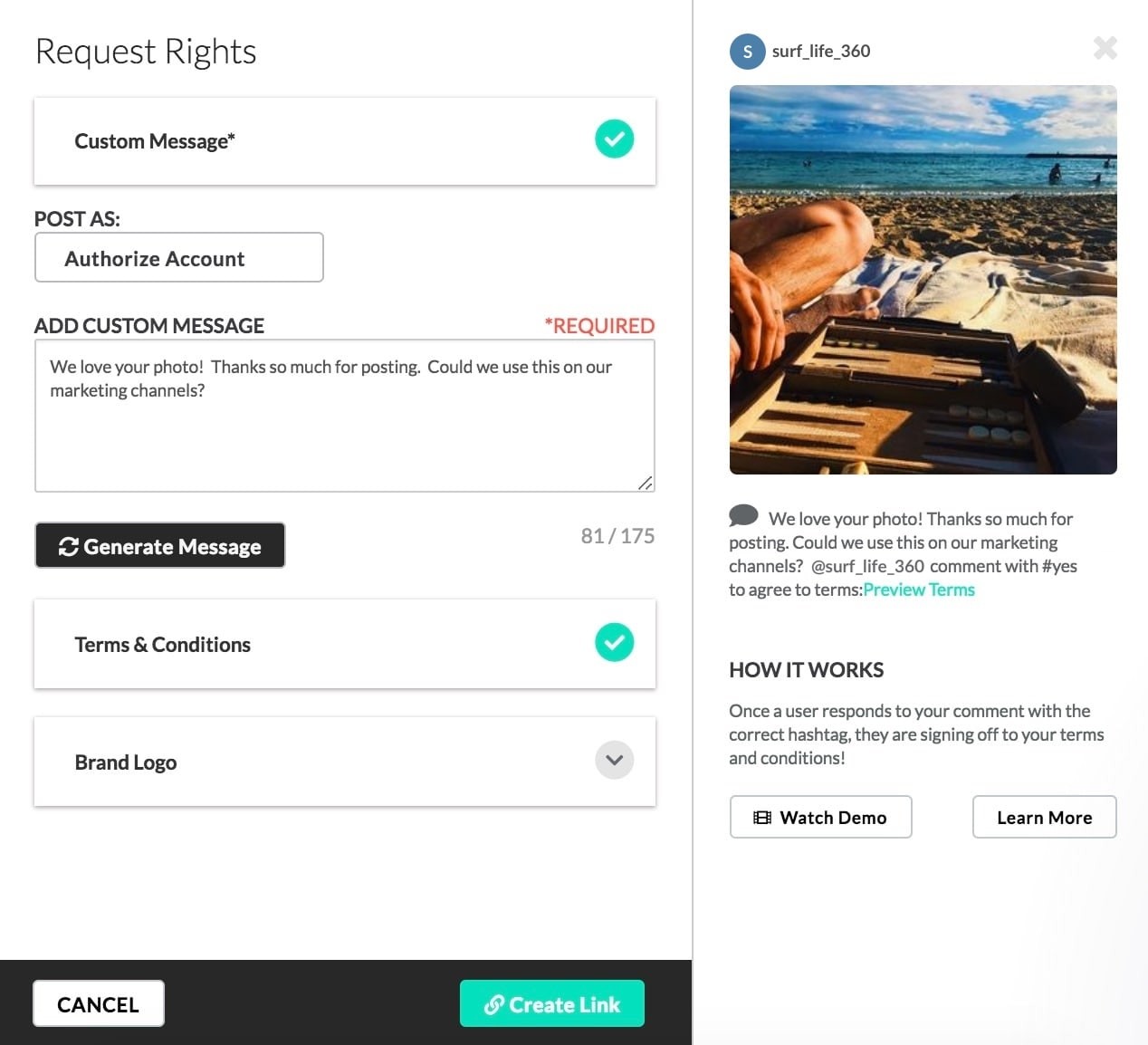 Show customers you are listening
72% of users will accept a brand's request to use their content.
Request rights to content from members of your community to drive real engagement and to show them you appreciate their contribution to your brand. Studies show these fans love that you are listening and will share brand content again.
UGC content is more trusted and affordable than branded content. Increase click-through rate, customer engagement and top-line revenue all while saving time creating valuable content.
The world's best companies use TINT to generate greater audience engagement and sales conversion with TINT.
Join the 5,000+ companies around the world who use TINT.
Ready to deliver trust with TINT? We're here every step of the way.