Social Content for the Enterprise
TINT is the most powerful and trusted Enterprise Social Content platform in the world. Find, curate, and display authentic user-generated content across marketing campaigns – events, websites, apps, and screens – to boost trust.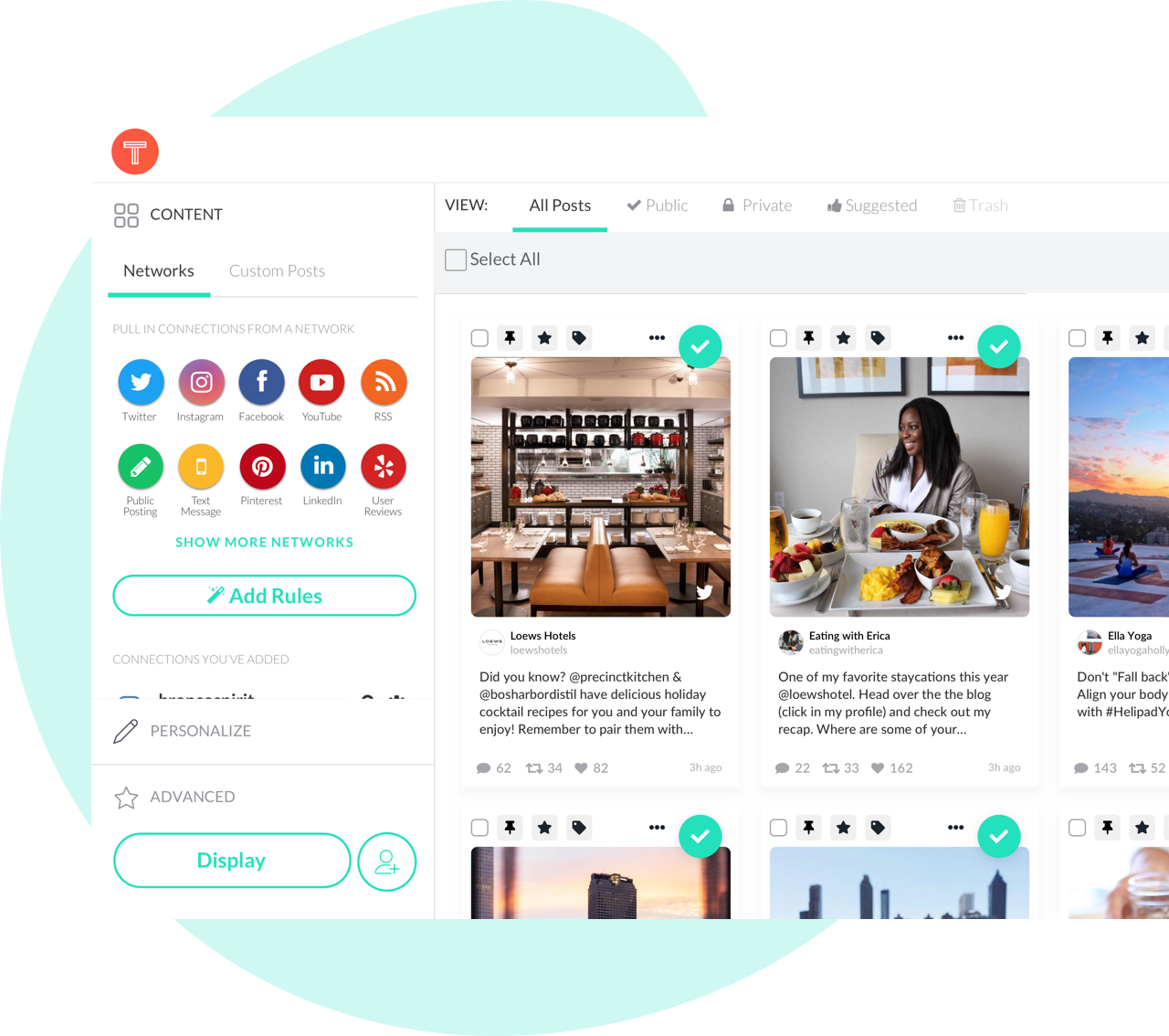 "92% of consumers trust recommendations from peers, or even someone they don't know, over brand content."
Any content, any channel, published anywhere
Put trusted effective content from your users, creators, and influencers onto all your marketing channels. Curate highly engaging social content and leverage for an effective omnichannel strategy.
​​Powerful machine learning based content recommendation engine enables moderators to spend 50% less time curating, while achieving 3X more engagement with published content.
Social Commerce, shoppable UGC & calls to action
Increase conversions and content ROI with shoppable calls to action. Publish inspirational galleries with authentic content. Monitor engagement analytics for attribution.
"To us, it's the relationship we have with TINT. As a TINT customer not only do we have access to the powerful platform, but also to the wealth of industry knowledge their team has. The insights and collaboration are invaluable."
– SIMON KOPEC, LOEWS HOTELS & CO, DIRECTOR OF SOCIAL MEDIA AND CONTENT STRATEGY
The enterprise social content platform
Grow without limits while maintaining complete control over user-generated content and use it across your organization, seamlessly.
Utilize a number of networks, hashtags, or locations
Put TINT on any number of websites, screens, ads, or emails
Onboard your entire team with role-based access, permissions, and single sign-on
Machine Learning – Smart Curation
Deep learning that cuts through the noise and surfaces the best content
Multichannel Integrations
100% customizable to your brand
GDPR and Privacy Shield compliant
The world's best companies use TINT to generate greater audience engagement and sales conversion with TINT.
Enterprise marketers love TINT
We work with customers from all over the world, in every industry, including hospitality, tourism, education, retail, and more.