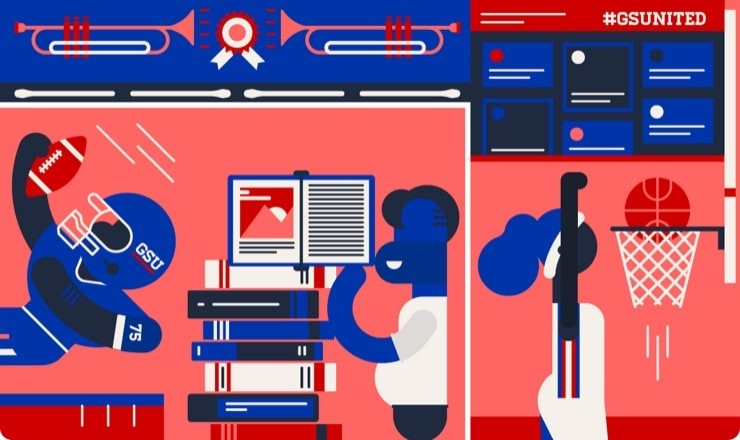 How Georgia State University Boosted Audience Engagement with UGC
"Everyone loves their 15 minutes of fame. We had hundreds of people tweeting us. It was wildly successful."
Director of Content Strategy
Introducing Georgia State University
Georgia State University (GSU) is a public research university that's spread out across downtown Atlanta, Georgia, USA. In 2015, the university had a student population of 32,000 over eight colleges.
"If you can imagine, it's kind of like fitting a hundred businesses into a 10-block radius and getting them to all work together"
Social media is broken down into three categories at the university: communications, marketing, and customer service. These all feed into their main goals of telling the university's story (or adding a little personality) and marketing the university in a competitive Landscape.
"We have many different communications outlets both online and in-print, but social media is the best way for us to tell our day-to-day story and show the university's personality"
Coniglio is responsible for fostering the university's voice across many departments and channels to reach prospective, current, and alumni students.
What they did
Build school spirit with campaigns
Much of GSU's social media strategy looks at different ways to engage prospective students, promote school spirit among current students, and get alumni more involved. As an urban campus, students have more opportunities to integrate themselves into the city, but it's also harder for the university to foster community spirit. Many students live off campus and commute, so digital is a great way to reach and engage them—especially for events like Back to School Week or Homecoming.
For example, for GSU's Back to School Week campaign in August, Coniglio had students hashtag photos of their first week back with #PantherWelcome. This was the first time she used the TINT integration with Hootsuite, which collects, curates, and displays content from social media in interactive ways. While the campaign is widely considered a success for engaging new and returning students, their next campaign—for Homecoming—set new standards.
How they did it
Unite teams to improve campaigns
Before using Hootsuite, social media was very scattered because each department operated as an independent entity. Lack of cross-collaboration affects student daily life and their ability to receive great digital customer service. For example, if a student reaches out to GSU on Twitter, they might not consider all of the people and departments required as contributors to respond properly. Coniglio is changing all that, with the help of Hootsuite, by adding all customer-facing departments into one centralized platform.One of the great things about Hootsuite—and why I love the platform—is the workflow. Instead of everyone operating independently, we can all work together to improve the overall experience.
"One of the great things about Hootsuite—and why I love the platform—is the workflow. Instead of everyone operating independently, we can all work together to improve the overall experience."
This challenge trickled down into campaigns and events, such as Homecoming. In an effort to bring all colleges, campuses, departments, and students together, Coniglio chose the hashtag #GSUnited for the 2015 Homecoming. The hashtag is simple and it connected with people emotionally.
Prior to launch, she got buy-in and promise of support from other departments such as the athletics department and student influencers. Having their support meant greater promotion and more students aware of #GSUnited. Using Hootsuite listening streams, she found great shareable content to help engage students and build momentum for the event.
Boost engagement both online and offline
With students sharing Homecoming #GSUnited selfies and content, Coniglio wanted to showcase it all and keep school spirit high. To add a digital social dimension to marquee events, GSU turned to theTINT and Hootsuite app integration.
"Everyone loves their 15 minutes of fame," Coniglio says. "We had hundreds of people Tweeting us—all of which was displayed on the homecoming website through the integration—it was wildly successful. The TINT app has a great monitoring system in the backend for pre-publishing"
With one click, Coniglio could send content from Hootsuite to TINT, pushing her moderated content directly to the homecoming website. Using Hootsuite listening streams she followed general conversations to find any related content that might not have included #GSUnited. "The TINT app in Hootsuite is easy to use and allows us to share more vibrant content," Terry Coniglio says.
"I've been using both TINT and Hootsuite for a few years now and was excited to hear about their partnership. When a new campaign is just starting out, users might not know what the hashtag is or they forget it. We were able to follow the general conversations in Hootsuite and populate our TINT feed with posts that didn't use the campaign hashtag but were on topic."
The results
More engaged, happier students
The university is starting to see more students come to marquee events such as Homecoming. For example, the Georgia State Homecoming Football game—one of the largest events at Homecoming—saw a 9.4 percent increase in attendance year over year.
Departments collectively rallied to showcase the university's playful side and engage students online. While the previous year's Homecoming had 380 mentions, this campaign had 216 percent greater engagement, with over 1,200 mentions on social media. This is three times the normal weekly engagement for the university. The #GSUnited Homecoming campaign even earned GSU a CASE District III award for social media strategy.
GSU's events now run smoother and are more successful because it's easier to source great content and close the loop between social, web, and the physical world. They needed a way to make their lives—and communications with students—a little more social and they did just that.