How Arizona College of Nursing Boosted Student Engagement Through Interactive Experiences
Who They Are
Arizona College of Nursing is spread across America with 12 campuses in 7 states offering an accelerated 3-year Bachelor of Science in Nursing (BSN) degree program as well as a variety of allied health programs at select campuses. The college is committed to providing students with the technical skills and education services required to grow their career in nursing and healthcare. The school provides individuals with the ability to learn through real-world experiences through classwork and in the field. Their staff consists of industry experts and their career services team offers interview advice, job fairs and career placement opportunities.
The college's savvy marketing team understands the importance of speaking to students in their own language and appealing to the next generation of healthcare workers. Their social media strategy focuses on celebrating student achievements and motivating and educating followers on different areas of healthcare. 
The Challenge and Opportunity
Arizona College of Nursing proudly differentiates itself from other schools by offering a boutique school feel where students can expect a personal approach to their learning and development. While evaluating their marketing strategy, they realized their content needed to accurately represent their students' experience on external channels such as social media. 
In order to help build the school's credibility online and hone in on their authentic voice, they wanted to start showcasing content created by students themselves. They were also striving to show their audience the young people across America who enthusiastically choose Arizona College of Nursing as their gateway into healthcare. Their strategy needed to educate the public on who they are, increase student and faculty engagement, strengthen their persona and help with recruitment. It also had to be centered around real stories about real students – therefore, the school's marketing team started exploring how to leverage User-Generated Content (UGC) after being referred to TINT, a leader in the UGC market.
The team set their sights on Nurses Week in spring as a good first chance to experiment with UGC. They needed a fun, fresh approach to content creation –engaging students during this exciting week for those in the nursing program was the perfect opportunity. In addition to collecting more media, the marketing team planned to use UGC to build up their reputation as an esteemed nursing school. They enlisted TINT's help to create an experience that would grab attention and also give back to the students.
"The team at TINT are true partners to us. They work alongside us to help develop effective campaigns to elevate the content we are procuring. Their knowledge, creativity, and support have made the platform a vital asset to our department."
The Nurses Week giveaway was Arizona College of Nursing's first experience using the TINT platform. To encourage participation, the marketing team hosted an incentivized fitness challenge on social media. The school provided nursing students with branded water bottles and asked them to post photos of themselves taking part in a physical activity. The contest was set up using TINT's Experience Builder to create a landing page where students could easily submit their content. The giveaway ran for 2 weeks and the school received 775 page views and 81 submissions, resulting in a conversion rate of 10% (number of submissions divided by number of page views).
The prize was three pairs of Nike Air Zoom Pulses that are highly coveted by nurses as they are especially suited to the job. In combination with the TINT experience, Arizona College of Nursing implemented a robust marketing plan to grow awareness and drive traffic around this contest. They sent out daily e-mail reminders, placed QR codes around campuses to aid with content submissions and posted to social media. Amber Coleman, Social Media and Content Specialist for the college, noted it was great to see the high volume of students participating and the success of this activation laid the groundwork for what followed.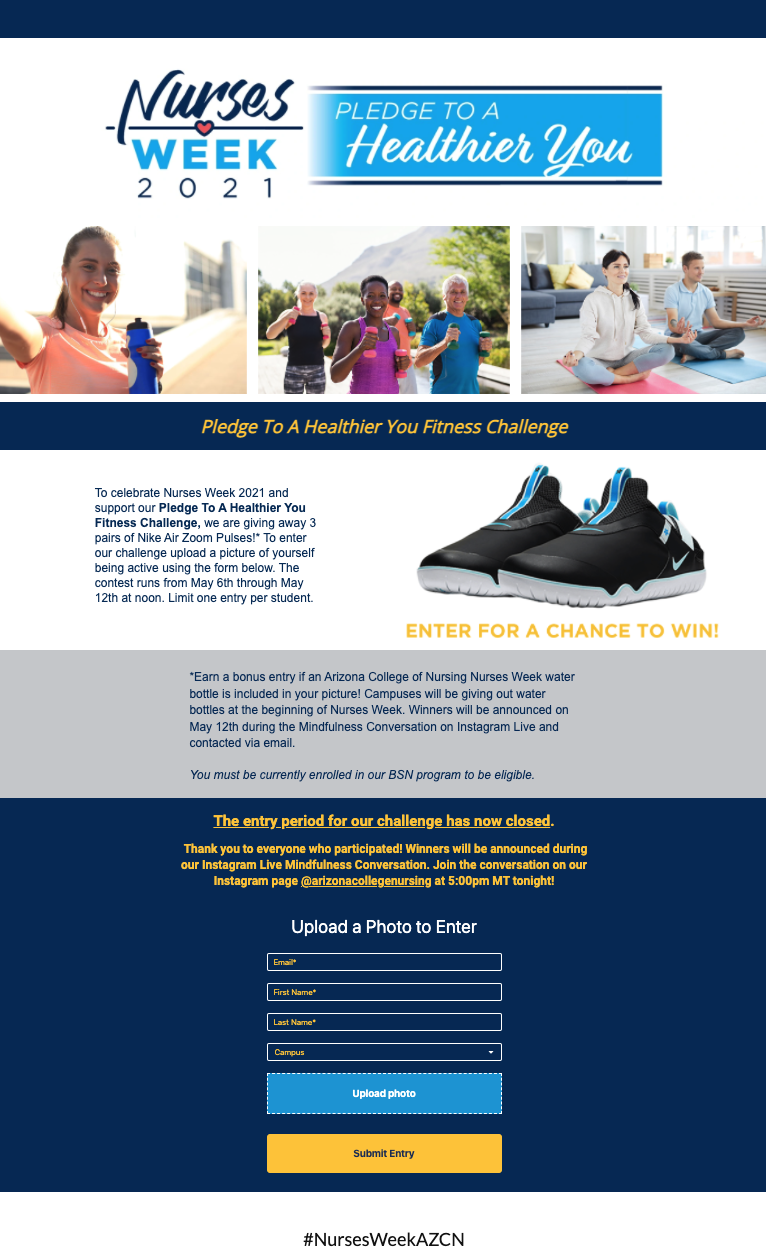 As graduation approached for the Bachelor of Science in Nursing class of 2021, the college was presented with a clear opportunity to further expand their UGC strategy.      As an institution that values having engaged staff and students, they brainstormed ways to assist the graduating class with celebrating this big milestone in their lives that took three years in the making. The school wanted them to be able to share their experiences and memories with each other and thank the faculty in a fun and easy manner. Initially, the campaign titled "Senior Spotlight", was run solely through e-mail and asking for photos and answers to a short questionnaire about their experience.
As the campaign heavily depended on e-mail communications, the process was time-consuming. Due to this, engagement rate and output of content was low. Amber was responsible for tracking responses and manually organizing the material which was a slow and tedious process.
"We got a lot of great feedback but it was very, very chaotic going through all the e-mails and trying to organize all the content and post it. That's when TINT came in. It was a great tool to help us store all our content. I was able to create an organized system to see which student answered each questionnaire and it was an easy way to request rights to the content as well. It's been a lifesaver for me, honestly!"
Being Ambitious with the Solution
Arizona College of Nursing was ready to supercharge Senior Spotlight. Their main goals were still to highlight real graduates and engage them to celebrate their achievement of completing the accelerated three-year nursing degree – they presented this idea to TINT to re-strategize how it could be more successful. 
Taking learnings from the solid performance of the Nurses Week giveaway, the marketing team saw an opportunity to once again use TINT's Experience Builder to motivate students to submit content. Together, they created a highly interactive web page prompting students to use the hashtag #AZCN2021 to submit photos of themselves and answer questions. As a means of incentive, Arizona College of Nursing gave students the chance to be featured on the school's social pages.
Putting Words Into Action
When creating the Senior Spotlight portal, TINT helped Amber repurpose marketing collateral they already had by showing her how to input it into the easy-to-use platform. The wording for the submissions page was an easy lift from the e-mail campaign that the school was already running. Amber was quickly able to build the website using images from the school and questions from their e-mail marketing.
TINT and Arizona College of Nursing determined that an influx of visual and text-based content was best as it could help them learn more about their students than ever before.
"We didn't have any insight at all on our students' experience before this campaign. It's very helpful now having their story go along with their images because we are able to repurpose as testimonials for paid and organic content on our channels," says Amber.
The Outcome
Prior to using TINT, Arizona College of Nursing hadn't achieved their desired results with Senior Spotlight. In the first 6 months of the campaign with TINT, submissions have more than doubled. The school saw a significant growth in responses from students, receiving 78 pieces of content and 621 page views with a conversion rate of about 13% while submissions continue to pour in. Due to the early success, the school continues to collaborate with TINT to further increase conversion rate.
By reposting Senior Spotlight content on social media, the school is able to showcase their true identity online. Key learnings so far include the insights the faculty has gathered about student life, the streamlined process they found to easily request rights to use the images and text, the library of content that automatically gets created through TINT and the extension tool allowing them to quickly locate media and efficiently integrate it into marketing material. Amber states that the biggest game-changer for the marketing team thus far has been the time-savings across the entire content creation process – from discovery to posting.
"We're definitely seeing more engagement from students as graduation approaches after running Senior Spotlight with TINT. They have come to expect it and are excited to submit content. Submissions have more than doubled since we first launched the campaign," shares Amber.
Based on the success of TINT,  Arizona College of Nursing activates Senior Spotlight for each graduating cohort of students. They are still successfully implementing the content they receive throughout their organic and paid media, generating inquiries from potential students which is an exciting sign for the school. Amber says she would typically spend more than half her workday on content creation and TINT has saved her most of those hours resulting in a lighter workload. She is able to accomplish more during the day while still being able to find content, organize it, and reach out for permissions.
Senior Spotlight TINT Board
The Conclusion and Future Plans
Currently, Arizona College of Nursing is focused on converting student applications to real students. Amber's team works closely with the paid marketing team to track the success of advertising campaigns and is also trying to improve the way they measure organic content performance. The school's team is happy with the results of Senior Spotlight on the TINT platform and are exploring ways to recreate similar experiences for incoming students. The college's social media audience includes many potential employers and alumni – providing added opportunity to help graduates land their dream job and meet people in their field of interest. The marketing team is actively working on ways to use TINT to engage this audience and bring them into the content creation process.
The world's best companies use TINT to generate greater audience engagement and sales conversion with TINT.