If 2020 was a year of adapting to a new social and professional climate, 2021 was an exciting year of growth for TINT! 
On the product side, we've introduced several groundbreaking features, such as enhanced social commerce and shoppable user-generated content (UGC), attention score for content optimization, and sentiment analysis. We've also expanded our integrations with key platforms including Salesforce, Canva, and Adobe Experience Manager. 
We've built upon our vast library of content resources with a special report covering UGC's role in the return to travel, many new on-demand webinars, and a brand new podcast. Our Future of Marketing community grew to over 25,000, and we grew our partnerships with market leaders you know and love, like Hootsuite.
In order to accomplish all of this, we expanded the TINT team by 75% and received a few awards in the process, including San Antonio's Best Places to Work. Keep reading as we look at the year in review for TINT!
Last Year's Predictions
For starters, let's take a look at how our predictions last year played out. At the beginning of each year, we publish The State of User Generated Content which includes original research, global survey results, and predictions on what marketing trends we'll see develop throughout the year. In the 2021 State of UGC, we predicted that consumer expectations would push brands to connect with their audience in new ways, spanning both online and offline channels. As referenced by Forbes, Digiday, and HubSpot, one of our key findings in the report was that 93% of marketers believe that consumers trust content created by people more than content created by brands.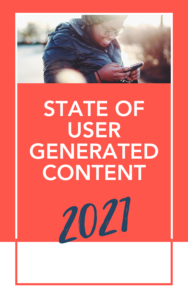 In 2021, UGC provided a win-win solution for users and brands. Social media evolves at such rapid rates, making it more and more difficult for marketers to keep up with the increasing demands of content production – including video, new social platforms, and omnichannel experiences across all platforms. User and employee-generated content is critical for brands to alleviate the challenges that come with producing and distributing high-quality content while also being more trustworthy, authentic, and driving higher conversions. UGC will play an ever expanding role in effective marketing strategies into the new year. 
Looking forward to 2022, the metaverse is here – which offers new opportunities to combine, blend and merge physical and virtual realms together while shifting consumer behavior, marketers' responsibilities, and expectations for a hybrid future. Learn more about what this means for marketing and see more predictions for the new year in the State of User-Generated Content 2022.
Setting the Tone for Social Commerce
eCommerce
While in-person retail shopping took a major hit in 2020, eCommerce skyrocketed. In 2021, the shift to social commerce continued where the full funnel buying experience from discovery to purchase is accelerated through shoppable social media posts. We expanded TINT eCommerce functionality to make it easier than ever to increase conversions and revenue with the power of UGC.
Attention Score
Another groundbreaking innovation is Attention Score. TINT Attention Score allows you to look behind the eyes of your users to visualize how content will be perceived before you publish. Attention Score vastly improves a wide range of applications for visual content, aiding in determining the right content for highly engaging social posts, optimizing paid ad campaigns, and converting site browsers into buyers.
Related: Want to know how people will perceive your content?
Sentiment Analysis
We also released Sentiment Analysis this year! Using proprietary artificial intelligence, TINT can now automatically detect, search, and filter UGC sentiment to find the best content.
Integrations Galore
TINT is designed to fit perfectly into your workflows. It should be easy to connect the platforms you need to grow. We continue to expand our leading integration ecosystem to help you leverage UGC across all your major systems and marketing channels.
Adobe Experience Manager (AEM)
AEM is one of the latest additions to a number of TINT integrations, including Hootsuite, HubSpot, and Mailchimp. The TINT – AEM integration enables you to leverage user-generated content with click button simplicity so teams can easily push visual assets from TINT to AEM.
Salesforce
With TINT and Salesforce, brands can take their attention-grabbing UGC and use it in ads, emails, social media posts, and more. Connecting authentic content to products can simplify and shorten the path from discovery to purchase and drive personalization throughout marketing campaigns.
Canva
Our TINT – Canva integration allows you to bring more UGC into your visual content. Incorporating UGC within your curated graphics can be the key to ultimate optimization to maximize reach, engagement, and clicks. Enjoy the convenience and impact of accessing your own UGC and EGC to create stunning, high impact visuals.
Bynder
The TINT – Bynder direct integration makes UGC accessible with auto-captioned alt text and ensures that content is always available and easy to find for distribution across channels (webpages, email, ads, e-commerce, and more).
As we look ahead to 2022, we're excited for many more powerful integrations to come!
Hospitality, Travel, and Tourism Make a Comeback with UGC
Travel, tourism, and hospitality made a roaring comeback in 2021. Now that more people are willing to travel, how can these brands stand out and inspire tourists? We partnered with travel research authority PhocusWire to release "Content Matters as Travel Recovers," a deep dive into social behaviors and the types of content that inspire travel, comparing both pre-COVID and current trends.
This research stresses the importance of using authentic social media and marketing content to lay the groundwork for future success by building relationships and brand affinity with travelers and guests through UGC. 
Download: Content Matters as Travel Recovers: Influencing and Activating Travelers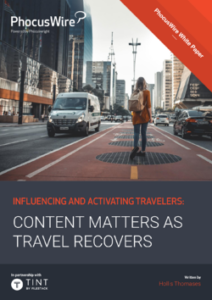 A Year of Growth for TINT
It was also a year of internal growth for TINT. We grew and expanded our team by a total of 73% and had a retention rate of 90%! On top of that, we were thrilled to be named as one of this year's Best Places to Work at our global headquarters in San Antonio. Each year, the San Antonio Business Journal curates this list based on employee rankings of key areas that measure a company's culture. Looking for a "new year, new career" in 2022? We're hiring!
A Community of Marketing Leaders 
Future Of Marketing podcast launch
We continued to expand our global marketing community and vast library of resources with a new podcast where we explore the perspectives of brand leaders to reveal their routines, inspirations, and insights shaping the future of marketing. Our Future of Marketing movement reaches an engaged community of over 25,000 marketing leaders around the world. Click here to join us and stay on top of marketing trends.
Growing brand partnerships
We've continued to expand our partnership with Hootsuite to provide the most value to our customers. In light of the shift toward social commerce, we teamed up with Hootsuite to create the guide "Get Started with Social Commerce: Three simple steps to start turning your social followers into customers." We then joined forces with Hootsuite, Meta (formerly known as Facebook), and HeyDay for the webinar "3 Ways to Ramp Up Your Social Commerce Strategy." In it, we cover how brands can use social media to remain competitive, build trust, and keep their audience engaged throughout the full sales funnel.
We also recently integrated TINT with Amplify, Hootsuite's industry-leading employee advocacy platform. By activating employee-generated content (EGC), brands can expand their reach and generate more impact and engagement. Amplify makes it easy by giving brands a place to share the links, creative, and approved messaging that their employees can share on their own social media. With the integration, brands can now push content directly from the TINT platform onto Amplify.
"There's so much opportunity when it comes to Employee Advocacy. It's not just about leveraging your workforce as a source to push out your company's content, but an opportunity for your employees to be brand champions, content creators, and internal influencers."Brayden Cohen, Social Marketing and Employee Advocacy Team Lead at Hootsuite
Curious what an employee advocacy campaign looks like in action? Read how Securian Financial leverages UGC, EGC, and social to engage employees and customers alike. 
What's Next?
It was a big year and still is – we're closing out 2021 with a bang. We are proud to share that in December 2021, TINT was recognized in the G2 Winter 2022 Report as High Performer (Winter 2022), High Performer (Mid-Market), and Users Love Us, thanks to our great ratings and reviews on G2.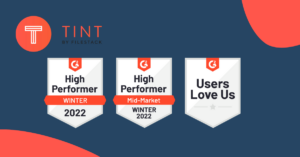 Thank you to all our customers, partners, employees, and community members who we get to learn from and work with on ground-breaking projects each year. We wish you the best in 2022. As you look at your own year in review, we hope that TINT played a key role in helping you grow, whether by building your marketing expertise with Future of Marketing, helping you hit your KPIs with TINT and TINT's experts, or by having the best people to do business with at the Best Place to Work. We can't wait to see what exciting things we'll achieve together in 2022!