All influencers are creators, but not all creators are influencers. 
Confused yet?
You're not the only one. Our latest research shows most marketers and consumers feel like there's a difference between influencers and creators. But, describing the difference is a bit tricky.
Influencers create content. Creators create content. Customers also create content. Yet, they create content with different results in mind.
What's the difference between the content created by influencers, creators, customers, and UGC creators?
Here's your cheat sheet.
What's the Difference Between Influencers, Creators, User-Generated Content, and UGC Creators?
The main difference between these different types of creators and content is the goal behind creation. Influencers create content for a different reason than customers. Creators make content that might look similar but isn't the same as UGC Creator content. 
Use this guide to figure out the difference between influencer content, creator content, user-generated content, and UGC creator content with one quick look.
Influencers
Influencers influence people to convert and buy – and typically require an engaged audience. They've built a marketing channel that's aligned with a specific type of buyer. By creating organic lifestyle or niche content (ex. B2B content), they've created authority in a specific industry. Influencers share products with their audience with the goal of conversions. They get paid to create content and distribute it across their social channels.
Leah Itsines is a food blogger and influencer. She's created authority in the food industry by sharing her recipes, selling cookbooks, and creating a program to help people align with a healthy lifestyle. Philips partnered with Leah to create content about their air fryer and distribute that content to her 600,000 Instagram followers.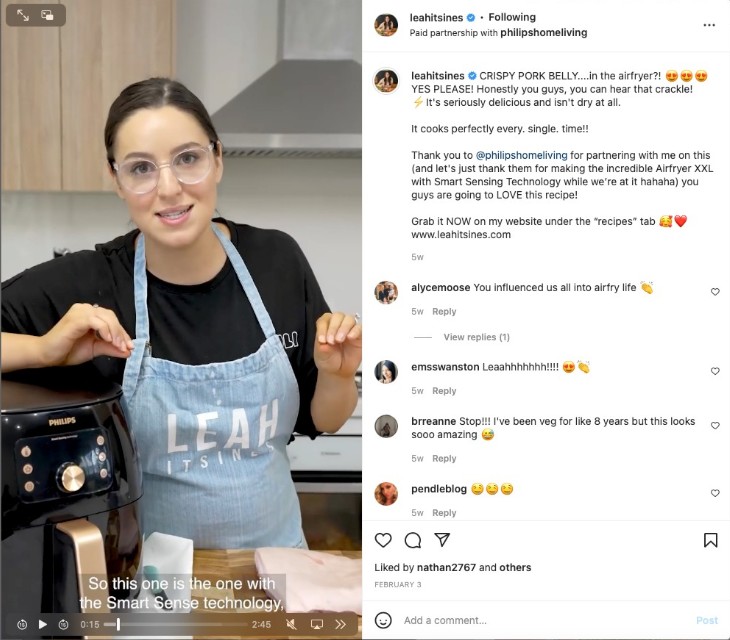 Influencer marketing is best for brands looking for a specific result from content. Campaigns for promotional deals, new products, contests, and giveaways align best with influencer marketing. And remember – you don't need to burn through your marketing budget by hiring an A-list influencer. Seventy-nine percent of a micro-influencer audience searched for more information about a product, 65% visited the brand's website or app, and 46% made a purchase online or offline. Find influencers aligned with your buyers and create a partnership for content and distribution across their platforms if you're looking for conversions.
Creators
Creators create high-quality content that's meant to engage your ideal audience. Creator content is less focused on conversions in comparison to influencer content. Creator content has more self-expression because it's less focused on conversions and prioritizes engagement. This type of content is great for helping brand awareness and building a relationship with your brand.
HubSpot is building out their creator network to grow brand awareness for their CRM platform. Unlike influencer marketing, these creators don't focus the entirety of their content around prompting HubSpot. The HubSpot creators host podcasts focused on their expertise and HubSpot runs ads about their platform throughout the episode (they even cross-promote their other creators!). Two famous HubSpot creators are Sam Parr and Shaan Puri, the hosts of the My First Million podcast, which garners about 150,000 downloads per episode.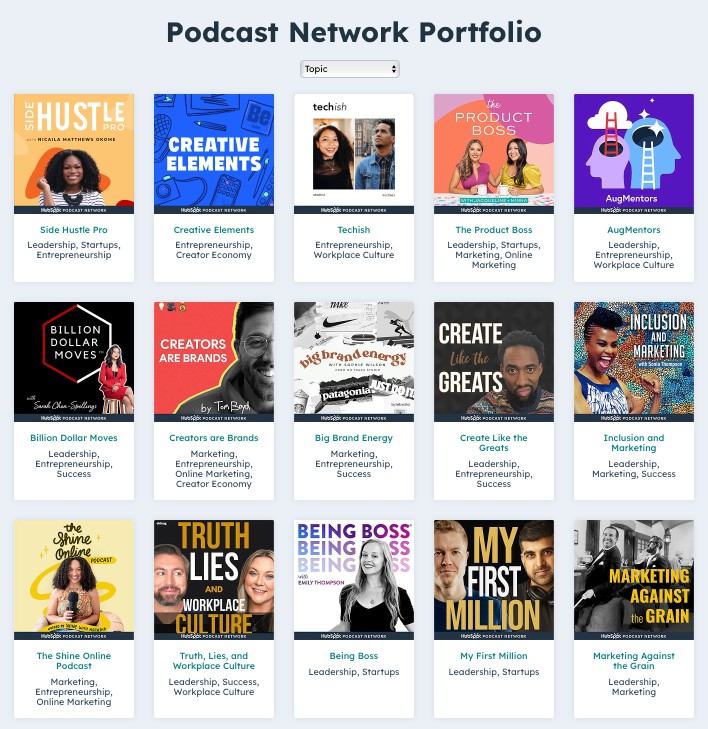 Creators are best utilized with brands focused on awareness. The self-expression aspect of creator content doesn't align with a high conversion rate. But, it does align well with nurturing relationships and turning creators into authorities. Not only can brands gain more awareness by utilizing creators but they can also have the creators act as influencers to market specific campaigns and promotions in the future.
User-Generated Content
UGC is authentic content created by fans and customers (regardless of quality). The best UGC is typically created without expectation – when a customer genuinely loves your brand and wants to tell everyone about it. It is word-of-mouth in its purest form. Unlike influencer and creator content, it wasn't created because of an editorial calendar. UGC gets created in the authentic experiences buyers have with brands.
Brands can find user-generated content everywhere. From Instagram Stories to Yelp reviews, UGC for brands lives on dozens of platforms. The key is collecting it so you can use it in your marketing campaigns. TINT does the hard work of finding UGC posted about your brand. Automate the process while organizing incoming UGC so your marketing team can easily find assets related to specific campaigns, offers, and products. Then, easily repurpose assets across your marketing channels.
Twitter ran their billboards campaign entirely focused on user-generated content. Instead of paying a marketing team to create copy about Twitter, they used funny tweets to show people what they're missing from not using the social media platform.
User-generated content is essential for brands looking to build brand trust, engagement, and conversions. Adding user-generated content can lead to a 29% increase in web conversions – and 79% of consumers trust online reviews as much as in-person recommendations. By adding customer voices to your marketing channel brands become more trustworthy.
UGC Creators 
UGC Creators get paid to create staged UGC – or content that looks like UGC. People are now getting paid to create high-quality (but staged) UGC. Unlike organic user-generated content, UGC Creators get sent a product and are given specific points to hit in their videos or captions. Then, the brand repurposes the UGC content across their marketing channels. Unlike influencer marketing, UGC Creators aren't necessarily required to repurpose content across their channels.
Mindy Thomas runs a UGC Creator agency that works with brands to create high-converting content. Brands come to Mindy when they need specific content. For example, new brands that don't have a customer base utilize Mindy's content to repurpose across their paid ads channels. Mindy explains the sentiment around UGC Creator content, "You don't need flashy and polished, you need real and informative with a splash of entertainment."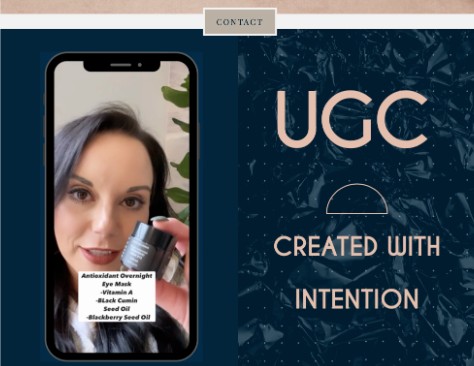 UGC Creator content is aligned with brands that don't have a UGC Studio full of available content. It's a great starting point to help show your audience what type of content you'd like them to create (50% of consumers wish brands would guide them in creating content). UGC Creator content is also ideal for paid marketing campaigns.
Influencers, Creators, UGC: Which is the Best?
The best content creator to use in your marketing strategy depends on your goals and budget. 
Ideally, using a combination of these content creators diversifies your content mix and creates a holistic marketing approach that targets buyers at all stages of the funnel.
Better yet, it creates a flexible marketing strategy that adapts to your changing goals and budget. To add flexibility to your strategy, start building your UGC Studio today.
By having a UGC Studio full of highly engaging and converting audience, fan, and buyer content you'll keep your editorial calendar full while having the assets for any campaign your team can think of.
Schedule a TINT demo and start automatically bringing in the UGC your audience is already creating for your brand and products.