In 2022 digital marketers are looking to reach new online audiences and make their budget stretch even further.  That's why many are turning to influencer marketing as a vital strategy for building authentic customer connections to grow their brands. 
As eCommerce and social commerce have become our go-to channels for shopping and entertainment, the role of influencers has become central to helping brands convert new customers.
For growth-driven brands, the key to success will be understanding the biggest influencer marketing trends for 2022. 
How are brands getting the most from influencer marketing in 2022?
What types of influencers and social media channels are the most important this year?
What is the future of influencer marketing?
Get the answers to these questions and more in this round-up of the top 7 influencer marketing trends for 2022.
The Top 7 Influencer Marketing Trends For 2022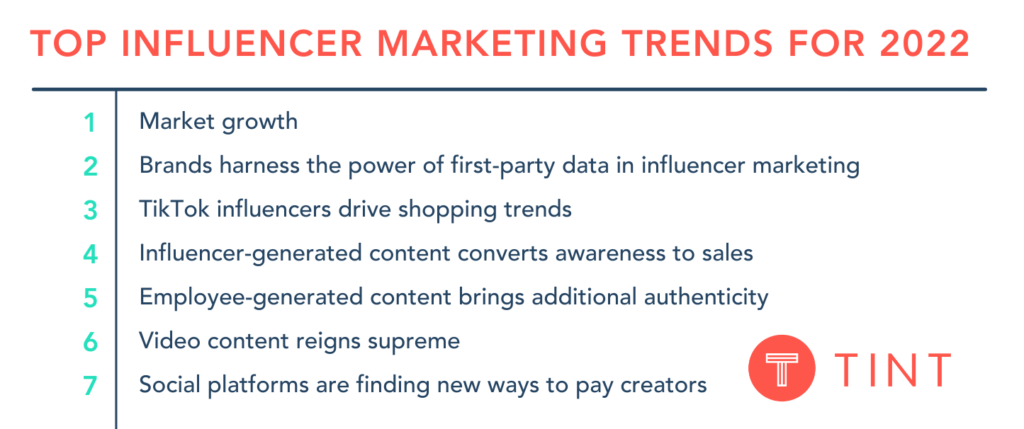 1. Market growth 
Once considered the 'Wild West' of digital marketing, influencer marketing is now a proven and adaptable sales-boosting strategy. It's a cost-effective marketing channel for brands big and small, so it's no surprise that the influencer marketing industry is continuing to grow in 2022. In fact, it's predicted to reach $16.4B this year according to Influencer Marketing Hub.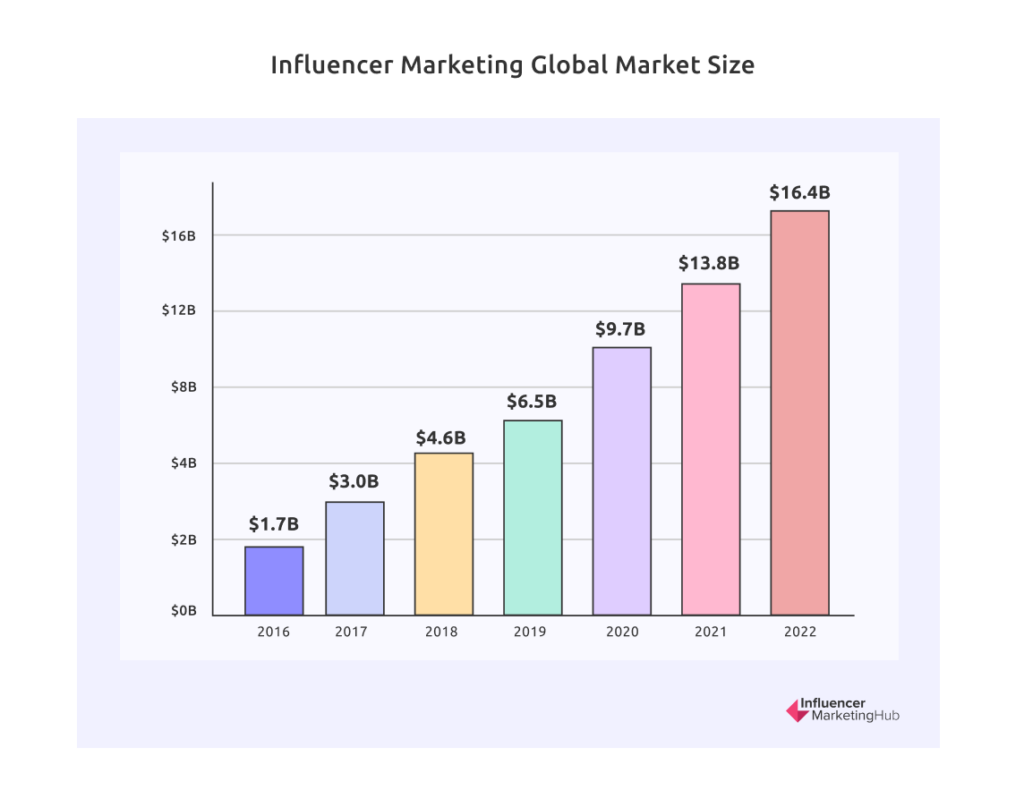 Now more than ever before, brands are investing in influencer marketing to strengthen relationships with new audiences and turn social media into a sales generation channel thanks to creator partnerships. 
2. Brands harness the power of first-party data in influencer marketing
Marketers are facing many challenges when it comes to accessing third-party data. Google is planning to phase out third-party cookies by 2023. While 62% of iPhone users are opting-out of app usage tracking following Apple's iOS 14.5 update. This creates an environment where leveraging first-party data for marketing is more important than ever. 
For the influencer marketing industry, first-party data helps brands identify new potential partnerships. Businesses are analyzing the consumer data they already own to pinpoint valuable customers to activate in loyalty schemes, brand ambassador campaigns, affiliate programs, and influencer marketing partnerships. By deep-diving into their customer's demographic data, purchase history, and social reach, brands can surface new channel partners from their own customer database. 
This is improving the influencer identification and onboarding processes. Meanwhile, it's allowing brands to save time on negotiations and briefings as your influential customers already know and love your brand.
3. TikTok influencers drive shopping trends
We know that social media plays a key role in the online shopping journey. Indeed, research from TINT highlights that 85% of consumers use social media to research companies. Yet corporate content won't get you very far on TikTok. But there's no need to worry. TikTok creators can help brands to build a presence on the platform that's so popular in 2022. They are known for their highly engaging and entertaining content which doesn't feel at all like an ad. That's what makes these creators so effective at promoting brands authentically on TikTok. 
Influencers on TikTok are tapping into viral trends on the platform and featuring products in their posts which go on to have a massive reach and launch a new shopping trend. Brands have seen a 700% spike in sales in a single week thanks to TikTok.  That's the magic behind the #tiktokmademebuyit hashtag which highlights the effect of TikTok creator content on influencing shopping decisions. These TikToks also make their way onto other platforms, like Instagram Reels, Youtube Shorts, and Youtube compilation videos, allowing the trend to reach those consumers that may not actually be on TikTok.
With the knowledge that 76% of people have bought something based on a recommendation from someone else, it's clear to see why brands need to harness the effect of content creators if they want to see an uptick in sales this year!
4. Influencer-generated content converts awareness to sales 
The impact influencers can have on sales applies to all social media channels. Almost all social networks have rolled out social commerce features such as native in-app shops or product catalogs. With this in mind, brands can collaborate with influencers of all types from nano, to micro, macro, or KOL to create authentic product recommendations that can be used at key moments of the purchase journey. 
By sharing content such as unboxing videos, shopping hauls, or how-to guides, influencers can offer product information and social proof, which helps brands target customers at the 'consideration' stage of their shopping journey. When it comes to conversion, brands can use influencers in promo code campaigns, affiliate marketing programs, or even live social shopping events. 
Influencer marketing has officially gone beyond promoting brand awareness and boosting social engagement to becoming a scalable and attributable strategy for driving sales for your business.
5. Employee-generated content brings additional authenticity
The advantages to leveraging authentic user-generated-content aren't limited to a brand's customer base. Businesses can also harness content created by their employees to increase online reach and engagement for their brand. After all, people like connecting with people, not brands. This explains why posts such as @ricky.federici's, who's TikTok video of him creating a Baconator burger earned over 178K views, gain so much traction. 
Whether you're a B2C or a B2B company, your employees are subject-matter experts and perfectly placed to speak on behalf of your brand. Consider encouraging your employees to share thought leadership articles on Linkedin, a behind-the-scenes Instagram Story, or live video from an event. 
6. Video content reigns supreme
The soaring popularity of video content is part of a wider content marketing trend. As of last year, people were watching an average of 100 minutes of online video per day.  Influencer marketers should be tapping into this trend through influencer-generated video content as 55% of consumers are using video to guide their purchasing decisions. A well-timed video from their favorite creator could seal the deal for someone who's considering buying from your brand. 
What's more, there have never been so many options for leveraging video content across social media. Whether it's live video streams on Twitch, a live shopping feed on YouTube, or a 30 second TikTok video, there are so many ways to get engaging video content in front of your audience. With so many options and so much popularity, 71% of marketers plan on increasing video efforts in 2022.
If you don't have the budget for expensive TV ads or an in-house video-editing team, then collaborating with influencers who are experts in content creation is definitely the way to go!
Related article:
7. Social platforms are finding new ways to pay creators
We're already seeing many new ways for content creators to earn money via social media platforms which helps to professionalize their role in marketing. Social media platforms know the value that influencers bring to their audiences. Therefore, they're investing in new incentives to reward influencers who are posting on their platforms to help generate more engagement and attract new users. Let's take a closer look. 
Instagram

–

In 2021, Instagram announced they would trial a native affiliate tool that would allow creators to promote products available to buy directly on Instagram and earn a commission from their sales. A new initiative being tested already this year is

creator subscriptions

where creators can set a subscription price for their fans to be able to access exclusive content.

TikTok

– They have committed to spending £231 million over the next 3 years on the

Creator Fund

. This program has been set up to reward creators on the platform who have at least 10,000 followers and have achieved at least 100,000 video views during the last 30 days. Individual creators can also receive gifts and tips from their fans which translate into monetary payments for their work. 

Twitter

– The platform has already rolled out a subscription model called '

Super Follows

' where followers can pay a monthly fee to their favorite influencers in exchange for exclusive content. The platform is continuing to invest in helping creators become more professional and manage their earnings with the launch of their '

Creator Dashboard

' which is currently being tested. 

YouTube

– During 2021 and 2022 YouTube will spend $100M rewarding top creators through the

YouTube Shorts Fund

. In 2022 YouTube has also

announced plans

to bring in ways for fans to shop directly via Shorts and integrate fan-funded features like 'Super Chat'. 
With additional opportunities to supplement their income, we're seeing more users working full-time as content creators, with even more means to hone their craft. This is great news, as brands are seeing even greater talent rise through the ranks while the industry continues to mature. 
These top 7 trends for influencer marketing in 2022 show how the industry is adapting to the fast acceleration of eCommerce and social commerce. 
We can see how brands are putting authenticity first when it comes to recruiting new channel partners and looking to their own network of organic advocates as the way to drive the most conversions. 
Creators have proven themselves to be valuable partners not only to brands but also to social media platforms who are now taking the lead in funding and training the next generation of influencers. 
This blog was contributed by the team at Upfluence, the leading influencer marketing platform for eCommerce.