Video content on social media continues its explosive growth. But, sometimes even the best creators need some Instagram Stories Inspiration. There is a continual drip of new features to encourage people to use Instagram stories. We're digging into stories to find tips, tricks, and ways to showcase your creativity across your Instagram feed.
What are Instagram Stories?
In 2016, Instagram boldly launched its newest feature: Stories.
The move was controversial as the Facebook-owned company replicated Snapchat's main content model—photos and less than 10-second long videos that disappeared in 24-hours. With a proven success story thanks to Snapchat, Instagram was able to take the same feature template and run.
There are 500 million daily active Instagram story users and 67% of people surveyed have swiped up on the links of branded Stories. These numbers can be hard to wrap your mind around but they all point to one undeniable truth:
Using Instagram Stories in your business is a strategic way to build relationships with your audience and future customers. With half a billion people using the Stories feature, your target audience is enjoying Stories from their favorite accounts. They're also taking action and swiping up to learn more about the products they've been shown.
Why do Instagram Stories work so well? We'll explain the 3 reasons Stories have gone so viral and give you Instagram Story inspiration to start publishing your own.
What Makes a Great Instagram Story?
Generation Y and Generation Z love Instagram Stories. They'll happily share their day-to-day experiences with their followers and their followers will gladly interact with their Stories. The proof of this is in the number of daily active Instagram Story users.
But, why are Stories so popular? Here's our take.
#1: They ask for a small time commitment
One account's Instagram Stories will only take a minute (usually less) to watch. This tiny time commitment plays into the part of our mind that feels like we're not committing to anything by watching Stories. Unlike a 15-minute YouTube video, someone can cruise through a few Stories and justify it by knowing that they'll be off Stories in a moment (or at least that's what we all tell ourselves).
#2: They give a new content perspective
Before Stories, perfectly curated feeds were all the rage. Brand accounts published high-quality, professional photos to their feed. Stories introduced a new kind of content, the type that wasn't shot on a professional camera, edited in Photoshop, and posted in the perfect order. It gave a different look at content, the team behind a brand and product, and a new (faster) way to consume content. Ultimately, it highlights the authenticity of the account.
#3: They're interactive
Unlike an Instagram post or IGTV where your interaction options are like, comment, or share—Stories are interactive in a new, fun way. Stories have stickers, polls, and other options that let your audience play with your Stories. Question stickers let them ask questions directly on your Story, polls ask your audience what their opinion is on a topic, and the slider gives the option for rating.
These have been key factors in helping Instagram Stories take off and become a truly global sensation. Knowing why Instagram Stories have become so popular is just the start though. The hard part is hitting publish on your first story.
Here's some Instagram Story inspiration to help you out.
What Are Some Inspiring Instagram Story Ideas?
Posting your first Instagram Stories can feel a bit daunting but once you're in a posting groove you'll start hitting the "Post to Instagram Stories" without a second glance. The hard part is starting. Once you've created the inertia to continue posting to Stories, you'll start to see how your audience reacts to them and how you can improve them to get more views, engagement, and click-throughs.
If you're stuck on what to create for your brand's Instagram Stories, here are a few ideas to get you started.
Post an Interactive Story
Remember, Instagram Stories give your audience a level of interaction that's not available through other content forms. Lean into this interaction by using polls, quizzes, questions, and sliders in your Stories.
Thinkific used the slider feature to see if their audience agrees with the reason people buy courses in the first place: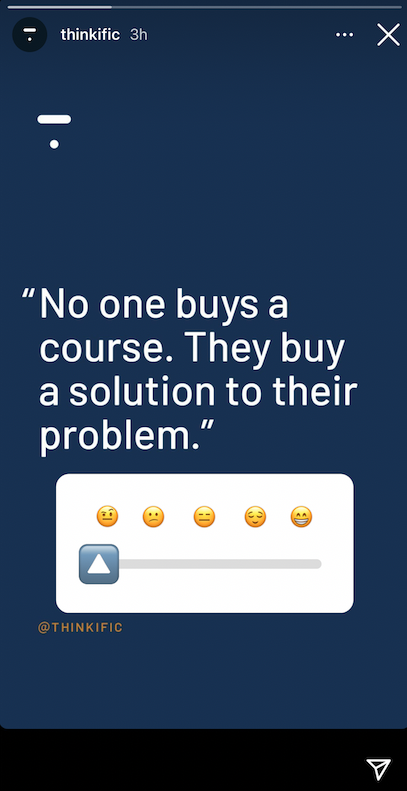 Reshare Feed Posts
You can reshare feed posts to your Stories by clicking the paper airplane next to the like and comment button of a feed post. You'll be prompted to share this feed post with a user, users, or to your Story. By sharing your brand's feed posts to your Story, you can help get more eyes on the content. You can also reshare feed posts from other users too, like your customers or the influencers you're working with.
Chipotle's Instagram account dedicated to their employees, @PeopleofChipotle, reshared their salary graphic: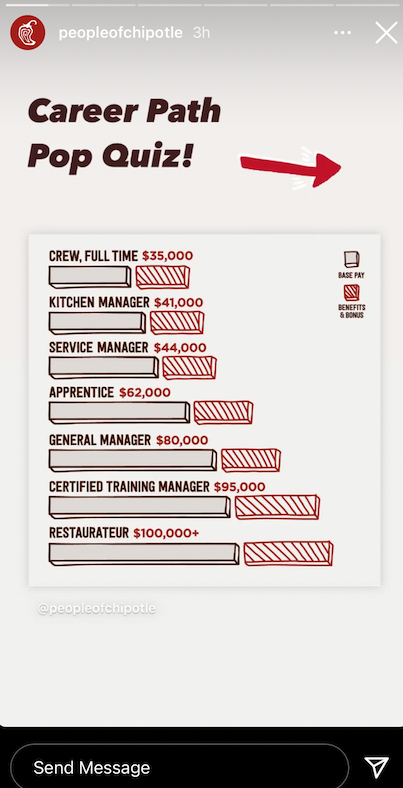 Create a UGC Story
User-generated content (UGC) is a photo or video created by your fans, audience, or customers that provide social proof about your products. It's usually created at the 3 most exciting stages of the customer journey: when someone orders your product (for eCommerce), when they buy your product in-store or receive it in the mail, and when they get the benefits from the product. UGC has higher engagement and conversion rates in comparison to brand-created content which leads to more views and swipe-ups on Stories.
Ikea reposts user-generated Stories to their Stories to promote their shipping to Guadalajara: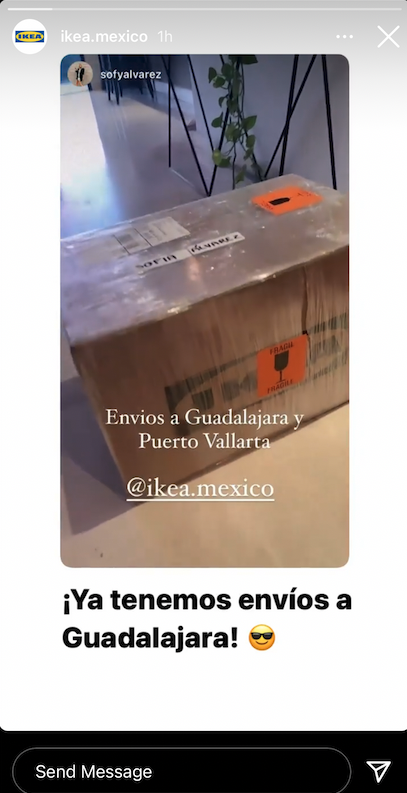 Instagram Stories are like the rest of your content strategy. It takes time to figure out what works and doesn't work. This is when a spreadsheet can become your best friend—keep track of the engagement on each Story and what type of Story it was to figure out which Stories get the most interaction from your audience.
If you find that all of your Stories are flopping, it's time to troubleshoot.
Troubleshooting Your Instagram Stories
If you're finding that you're not getting engagement and conversions even though you've posted Stories for at least 14 days, it's time to see what the problem is. Your Stories shouldn't flop, and just like your marketing strategies, there's probably a slight tweak you can make to get the results you're looking for.
What should you not post on Instagram stories?
The first thing to look for is if your Story content is Story-friendly. Story-friendly content resembles the Instagram Story inspiration we mentioned above: interactive, reshared feed posts, and highlighted UGC. Non-Story-friendly content would be:
Photos or videos taken in landscape/horizontal orientation: Use portrait/vertical orientation so your viewers don't have to turn their screen to watch your content.
Videos are too long: If you've splintered YouTube video clips into an Instagram Story and it's causing the Story to be over one minute long (for that specific video), cut down the video to less than one minute to keep your audience's attention.
Irregular posting schedule: In the content world, consistency is key. Post to Stories at least once per day to show your audience they can expect to see Story content from you daily.
Why are my story views so low?
If your Story views are really low after creating Story-friendly content for a few weeks, your audience is telling you something. There's an improvement you can make in your Stories, the question is: what is it? Luckily, Instagram Stories give you the option to ask your audience questions.
Use your Story to ask your audience what they'd like to see from you and create a feed post asking the same question. Here are a few copy and paste questions you can ask your audience:
Question Sticker: What's your favorite Story content we're creating?
Poll Sticker: Would you like to see more of X content or Y content on our Stories?
Question Sticker: If you ran our Stories for a day, what would you post?
Countdown Sticker: Real-time anticipation builder that includes sneak peeks of new products.
Why is my story displayed last?
If you look at another Instagram user's account and see your Story as the last Story to view—the algorithm isn't out to get you. We promise. Every Instagram user has a different timeline based on how they interact with accounts. If a user hasn't viewed much of your content or engaged with it, your Story will be further down the priority list in comparison to the other people they follow. As someone interacts with your content (watching your videos, liking your posts, commenting, DMing you, and watching more Stories), your Stories will start to be one of the first Instagram suggestions for them to watch.
You can incentivize your followers to watch your Stories by doing giveaways, creating special discount codes, or unique opportunities they can only know about from your Stories. Here are a few ideas for incentives to get people to watch your Stories:
Set up a giveaway on your Story and use a feed post to post your audience to the Story
Create a special discount code for Story viewers that's only available for 24 hours
Ideate an interesting opportunity your audience considers highly valuable and promote it only to your Story viewers
How many Instagram stories in a day are too many?
The answer to this question depends on your brand and the relationship you have with your audience. Some brands can post 10+ Stories a day and their audience loves it while other brands work better with 5 Stories per day. Figuring out how much to post is another part of the testing process.
To start, choose one topic to post about per day of the week. For example:
Monday: Employee-generated content that shows behind the scenes of working at your brand
Tuesday: User-generated content talking about your products
Wednesday: Tips for using your products
Thursday: Industry-related content that your audience is interested in
Friday: Memes your audience relates with or a stories takeover
Marketing takes time, data, and practice. Don't be disheartened if your first few Stories aren't "successful." Keep A/B testing different types of Story content to figure out what your audience engages with the most to increase your Story views and conversions.
With over 500 million daily active users on Stories, it's clear there's a marketing opportunity with this type of content. But, adding more content creation to your marketing team's plate might not be an option.
With user-generated content, you can repurpose the photos, videos, feedback, and testimonials from happy customers to your Stories and get higher engagement and conversions.
Schedule a call with a TINT specialist to see how we can help you find UGC (even if your brand wasn't tagged in the post), get the legal right to use it, and keep your collected UGC organized and ready to use across your marketing channels and campaigns in the future.