Every year, marketers have new trends, new platforms, and new expectations that they need to stay on top of…or risk getting left in the dust.
Thankfully, we've got you covered. Every year, we conduct our own research to discover the must-know consumer trends and marketing themes, both as related to UGC and not. Then, we report our findings, predictions, and tips in the State of User-Generated Content report and throughout our blog.
From marketer's number one KPI (is it engagement or is it ROI?), to employee-generated content, and what people think about the metaverse—these themes will help you figure out where to put your focus in the upcoming year.
Here are the 7 marketing themes that we're seeing everywhere and 7 marketing predictions for 2022. 
7 Marketing Themes of 2022
Engagement vs. ROI

Team Growing Pains

The Untapped Potential of User-Generated Content

Employee-Generated Content Strengthens Recruiting and Employee Engagement

Effectively Embracing DEI

The Power of Visual Content

The Rise of Web 3.0 and the Metaverse(s)
Theme #1: Engagement vs ROI
The top marketing KPI in 2021 was either engagement or ROI. When content trends are moving quickly and platforms are shifting, we're seeing marketers mega-focused on continuing to reach their audience and see proof their efforts are worth their time and resources. Thirty-two percent of marketers have engagement as their number one KPI and 31% have ROI (the other marketers we asked were focused on followers/subscribers, leads, or other).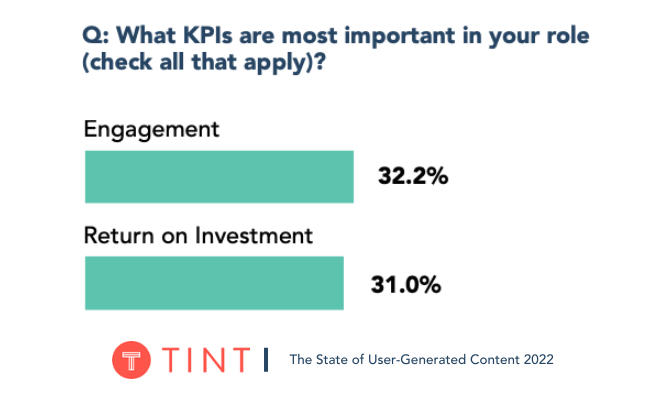 Theme #2: Team Growing Pains
In 2020, one of the main challenges marketers faced was having too small of a team for their needed, or desired, output. Even though 48.20% of marketers increased their teams in 2021, there's still 51.80% trying to maintain their omnichannel presence. This has led to 47% of marketers agreeing it takes their team too long to create content and 60% of marketers feel pressured to continually produce greater amounts of content at a high frequency.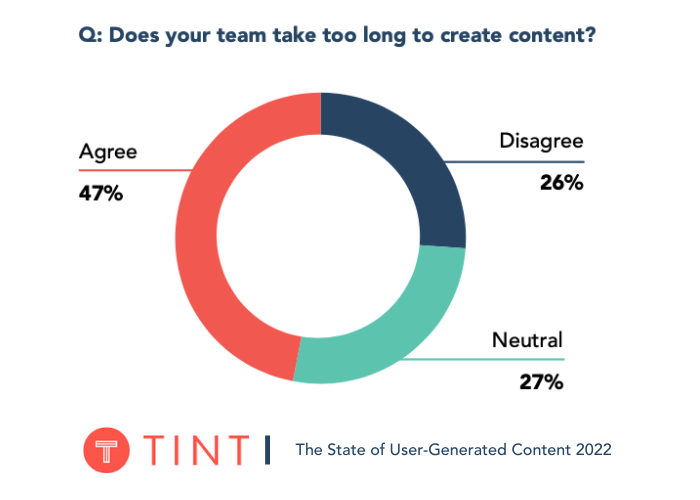 Theme #3: The Untapped Potential of User-Generated Content
The majority of marketers are no longer thinking about adding user-generated content to their marketing channels—they're planning on it (if not already using it). Seventy percent of marketers report ratings and reviews important to their company and 61% plan to incorporate more user-generated content into their marketing in 2022. UGC is a saving grace for marketers tight on budget, time, and a team large enough to create all the content.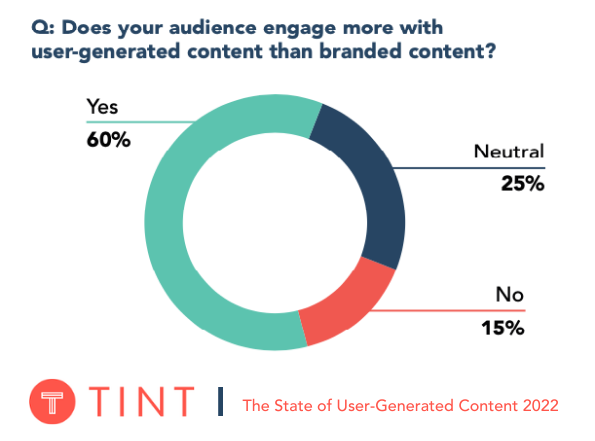 Theme #4: Employee-Generated Content is Key for Recruiting and Employee Engagement
1 in 4 people quit their jobs in 2020 and it's reported that a majority of those resignations came from mid-career employees. The talent pool is larger than it's ever been before, giving employees more opportunity to be picky with their employment options. New job applicants consider current employees to be the most trustworthy when considering a potential employer. And these programs are beneficial for employers too—Influencer Marketing Hub reports employee advocacy programs with at least 1,000 active participants can generate $1.9 million in advertising value.
This is what #WorkingFromHome looks like for a lot of Cisconians. Bruna is an account manager in Brazil. Thanks to our tech, #CiscoKids get to meet our colleagues on @Webex meetings …. in between snacking and playing of course! 😉

Be you, with us: https://t.co/x2DhKvOc1n pic.twitter.com/cvXP8cYhVn

— We Are Cisco (@WeAreCisco) June 25, 2020
Theme #5: Effectively Embracing DEI
Almost ¾ (71%) of marketers plan on showing more diversity, inclusivity, and accessibility in their content in the future. But, they have to do it the right way. Younger generations are digital natives, spotting fake or poorly made DEI content from scrolls away. Brands creating genuine content plan to blend more community voice with their brand voice in 2022 and do a better job at highlighting participation in social issues.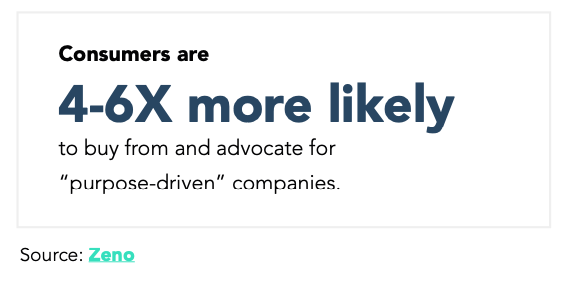 Theme #6: The Power of Visual Content
Consumer data points to video content. Instagram's recent shift from a photo platform to a video platform also shows us the future of content. Sixty-three percent of consumers believe visual testimonials are more credible than written testimonials, which aligns well with 71% of marketers planning to increase their video content in 2022.
Learn More: The visual content marketing guide to driving conversions
Theme #7: The Rise of Web 3.0 and the Metaverse(s)
eMarketer reports that 22% of the U.S. and 15% of the U.K. Internet users think brands should advertise in the metaverse. They also found 19% of the U.S. and 13% of the U.K. Internet users think brands should build more branded experiences in the metaverse. Nike and Gucci are big-name brands already hopping on the metaverse, virtual, bandwagon. We highly encourage leadership and marketing to sit down and ideate what their brand and products look like in the metaverse. 
To go more in-depth on each theme, and to learn tips on how to implement it, download the State of User-Generated Content Report for 2022.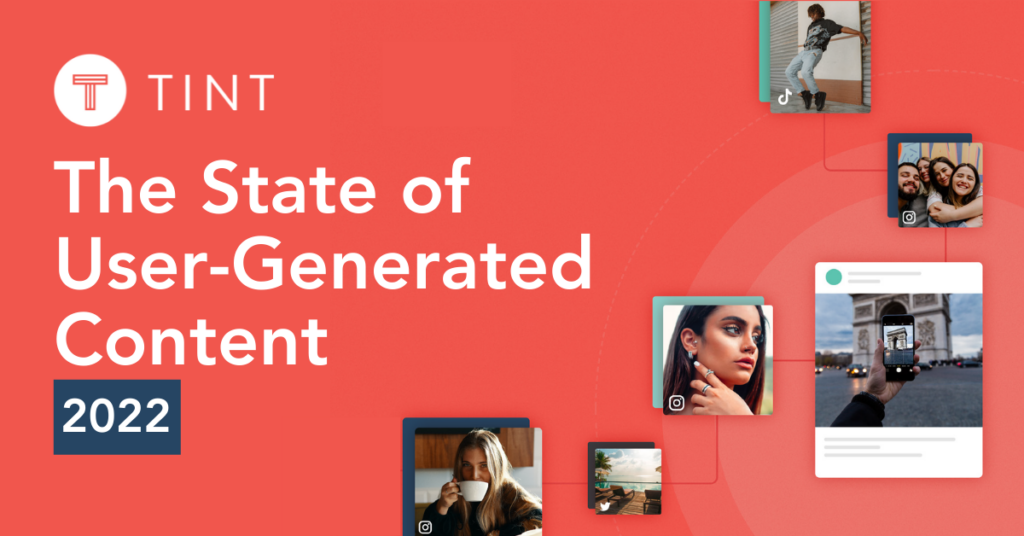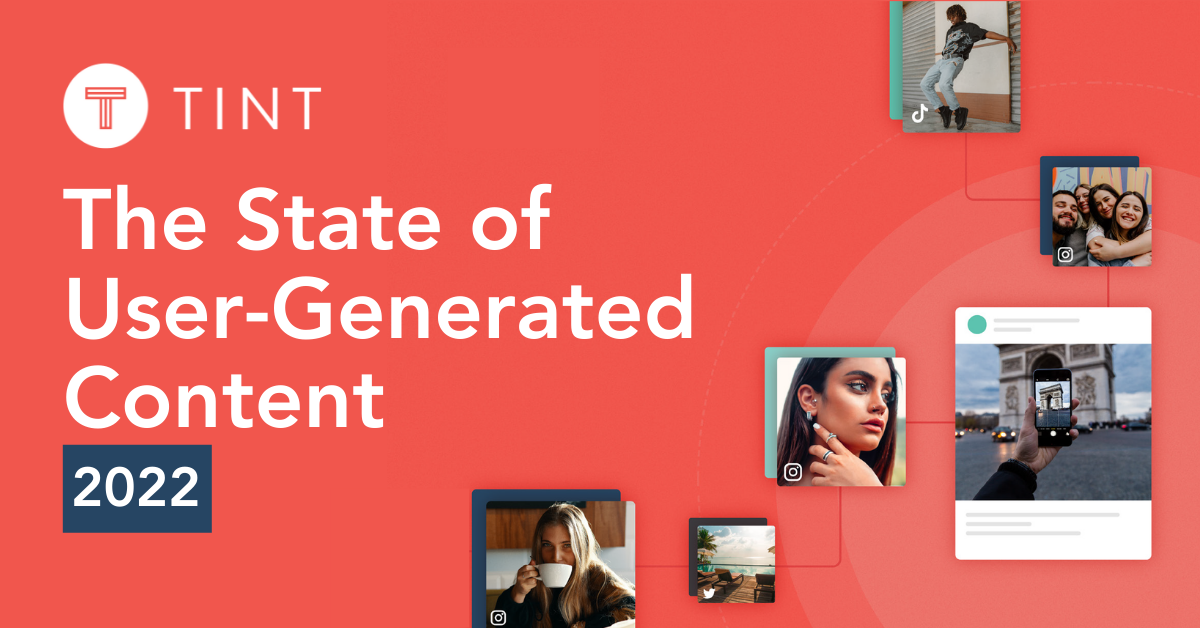 7
Marketing
Predictions for 2022
So, now you know the marketing themes that we're currently seeing in early 2022. But what will you see later this year and beyond? The consumer trends shaping 2022 and the above marketing themes led us to make a few surprising, and a few obvious, predictions. 
Here are our predictions for the future of marketing:
#1: We'll see more strategic and thoughtful campaigns focused directly on engagement and ROI.
#2: To maximize budget, marketers will double-down on user-generated content in their omnichannel distribution, community building strategy, and referral programs.
#3: More brands will incorporate product images and videos from customers across their marketing channels in place of stock photos and brand-created content.
#4: More companies will encourage employees to build personal brands, so they can position themselves and the company as thought leaders and recruit top talent.
#5: Diversity, equity, and inclusivity (DEI) will continue to rise as an important topic and will extend beyond race, gender, and skin color. It will require brands to offer more accessible solutions like closed captions, alt text, and more.
#6: There will be more high-quality video content from brands and creators! Photos are great, but video evokes more personality and makes it easier to connect with audiences. 
#7: Soon, content will be much more than just photos and video. Creating games, digital art, and interactive experiences could be as easy as creating an Instagram Reel or a TikTok video. All of these new content types represent opportunities for brands to engage with their audiences — and we're already seeing brands introduce their own NFT collections and phygital product offers to generate revenue and build community.
For now, one thing is certain and that is that the long-term viability of the metaverse(s) will require marketers to embrace this brave new world where engagement blends the digital and the physical.
The One Thing Your 2022 Marketing Strategy Needs Most
To implement each of these 7 themes and predictions throughout the entire year will be no easy feat. But it's easier than you might think. If you're at a B2C company, there's one thing your 2022 marketing strategy needs most. It addresses each one of the 7 themes, 7 predictions, and 5 consumer trends, and that's user-generated content. With a strong UGC strategy, you can:
Boost engagement (which leads to ROI)

Open up marketing team members' bandwidth by having them source UGC instead of optimizing branded content for every single platform.

Give consumers what they want.

Extend the reach of your brand through employees positioned as thought leaders on social.

Inherently, naturally, and organically increase DEI content, as sharing more UGC will showcase your diverse audience and make consumers feel more included.

Use the visual content, especially video, about your brand that already exists or inspire users to start creating it.

Connect with your audience in brand new ways within the metaverse and Web 3.0, and inspire user-generated content in ways that have never been done before.
With TINT, you won't have to do it alone. Our all-in-one UGC platform lets you execute and track winning UGC campaigns. You can even get help from our UGC experts on brainstorming, strategizing, and optimizing how you use UGC with our Professional Managed services. Build trust, grow engagement, & increase sales with user-generated content through TINT, just like the world's leading brands. See what TINT can do for you.