At the start of 2021, there were 7.23 million job openings in the U.S. One year later, at the start of 2022, that number had almost doubled to over 11 million. 
"The Great Resignation" became a household term defining this employment shift. More people than ever have begun to question if their jobs, and careers, are worth the sacrifices they used to make without a second thought. Commutes, bad managers, lack of benefits, and other employee hardships are weighed against the opportunities the Great Resignation has created.
The increase in job openings has put the power into the employee's hands. People are pickier about which company they choose to work with and how that impacts their lifestyle and mental health. They're walking into job interviews expecting answers to questions like:
How does your company prioritize mental health for your employees?

What extra benefits do you offer employees to set them up for long-term success?

How realistic are your workloads and conditions?
And they don't necessarily need the company to answer these questions for them.
Our 2022 State of User-Generated Content revealed that 52% of communications and HR teams regularly use employee-generated content (EGC), a form of user-generated content (UGC), across communications channels. They're using UGC to show the talent pool that their company is the best option and the proof is in their employee sentiment. 
Just like when you're marketing products and services, you don't only want your brand to tell people how great you are. You also want your customers, or in this case, employees, to share their positive experiences, inspire each other to build a sense of pride,and attract more talented professionals just like them.
There's only one way to do this—with employee-generated content.
What is Employee-Generated Content?
Employee-generated content is content, such as photos, videos, social media posts, or reviews, created by a current, former, or prospective employee about a brand or its company culture. EGC increases brand awareness, receives more engagement than brand-created content, and highlights the experience of working for your company. 
For example, a LinkedIn post with a photo of someone's first day at your office is EGC. Or, EGC could be a GIF created from your team's Zoom meeting. Here's an example of employee-generated content that Alicia Raeburn posted when she proudly joined the Asana SEO content team.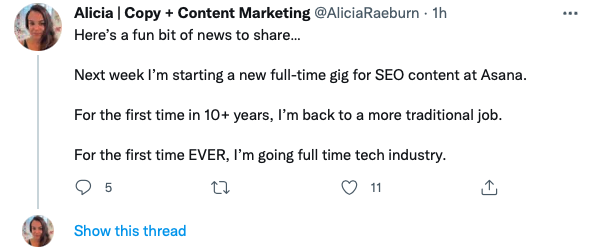 The Great Resignation and increased job openings prove that people aren't willing to settle in their jobs or careers like they were previously. Today, employee-generated content is more than a nice-to-have.
It's a must-have. Here's why.
Why is Employee-Generated Content so Important?
Employee-generated content is more important than ever because it sees 10x more followers than brand accounts and 8x more engagement. Consumers trust content created by people more than brand-created content. With EGC, brands can build trust with customers and prospective employees.
Cisco uses employee-generated content campaigns that highlight the experience of working at Cisco and inspire prospective talent through unique stories from existing employees. Here's what their Brand & Social Media Lead had to say about EGC:
"Employee-generated content is what has put the @WeAreCisco team on its path to success, with the metrics to prove its value." 
Their campaign results highlight the power of focusing on employee-generated content moving forward:

In the 2022 State of User-Generated Content Report, we discovered 3 reasons why EGC is so important, based on the latest consumer trends.
#1: People want to form connections with brands and share their brand moments
Fifty percent of people surveyed wished that brands would tell them what type of content to create and share. By sharing employee-generated content across marketing channels, brands show employees the type of content they're looking to post. Their audience, fans, and customers can get inspiration and start creating content the brand can repurpose using TINT's UGC Studio.
Condé Nast posted this EGC from an employee impressed by their lunch while visiting the office. This EGC shows Condé Nast's Instagram audience the type of content they want to post, essentially giving their following a brand guideline that leads to getting their photos published to the Condé Nast Instagram account.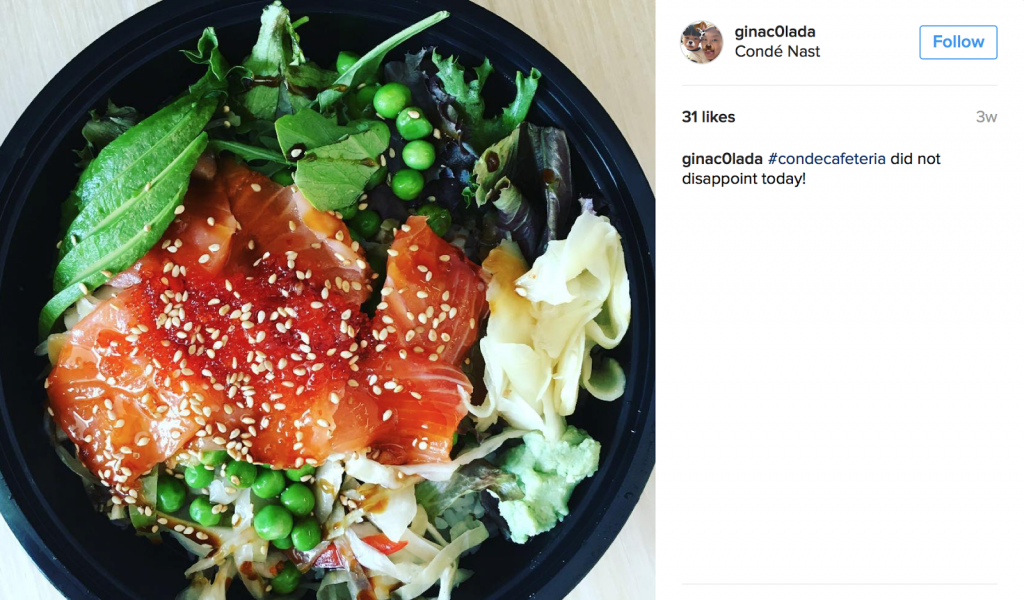 #2: Employee-generated content gets more engagement and followers on social media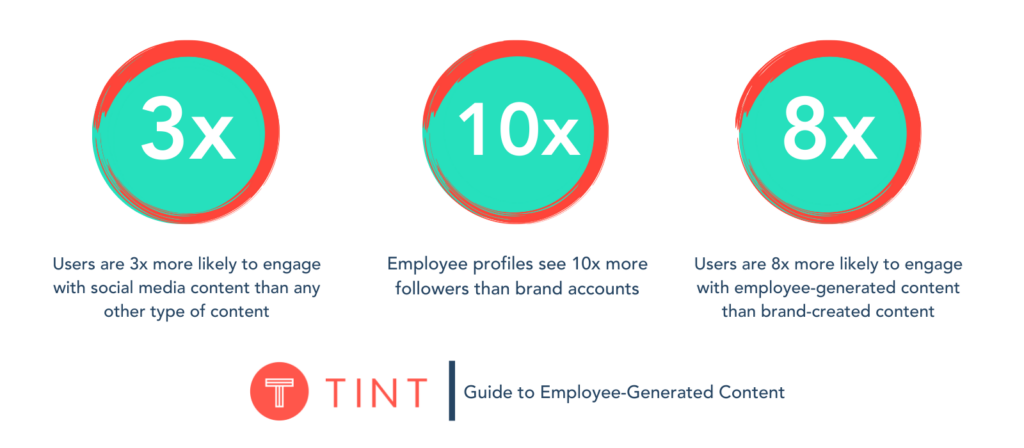 People are 3x more likely to engage with a brand's social media content over any other type of media they create. That number becomes supercharged when employees post content. Employee social profiles see 10x more followers than brand accounts and 8x the engagement. More engagement cultivates brand relationships while driving brand awareness for recruitment and products.
#3: EGC is more trustworthy than brand created content
People trust user-generated content more than brand-created content—and the stats show it. With EGC, brands see more engagement and followers leading to increased brand awareness and stronger relationships with their audience, fans, and leads. Employee advocacy programs with at least 1,000 active participants can generate $1.9 million in advertising value and new job applicants consider current employees to be the most trustworthy when considering a potential employer.
Kristina shares her excitement to join The Bar Method team and have her first day in the books. In place of brand-created content from The Bar Method talking about how they train each of their instructors in a 6-month certification, this EGC post is more authentic showcasing a real person experiencing their program and loving the experience.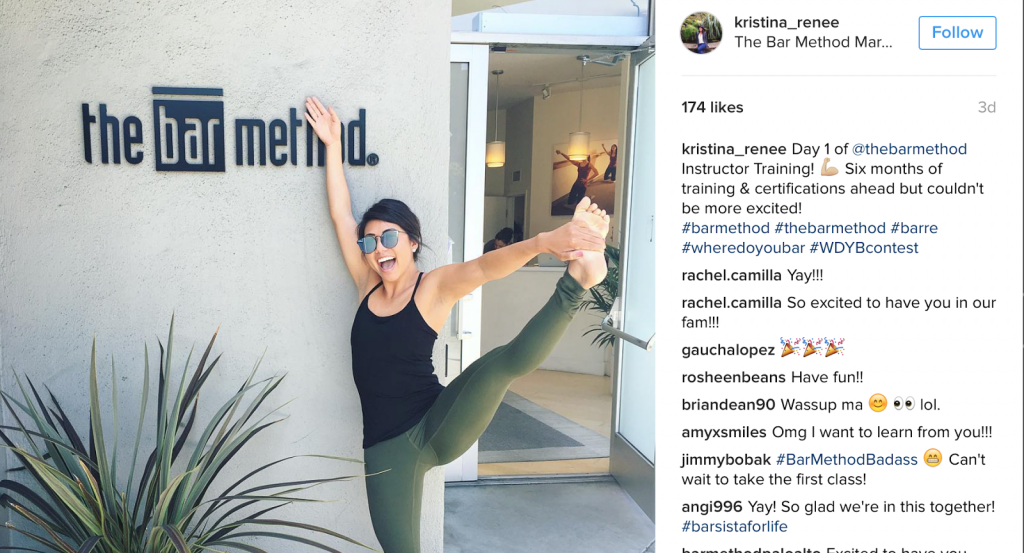 Employee-generated content clearly can have a major impact. But, what's the right kind of EGC to collect and publish?
What Can Employee-Generated Content be Used For?
Employee-generated content, like user-generated content, has various use cases based on your company's goals. For example, if you're experiencing hypergrowth and looking for as much talent as possible—employee-generated content is part of your hiring strategy. But recruitment isn't the only use case for EGC.
Here's what companies use employee-generated content for.
Brand Advocacy:
Employees can advocate about the experience of working at your company, the quality of your products, and the integrity of your brand. Instead of your brand talking about how great you are—with EGC, your team acts as brand ambassadors sharing your work culture, products, and brand message with their friends, families, peers, and followers.
"EGC works well with social selling as it requires a high level of authenticity and trust, and employee-generated content provides that necessary confidence. EGC reduces costs and increases sales while creating more motivated and engaged employees."

– Agnieszka Goulin, Head of People at Spacelift
Check out how Andrew Nusca, former Digital Editor of Fortune Magazine, advocates for how much he believes in the future of Morning Brew in these tweets that announce his new position as Executive Editor at the Millennial-focused media company.


Employee Engagement and Retention:
When employee-generated content is shared and celebrated around the office, it makes the team feel like a team. And when people feel like they're on a team they're more motivated. Even if they're facing big challenges, the psychology behind knowing you're doing it with others drives action. EGC on screens around the workplace, in LinkedIn updates from colleagues, or simply on a Slack channel reminds employees they're part of a team with a mission and it inspires engagement and retention. In the age of the Great Resignation, if people feel disconnected from their team members or like they don't have a shared goal—they'll leave.
Akshay Kothari shares a new feature that his team at Notion was working on, and ensures his team members are tagged in the exciting news. This comradery around reaching goals is exactly what drives team engagement and retention.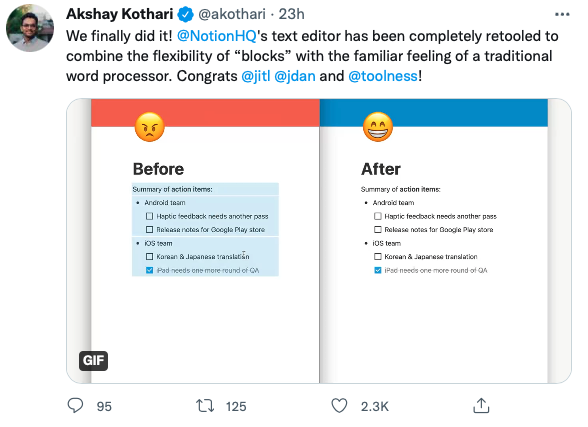 Recruitment: 
Just like user-generated content outperforms brand-created content, when employees vouch for the positive experience of working at your company it speaks volumes in comparison to your recruitment promotions. Employees can act as recruiters connecting your company to an aligned talent pool.
"Focusing on content created by existing employees gives a real insight into your culture and what working at your organization will be like and acts as a great showcase for promoting you as a destination employer that people want to work for. At a time when recruitment is increasingly challenging, it is an excellent way to attract top talent to your brand."

 – Wendy Makinson, HR Manager of Joloda Hydraroll
After working at Stir for a few weeks, Eli Badgio was already helping recruit new talent to the team by sharing this Twitter post.

Types of Employee-Generated Content
Employee-generated content takes many forms. It can be an exciting social media post from a new employee talking about how excited they are to work for your company or it could be an internal newsletter with company updates. 
Different types of employee-generated content include:
Social media posts

Reviews

Articles

Blog posts

Photos

Internal training videos

Knowledge share programs

Internal newsletters

Bulletin boards

Case studies

Recruitment videos
For example, Dell Blue, a creative agency for Dell, shares a team video on their About page to showcase what it's like to work at the agency and introduce their Dell Blue Crew. This video is great for recruitment to show company culture and attract talent to their team.
Michael Alexis, CEO of TeamBuilding, creates EGC of employee case studies. Here's his suggestion:
 "Work with employees to create case studies about their roles and careers, or testimonials about their experience with the organization. The reason materials like these are so effective is that it shows readers 'someone like you trusted us and had an experience like this.' These materials can help you attract more candidates that are better qualified, as well as successfully hire and retain talent."
Examples of Employee-Generated Content
Employees are happy to make content because they're also looking to share their brand experiences online. When leadership buys into EGC and creates a safe environment where employees aren't fearful of posting about their experiences, employees spread brand awareness, generate engagement, and help recruit talented team members. 
Google Canada hosted a Google Photo day with fun props to inspire employees to share EGC across their social channels.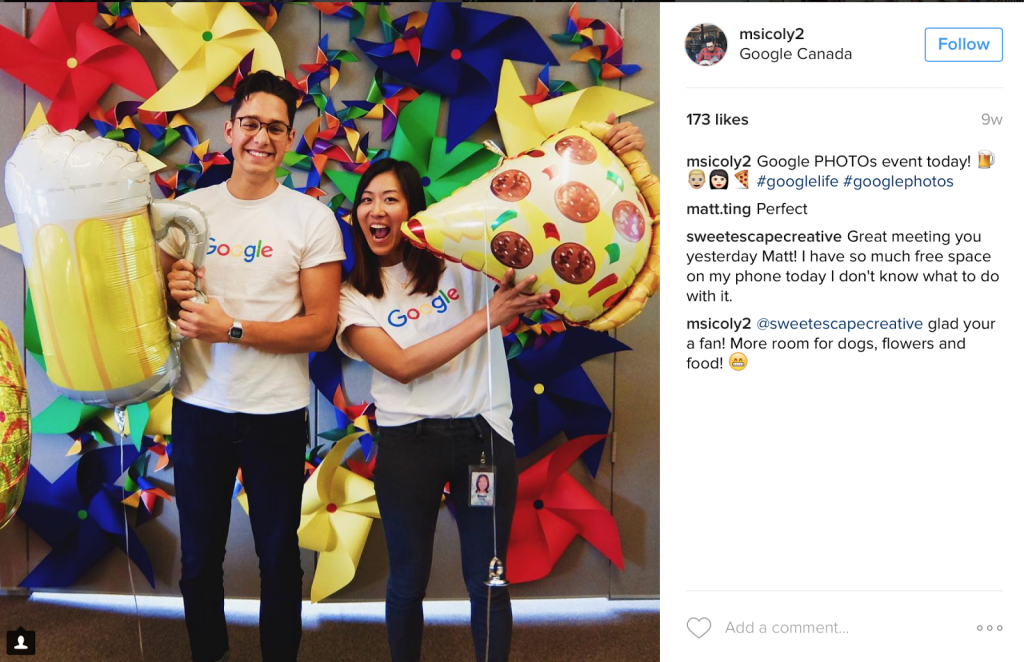 Some more examples of employee-generated content would include:
Tweets from employees about a work event they attended

LinkedIn articles by company leadership explaining an emerging topic in their industry

Instagram stories showing behind-the-scenes of a workday

Reviews on Glassdoor that describe the interview process

Photos submitted to a contest and shared on office signage or newsletters

Social media comments talking about positive employee experiences at your company
Employee-generated content can reach every channel in your company (from internal to external!). And it should. EGC is meant to showcase brand advocacy, increase employee engagement, and help with recruitment—so the more EGC you can get the better. But where does all this employee-generated content come from? ANd how do you get more of it?
How Do You Get Employee-Generated Content?
If your employees aren't creating EGC organically—it's not because they don't want to. Chances are, they're not sure if they're allowed to or what requirements their EGC needs to meet. Getting employees to create employee-generated content won't come from a quick Slack message requesting it. It's important to show what you're looking for while not appearing too stringent on quality expectations.
Morning Brew co-founder Alex Lieberman shows leadership buy-in to employee-generated content by simply retweeting employee-generated content from a new employee. His retweet also sets clear expectations of the kind of content he wants to see from his employees online making it easier for the Morning Brew team to know what to post.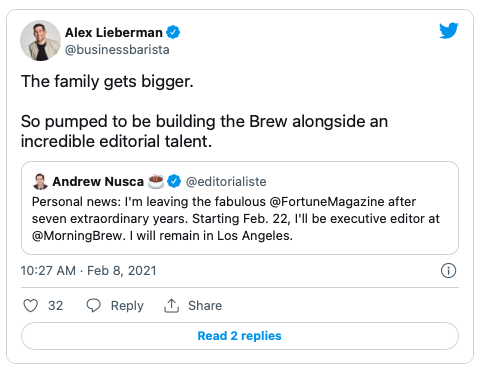 Like Alex has figured out, you need to strategically get your employees on board to post EGC.
"Identify employees that are highly engaged and eager to share their experiences with the public to get started with employee-generated content. Give them guidance and pointers to assist them in producing the ideal content that is accurate and honest. Consider sending out a company-wide outreach inviting others to contribute if they desire to encourage more employees to participate. Allow them to choose a topic that truly resonates with them so that the content they create is an accurate expression of their true feelings,"

– David Bitton, co-founder and CMO at Doorloop
There are 4 ways to get employee-generated content:
Create a brand-specific hashtag (or multiple).

No, hashtags aren't dead. With hashtags, your employees can find other EGC, get inspiration for their posts, and feel comfortable hitting publish for the first time. To organize EGC and make it easier for your employees to find what they're looking for, create multiple hashtags. For example, you could have a hashtag for marketing content and another for posts related to culture.

Set clear expectations of the kind of content you want to see.

Publish and re-share UGC and EGC that you like. What you post is a direct signal to your employees as to the EGC you hope to get more of. Think of your feed as a Brand Guideline that's exemplifying exactly what you're looking for  in terms of content from your audience.

Show leadership buy-in.

If leadership isn't posting EGC, your employees will feel hesitant to push the publish button. Leadership has to show their buy-in to EGC by creating their own and engaging with their employee's content internally and externally. Leadership buy-in sets the example and shows transparency and relatability of the brand's leadership.

Host a contest.

This is a great option to create EGC if some employees don't want to post to their own social channels. With a contest, you can ask employees to send their photos, videos, and testimonials directly to your contest page. Organize it with TINT and easily republish relevant EGC across marketing channels.
The key to employee-generated content is not letting it sit idly on the sidelines. With your employee-generated content library filling up, it's time to repost it across your internal and external marketing channels to get all the benefits. Here's where it could go.
Where to Share Employee-Generated Content?
Once you have employee-generated content, you want to make sure it gets seen. Just like user-generated content, you want to have a place like TINT to collect it, organize it based on product, team, or event, and repurpose it for future marketing campaigns.
Jen Burns, social media manager at Cisco knows how challenging it can be to collect EGC:
"Maintaining an employee-generated content (EGC) repository can be difficult without the right platform in place to ensure proper permissions, tagging, and overall organization. With TINT, we don't have to worry. We can quickly aggregate and leverage employee content to tell the story of what it's like to work at Cisco."
TINT has features like dynamic search, visual search, and object recognition to make it easy to organize UGC and EGC.
Once you receive employee-generated content from the various channels listed above, you can reshare it onto:
External emails

Internal emails

Brand social media accounts

Brand blogs

Ads or job postings

Events

Recruiting efforts

Job fairs

Career pages

Screens in the workplace
Employee-generated content is meant for sharing. Don't let it get posted once and make its way down into the depths of the newsfeed. Collect all EGC and continue to use it for brand advocacy, engagement, and recruitment. You can even continue using the same content for years. By keeping your EGC organized, you can hop in and grab what you need depending on campaigns, recruitment, and company announcements.
That leads us to our next point. Now that you know what EGC is, where it comes from, and where you can share it, how can you actually use it? 
How to Include Employee-Generated Content In Your Marketing
As you know by now, employee-generated content is used for brand advocacy, employee engagement and retention, and recruitment. It can be shared on digital signage, emails, and a number of other channels. But how do you connect those two dots? How can you put it in action and use it seamlessly as part of your marketing or internal communications strategy?
If you're stuck on how to use employee-generated content, here are a few ways to include it in your marketing:
Highlight employee knowledge.

Choose a day of the week or month to dedicate to sharing content from an employee explaining something they have expertise in. This might be an internal knowledge share Zoom call, a LinkedIn article, or a video that they post to their own account and you re-share on the brand account.

This can be used either for brand advocacy, boosting employee engagement, or helping with recruitment.

Replace the internal newsletter.

Instead of asking for announcements via email and compiling them into a newsletter, create a space where employees can post their own announcements, funny videos, updates, and requests, and display them for the office to see. This might be on digital signage,

like Condé Nast uses

, or simply on a Slack channel.

This can be used for employee engagement.

Broadcast your culture online.

When employees share photos to your contests or with your brand hashtag, make sure to reshare them on your brand social media channels. If you have great reviews on Glassdoor, don't be afraid to screenshot them and post them on Twitter, LinkedIn, or career pages, or quote them in job listings. This is a great way to show off your company culture and support your employees, and

is great for engagement and recruitment.

Leverage your employees for amplification on LinkedIn.

Let's say your company launches a new podcast. You could simply post about the new podcast on brand channels,

or

you can add posts to something like

Hootsuite Amplify

, so that every employee can easily reshare the post onto their own social media accounts. This would increase your reach exponentially. TINT even has an integration with Hootsuite Amplify so that marketers can gain legal rights to employee social content and then in turn create Amplify posts directly within the TINT platform.

This is great for brand advocacy.
Employee-generated content is everywhere these days. And the biggest companies in the world know it's an integral part of their marketing strategy moving forward.
Employee-Generated Content 🤝 Your Marketing Strategy 
People are creating user-generated content and employee-generated content every day. After decades of brand-created content, people want to relate to the customers, fans, audiences, and employees of brands that showcase their experience with a brand. This relationship to people-created content drives engagement, following, and conversions. While this is great for brand advocacy and recruitment, it's just one side to employee-generated content.
During the era of The Great Resignation, EGC is more than just for advocacy and recruitment, but also for retention. When employees have options, it's up to corporations to show people why their company is the best place to work. If they don't create the comradery and collective mission, people will start looking elsewhere. 
Employee-generated content is shaping marketing as we know it. But, it's only one of seven trends we discovered in our 2022 State of User-Generated Content Report changing the marketing landscape.
You can read the other 6 trends shaping UGC and marketing here.