We're all familiar with UGC (user generated content) and its brand-boosting capabilities, but what about EGC? EGC, or employee generated content, can have the same type of effects when shared on social media. Brands everywhere have started catching on, creating hashtags to broadcast how happy and engaged their employees are, appealing to both customers and potential employees in the process.
Employee generated content can make a big impact on both improving your company culture and improving success in recruiting top talent when searching for new employees. In this post we're going to talk about why, look at some amazing examples, and show you how to get started.
Why Use EGC?  
EGC can feel like a big risk for companies by encouraging employee generated content, you're trusting your employees to represent your company and your culture in a positive light. The brands that have been utilizing EGC, however, have had overwhelmingly good results. This is especially true when it comes to recruiting new employees. If employees are praising their employer on social media instead of verbally hacking it to pieces, potential recruits are bound to take notice.
Finding and recruiting the top talent for your business can be extremely challenging, and it's completely normal for prospective workers to want to know what it's really like to work for you. Sure, they know the salary and the benefits, but we've all had jobs where the pay is good but the work environment definitely is not. Prominently-featured EGC, which is easy for maybe-employees to find, can show what your company culture is really like. It has the power to be more persuasive than any office-tour you give, with the impression of transparency and authenticity holding high value.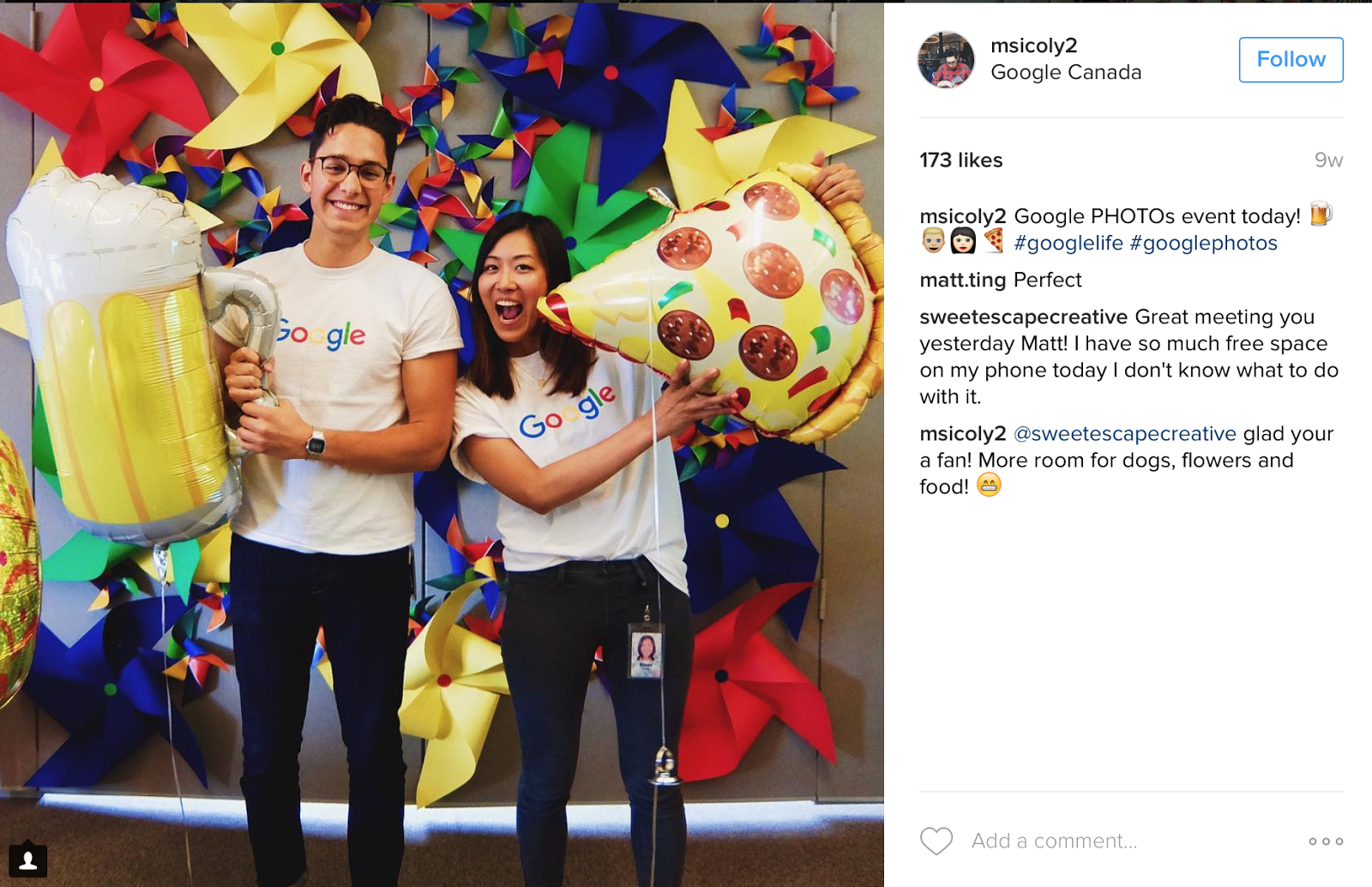 This makes sense– wouldn't you want to work for a company that employees were excited to share positive content about, especially if they featured it on their site? I know in the past when I've seen this, I am automatically more receptive to that particular brand, and (correctly or not) typically assume that they'll be a company that will be both welcoming and open to feedback.
Frequently shared or featured EGC can not only showcase but even improve your company culture. It shows that you value their opinions, engagement, and contribution; as anyone can attest, appreciation and acknowledgment is huge. As you promote more EGC, more employees may start participating in creating and sharing content of their own. This fosters a welcoming environment, turning your company into a community.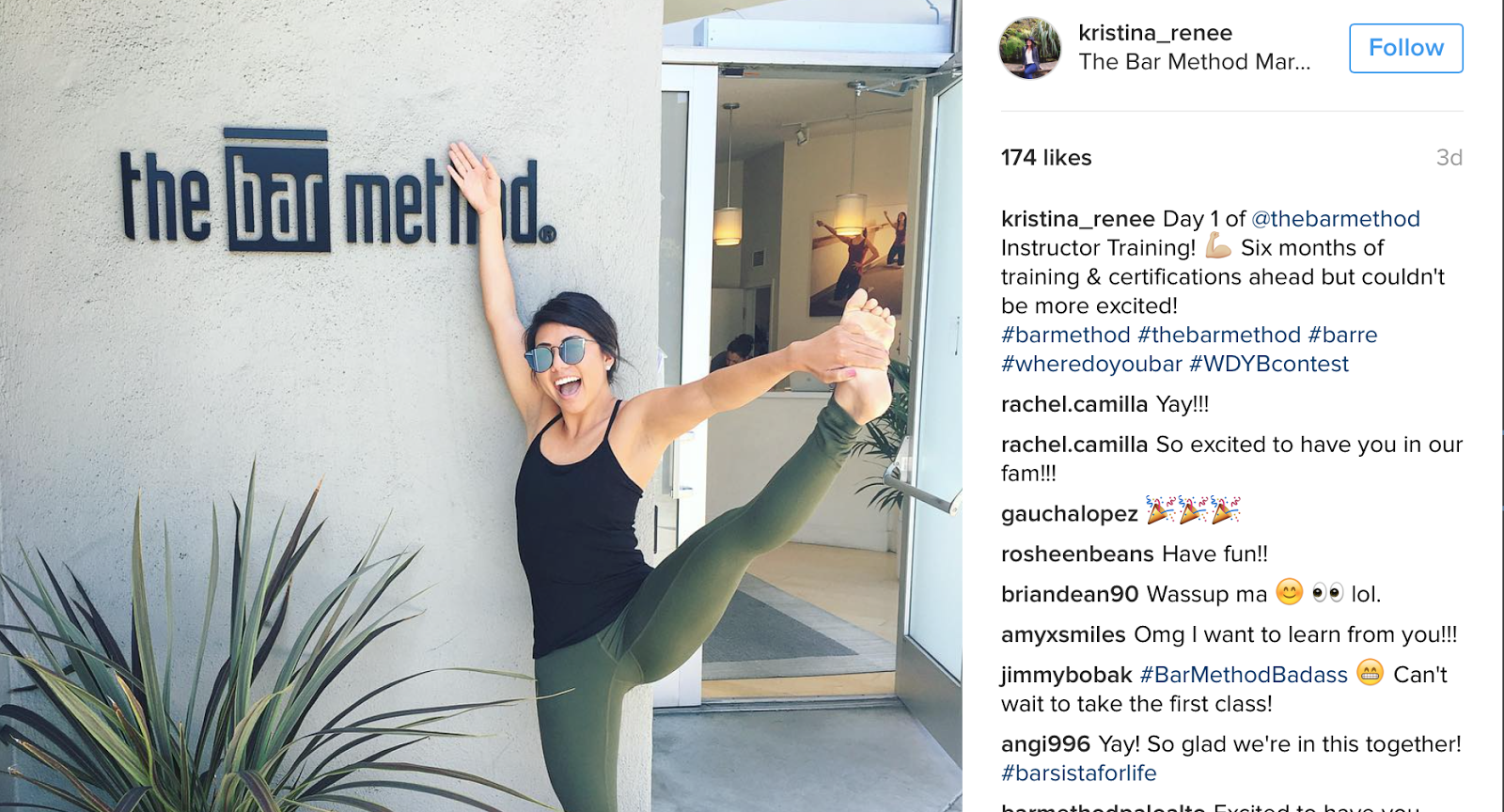 EGC, like UGC, also offers another new huge benefit: it provides you with a vault of high-value and high-impact content without costing you anything to create it.
Amazing Examples of Employee Generated Content 
Here at TINT, a lot of research has gone into evaluating employee generated content and how it impacts a brand. In our research, we've found a large variety of ways to promote and encourage EGC.
One great type of EGC is content that features company perks. Employees can, for example, share pictures of what's for lunch in the cafeteria, creating a photographic menu.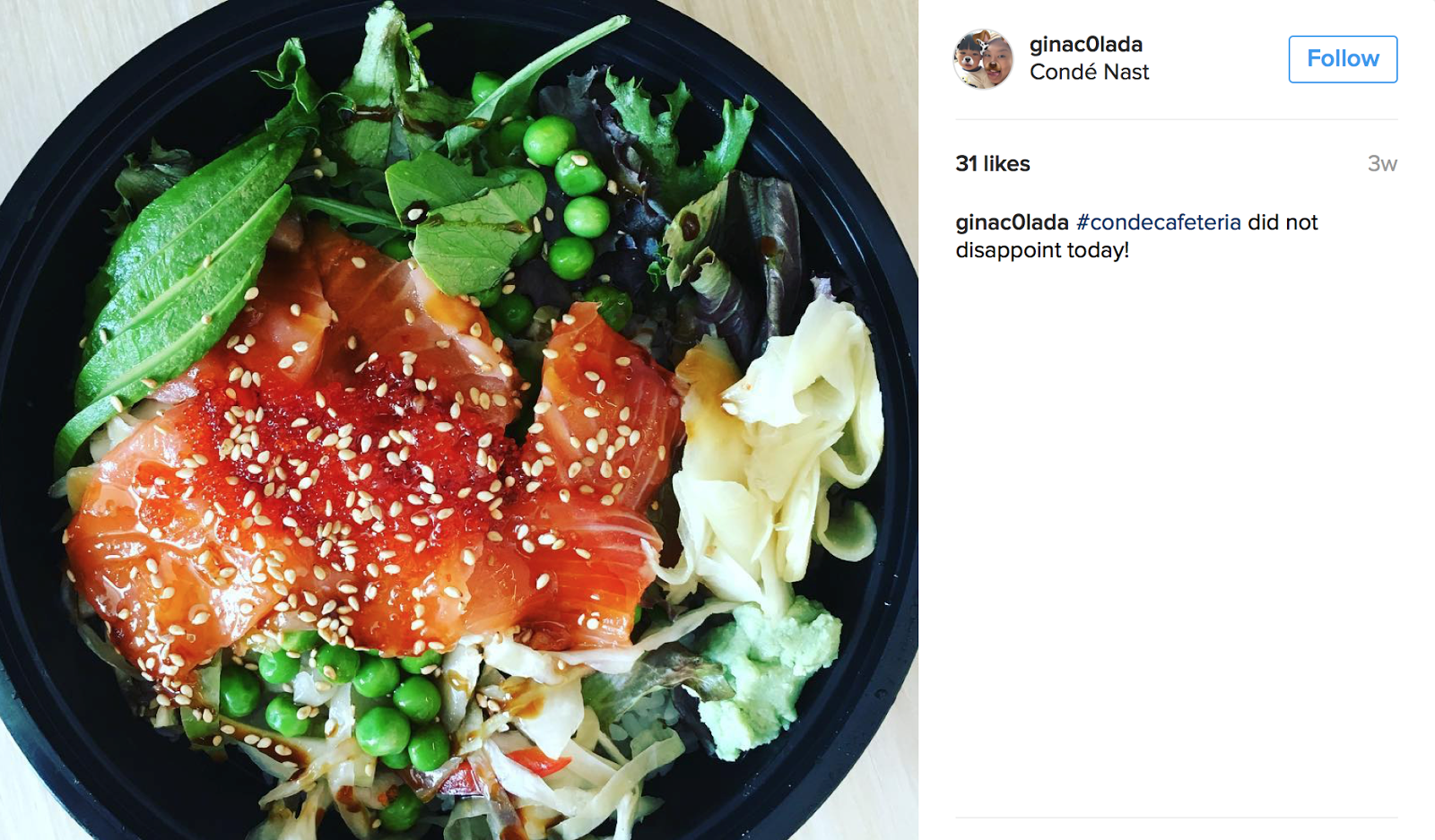 This type of post helps create a sense of community within your employees, boosting company culture. Similarly, EGC can highlight some of your business's quirks that make it unique. In the image below, a Google employee is shown riding a bike for "inter-office travels."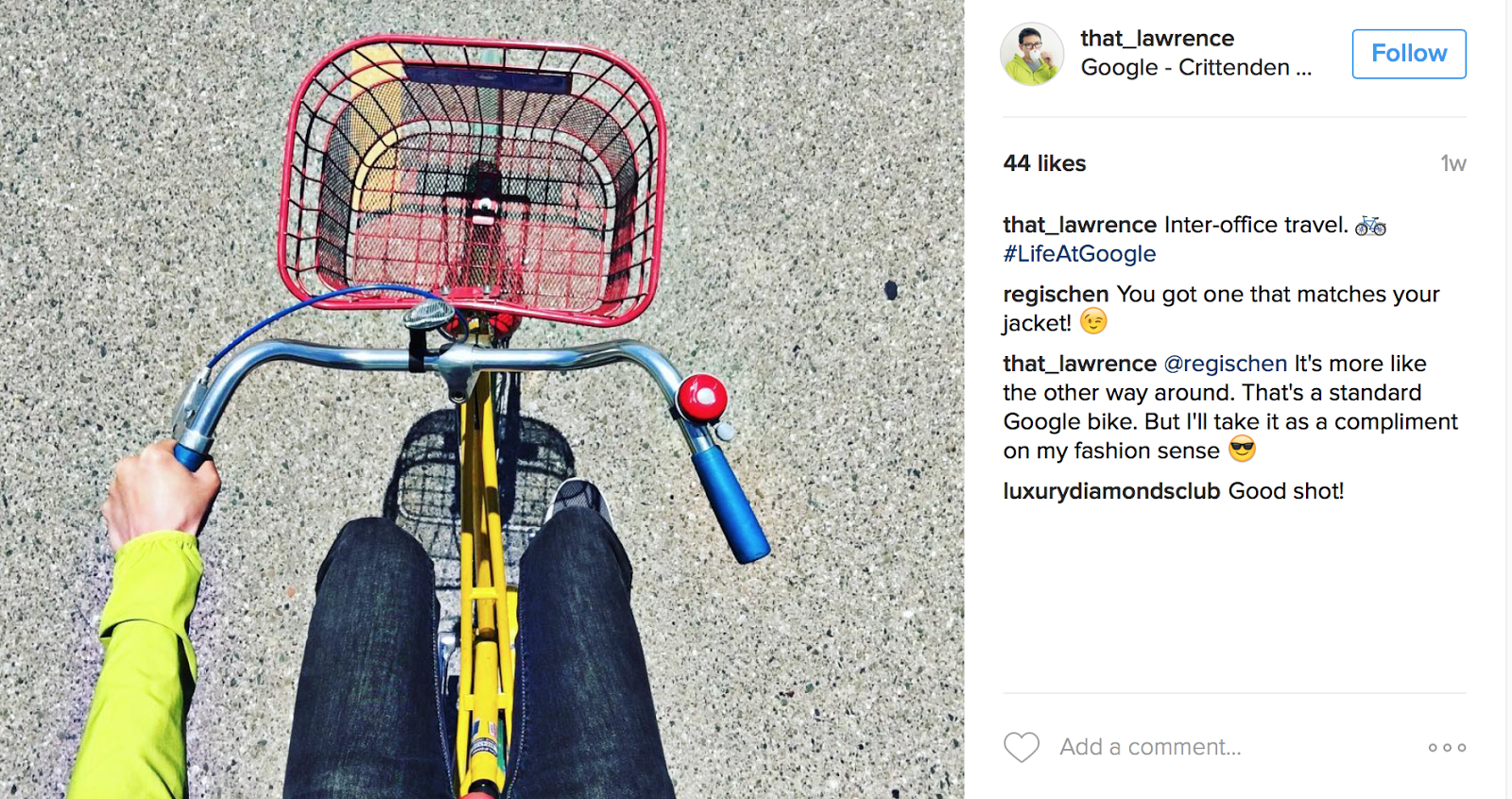 Companies can also make loud statements by highlighting diversity or unique stances that are important to them and their company's culture. From showcasing EGC featuring events like Pride Parades or Black Lives Matter, advertising what makes your company truly tick can help attract a lot of new recruits.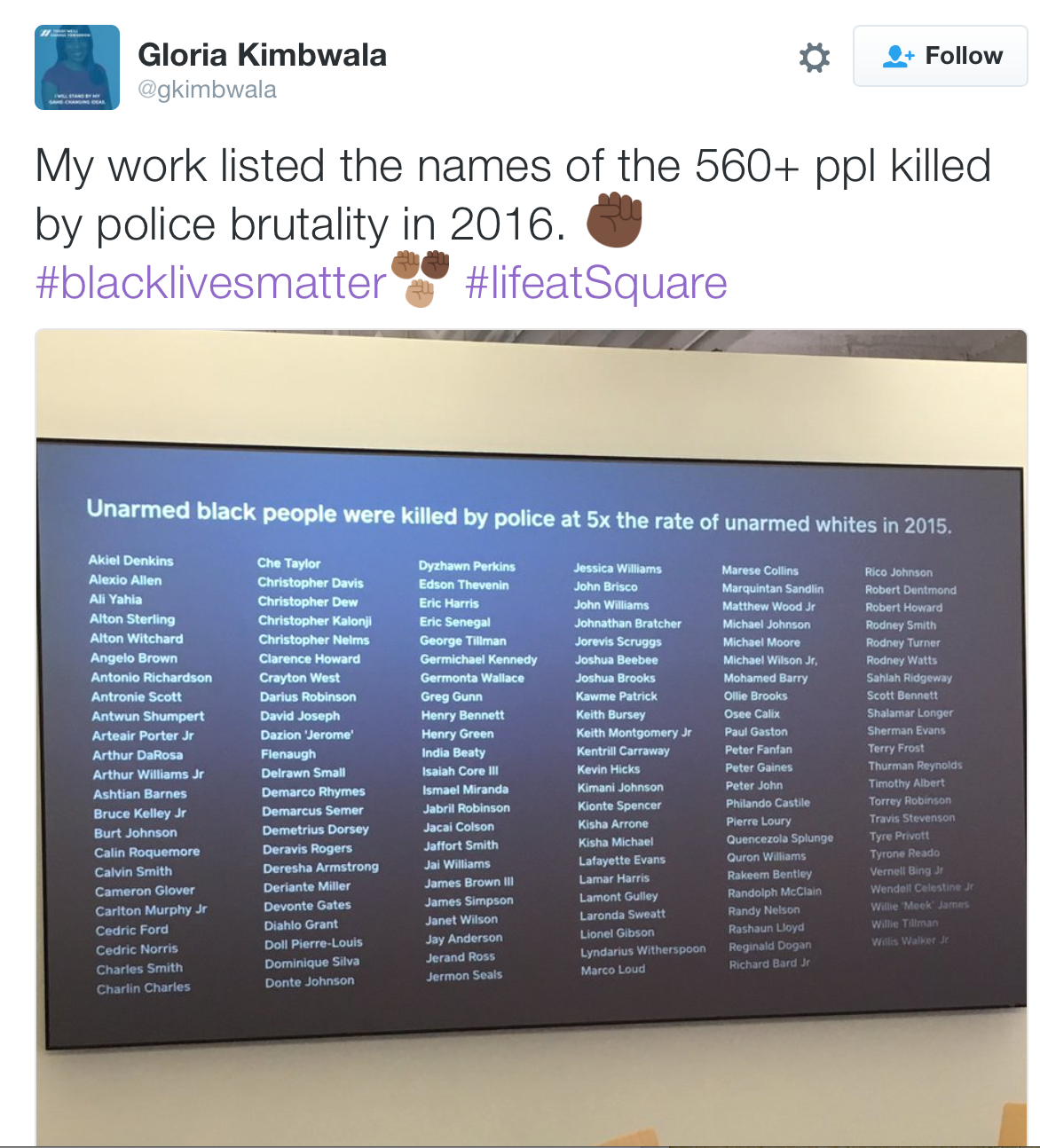 While every now and then this may drive someone away, that's ok– if what drove them away was important enough for you to promote, they likely wouldn't have made a great fit for your company, even if they are top talent.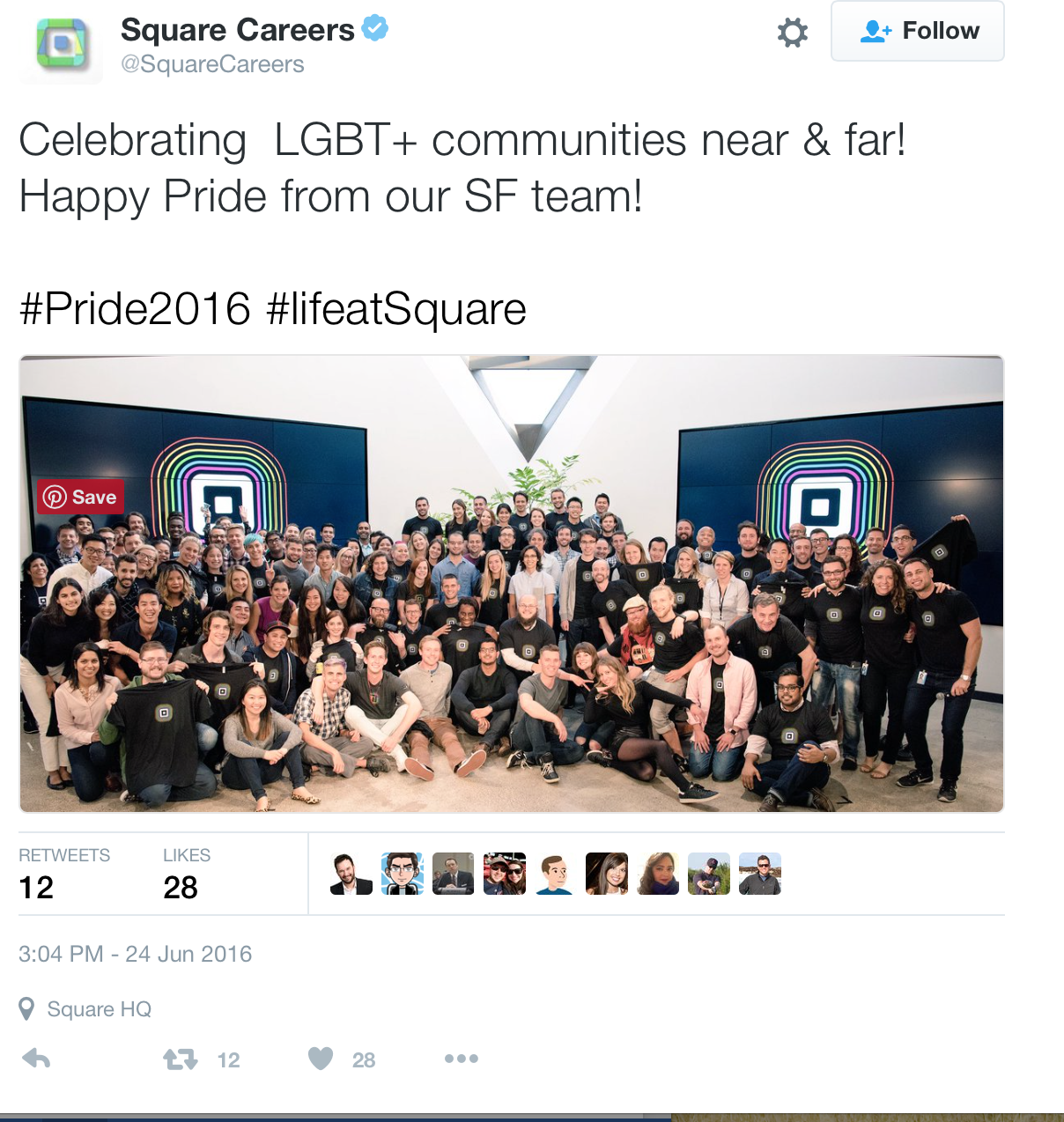 One type of content that we hope to see more of is what TINT refers to as "knowledge sharing content." This is content that can be used to spark new ideas within a company. We all have colleagues who share tons of content when they're attending conferences that often contain new ideas and ways to do things. If employees within a company could share this content more frequently, a larger number of employees could benefit from just one person attending new training or a conference. That's huge.
TINT is embracing this idea and testing it out for ourselves. At TINT, we have traditionally done conference debriefs in either presentations or email threads but are going to adopt a new strategy that encourages those traveling to use #tintlearns. With screens positioned around the office to display these posts, we hope to create an organic learning process that sparks new ideas from conference learnings.
Using EGC for Company Recruitment
Once you decide you want to get started using employee generated content for recruitment, there are several tips and tactics to consider. These include:
Always promote your hashtag.

Hashtags are the best way to let employees know you want them to create and share content, and it's the easiest way to track it down later. Creating an employee-exclusive hashtag also promotes that community feeling. You can advertise this hashtag on your site and in-office, making sure your employees see it. Once some EGC has been shared, you can post the hashtag to job recruiting postings so that potential recruits can look it up for themselves.

Chili's uses TINT to display #TodaysChilis content 

on their career and job posting site

 to give potential recruits an inside-look at their company culture.

Share EGC on your site.

Make sure that your EGC is shared in a prominent place. While reposting on social media is always a good idea, featuring employee-generated content on your site (as you would with UGC) can help increase the benefits tenfold. It shows how much you value the content, and it boosts its visibility.



Caption: When you visit

Tmobile's career page

, the first thing you'll see is a ton of EGC. There's no overlooking it, increasing its impact.
Monitor & Moderate.

While the majority of EGC leans in a positive direction, that fear of the disgruntled employee is a possibility. For this reason, monitoring and moderating the content before it shows up on your site can save you a lot of grief later on. TINT's easy moderation tools allow you to quickly moderate the content that will be shared on your site, saving you from any headaches to deal with later.
Let's talk about your employee generated content program!