As consumers grow increasingly skeptical of polished brand messages, they're turning to their favorite influencers for inspiration about what to try next.
The rise in influencer marketing has seen brands from all different industries collaborating with distinguished accounts in an attempt to carve deeper connections with their followers and generate more sales.
And more brands are catching on to the power of the influencer.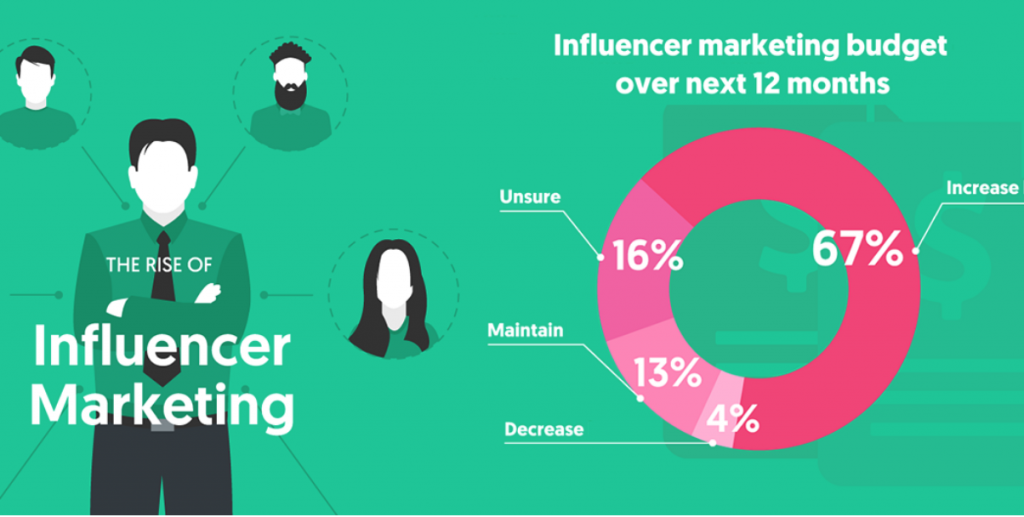 In fact, a survey by Influencer Marketing Hub revealed that 67% of marketers are set to increase their influencer marketing budget over the next year.
We've seen the world of influencer marketing expand and evolve, and it has gone through many adaptations, from partnerships with world famous celebrities to entire TV shows like Love Island that spout out ready-made influencers.
With the industry set to become a $10 billion market by 2020, we take a look at some of the trends we can expect to see over the next 12 months.
2020's Top Influencer Marketing Trends
1. A Surge in Partnerships With Nano and Micro-Influencers
Brands are no longer set on signing the biggest celebrity that they can.
Instead, they are identifying key players in their industry that have smaller and more focused audiences.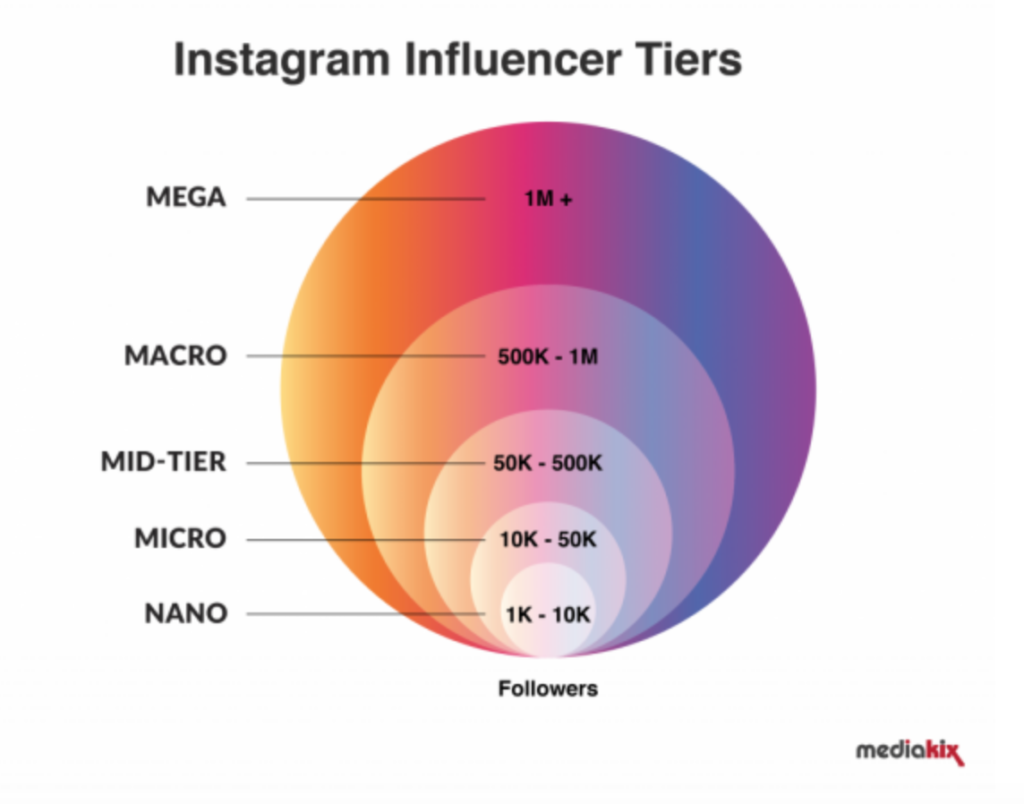 These influencers are known as nano or micro-influencers, and they tend to hold a lot more value than larger celebrity endorsements because they are so focused.
This is particularly important in an age where consumers crave personalization and authenticity. Customers expect to see marketing messages that speak directly to them, and focused nano influencer campaigns are a great way to create credibility and a sense of personalization.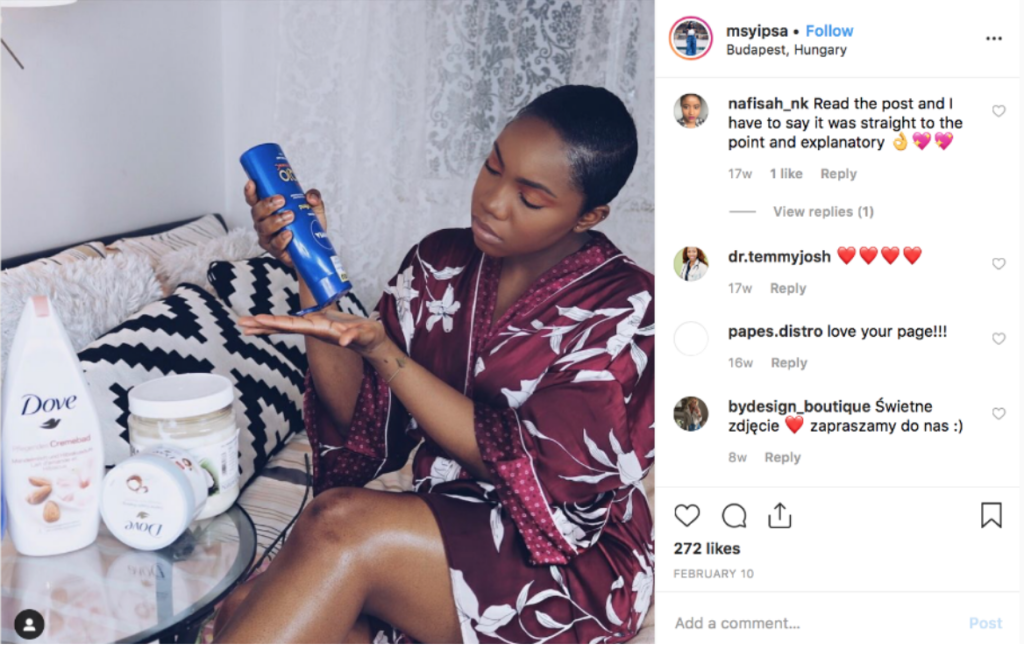 Take this campaign from Dove as an example.
The brand teamed up with Instagram user Msyipsa. The fashion and lifestyle influencer only has 1,600 followers, but they are engaged and hang on every word she says – we only have to look at the comments on her posts to see that.
Do it Yourself
Start by identifying key nano or micro influencers in your niche (that is, relevant accounts with between 1k and 50k followers).
Ideally, you want to pinpoint accounts that have a high engagement rate. A quick calculation gives you this info. Add up the likes and comments on a post, divide it by the number of followers, and multiplying it by 100 to get a percentage.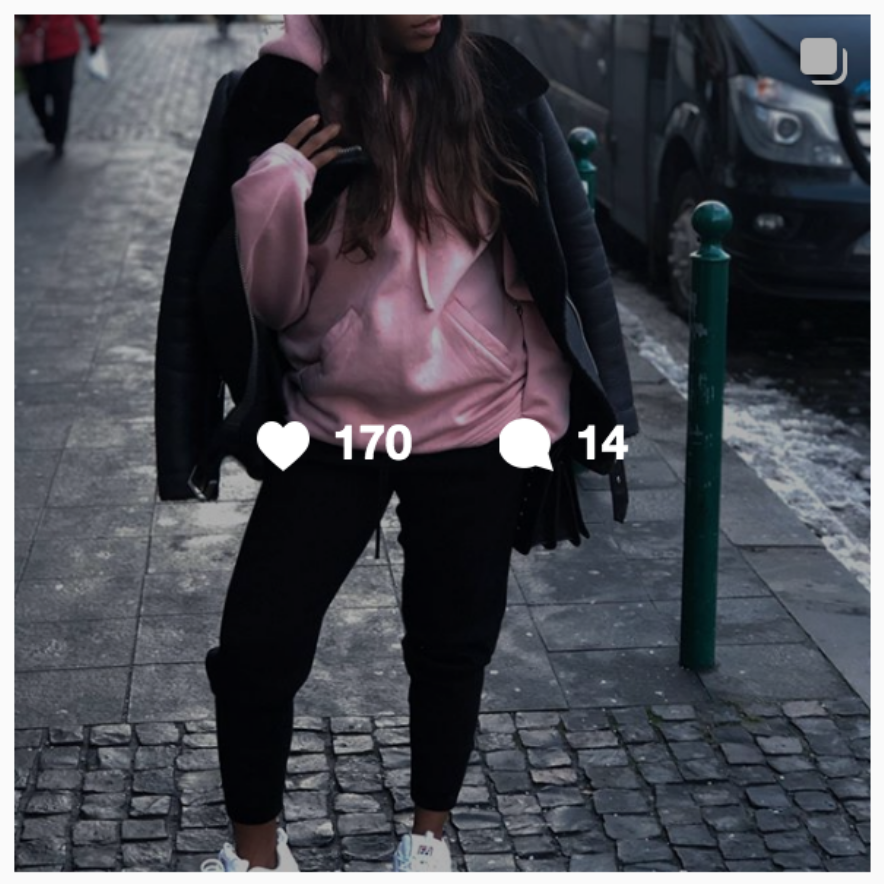 For example, the formula for this post from Myipsa, which has 170 likes and 14 comments would be:
(170 + 14) / 1636 (the number of followers she has) x 100 = 11.24%
This is an incredibly high engagement rate when you compare it to the average on Instagram.
Reach out to the influencers you identify and work to build a relationship with them.
2. Combining Influencer Content With Shoppable Posts
Shoppable posts make it easy for consumers to make purchases on social media without leaving the platform.

Research has shown that social platforms like Instagram are heavily influential in the buying process, with 83% of users claiming the platform helps them discover new products.
Turning influencer posts into shoppable moments can increase sales even further.
Think about it: if nano and micro influencers already hold immense persuasion power and credibility, imagine how many more conversions you're going to get if their followers can buy instantly from their posts.
In fact, an increasing number of influencers are using social media tools to turn their posts into shoppable post for brand collaborations.
Take this example from influencer saythelees, who partnered with NARSissist to promote their latest concealer.
Her post tagged the product which, when clicked, took followers straight to a checkout page where they could buy instantly from through Instagram.
Do It Yourself
Provide influencers with your product catalog (or at least, the product catalog of the items you want them to shout about), which they can then tag in their posts for you.
When their followers click on the tagged products, they'll instantly be taken to a ready-made checkout page and can buy with one click.
3. CGI Influencers to Personify Brands
This might sound like something that has stepped straight out of a sci-fi movie, but CGI influencers are actually a thing.
The first murmurings we heard about this futuristic technique was through a PR stunt from LA-based startup Brud, that specializes in robotics and artificial intelligence.
Their creation, dubbed Lil Miquela, was a computer-generated influencer that grew quite the following. Throughout her time in the spotlight, she has posted about brands big and small, including Spotify.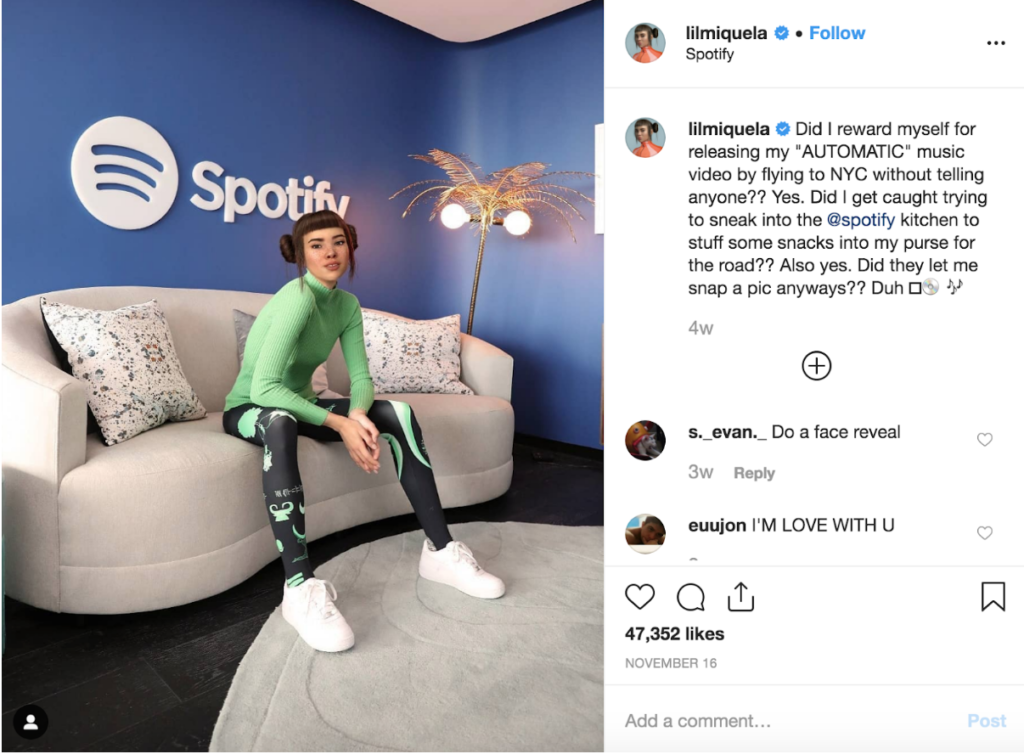 At first glance, Miquela's Instagram account seems just like any other influencer account – there's pictures of her hanging out with friends, staged scenes promoting fashion lines, and photos of her traveling all over the world.
Look closer, though, and you'll see that Miquela isn't a real person. Each post has been computer crafted to emulate the feed of a real-life influencer.
Could this be the future?
It begs the question: why spend thousands of dollars sending real people products and flying them around the world when you can create your own influencers from the comfort of your own home or office?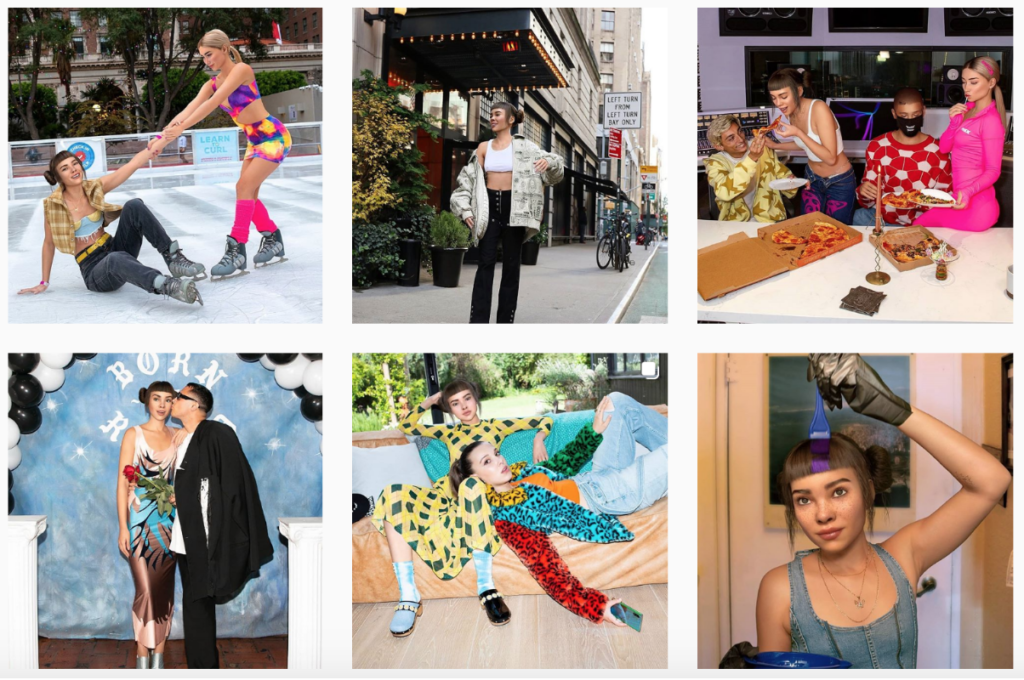 While we're pretty sure we're still far from a world where Instagram influencers are made with technology, we wanted to give this a mention as it's one of the most creative and innovative techniques in the influencer marketing world right now.
Do It Yourself
If you've got the tools to create a CGI persona, you're all set.
It's important that you create a character that your audience can relate to and understand. Then, it's a case of crafting stories that combine both them and your brand or products.
Tread carefully with this one so it doesn't come across as branded messages!
4. Encouraging Employees to Become Influencers
Employee advocacy has really exploded in the past year as brands start to realize that their audience connects better with real-life people than the brands themselves.
Not sure what employee advocacy entails? It's when a brand encourages its employees or specific team members to become influencers by writing posts, sharing social updates, and creating human relationships with leads.
Macy's in-house influencer program is a great example of this.
The brand has worked hard to inspire its workers to share the behind-the-scenes of their job, mention the brand as and when they can, and promote it across their social channels to friends and family.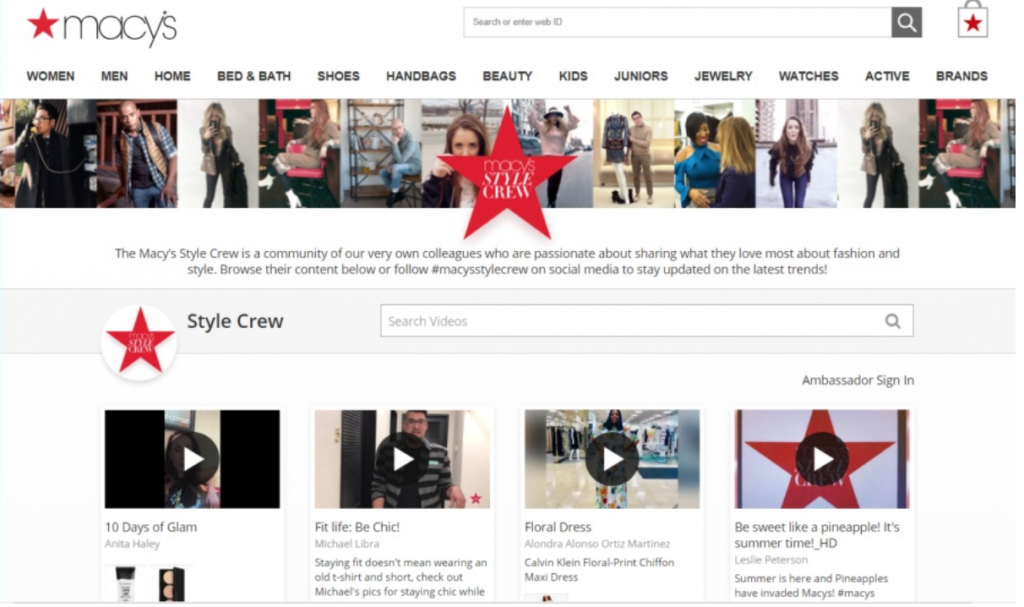 As a result, they've managed to turn more than 300 employees into brand ambassadors.
"We see this as developing a relationship with our employees. This gives them an incentive to be proud of Macy's, to make some money and come to work more energized each day," says a Macy's executive.
Do It Yourself
First of all, you need to get employees excited about sharing content.
You can do this by offering workshops that help spark creative social media ideas, brainstorm topics, and share new content via internal channels so that employees can handpick the content that speaks to them.
You can also offer incentives for those that post and reward high levels of social sharing through an in-house competition.
5. Expanding Reach By Joining Different Channels
When we think of influencer marketing we tend to think of Instagram – and for good reason. The majority of influencer marketing campaigns over the last year have been run through Instagram.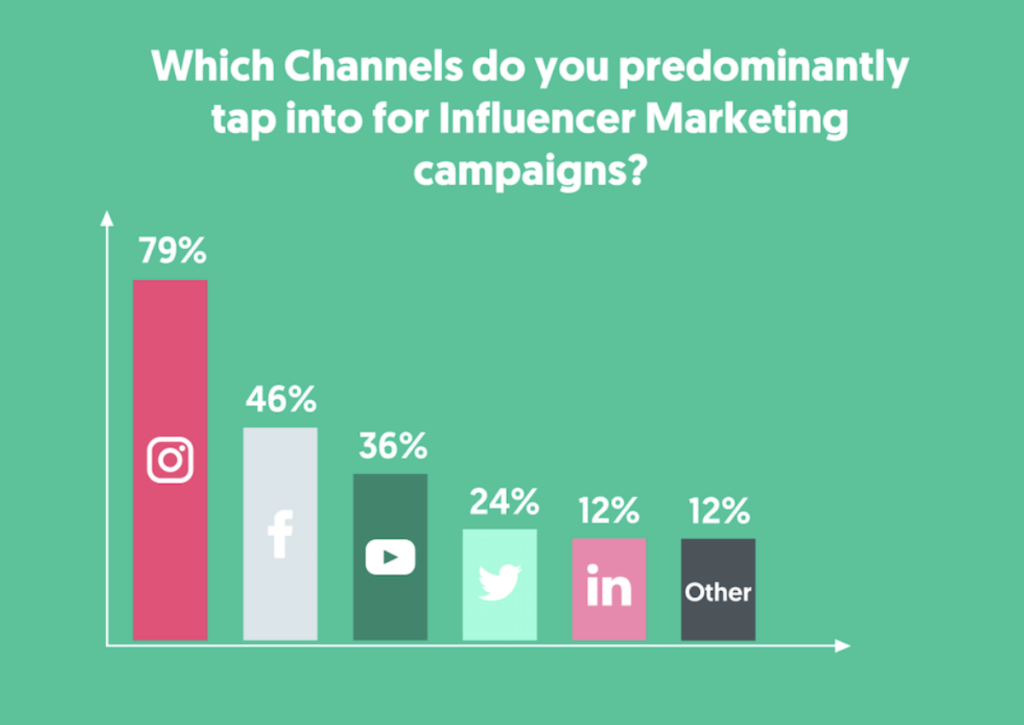 However, in 2020 we can expect to see brands expanding their reach on different channels as younger generations turn to other platforms, like TikTok and Switch.
We're starting to see an increase in the number of brands collaborating with influencers on these new, incredibly popular platforms as traditional social channels lose favor with younger generations.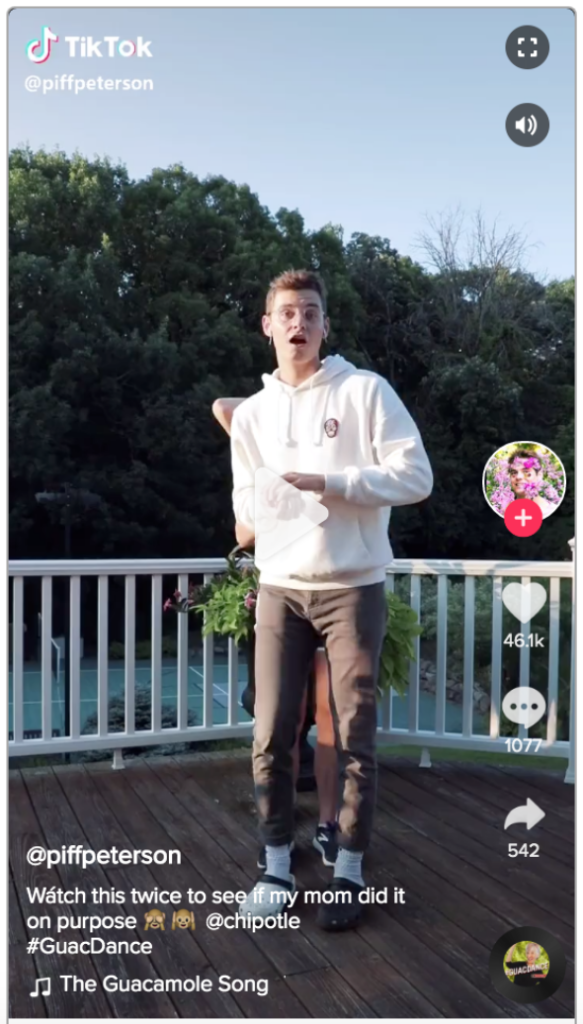 Take this example from Chipotle.
The fast food brand teamed up with a series of high-follower accounts on TikTok to promote their #GuacDance campaign.
As you can see here, this one post alone racked up 46.1k likes and 542 shares – proving that, if brands step out of their comfort zone and move away from platforms they're used to, they can reap huge rewards.
Do It Yourself
Start by familiarizing yourself with new social platforms and get a feel for the kind of content your audience engages with on them.
Then identify key influencers in your niche that have decent followings on those platforms and reach out to them in the way you would with any other influencer.
Make Influencer Marketing Matter in 2020
Influencer marketing is constantly changing and evolving.
If you want to succeed, stay on top of the latest trends and figure out how you and your brand can get involved – whether that's by creating CGI influencers, stepping out of your comfort zone and tapping into different platforms, or combining influencer posts with shoppable posts for more sales.
The most important thing is to think about what will resonate best with your audience and start testing out some of these trends over the next 12 months.