Few could have predicted the way online creatives, social media, and digital platforms would combine to create a new marketplace for ideas and content. The Creator Economy allows people from across the internet to share their passions, a passion economy if you will. The currency of this space is not NFTS (non-fungible tokens) or ad revenue, but clout driven by the connection to audiences and brands.
The Creator Economy does have its mega-stars, but it's mostly made up of people who have friends, family, colleagues, and acquaintances who care about their opinion. Even the smallest streamers and independent content creators can drive connection on old and new networks alike.
As tempting as the shiny objects at the top of the Creator Economy sound for marketers, those mega-influencers are not the only creators that brands should be leveraging in their content strategy.
To understand how to leverage all creators, we have to first understand what the Creator Economy is.
What is the Creator Economy?
The Creator Economy is the term given to creatives garnering audiences on social media platforms—think YouTubers, Instagram influencers, Snapchat creators, and Twitter thought leaders. These creators are leveraging the reach of social platforms to grow an audience they can promote or sell their own products to. That's where the economy comes in.
With 50 million creators in the Creator Economy, money is being moved. Two million of those creators are making six figures per year, and major influencers have a valuation of 8 billion dollars in advertising revenue and sponsorships.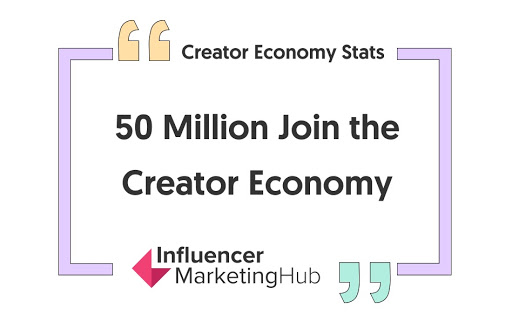 The Creator Economy was built by high-profile influencers who had hundreds of thousands to millions of followers on social media. Casey Neistat was a first-mover, one of the few YouTubers who chose to create vlogs that followed him around his days living in New York City. As the Creator Economy has matured, we're now seeing content that surpasses behind-the-scenes of people's lives—we're seeing creators making their own shows. Dixie D'Amelio recently launched her show, The Early Late Night Show, in competition with the established and TV-backed late-night shows like Jimmy Fallon and Jimmy Kimmel.

Creators are promoting products, selling their own, and turning themselves into the product. The Creator Economy shows just how much people connect to online personalities—and why brands need to be paying attention.
Everyone is a Creator Now
Being an influencer used to be reserved for people with high-followers counts who could use their social platform as a marketing channel for brands. We're seeing people still use their platforms as marketing outlets, but now influencers don't require a six-figure following. As the Creator Economy matured, people have become more comfortable sharing user-generated content of products…even if the post isn't sponsored.
More than half of consumers wish that brands would tell them what type of content to create and share. These consumers aren't the influencers you're used to seeing online. They're your friends, family, colleagues, and acquaintances. They're the average person who is now leaning into their online voice as true fans of the brands.
While influencers sparked the Creator Economy, the average consumer is the rocket fuel behind its success. They're using their social platforms to take photos of their coffee and tagging the cafe they bought it from. They're complaining to brands that have questionable customer service. They're bringing their phones on vacation and showing what their experience is.
Platforms like YouTube, Twitch, Instagram, and TikTok are the engine pushing the Creator Economy forward. This economy can't work without them, but it also requires a driver to take the wheel. Venture Capitalist Clara Lindh Bergendorff has observed that these platforms need their creators now, more than ever before.
"In the early days of social media and the Attention Economy, the creators needed the platforms' audience. As (1) the creators and their leverage increased, (2) the barriers to micro-entrepreneurship decreased, and (3) people with niche interests around the globe were able to discover like-minded people to convene against the so-called mainstream, there was a subtle but acute power shift, and the platforms now need the creators' loyal communities."
How Does The Creator Economy Work (And How Brands Can Leverage the It)?
As a marketer, you have two ways of using the Creator Economy. The first is to leverage full-time creators, like a YouTube star or Facebook digerati,  who have built big audiences. This strategy involves mega-influencers who generally have four revenue streams. These revenue streams are highlighted in Colin and Samir's YouTube video about how much money YouTube pays them.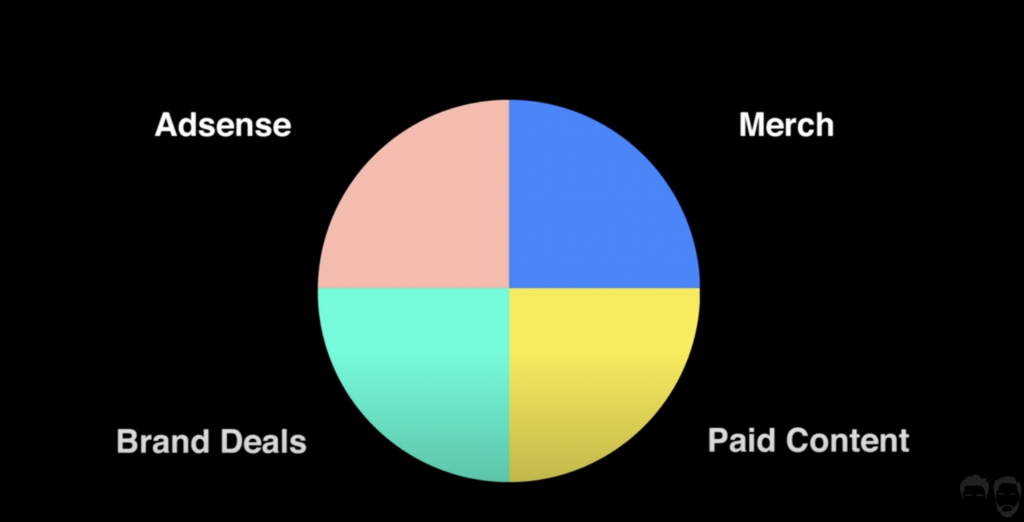 Adsense
Creators make money based on the advertisements shown before, during, and after their videos. YouTube has been the prime example of this in the past, but creators can now leverage Instagram for the same revenue with their latest IGTV ad update. We should note that Adsense isn't the end-all to all monetization tools, there are others that exist on different creator platforms.
Brand Deals
One scroll through your feed and you have a high chance of seeing a brand deal. These are the classic Creator Economy deals that pay an influencer to talk about a product in a set amount of posts, stories, and videos.
Paid Content
Paid content comes from memberships like Steve Aoki's recently announced membership. In return for a monthly fee, his fans can get exclusive content and access to prizes, like winning a trip to Steve's house.
Merch
Merchandise gives creators a chance to make their own business, not built around other brands. With this revenue stream, creators can choose what product fits their brand and audience and quickly sell direct-to-consumer with platforms like Shopify.
Your content marketing strategy fits into some or all of these creator revenue streams. For example:
Brands can set up pre-roll ads to play in front of the videos you know your audience is watching.
You can hire influencers in brand deals to talk about your products in sponsored posts or videos.
Work with creators to add your brand to their paid content by offering to sponsor a giveaway or create an experience for the creator to document for their audience.
Collaborations of brands x merch leads to impressions and revenue from that creator's audience.
The second way marketers can leverage the Creator Economy is with nano and micro-influencers. As Harvard Business Reviews calls it, this is the middle class of the Creator Economy. In this case, we're not talking about creators trying to make a living from their social audience. We're talking about your friends, family, colleagues, and acquaintances. These people have their own followings that can be leveraged in marketing through user-generated content.
Consumers want brands to tell them what kind of user-generated content to create from their buying experience. Brands can send UGC instructions in their emails or their shipping boxes to inspire user-generated content from their customers. With TINT, brands can find, collect, and organize user-generated content across digital channels to repurpose it strategically. Using machine learning, TINT finds social content that has your products in it and automatically organizes it so your team can hop in and redistribute it.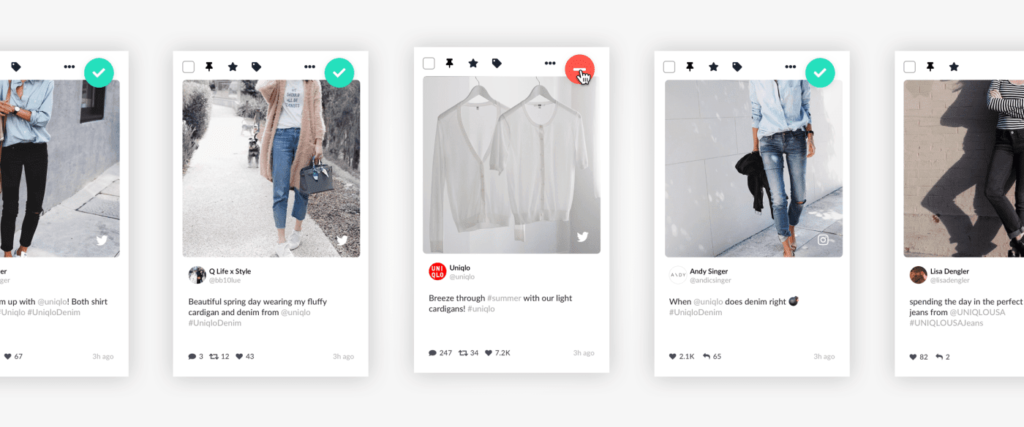 Canon used TINT to create a new generation of photographers (and garner 2,000+ social contest entries from entrants under 30). Canon's goal was to appeal to a younger generation of photographers through their #FreeYourStory contest.
"When developing the contest, we wanted to engage a younger generation of storytellers that mainly used their phones to share their stories on social platforms. It was an opportunity to introduce them to Canon's brand and inspire them on how they can elevate their storytelling with Canon products," said Katherine Stephens, Canon's European Marketing Planner.
The #FreeYourStory contest urged the contestants to enter into the categories of either mirror selfie or forced perspective. Each category's winner would receive a unique photography masterclass hosted by a Canon professional and a Canon equipment selection, including an EOS M200 and a Canon Zoemini S.
Canon has now shifted #FreeYourStory to an ongoing user-generated campaign on their website and social media channels, continuing to inspire and engage the next generation of photographers. 43% of participants opted in to future marketing from Canon, and the team is now providing information to the community regarding Canon products, photography tips, and more. This particular contest may be over, but the campaign lives on through the #FreeYourStory hashtag, which has grown to 10,000 Instagram posts and gains in popularity daily.
User-generated content also encompasses employee-generated content. Employee-generated content is created by the employees of a brand and can be re-shared up to 24 times more than branded content. EGC shows the people behind the brand, humanizing marketing and branding efforts. We see Instagram use EGC regularly with their announcements directly from their CEO's, Adam Mosseri, Twitter account.
Once collected, marketers can use UGC and EGC as organic and paid content. Their organic feeds can be a distribution of brand-created content and UGC/EGC and their paid ads can use their customer's stories to promote their products.
The Creator Economy has matured, digital content has quickly outpaced traditional media, but it's hardly done growing yet. We're going to continue to see changes as new social media platforms arise, new technology gets brought to the platforms we're familiar with, and the potential regulations coming social's way from governments worldwide.
The statistics are telling us that people don't need A-list celebrities to promote a product to buy into it. They want their favorite creators to put their stamp of approval on it—and that's where the real brand-to-creator relationship lies.
No matter if you're working with multi-million followings or a small audience of your users or employees, the Creator Economy is asking for user-generated content that is trustworthy and authentic.
And as a marketer, there's never been an easier time to create it.
Build your own UGC Studio using TINT to find, organize, collect, and get the rights to use customer and employee content. Schedule a demo with the TINT team to take a look inside the UGC studio here.