In recent years, an engaged audience was overwhelmingly the top goal for marketers.
In 2021, however, there's a new key performance indicator (KPI) rising in importance. When we asked marketers what KPI is the most important to their role, for the first time, engagement was nearly tied with return on investment (ROI) for the top spot. Engagement won by only 1%, as reported in our State of User-Generated Content report. Take a look at the results, below.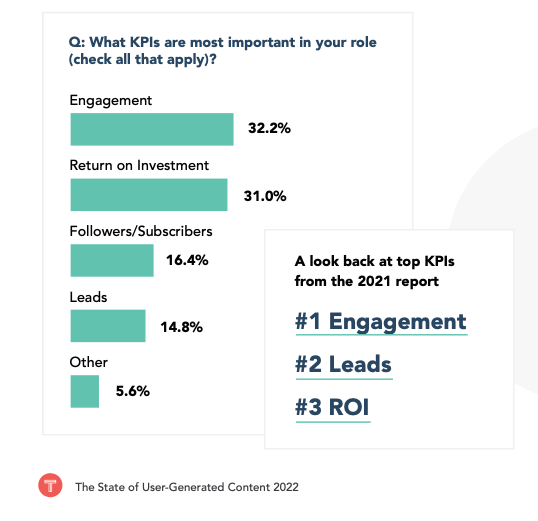 Marketers know that engagement is key, but ROI is now just as important. So how do engagement and ROI relate to each other, and what are some action items you can take to increase both?
With the right strategy, you can boost both of your top KPIs.
The Path From Engagement to ROI
Engagement creates a return on investment, but not by nature. As Maggie Lower, CMO of Hootsuite, explains:
"Engagement provides insights that help determine whether people are paying attention. Much of that engagement then paves the way to trust, from there it's a clear path to the conversion side which ROI is well-positioned to track."
Only when engagement is increased *the right* way does it create the return on investment all marketers seek. So, what's the "right way"?
It's what your audience and customers are asking of you. In the State of User-Generated Content report, we narrowed down 5 consumer trends that will directly impact marketing in 2022. The report centers around these trends because listening to and learning from your audience allows you to form better connections, amplify their voices and experiences, and nurture a long-term relationship.
Here's how you can leverage 3 of the trends to boost your top KPIs.
How to Increase Engagement And ROI Based on
3 Consumer Trends
If you're a marketer, then the answers you're looking for are found in your audience. They've told us loud and clear what they want to see.
Consumer Trend #1: People Want to Connect With the Brands They Love
In 2022, marketing is required to be a two-way street. Brands can't think that a billboard with brand-written copy talking about their features will be the reason they reach their KPIs, stand out in their industry, and get a billion impressions. Brands need to weave the power of user-generated content (UGC) into their narrative in order to better connect with their audience. Consumers even want to interact with brands, both online and offline.
Unboxing videos, a reply to your tweet, sharing your Instagram post on their story, taking a photo of their hotel room, and posting to Facebook—customers are constantly giving brands opportunities to engage with them. Each time a happy audience member or customer posts user-generated content, it's up to the brand to return the high five.
Brands that leave user-generated content floating around aimlessly on the web, hoping it leads to referrals and sales are optimistic.
We prefer the strategic approach: if people love creating brand-related content, let's make it a positive experience each time they hit publish.
How to Take Action: 
When followers and customers provide opportunities to connect—do it. Return the high five they initiated (because nobody likes to be left hanging), and interact with their experience.
Are they loving their hotel room?

Reply to their Instagram post and let them know how dreamy their room is.

Did they share a photo of their empty burrito bowl, captioned "so delicious—forgot to take a pic before I ate lol"?

Let them know you're launching an upcoming contest to win a year of free burritos and to keep an eye on your socials to partake.

Is someone sharing their excitement about arriving at your hybrid event?

Reply by letting them know where they can meet the other attendees.
Brand connection surpasses a quick like on their content. Real brand connection, which leads to an increase in social media engagement and an ROI, continues the conversation your audience or customer initiated. Here's a great example from the Levels team where their brand account tagged their cofounder to answer a question from a curious customer on Twitter.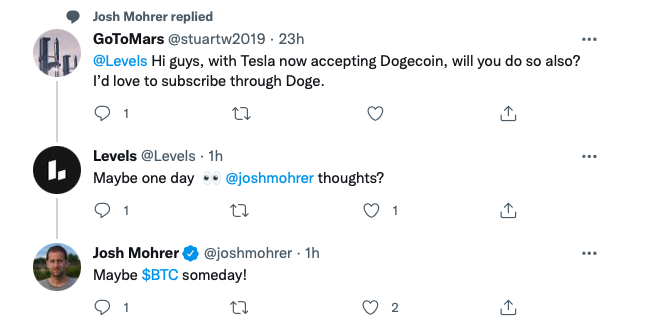 Instead of just liking the original tweet, or even replying with a quick, unthoughtful response, Levels cofounder Josh Mohrer connected with this happy customer and gave them insight into Level's thoughts on crypto in the future.
Where can you level up the interactions your audience and customers are having with your brand?
Consumer Trend #2: People Expect Diversity, Equity, and Inclusion (DEI)
For the past few years, we've seen people ask for more and more diversity across brand images and videos. At the same time, we've also seen people more than happy to create user-generated content and be more than willing to let brands use their images, videos, and feedback across their marketing channels (because they want to be connected with the brands they love!). 
65% of consumers agree it's important to them to see brands channeling diversity.
The 2022 State of User-Generated Content (SOUGC) report found that 65% of consumers agree it's important to them to see brands channeling diversity because consumers want to buy from brands that reflect their own values and worldviews. Consumer sentiment has become an increasingly important part of marketing strategies.
And it's best highlighted through the diverse voices of your customers. With user-generated content, brands can focus on diversity, equity, and inclusion through organic and paid user-generated content that gives their platform to their customers and marketing partners. 
How to Take Action:
Seventy-two percent of consumers believe reviews and testimonials submitted by customers are more credible than the brand talking about their products (Source: SOUGC). With a diverse array of user-generated content, customers can see people that look like them using and loving your products—growing the trust and relatability of your brand.
For example, user-generated content lets retail brands showcase their clothing on models of all shapes, colors, and sizes. With UGC, your customers become your models. They're the ones saying, "I love this product enough to share my experience with it." And that's powerful. 
Consumers love seeing what a product looks like on someone of their skin color or body type, and it shows that they're included.
Brands like Target are well aware their loyal customers (and fanbase) are posting user-generated content constantly. To help capture this UGC, Target asks their customers to "Share what you got" with the hashtag #TargetStyle and a @Target tag in their Instagram captions. Then, they display the photos throughout their website and product pages.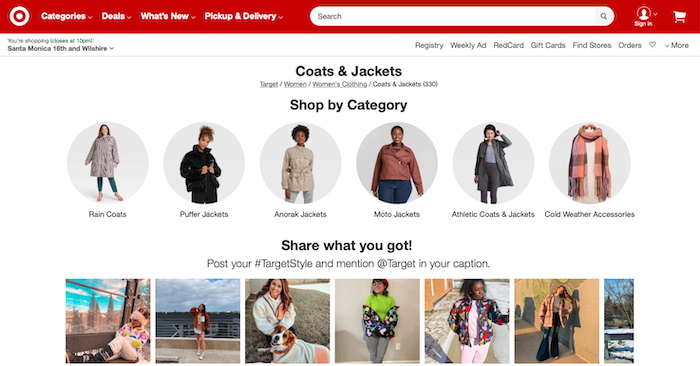 Using TINT's UGC Studio, you can search through the UGC photos and videos from your customers to filter for specific products. You can also automate asking your customers if it's okay to republish their content across your social channels with TINT's Rights Management. That way, you can repurpose a cute Instagram post that you know gets engagement onto your emails and product pages.
How can you amplify diverse voices and images to make your audience feel seen and included?
Consumer Trend #3: People Prefer Social Media to Engage with Brands
Consumers are nearly 3x more likely to engage with a brand's social media content than any other type of media they create. As marketers, this is our blinking neon sign telling us that social media is the right path to be on.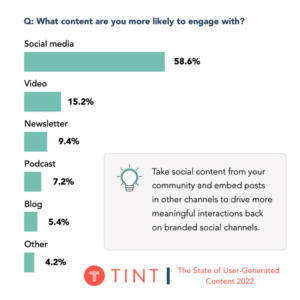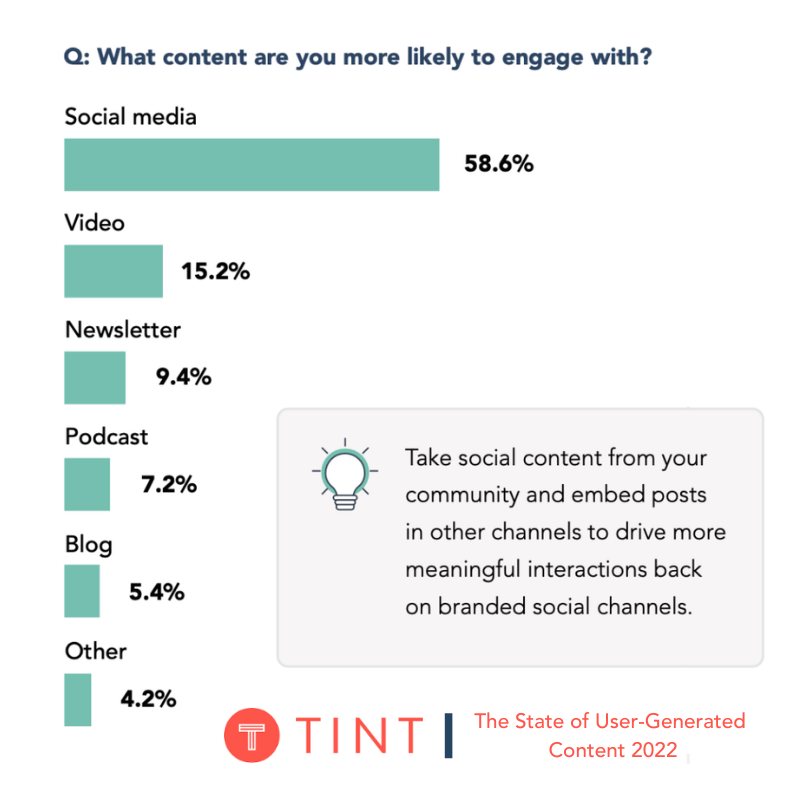 As we talked about in the past two consumer trends, with user-generated content, social media doesn't have to dry up your resources or eat up the entirety of your team's time. With UGC and EGC strategically repurposed across marketing channels, you can create a pipeline of content that comes from the diverse voices of your audience.
But what if you're struggling to get engagement, UGC, and EGC in the first place?
That's when it becomes time to get creative through proven marketing strategies like contests. Contests and social media work incredibly well together to boost brand engagement, ROI, and UGC (and EGC if applicable).
Brands like Canon have increased their engagement and UGC through contests set up on TINT's Experience Builder. It lets brands create easy-to-enter contests both on social media and off. If you follow our tips in the first trend, you'll connect with each entry. More relationships with your ideal customer? Yes, please.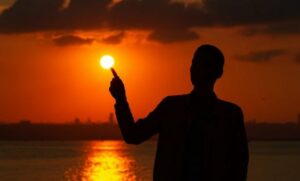 How to Take Action:
Create contests, particularly social media contests, that spark your audience to make user-generated content your fans will engage with and that you can republish across your channels. This means contests not only help you gain a plethora of UGC that can be organized in your UGC Studio, but it's also helping your content and products show up in your fan's newsfeeds.
Here's a genius example.
The My First Million podcast recently launched a TikTok contest, giving a prize away to a few participants who clipped their video podcast and turned their content into TikToks. Not only did the My First Million Podcast incentive their podcast listeners to interact with them on social media (which means they got them to move from interacting with them on one podcast platform to a social media platform too!), they also created hundreds of UGC videos they can repost to promote their past episodes…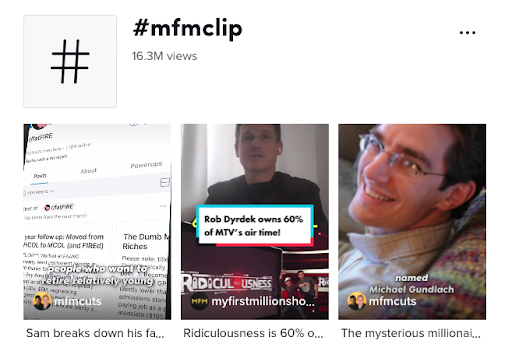 … on top of getting impressions, views, and engagement on the TikTok videos their audience posted. The two hashtags used for the campaign, #mfmclip and #mfmclips have a cumulative 31.3 million TikTok views.
What creative social media contest can you run that asks your audience to interact with your brand, create user-generated content, and promote your products?
The Right Strategy Will Boost Both of Your Top KPIs
If you're one of the majority of marketers asking how you can increase engagement and ROI in 2022—you'll need the right strategy. We'd argue that the right strategy IS consumer trends. The most impactful marketing strategies are built around giving your audience and customers what they want, and this year we have very clear requests:
Reply to your customers through thoughtful responses that nurture your brand-to-customer relationship.

Highlight your customer's voices to ensure diversity, inclusion, and equity across your marketing channels. Your customers care what your other customers and employees have to say more than what your brand-created content says.

Get your customers involved with your content by incentivizing UGC that sparks an initial interaction with your brand, creates UGC, and promotes your products.
Consumers want genuine, authentic, and trustworthy content. When you give them what they want, they will not only engage, they will convert. They won't only convert, they will become brand champions.
This battle between engagement vs. ROI is one topic that we cover in The State of User-Generated Content 2022 report. To see even more consumer trends, marketing themes, predictions for 2022, and strategy tips, download the report.