Lately, more and more marketers are seeing how user-generated content impacts their business. In 2021, user-generated content (UGC) emerged as the solution to their most pressing problems. It stands out from the content people are used to seeing, which creates more engagement and conversions than brand-created content. Meanwhile, it alleviates some of the pressure off marketers that are tight on time and helps them hit their most important KPIs.
So, it's no surprise that even more marketers plan to use UGC in their marketing strategy in 2022. But many brands count themselves out of UGC, thinking their audience and customers aren't posting about their brand or it's too large of an ask from their users. If only they knew the untapped potential they're missing out on and the impact user-generated content can have.
If you aren't yet sold on the significance of UGC, here are 4 concrete ways user-generated content impacts businesses in 2022.
What Are 4 Ways User-Generated Content Impacts Businesses?
As a little recap, user-generated content is a photo, video, testimonial, post, or comment your audience or customers create about your brand and products. It's the happy unboxing video they share to their Instagram Story when their package arrives, the tweet that says they're so excited to be accepted to their dream university, and the TikTok of their burrito order at Chipotle.
It is created every single day, as people (you included!) share your life online with your friends, family, and followers. Instead of letting that UGC float around aimlessly on the web, you can capture it and use it to market your products and services.
The best part? UGC has many tangible business impacts. It helps get more engagement than brand-created content, is more likely to get people to hit the buy button, saves time and resources, and increases the likelihood of more UGC so you can see even bigger and better results.
UGC Engages Your Audience

UGC Makes Consumers More Likely To Purchase

UGC Saves your Marketing Team's Time, Budget, and Bandwidth

UGC Increases the Likelihood of *More* UGC
#1: UGC Engages Your Audience
While your colleagues may not always agree that getting engagement should be a key objective, marketers know all too well the business impact that engagement has. It indicates if your content is resonating with your audience and whether or not it's pushing them further down the funnel. It can also be an indicator of whether or not your audience trusts your content. As we discussed in How to Increase Engagement and Boost ROI in 2022, the pathway from engagement to ROI usually includes trust, connection, and relatability. Those three elements can be the difference between an attention-grabbing ad that a consumer looks at but scrolls past, and a scroll-stopping ad that actually gets clicks.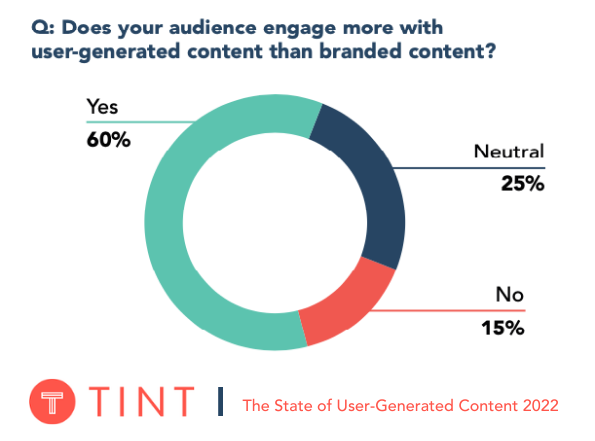 In our 2022 State of User-Generated Content report, 60% of marketers said their audience engages more with user-generated content than brand-created content. Why? Perhaps it's because their audience finds it more credible and trustworthy. 72% of consumers believe that reviews and testimonials submitted by customers are more credible than the brand talking about their products.
UGC is more trusted by consumers than brand-created content, which represents a huge potential for improving the sought-after engagement that brands want. So, how can your brand cash in on this untapped potential of high engagement? Here's one way.
Get Your Audience to Engage by Making Them Feel Included By Your Brand
One way to engage your audience is to make them feel included, and one way to make them feel included is to showcase people that they relate to. People want to hear real stories from company leadership, happy users, and diverse voices to feel that they can connect with brands. Consumers want to buy from brands that reflect their own values and worldviews. Diversity, equity, and inclusion (DEI) initiatives are incredibly important to today's consumers.
Take Chipotle for example. Chipotle recently won a Shorty Industry Award for Best Overall TikTok Presence. Here's the thing—their TikTok strategy is centered around sharing user-generated content. By making their audience feel included in their brand, by resharing customer TikTok's to Chipotle's account, they've garnered 1.7 million followers and 34.9 million likes on TikTok.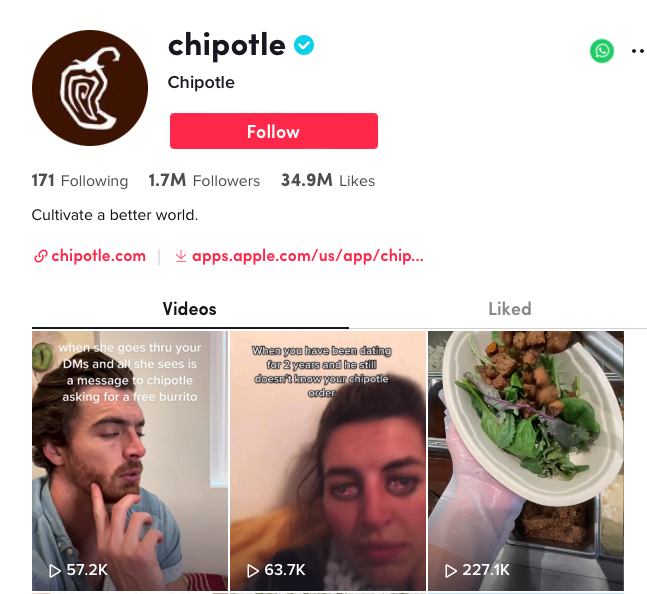 #2: UGC Makes Consumers More Likely to Purchase
Of course, the Key Performance Indicator that your leaders care most about is revenue. Engagement is great, and user-generated content is great, but does it actually bring in revenue and close sales? Thankfully, the research indicates "yes"!
When consumers engage with content they trust and find credible, they're more likely to purchase:
Consumers are actually 62% more likely to click on customer content rather than branded content.

76% percent

of consumers

have purchased a product because of someone else's recommendation (even a stranger's!).

77% of shoppers are more likely to buy from brands that personalize their shopping experience (which UGC does!).
People trust…people. When somebody they relate to, either through age, demographics, ethnicity, job title, etc. recommends a product or brand, that testimonial feels more believable than a brand-created commercial with the little words, "paid actor." 
Consumers are looking for shopping experiences that signal that this product works for *them*. Personalized shopping is becoming a bigger part of the customer journey—and with UGC it doesn't require complex CRMs.
Related article:
Social Commerce – The Definitive Guide to Selling More Online with Social
How can your brand cash in on this untapped potential of more purchases?
Personalize The Shopping Experience with UGC
Personalized shopping experiences don't have to come with a stack of data about every single one of your prospects and customers. With UGC, you can personalize the shopping experience by showing your audience, prospects, and repeat customers how other customers have liked your products. Kora Organics links customer reviews to their product pages to create a personalized shopping experience.
With this review, an online shopper with 'combination skin' will know this product works for their skin type. That's personalized shopping…without the need for an intricate CRM platform.

#3: UGC Saves your Marketing Team's Time, Budget, and Bandwidth
Making your own content takes time, money, and team resources. Instead of planning a product shoot, spending tens of thousands (or hundreds of thousands) on deliverables, and spending weeks editing them for publishing—you can grab the content your customers are already creating. Better yet, this content gets more engagement and conversions than brand-created content!
With UGC, you're saving the time it takes to plan, shoot, and edit your own content, 5+ figures of your budget, and giving your team more time to focus on their compounding to-do lists. From buying a new grill to seeing blue whales on a tour, UGC for your brand exists. It's a matter of tracking down that content, organizing it, and repurposing it across your marketing channels as needed. How can your brand cash in on saving time and bandwidth?
Use Content From Contests to Fill Your Social Calendar
To get the ball rolling with UGC, launch a contest asking your audience and customers to take photos and videos for your products and brands (69% of consumers report that they have participated in a brand contest or giveaway). Be clear about what you're looking for, tell them exactly how to submit their UGC, and add a prize to sweeten the deal. GoPro has been running social contests for years, asking their customers to share their photos and videos with hashtags and submissions to win money, gear, and exposure on their marketing channels.
Seventy-three percent of consumers agree they wish more brands would run contests or giveaways. With TINT's Experience Builder, you can launch social contests and campaigns within minutes.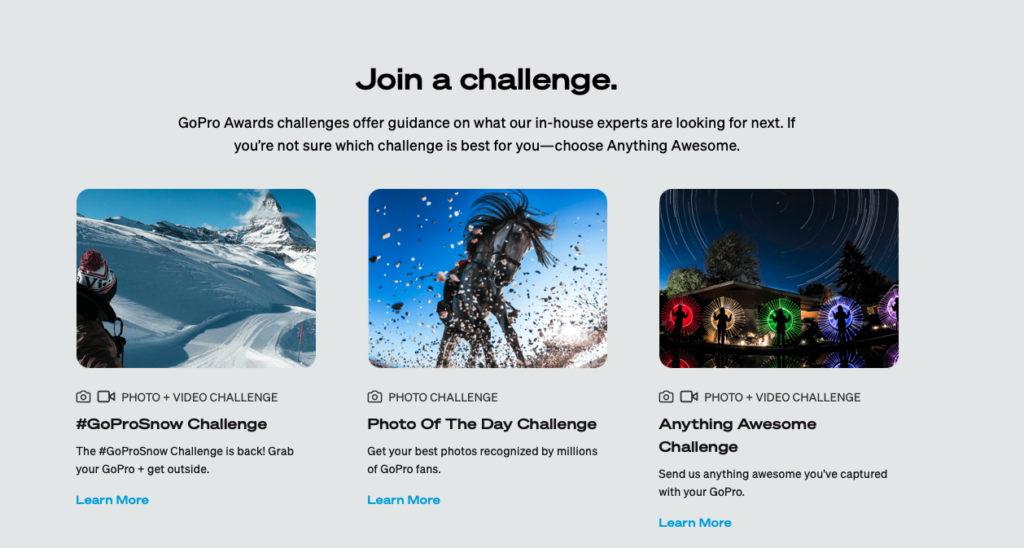 #4: UGC Increases the Likelihood of *More* UGC
By now, we've learned that UGC increases engagement, makes consumers more likely to purchase, and opens up your team's time, budget, and bandwidth for other projects. With more and more UGC, these results increase. Thankfully, UGC leads to more UGC.

Sixty-four percent of consumers agree when brands they like re-share content by customers, they are more likely to share content about the brand or its products. UGC is a flywheel—ask for UGC, post-UGC, get more UGC. We can see this from the rise of micro and nano-influencers, who will happily share their favorite products and brands with their small audiences (and even have higher conversion rates than mega and macro-influencers!).
Remember Nathan Apodaca, the micro-influencer who took a video of his commute to work on his skateboard drinking Ocean Spray? His video went on to garner 84.4 million views, get promoted by Ocean Spray, and spark a trend of replicated TikToks. There's an influx of UGC as content creation has opened up to the masses and more people feel comfortable sharing their experiences with companies. By publishing moderated, on-brand UGC, you're telling your audience exactly what you're looking for—just like Ocean Spray did with Nathan's TikTok (feeding into the viral trend of copying his video and adding a twist). How can your brand cash in on the untapped potential of more UGC?
Ask Your Audience and Customers For The UGC You Want
All user-generated content isn't created equal. Some UGC comes with too many typos to reshare on your brand accounts or the lighting just doesn't suit your Instagram feed. Show your audience and customers what UGC you consider "brand-worthy" by publishing the kind of photos and videos you'll proudly put on your platforms. If you're struggling to find brand-worthy UGC, tap into the power of TINT's UGC Studio to do the hard work for you.
TINT helped TechCrunch's Disrupt event marketers inspire UGC from their attendees through digital signage that shared their tweets on large screens. By showing attendees what other attendees were tweeting, TechCrunch showed their audience exactly what they were looking for from UGC that could make it on the big screens.
TINT's Digital Signage also strategically promoted how people were tweeting about the event, inspiring TechCrunch's Disrupt attendees to make their own UGC sharing their experience.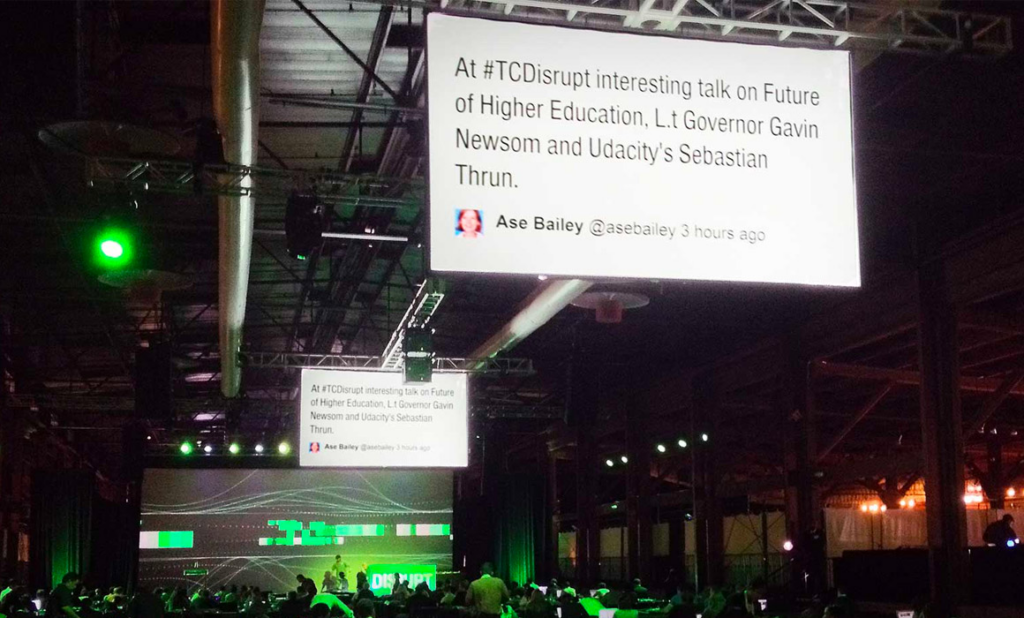 How is User-Generated Content Impacting Businesses in 2022?
It has been impacting businesses for several years. The only difference between the past and present is the amount of UGC brands have available and how well aligned UGC is with consumer trends. Consumers are asking for:
Personalized shopping experiences

Deeper connections with brands that share their values

Testimonials from customers over brand-created content

Diversity, equity, and inclusion

Social media to spark their brand relationships
UGC is the perfect way to personalize the experience, deepen connections, share testimonials, embrace DEI, and spark relationships. Meanwhile, your business will be getting more engagement and purchases while freeing up your marketing team's time, budget, and bandwidth. All the while, it will inspire even more UGC, creating a continuous cycle of positive business impact and a happy audience.
We covered these 5 consumer trends of 2022 and the 7 marketing themes that will impact every marketing strategy (from retail to digital) in our Annual State of User-Generated Content Report.
Download the report here to learn what's on the marketing horizon for 2022.