Marketers are struggling—and this isn't breaking news.
In 2020, the biggest challenges for marketers were time and team size, likely due to COVID-related layoffs. Now that companies have recovered and marketing teams have grown, here are the biggest challenges faced by marketers today in 2022, according to the State of User-Generated Content report:
Lack of an ideal budget

Publishing high-quality content consistently

Getting engagement from their audience

A never-ending time crunch.
Every year, as more content channels come onto the horizon, marketers add more and more to an already full plate, and 2021 was no exception. Unfortunately, most teams don't have the time or budget to keep up with content quality and engagement.
So, what's the solution?
Let's take a closer look at the top challenges faced by marketers today and ways to solve them.
Challenges Faced by Marketers Today
In the midst of the pandemic, marketers struggled with time and team size. Talented marketers lost their jobs and the ones that kept working felt the pressure of a smaller team, yet an increased focus on more content, engagement, and larger ROI.
Since then, many companies have recovered from COVID-related budget cuts and nearly half of the marketers we surveyed increased their teams in 2021. For others, the problem is: they can't hire fast enough. With 20 million people leaving their jobs during the Great Resignation of 2021 and unemployment at an all-time low, hiring is difficult, competitive, and slow. But it is happening. 
Meanwhile, now that teams are bulking up and there's slightly more time on marketers' hands, their top challenges are budget, content quality, engagement, and time.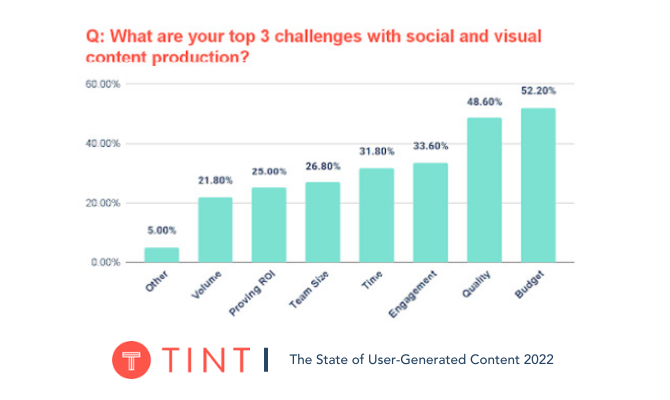 1. Budget
55% of those we surveyed said their organization's marketing budget did not increase in 2021. They're having to navigate the challenges of getting more engagement and more ROI, on more platforms, using new media, without more money. This is their biggest challenge.
2. Quality of Content
The second biggest struggle is publishing high-quality content consistently. 60% of marketers take the time to format content for all screen sizes and social media platforms. If it's not optimized, they'd rather not even post.
3. Engagement
60% of marketers feel pressured to continually produce greater amounts of content at a high frequency. This could be to keep their engagement rates high and stay relevant to their audience.
4. Time
47% of marketers agree that it takes their team too long to create content. This lack of time to do everything that they need to do is their fourth-biggest challenge.
Despite shifting challenges over recent years—UGC remains the constant. It's what continues to solve the biggest challenges faced by marketers today.
3 Consumer Trends That Help Solve Marketers' Biggest Challenges
In our State of User-Generated Content Report, we asked consumers how they engage with brands and discovered 5 consumer trends. We found 3 places where marketers' challenges and consumer trends align, relieving you and helping make your job easier.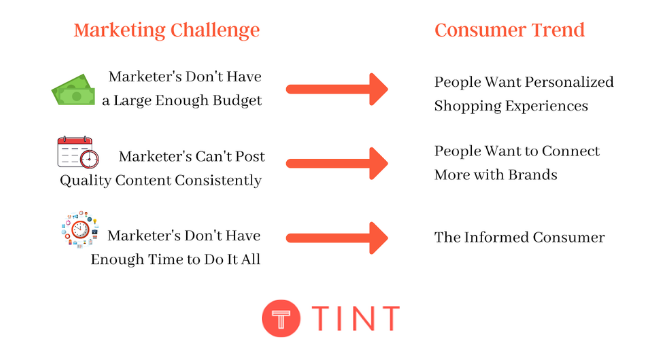 Here's what can help solve three of the biggest challenges faced by marketers today, while providing consumers with what they want most.
(Looking for how to increase engagement based on consumer trends? Check out "How to Increase Engagement and Boost ROI")
No Budget? No Problem. People Want Personalized Shopping Experiences
Consumers want personalized shopping experiences. 
We know what you're thinking. That sounds like a lot of work, which is the last thing a maxed-out budget can handle.
But wait a second. When your audience asks for personalized shopping experiences, what they mean is photos and videos of your products 'in the wild', and a chance to see what prior customers have to say about your brand. It's personalized because it'll show how people just like them interact with your product or how it looks on bodies like theirs, in environments they're familiar with, with real lighting.
All of this is available to marketers, without the need for a massive budget or CRM platform keeping track of each customer's interests and purchases.
The Solution:
You can create a personalized shopping experience through user-generated content. With UGC, your customers can share their experiences with your brand and products, and you can highlight their voice across your platforms. When a happy customer leaves a review on a pair of jeans they loved—you can show that review to prospective customers interested in the same product.
With UGC, your brand isn't spending money on expensive photoshoots. You're just gathering the content your customers were happy to make for you—and repurposing it on specific channels to create a personalized shopping experience.
How to Take Action:
Send follow-up surveys and requests to leave reviews on products. Your chances of getting a response are strong: seven out of ten customers are likely to post on social media after having a positive experience with a brand. 
Read more on how you can incentivize your customers to send over UGC.
Example:
Abercrombie & Fitch personalizes their shopping experience by sharing UGC reviews on product pages. As customers online shop, they can read through reviews to find UGC from somebody with a similar height, weight, and waist size that can attest to how well these jeans fit. How much more personalized can online shopping get?

Need More High-Quality Content? Great! People Want to Connect More with Your Brand
Consumers want opportunities to engage with brands they love. In fact, 60% of consumers wish that more brands would tell their fans and customers what type of content they want them to create.
The more that brands ask for UGC, the more that consumers will provide it. 
The more that consumers see brands sharing UGC, the more likely they are to share something themselves.
Does it take time to find and engage with this content? Sure. But it results in thousands of pieces of UGC that you can use to fill content calendars on the various channels that they already exist on, which saves you from having to create the content yourself later on.
"But they're not high-quality," you say. It may be time to rethink the meaning of quality. Quality does not need to mean high-definition photos from a professional photographer. Quality means what will help you build trust, grow engagement, and increase sales. And that's UGC. Videos taken on a smartphone still garner more engagement than a $100,000 branded product shoot.
The Solution:
Photos, videos, testimonials, comments, and feedback are all over the web regarding your products. Use them. Consumers want to create connections with brands they love, and with Rights Management, you can automate asking customers for rights to their content so you can use it on your own channels. (We told you, each of these consumer trends removes tasks from your to-do list). Not sure where to start with implementing all the UGC you have? We can help! Book a demo with us.
How to Take Action:
Take social content from your community and embed it in your own channels. Find a platform where you can see all the content created about your brand in one place, make sure they suit your branding, and automatically repurpose them across your marketing channels. 
Example:
New York Times Bestselling author Ramit Sethi strategically posts user-generated content reviews of his book I Will Teach You To Be Rich. His strategy of amplifying his happy customer's voices has garnered his brand 211,800 followers on Twitter.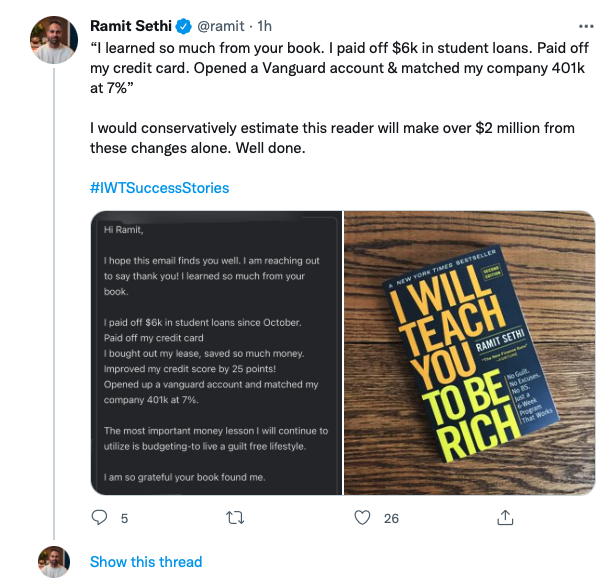 More content, with less work—it's like we can hear you breathing a sigh of relief.
No Time to Produce Ads? Great. "The Informed Consumer" Doesn't Want to See It, Anyway.
The informed consumer isn't sure if they trust paid ads and influencers. At this point in advertising, most people know when a brand is trying to sell them something. Six out of ten people feel neutral or don't trust paid ads and 78% of consumers feel that they can tell when a brand is advertising to them.
This sounds like bad news for marketers. It means you have to work *way* harder to get your audience to trust you, right? 
That's certainly an available strategy, but it's guaranteed to eat up your budget and have you working late nights. Instead, we suggest looking at what consumers are really saying. It's something along the lines of, 
"We don't trust your paid ads. We want to see real people talking about your brand and products."
The Solution:
Let your customers build trust and ad content for you. User-generated content saves you the time spent researching and writing copy, reformatting graphics for various platforms, and the budget of not paying for staged content shoots, and it's far more likely to convert than your brand-created content.
How to Take Action:
 If you haven't already created a snowball effect of UGC coming your brand's way, use incentives to get your audience to make content about your brand and products. Once you have the rights to it, you can use it in paid ads in addition to organic content.
Related: How to Get More UGC From Instagram
Example:
Chipotle built their entire TikTok presence on repurposed UGC. The food chain currently has 1.7 million followers and has even won two Shorty awards (which honor "the best of social media and digital"): the Shorty Industry Award for Best Overall TikTok Presence and the Shorty Industry Award for Best Consumer Brand. And all they do is repurpose their customer's content. 
Bonus Example:
Canon Europe, a subsidiary of Canon Inc. used TINT's Experience Builder to run a contest to engage "a younger generation of storytellers that mainly used their phones to share stories on social platforms." Canon's goal was to promote their products to Millennials and Gen Z with the hope of showing them how to tell stories with cameras, instead of just smartphones. Through the contest, the Canon team was able to get:
67% of entrants under the age of 30.

43% of entrants opted-in to future marketing from Canon

22,000+ page views on the entries featuring Canon products and information.
All while collecting 20,000 UGC photos that can be repurposed across their marketing channels indefinitely.
"TINT has made it really easy for our Social Media Managers to curate locally relevant UGC. This means they use their own language for the outreach and include country-specific T&Cs. Not only does this help Canon with governance and GDPR compliance, but it also protects the users' rights and privacy."

— Thessa Heijmans, European Social and Media Relations Specialist, Corporate Communication & Marketing Services, Canon
Solve Your Biggest Marketing Challenges With UGC
Marketers are struggling. Thankfully, there's a way to fix the biggest challenges faced by marketers today.
Better yet, there's a way to ease marketers' job obligations and align with consumer trends to create a win-win scenario. The photos and videos your audience and customers are taking garner more engagement than the brand-created content that took 10x the amount of time, effort, and budget to put together. And it's what consumers prefer to see.
The challenges that marketing teams are facing is one topic that we cover in The State of User-Generated Content 2022 report. To see even more consumer trends, marketing themes, predictions for 2022, and tips on how to use UGC, download the report.