How did an exclusively online store sell $100M in mattresses through DTC marketing when people couldn't even test out if they liked the product before buying?
Direct-to-consumer marketing initially seemed to go against the laws of buying decisions. People would always want to lay on a mattress before buying it, right? A safe assumption has turned into a completely wrong perspective. It turns out people are more than happy to buy a mattress on the internet (as long as there's a refund policy involved) and the proof is in the profit.
Casper used social media, paid ads, and user-generated content to take their 2014 founded startup to $100 million in sales in less than two years. It's one of the hundreds of thousands of DTC brands, like Allbirds, Warby Parker, Dollar Shave Club, and Bonobos, that have shaken up retail, taking what was once a heavily offline retailer experience into an online customer journey.
The direct-to-consumer trend wasn't a rocket that took off in one moment. It was the hare that used consumer sentiment and current events to edge its way into a competition for retail brands and eventually became an essential part of their business model. Social commerce has further accelerated the trend.
Why Should Retail Brands Care About Direct-to-Consumer?
Direct-to-consumer eCommerce sales reached $129 billion in 2021, up from $111.5 billion in 2020.
Apparel brands like Nike are "…doubling down on our approach with Nike Digital and our owned stores, as well as a smaller number of strategic partners who share our vision to create a consistent, connected, and modern shopping experience."
Legacy brands like Nestlé are looking at direct-to-consumer as added shelf space." Nestle's North America Executive VP and CMO Antonio Sciuto explained to Think Google, "We need to think about search with the same obsession that we think about our store shelving. It's exactly the same." Their DTC marketing strategy has shaped into subscriptions for their products like Nestea and San Pellegrino.
As established consumer brands turn to digital, it'll continue to push customer expectations towards online retailers. Two out of every five Americans have already purchased directly from a brand or manufacturer online, and e-commerce customers will  reach a new high of 103 million by 2022.
Shopify Plus covers Molson Coors Beverage Company's shift to direct-to-consumer (sparked by the COVID-19 2020 pandemic). Their D2C strategy ended up growing sales by 188% month of month.
Without the need for brick-and-mortar rent, in-person employees, and the necessary technology and equipment to run a store, the profit margins for D2C are higher than that of in-person shopping experiences. Add a subscription model and retail brands can see a higher customer lifetime value and potentially more frequent orders as customers lean into the convenience of at-home delivery (while getting customer insights they never had access to before).
Direct-to-consumer is becoming the obvious choice for retail brands, but the question is: are you ready to make the shift?
Checklist: Should You Go Direct-to-Consumer?
Going direct-to-consumer is more complex than setting up a website and hitting publish. Backend fulfillment and technology have to get situated before you can confidently take a brick-and-mortar retail business online.
#1: Is your goal to increase sales, customer lifetime value, and order frequency?
With DTC, you'll be able to manufacture and ship your products directly to your buyers, increasing profit margins and customer lifetime value (thanks to marketing strategies we'll outline later). The DTC model creates more touch points that lead to brand loyalty (and more customer data!).
Retailers are adding online stores to their mix and going direct-to-consumer faster than ever before.
#2: Do you have a supply chain and fulfillment process that can handle online orders?
Your fulfillment process will have to integrate with your brick-and-mortar store and your online store. If both stores use the same inventory, your brick-and-mortar store needs to notify your online store of quantities for different SKUs.
Figuring out this process ahead of time is crucial to ensuring your online store gets a good reputation. If the customer experience involves sending "Oops, we're actually out of stock!" emails after they've purchased, you'll lose their trust, which is a huge part of the online shopping experience.
Only go direct-to-consumer when your fulfillment process can handle both your brick-and-mortar store and your online store—or suffer the logistical and brand damaging consequences.
#3: Can you set up an online store?
Setting up an online store for D2C can be easy thanks to marketplace platforms like Shopify and BigCommerce. But, it's still a question of whether retailers should outsource, build on a marketplace, or take on the entire project. By outsourcing, you can get your online store set up and work through the kinks faster than trying to figure it out yourself, but this is only the start of the journey and there are thousands of variables to take into consideration.
Depending on the products you sell, you also might need to bring in another fulfillment center. You can work with a local wholesaler or look on marketplace sites for the products you're looking to sell. (Your online store can sell far more SKUs than your consumer retail brick and mortar stores could ever hold in inventory.) Walmart started doing this years ago.
Set up your online store to be secure, fast, easy to navigate, and trustworthy.
#4: Are you ready to hire expert DTC marketing help?
Your DTC marketing strategy needs to be constantly improving, there are always areas that can be optimized. To get more eyes on your store through SEO, content, and paid ads, and drive higher conversions you'll need the help of a team of experienced digital marketers. One important element of a high impact DTC marketing strategy is UGC. Adding user-generated content across your website and product pages to make your site more trustworthy. UGC in emails such as abandoned cart notifications can turn an "almost sale" into a converted sale. And UGC in organic and paid social ads can attract new customers while rewarding and recognizing your repeat customers.
The goal of marketing your online store is to bring more awareness to your brand, traffic to your website, and conversions. It'll also help establish customer loyalty, as your content adds more touch points to your customer experience. Unless you have a large, loyal audience—getting your online store off the ground might take some time.  One way to accelerate this is to work with a team of digital marketing experts that have experience in driving results for online consumer retail stores. Regardless, social commerce and paid social ads should be at the top of your list as you invest in marketing.
Here are a few specifics you'll want to consider when marketing your online retail store.
How Do Direct-to-Consumer Companies Approach Marketing?
Just like Casper, Nestle, and Nike, your approach to marketing your online store is based on the successful strategies of the DTC brands that paved the path before you. Their strategies have brought in billions of dollars in consumer purchases, showing exactly what a brand needs to make an online sale.
Strategy #1: Use micro-influencers to spread awareness
DTC's and traditional retailers alike are tapping into the power of micro-influencers to share their message. A micro-influencer has less than 100,000 followers, high engagement, and a niche audience. They have more pull with their followers than influencers with a million-person audience (even A-list celebs!) with a 7x increase in engagement compared to mega influencers. Eighty percent of social media Livestream viewers say they're likely to buy a product as a result of the endorsement of their favorite influencers.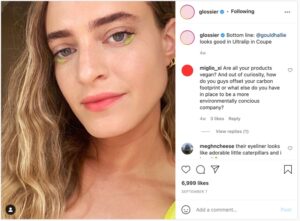 Glossier has been using micro-influencers for years to grow its Instagram following and to sell more products. What initially started as a beauty blog has turned into an established online beauty commerce business that is now adding brick-and-mortar stores to its portfolio. Founder and CEO Emily Weiss explained to Entrepreneur that "70% of online sales and traffic comes through peer-to-peer referrals." Glossier continues to add micro-influencer content to their social media and product pages to increase engagement and conversions.
Strategy #2: Ask customers to make content
If you have any amount of customers, user-generated content about your brand is being created every day. Choosing to leverage it in your marketing strategy or to let it expire on social media is a marketing choice (make wise choices!). UGC can be repurposed across marketing channels to drive greater results.
CBInsights shows the comparison of responses on social media to BarkBox and their established competitors like PETCO, PetSmart, and Pet Supplies Plus. Their favorites and replies far surpass those of any of their competitors.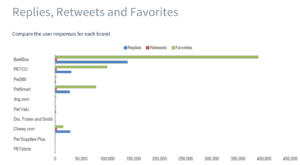 Successful DTC brands like BarkBox brilliantly repurpose this user-generated content into content for their social channels. CBInsights compares BarkBox's content to PETCO's below, showing how UGC can drastically improve content quality (while reducing content production costs).
Strategy #3: Measure the right DTC metrics
Direct-to-consumer metrics and retail metrics aren't the same. DTC success isn't quantified in the same way that retail success is (although you're aiming for revenue in both cases). While retail metrics look more like daily sales, with DTC you can create more predictability around how many people will visit your online store each day. Based on your content marketing, search engine optimization, and paid ads, you can figure out how many site visitors you need per day to get your average order volume.
That's the beauty of a D2C model. While attaining that predictability will require the help of a marketing professional, you can turn an unpredictable offline retail store into a predictable online D2C store—while continuing to work in-store.
BigCommerce shares four metrics for eCommerce brands to focus on:
Purchases
Repeat purchases
Average order value
Lifetime value of revenue
With TINT, brands increase on-site purchases by adding user-generated content to their marketing funnels and use Attention Score to ensure that they are using the very best visual content.
What Happens if D2C marketing is Just a Trend?
Direct-to-consumer saw a huge spike thanks to COVID-19, a spike that led to 10 years of eCommerce growth in only 90 days. As Shopify Plus' Global Director of Marketing, Hana Abaza explains, "During the pandemic, direct-to-consumer brands with thriving ecommerce experiences were able to very quickly and easily pivot their marketing and messaging, their energy. They didn't have to fundamentally rethink their business model. They could focus on very different things because they were at a significant advantage."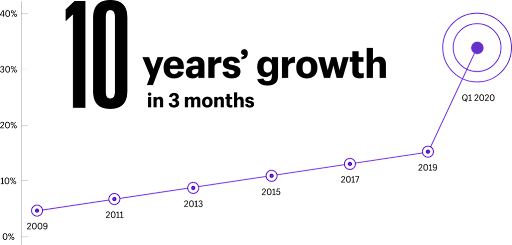 But does that mean direct-to-consumer is around to stay? Or will brands use time and resources to create online stores that will become irrelevant in a few years?
Technology will continue to shift the online shopping experience. Online shopping has yet to decrease in growth in the past five years, so it would take an opposite-of-COVID-19 Black Swan event to change consumer habits. What we may see in the future is a lack of websites in direct-to-consumer. As Facebook and TikTok create in-app shoppable experiences, retail brands might not need to pay their annual website subscription service to make sales. While this could reduce friction, it could also develop data problems in the future—as apps control the data you have over your customers.
We'll have to wait to see how commerce plays out, but until then, we know what's working today. And that is UGC.
Schedule a TINT demo today to learn how to drive DTC marketing results.