Jay Abraham is a famous name in the marketing world. He's one of the OG's of the space and he's not shy about sharing his secret to success.
It's simple: stop looking at what everybody in your industry is doing and instead look outside of it.
The whole point of marketing is to stand out from the competition and attract the right buyers. But, it's dangerously easy to get caught up in the same tactics and strategies your competition is deploying. We get wrapped up in what we "should" be doing and forget to innovate. Ads start to sound and look the same and consumers' eyes begin to glaze over after reading their hundredth rendition of the same copy.
Let's follow Jay's advice and think outside of the box.
What are marketers in other industries doing that you can get inspiration from?
Change your perspective by seeking POVs outside of your industry with these examples.
How Brands Across Different Industries Use UGC
There are certain marketing tactics that work universally across industries. One of those is user-generated content. Buyers always want to know what customers have to say about your products regardless of your niche. Sixty-two percent of consumers report that they are more likely to click on content like ads, websites, social posts, or emails, that feature customer photos rather than an image created by the brand.
Selling wood to contractors? They'd love to see ratings and reviews from happy customers.
Selling baby accessories to new moms? They're looking for UGC to make sure it's worth the money.
Selling office equipment to Fortune 500 companies? They want customers to prove that you're delivering high-quality products.
The foundation of user-generated content traverses industries but the execution is where things get interesting. From travel and hospitality to beauty and fashion — brands are using the voice of their biggest fans to stand out from the noise.
Here's how they're doing it.
#1: UGC Inspiration for the Travel Industry
Delta's goal is to get flights booked. Luckily for them — travel influencers have infiltrated Instagram. The airline can repurpose user-generated content to share special experiences on its social media channels. UGC shows real people traveling around the world and taking frame-worthy photos.

Delta uses user-generated content from influencers to show the after state they'll experience from buying a Delta flight to Iceland.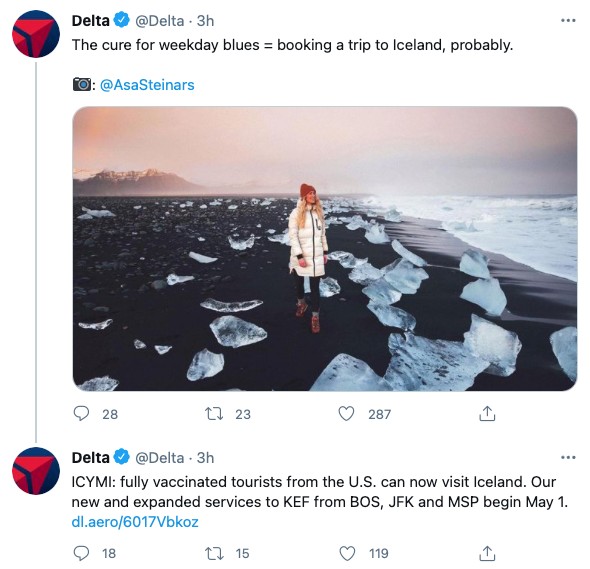 #2: UGC Inspiration for the Tourism Industry
Travelocity's #IWannaGo contest turned into a user-generated content magnet. They offered a dream vacation to their lucky winner. In return, they asked for UGC on Twitter, Instagram, or Vine from participants explaining where they wanted to go and why. 25,000 entries later and Travelocity had their winner…and an endless library of user-generated content.
Travelocity strategically asked for UGC across multiple social media platforms creating native content to repurpose in the future.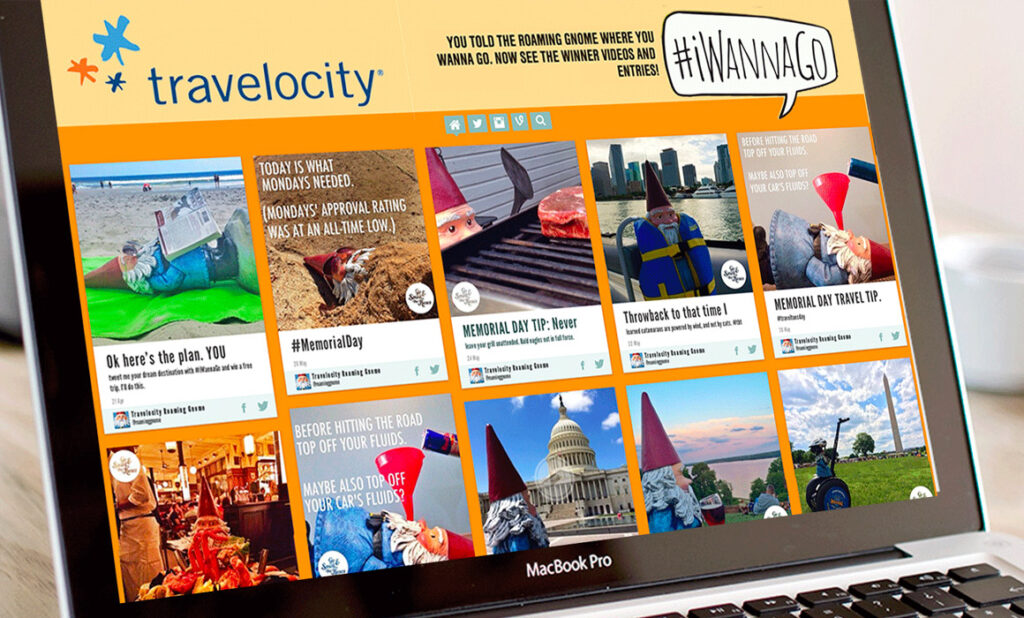 #3: UGC Inspiration for the Hospitality Industry
Sometimes hospitality brands can't go all in on user-generated content. There's specific brand-created content that needs to be displayed on social media channels (like a fancy drone shot of their hotel). For hospitality brands that want to feature high-production images and videos yet still garner the benefits of user-generated content — a mix of UGC and brand-created content is ideal.
The Marriott shares user-generated content with just a few brand-created images across their social media channels to maintain that high-production feel while still connecting happy customers with potential customers.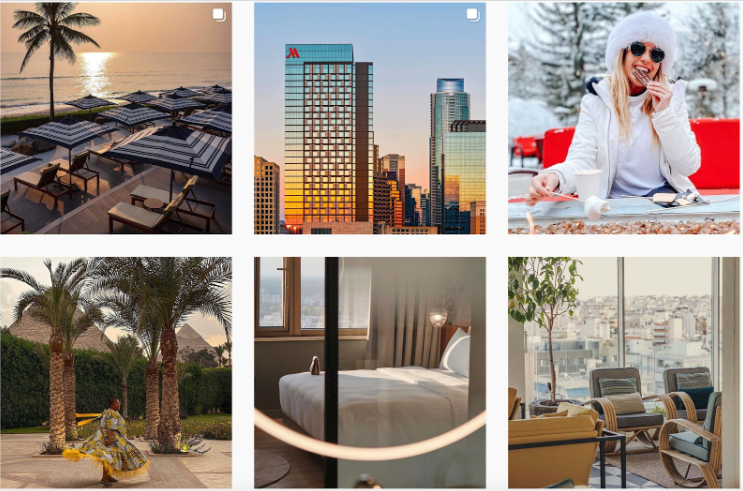 #4: UGC Inspiration for the CPG/FMCG Industry
MUD/WTR entered a competitive market when they decided to open their beverage company. They knew they'd need to stand out amongst a crowd of legacy competitors. Their strategy? A brash brand voice that inspired customers to share their brand experience online. From emails to packaging — MUD/WTR creates a sharable experience through the entire customer journey (including post-purchase!).
CPG/FMCG products used daily have an opportunity to collect massive amounts of user-generated content when your customers feel connected enough to your brand to continue to share their daily habits online.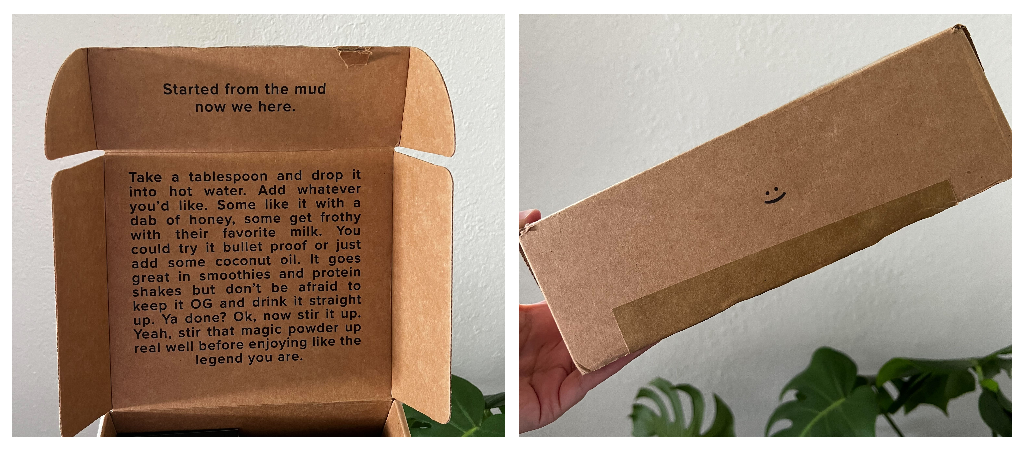 #5: UGC Inspiration for the Food and Beverage Industry
Dunkin' realized quickly that user-generated content drove growth, engagement, and conversions. In their strategy to win over Generation Z the legacy coffee and donut house started featuring their customers' voices across their social media channels. Their TikTok is dedicated to user-generated content. More interestingly, they've started to turn their employees into nano-influencers for the brand.
They're actively pursuing employees who are interested in sharing Dunkin's products throughout their work shift. The mix of user-generated content and employee-generated content gives Dunkin's TikTok an authentic and genuine feel that platforms the customer's voice instead of the brand's.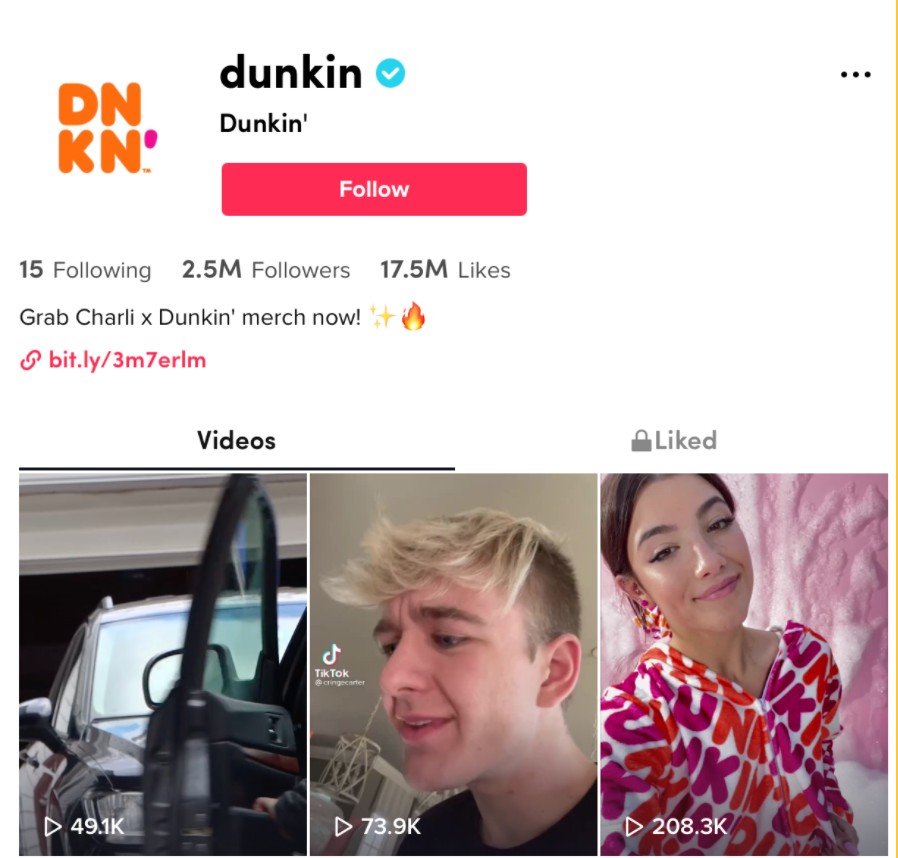 #6: UGC Inspiration for the Fashion Industry
Don't wait for user-generated content to come organically. Add requests for UGC within your customer journey, as Quince has. Quince sends an email requesting reviews and testimonials a few days after a buyer receives their order. The email strategically only has one call-to-action — leave feedback.
The fashion industry thrives off of user-generated content but that doesn't mean it's always easy to get. Inspire your customers to leave UGC through strategically timed emails, discounts, and giveaways.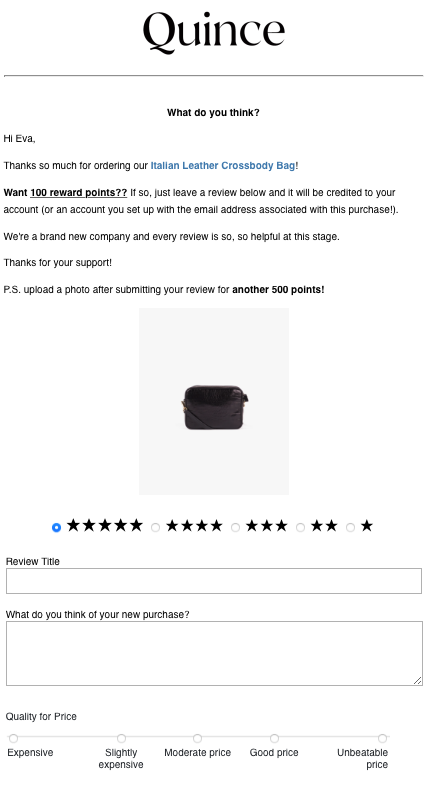 #7: UGC Inspiration for the Health and Beauty Industry
Health and beauty brands, like NYX Cosmetics, are prioritizing user-generated content on their product pages. Every product has a huge below-the-fold section dedicated to reviews and star ratings. Website visitors can navigate through reviews by choosing the star level they want to read (ex. 3 star reviews) and seeing the average customer ratings. The reviews are almost more detailed than the product descriptions!
The more reviews and testimonials you can feature — the better. Customers want to know if a product is a great fit for them and these reviews create personalization that brand-created content just can't.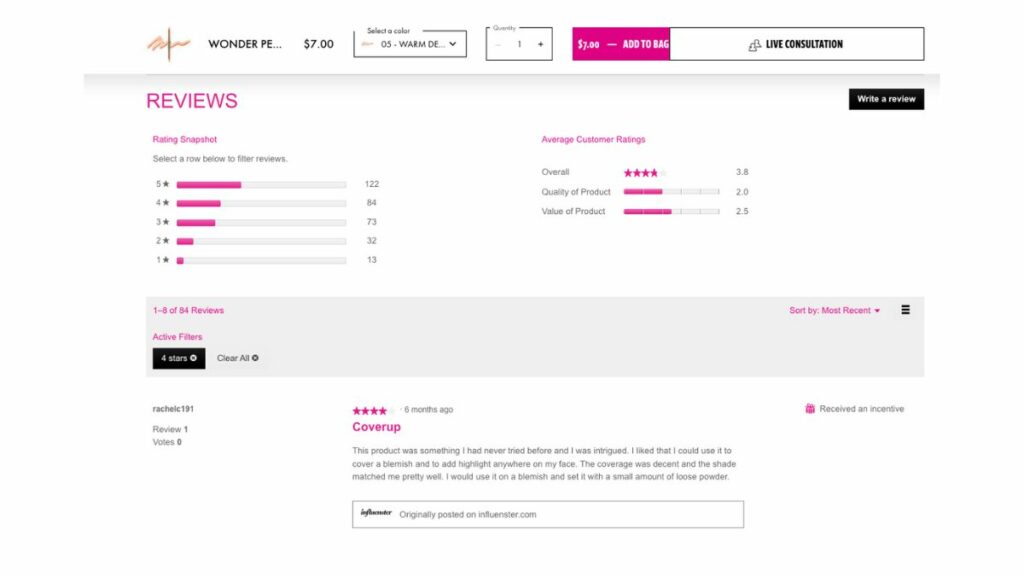 #8: UGC Inspiration for the Retail Industry
If you're going to trust a marketing strategy in the retail space…it probably should be Amazon's. As the online retailer moved into brick-and-mortar stores, they brought user-generated content with them. Ratings and reviews of books were strategically placed on shelves to give people the online shopping experience in-person. Notice how they showcase highly rated books and personalized reviews per book below?
Retailers can take a page out of Amazon's strategy and move user-generated content across in-person and online platforms for the ultimate impact.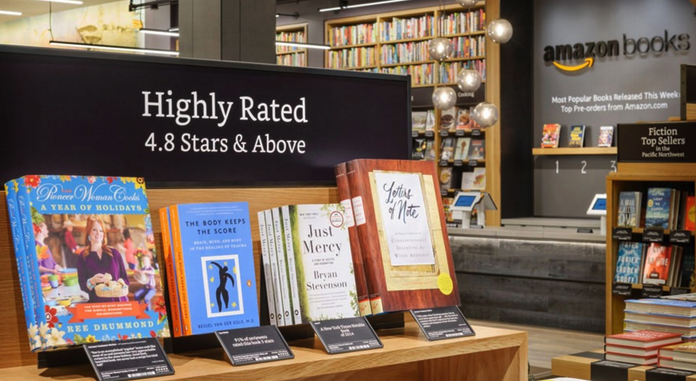 How To Get Customers To Create UGC (Actionable Steps)
Even if you don't realize it — your customers are creating UGC for your brand and products. It's slipping through the cracks as your marketing team focuses on brand-created content. How often do people take a photo or quick video as they walk into the beautiful lobby of their vacation hotel? How much do we love to post our dinners (even if it's McDonald's!) to social media? Sixty percent of consumers wish that more brands would tell their fans and customers what type of content they want them to create!
To snag the UGC promoting your brand that already exists use our machine learning technology inside of TINT's UGC Studio.
If you need to generate more UGC or UGC for a specific product or campaign — here's how to motivate your customers to post that review.
#1: Host a Contest or Giveaway
Don't wait for your audience, fans, and customers to create user-generated content. Ask them for it! Contests and giveaways are a great way to inspire your fans to create user-generated content. Just make sure you're extra clear about what you're looking for.
Do you want them to talk about a specific product?
Do you want them to leave a review on Google or Instagram Stories?
What does your ideal piece of user-generated content look like?
The more clear you are about the user-generated content you're looking for the better the results will be.
#2: Ask for UGC Throughout the Customer Journey
Your buyers are moving through your customer journey. They see your social media content, read your emails, and browse your product pages. These are all ideal places to put user-generated content and ask for it. Ideally, you have UGC that promotes specific products by strategically moving buyers through the customer journey. Your UGC can target cold leads, warm leads, and hot leads.
The best place to collect this UGC is during the buying journey. Add guidance to your emails, social media posts, packaging, and websites asking your customers to create UGC while they're in that stage of the buying journey. Ask them to share their package on Instagram Stories with a cute note inside their delivery. Or ask your social media followers to share their favorite products through your Instagram Stories and repost their responses.
#3: Keep Your UGC Organized and Easily Accessible
The best marketers are prepared. When your team decides to launch a new campaign — you can plug right into your UGC Studio to grab the necessary assets. Let's say your team asks you to create more UGC around a specific product. You'll hop into your UGC Studio and find existing UGC of that product and share it across your socials as you run a contest or giveaway to request more UGC from your audience.
The goal is to build out a library of content spanning from someone sharing their excitement when they booked a trip to your hotel to the moment they leave and sharing what a great experience it was. Your UGC Studio keeps all of that content organized and ready to share.
Which Industry Inspired You The Most?
Seeking inspiration outside of your industry is the name of the game if you ask Jay Abraham. He's always on the lookout for how different sectors are using strategies and tools to garner results. To become an A-player marketer like him — you just need to follow his lead.
Which examples of UGC felt like they could be tweaked for your brand?
Send them to your team (in this moment of inspiration) to see how they can creatively play on those ideas. Who knows…this could lead to your best-performing campaign ever.
And don't forget to stay organized. A Google Drive folder won't cut it when it comes to quickly accessing UGC as needed.
Easily collect, curate, request rights, and distribute reviews and testimonials with TINT.
Schedule a TINT Demo to see the magic you can create with UGC.