The user-generated content customer journey is built on excitement. First, the excitement of discovering a product. Then, the excitement of ordering and anticipation of that product's arrival. Finally, the excitement of experiencing and engaging with the product.
Smartphones and social media have further accelerated this journey, placing purchasing decisions and consumer resources at the fingertips of shoppers… literally. This democratization of marketing strategy has put user-generated content front and center.
Now, marketing campaigns are about turning the customer journey into a new experience. It is no longer about who has the prettiest advertisements. It is about brand awareness, using the voice of fans who drive this content strategy through their contribution of user generated content like product reviews and visual content that add authenticity to the experience.
This customer journey is a slight deviation from the marketing and sales funnels taught in Business 101. Now, a consumer goes from brand awareness to buying from that brand in record time. Social commerce takes place both on- and off-network. Potential buyers gauge popularity through the lens of customer trust and the connections they make with relevant content creators.
Marketers can now spend less time stuffing keywords (*pro tip: don't keyword stuff) and instead activate brand advocates whose loyalty should be showcased across social media platforms and content campaigns.
Users and Customers Are Telling Your Brand Story
A marketer's role used to be figuring out how to tell a brand's story in a way that perfectly resonated with their ideal customer. They did this with owned content creation like TV ads, magazine ads, billboards, and product placement in movies and tv shows. Social media gave brands the chance to have a new owned channel. With this channel, the brand could post what they wanted when they wanted, without paying a massive premium to get it seen by their ideal audience.
Add in Facebook's decision to monetize through ads, and these brands suddenly had access to consumers in the place they spent most of their time. Online.
This was when the story started to move out of the marketers' hands and into the consumers' hands. The voice of a company doesn't have to be an overly-curated brand voice developed in a marketing bullpen. It can shift into the voice of your actual customers.
With user-generated content, brands can post their customers' experience during the buying journey and let those customers tell other ideal customers why this brand is perfect for them.
User-generated content (UGC) is a photo, video, testimonial, feedback, or comment that customers create during the buying journey. It can be a photo of their confirmation email with text saying, "Can't WAIT for this to arrive!", a video of themselves unboxing their new package, or a 5-star review on the product page about how happy they are with their purchase.
The user-generated content customer journey is the brand story, told from the customer's perspective. And, it's proving to produce oversized ROI.
How To Use User-Generated Content in the Customer Journey
There are three steps along the buying journey that are generally the most exciting for a customer:
When the customer first purchases a product or service
When the customer receives their product or service
When the customer experiences the benefit of using the product or service
These steps are the most shareable experiences in the buying journey because they're the most exciting. Customers are more excited when they first purchase than three days later while they're waiting for the purchase to arrive at their doorstep. As a marketer, it's important to focus on how to amplify and share the excitement across these 3 critical steps of the customer journey with UGC.
Fifty percent of consumers want brands to tell them what type of content to create and share. With customers telling the brand story, the marketer's role has shifted from developing content to curating and highlighting that narrative.
When the customer first buys a product or service
As soon as a customer purchases a product, you want to make this moment as easily shareable for them as possible. You can do this by adding plugins and widgets to your after-purchase thank you pages that let customers share their new purchases with the click of a button.
This button opens up their social media profile populates their Facebook post or tweet with content to share. Medium has this feature, making it easy for their readers to share content to Twitter, LinkedIn, and Facebook. Take a look at how they pre-populate a tweet so it's ready to share, without the user having to do any heavy lifting.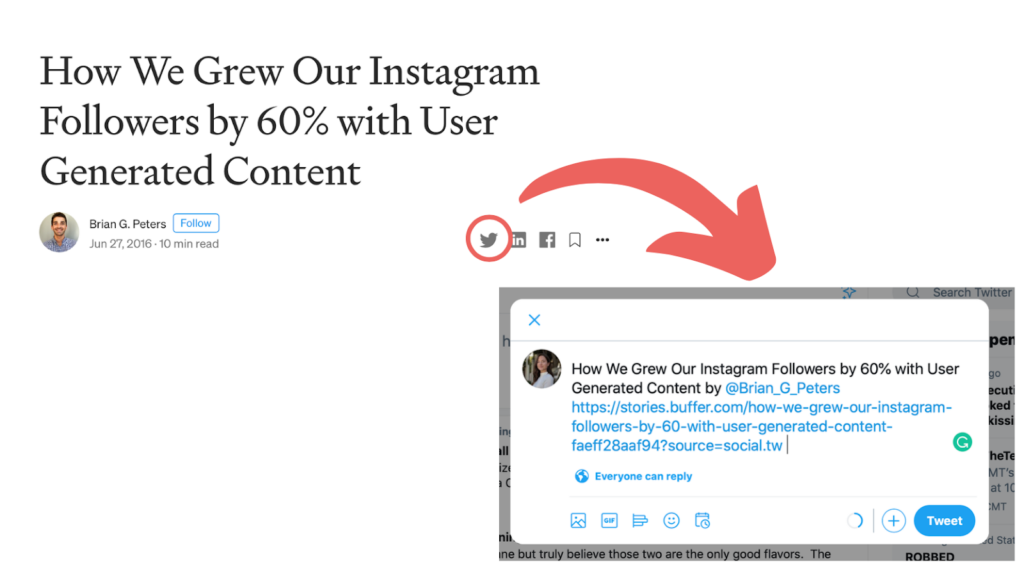 Content is the name of the game as your users share their purchases on social media. Collect it, tag it, and keep it organized in your UGC Studio to redistribute when you're ready. Be sure to ask the user permission to share their content and have them agree to your terms and conditions.
Now that you're collecting a stream of content from excited customers you can use this as content in your own customer journey. You'll show this content to cold leads and warm leads to use social proof to transition them into hot leads.
Coca Cola, UGC, and the Customer Journey
Before UGC rose to prominence, the most accelerated customer journey was created by brands using viral marketing techniques to try to get their prospect's attention. They wanted their customers to know who they were, what they did it for, and what the benefit was; quickly and in flashy ways.
For example, Coca-Cola's iconic celebrity endorsements from Britney Spears, Lebron James, and Penelope Cruz used to have to do the selling for them. Coke's goal was to show their ideal customers that all the cool kids were drinking their soda, so they definitely wanted to drink it too.
The ad campaigns were curated by marketers who told the story of coke in a way that used to work really well. Today, we're seeing a shift in consumer buying behavior. Seventy percent of consumers trust online peer reviews and recommendations more than professional content and copy.
They don't need a Super Bowl-style ad to convince them to buy a product. They need a customer or influencer to tell them why they should care about this product.
Here are a few places you can use UGC a customer creates right after purchasing a product:
Paid social ads
Organic social media posts curated to nurture your audience
Engagement email campaigns
Nurture email campaigns
When the customer receives their product
Once a customer has received their product, the customer journey shifts. They're no longer wondering what it would be like to experience having this physical or digital product. They're living through the experience, and they're excited about it.
This is another perfect opportunity to ask your customers to share their perspectives. For physical products, you can ask them to make unboxing videos or take photos when using it for the first time. For digital products, you can ask customers to share their feedback after reading the first chapter of your digital book, create a video after watching the first module of a workshop, or tag you in a tweet during a virtual event.
The key is to be specific about what you're looking for. Just like the customer journey, you want the UGC creation experience to be as frictionless as possible. If you make it easy for your customers to create UGC for you, they'll happily oblige.
Casper and UGC Unboxing Magic
Casper asked micro, nano, and mega influencers to help them share their brand's story. The story is simple: order a mattress, have it delivered to your doorstep, unfold it, and get a great night's sleep.
People were given discount codes to share with their audience and Casper asked them to share videos of themselves unboxing their Casper mattress. Here are 3 unboxing videos (of many) with 59,000 views, 140,000 views, and 75,000 views.



Here are a few places you can use UGC a customer creates when they get their product:
Paid social ads, especially retargeting
Website landing page
Email campaigns promoting offers
Organic social posts with direct call-to-action to buy
When the customer experiences the benefit of the product or service
The last exciting moment of the customer journey is when someone benefits from the product they bought. We say "last" loosely, as there are more exciting moments to come (like upgrading or becoming a loyal customer for years to come). For now, we'll stick to the simplest version of the customer journey: the excitement that comes from purchasing, receiving, and experiencing the benefits.
This is a crucial part of the customer journey to document. At this point, you'll want to be asking your customers to send direct feedback about their experience with their purchase.
This could be by asking them to leave a review for the specific products they bought, incentivizing them to share a video testimonial, creating a content series that promotes sharing themselves using their product, etc.
Harry Dry from Marketing Examples reached out to his Twitter audience, asking them to leave feedback about his marketing newsletter as a reply to his tweet. This is a great example of asking for UGC: Harry created a simple, seamless way to create UGC that didn't require a ton of effort on the user's side.
yo! mind doing me a favour?

I'm trying to fill my new newsletter sign up with real quotes

If you find Marketing Examples (@GoodMarketingHQ) useful mind commenting a few words below

thank you for any help pic.twitter.com/yXkp49JSMq

— Harry Dry (@harrydry) July 27, 2020
Harry uses these testimonials on the landing page for his email newsletter: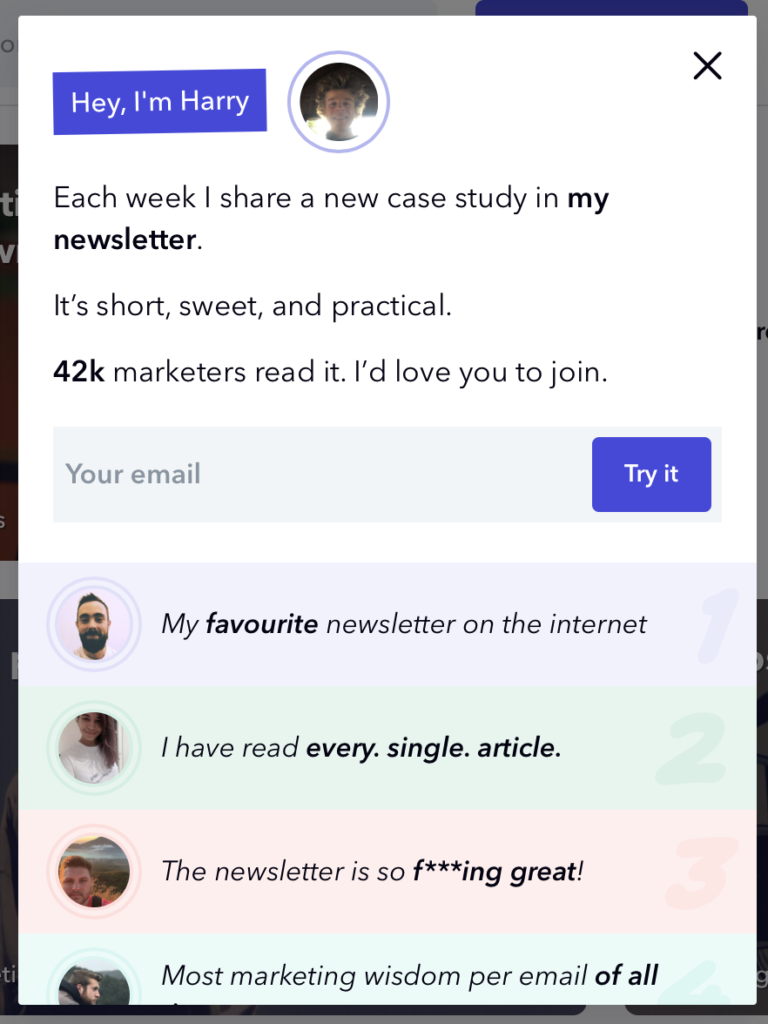 Even though results are created at the end of the buying journey, you can use this UGC with cold leads, warm leads, and hot leads. The key is to find the results-based UGC that fits the current stage in the customer journey of a cold lead, another set of UGC that fits warm leads, and another that fits hot leads. With TINT UGC Studio, it's easy to organize the UGC that you've collected to deploy on exactly the right channel and exact step of the customer journey to make the most impact.
Here are a few places you can use UGC created by a customer at the time when they experience the benefits of their purchase:
Paid social media ads
Product pages
Emails
Organic social posts
A Quick Summary: The Role of UGC in the Customer Journey
We've covered three critical steps for user generated content in the customer journey. Learn more strategies to incorporate UGC into all aspects of the purchase lifecycle and the important role of social care in our webinar with Hootsuite.
The user-generated content customer journey lets your customers' voice do the selling for you. While elaborate advertising used to drive massive conversion, customers have stopped looking towards highly productized content to decide if they want to buy a product. Instead, they're focusing on product page reviews and other content that drives authenticity.
Thanks to social media, brands can use customer photos, videos, testimonials, feedback, and comments to drive real results:
Ninety-two percent of consumers trust recommendations from other people, even if it's people they don't know
Forty-eight percent claim that user-generated content is a great method for them to discover new products
Ads based on user-generated content receive 4 times higher click-through rates and a 50% drop in cost-per-click compared to average ads
The user-generated content customer journey is all about accelerating buyer intent, increasing discoverability, and creating influential brand advocates everywhere. Learn about incorporating UGC into your buyer's journey, talk to our content experts today.