One scroll through social media and it's clear that user-generated content has taken over the feed.
Consumers love seeing brand communities and customers share their experiences. They're asking brands to post UGC – and scrolling past brand-created content at a, seemingly, faster rate than ever.
Each year, we compile a list of user-generated content statistics (and a few supporting stats!) that help marketers plan their campaigns and overall strategies. These statistics come from our 2023 State of Social & User-Generated Content report, as well as past reports, and statistics from other sources.
Check out the need-to-know UGC statistics leading the 2023 marketing trends, and make sure to read the last section to get advice on how to take action.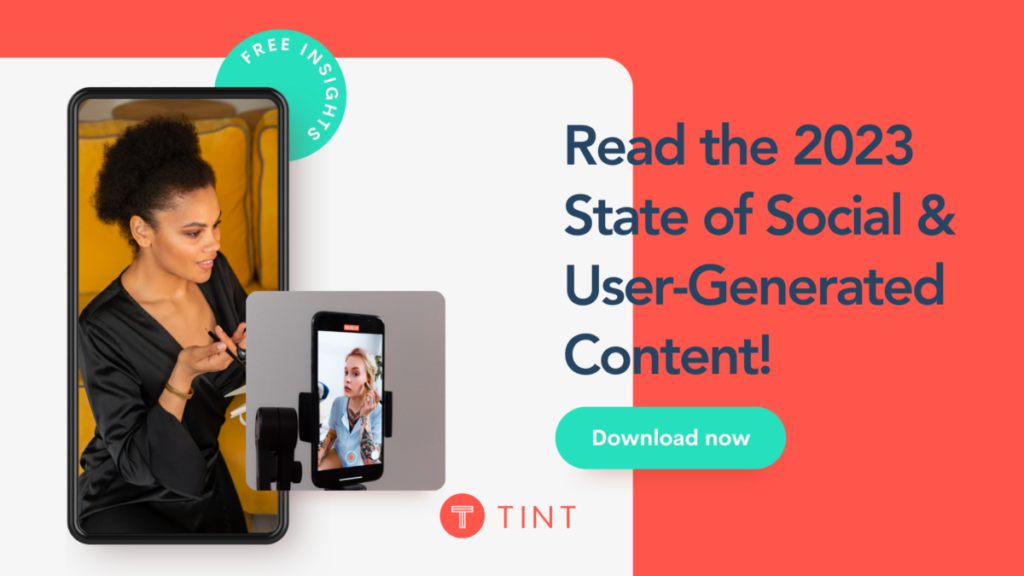 Key User-Generated Content Marketing Stats to Remember
UGC and Social Media Marketing Stats
User-Generated Content for Email Marketing Stats
Digital Advertising Meets User-Generated Content
User-Generated Content and Web Content Stats
Brand Marketing Stats
eCommerce and Social Commerce Stats
Travel, Tourism, and Hospitality Stats
What Do These Marketing Stats Mean For Your 2023 Strategy?
Statistics tell you which direction to look – but they don't give you the map to find your destination. Looking at the macro landscape tells us that there are some major trends to tap into that will increase your engagement and conversions. Better yet, it can build a stronger bond between your brand and community.
Here are some actionable tips for adding these statistics to the micro parts of your marketing strategy.
Social Media Content
As social media grows into a better search engine, it's up to marketers to create searchable content. Add in buyers requesting user-generated content along their buying journey and all signs post to creating UGC with clear value propositions (that can get picked up by the social media algorithms!).
Email Content
Personalization in email is winning. Subscribers want less of everything you do and more of what they care about. Use lead magnets, contests, and specific ad campaigns to segment subscribers as they come into your list to ensure you're only talking to them about what they care about. For people already subscribed, send out a quick "What do you want to see from us?" email with links that automatically segment the subscriber when clicked.
Digital Advertising
The shift to video is here. It's no longer on the horizon – something to worry about later. Marketers need to create video and audio content that meets the latest in consumer trends to meet their community where THEY are. To get a boost on video content, use TINT to find and get the legal rights to the videos your community has already posted.
Web Content
Your buyers want to read and see reviews from other customers just like them. By adding visual reviews to your website and product pages (alongside user-generated content), you'll create the feedback loop that your audience is looking for. You'll also warm up buyers to leaving their own reviews after purchase. 
Brand Content
Consumers are asking for video and audio content, but that doesn't magically make time appear for it on your to-do list. Avoid putting off this necessary shift in content and add UGC to your marketing channels to publish high-quality, highly converting content that your buyers are already asking for.
Let these statistics serve as a compass that can show you the way to create a high-performing marketing strategy in 2023. Start to build out your brand's UGC strategy (and start collecting UGC from the web in no time!) with TINT. We help brands like Canon, Nestle, and more connect with their audiences through the power of social media and UGC.
Schedule a demo to see what TINT's all-in-one social content platform and UGC strategists can do for you.