Customers are the backbone of any business. No matter how good your business idea might be, if you cannot engage customers and make them stick with you for a long period of time, there is no way you can stand in the market for long. But customers don't only spend their time online.
When it comes to retaining customers and even using them to hack growth, customer engagement is the buzzword of the day, but what does it really mean? In order to truly engage customers and build your brand around them, you need to be wherever your customers spend their time. At the same time, you need to give them multiple reasons–strong incentives–to visit you wherever your company has a strong presence, whether online, offline, or somewhere in between. A secret I've learned as a consultant is that the most successful companies today engage their customers both online and offline.
Consumers have more options than ever before, and they expect personalized content. Hacking growth successfully requires overlapping online and offline strategies in order to stand out and make a lasting impression on customers. Here are 5 proven ways to combine online and offline strategies, with examples from brands that do it exceedingly well.
1. Warby Parker: Try offline, buy online
Few companies of any size have combined online and offline marketing as well as Warby Parker has. The innovative brand sells sunglasses and prescription glasses, but they are not a traditional online store. They are radically different. Warby Parker gained a reputation by changing the system and overlapping offline and online customer experiences for more effective marketing.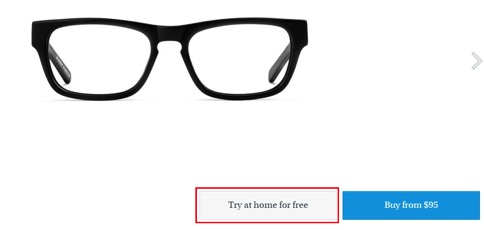 The idea is simple, before you pay for the glasses, you obviously need to try the frame and see if it's a good fit for you or not. Even if the measurements look right and you like the color, there's really no substitute for trying on an actual pair of frames and seeing how they look (no pun intended). But nobody until Warby Parker could figure out how to offer this experience from an online eyewear store.
Then they had an idea. What if they sent you a bunch of frames in the mail and let you try them out? It was a radically simple idea but implementing it worked well, to say the least. Warby Parker is now valued at over $1.2 billion. The number speaks for itself.
2. Modalyst: Online Tools to Help You Compete Offline
As consumers shift online for their shopping needs, especially when it comes to everyday items like shoes and clothing, traditional stores can be afraid of change. Or they can embrace it. Modalyst came up with a way to let smaller offline retailers, such as your favorite neighborhood boutique, access wholesale pricing using their online tool. It's a prime example of the little guys banding together to create better business.
Basically Modalyst is an online tool that helps offline businesses compete with online ones. Jill Sherman, CEO and cofounder of Modalyst, explains that their main mission is to "help retailers compete with large online retailers such as Amazon, as well as offline fast-fashion retailers such as Zara and H&M."
The lesson here is that whatever industry you're in, there are tons of new tools to help offline businesses compete with online ones, and visa versa. Explore your niche and if the right tool like Modalyst doesn't exist yet, create it yourself!
3. Lesson from the Real Estate Industry: Live Chat Sells
Now that it's as easy to install as copying and pasting some code onto your website, live chat software has become a popular way to combine sales, marketing and customer service. But live chat isn't just about achieving maximum exposure or even just answering questions in real time (though those are both great benefits). For numerous types of businesses that rely on offline meetups to close deals, it's about building and nurturing real relationships. Nowhere do we see this so clearly than in the real estate industry right now.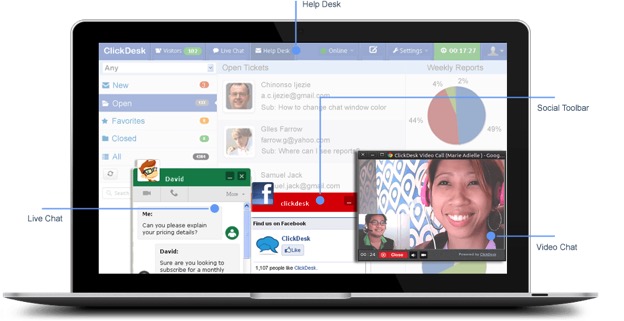 On the leading real estate website Inman, Craig Rowe writes that live chat can "increase the value of every website visitor" by letting agents target specific interests (using marketing automation), form a bond with interested buyers online (using text, voice or video chat), and then meet those buyers offline in the real world to show them properties. Rowe also emphasize the importance of file sharing and similar features that let agents exchange information with web visitors: "Files can be exchanged between agents and visitors, making it an ideal pathway to send agency agreements or personalized agent collateral after a prolonged discussion."
Since we're talking about online and offline strategies can be combined, it's interesting to note that in the live chat world, we often talk about combining online and offline support for customers, but when we say that we're actually talking about two online tools–it's just that one doesn't happen in real time. Modern tools like ClickDesk include ways to track customer conversations and continue them after chat sessions, usually through a combination of helpdesk ticketing and email communication.
So when you hear a business pitching its "offline support," don't be surprised if they use an online tool to offer it! Realtors and real estate agencies have been taking advantage of this feature to track buyer interest and follow up over long period of time.
4. Conferences Are Going Social: MozCon and Beyond
Moz.com is one of the finest names when it comes to Inbound and Digital Marketing. They hold their digital marketing conference every year under the banner of "MozCon" (great branding in its own right). This is a conference where they allow their customers, other industry professionals and SEO/SEM leaders to meet in person and share knowledge with each other.
Arranging a conference is a typical offline branding idea, but every year MozCon pulls the offline conference back into the online world by live tweeting with the #MozCon hashtag.
The results this past year were phenomenal. Although there were only 2,500 attendees at the actual physical conference, the hashtag started to trend on Twitter (no easy feat):
Using Twitter to promote an offline event online is a powerful marketing strategy for customer, lead and even public engagement. People who were not at the conference start to tune in and retweet and the event and participants get a lot more exposure, at no extra cost since most conference participants these days are already active on social media and happy to share. Pretty much every marketing conference is taking advantage of this strategy now, including the infamous ANA Masters of Marketing Conference with the hashtag #ANAMasters.
But what do you do with all that new social content? The most successful marketing strategies pull social content into the physical event space with technologies like TINT that pull social feeds and hashtags into one central social hub. This creates an engaging visualization of conference trends and ideas, live in real time. It can also serve as an incentive to encourage conference goers to share more on social media — another effective tactic that conferences use to trend on twitter.
5. Starting a LinkedIn group? Start a Meetup too.
According to research in 2009, Meetup.com is worth somewhere between $44 Million and $117 Million. How did a company that just helps people "meet up" get so big?
There is no stronger connection than being with a person in real, face-to-face communication. With that in mind, Meetup.com had the idea of using the internet to get people off the internet. Forming a meetup around your product or industry, maybe even a local networking group, can be a powerful tool for overlapping offline marketing with your current online strategy.
Meetup is a place where you can create an event, ask people to join, invite people, make comments and communicate online, but the end event happens offline and people get the chance to meet like-minded people in person. Not only do you have new chances to market your brand, but you also start to create a community.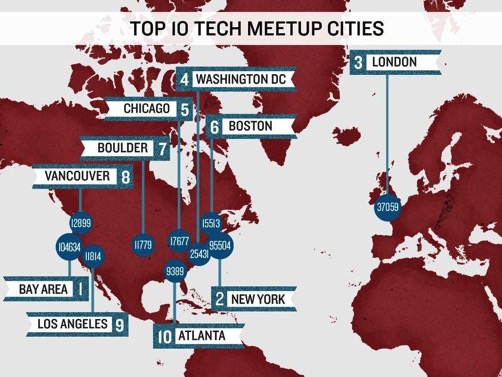 In addition to going social with your conferences, starting a Meetup group for networking or other collaborative social activities is a great way to build an audience the old-fashioned way, while at the same time staying connected and sharing information online. The New York Tech Meetup  is the world's largest meetup group with more than 48,000 members. And guess what? Their LinkedIn Group has over 5,000 members.
All of these combined online-and-offline strategies have something in common: putting the customer first.  I hope that these ideas help you reach the next phase of business growth. The modern consumer wants a combination of offline and online engagement. If you can give them an overlapping experience, you might just be the next company whose value is so big that journalists write articles just to speculate about it.