It was a night of victory for the Tampa Bay Buccaneers on Sunday, Feb 7.
The second-time Super Bowl champions not only took home the trophy for the big game but also won the coveted Tag-o-War hashtag battle against the Kansas City Chiefs.
It's no secret that the Super Bowl is an internet chatter frenzy maker. At TINT, we wanted to have some fun displaying all the user-generated content, debates and all, on one landing page to see which team generated more buzz on social and if the Tag-o-War winner would match the actual Super Bowl winner.
The Tag-o-War page was created with Experience Builder quickly with a few clicks and no development time. Right away, thousands of posts from Buccaneers and Chiefs fans came flooding in displaying who they wanted to win, behind the scenes shots from the Super Bowl, and more. The respective hashtags were ingested and displayed on a dedicated landing page for viewers to keep track and join in online competition chatter.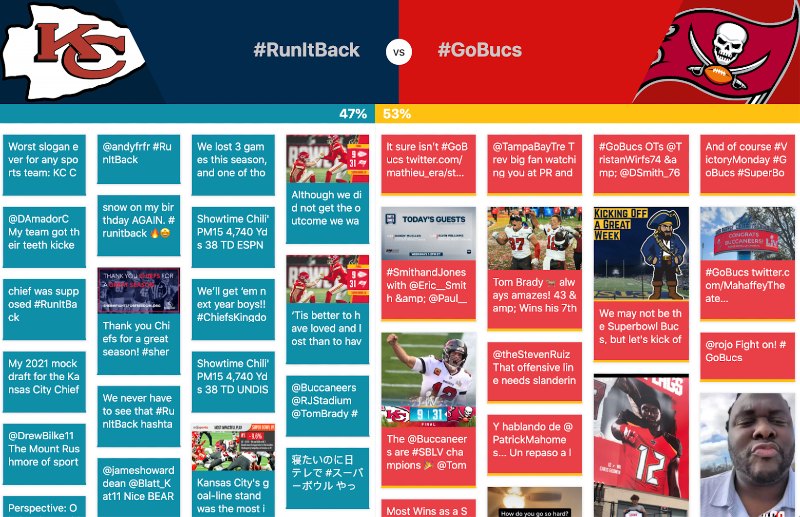 With the two hashtags pitted against each other, the matchup of #GoBucs (Tampa Bay Buccaneers) vs. #RunItBack (Kansas City Chiefs) was slightly closer than the actual game. The Buccaneers pulled out the win with 53% of mentions compared to 47% of hashtag mentions for the Chiefs.
Total hashtag battle results:
35,079 mentions #GoBucs (53%)
31,015 mentions #RunItBack  (47%)
This example is just one way that similar Tag-O-War Hashtag battles can be created in a few clicks in Experience Builder to create real-time engaging contests with social content while building awareness around new or existing hashtags for a brand, event, or campaign.
How to Use Tag-O-War Hashtag Battles
Identify an Opportunity – Whether it's a campaign, new products, event, or branding you want to battle, launching or identifying two hashtags to compare is the first step.
Implement – Utilizing the TINT Experience Builder – quickly launch your hashtag battle with templates, simple WSIWYG editing, and custom branding capabilities.
Promote – Share the hashtag battle URL on social media, on screens at your event, and wherever you choose to build engagement and promote your battle.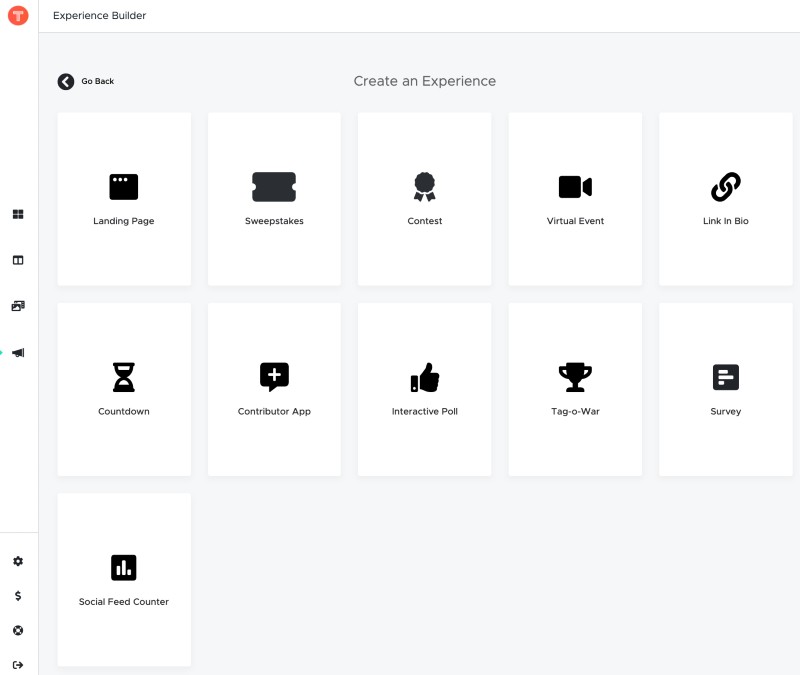 Experience Builder is a fast, elegant solution to empower marketers to create and launch customized UGC experiences in minutes. Your fans, customers, constituents, and users are always open to engage.
We're here to help you launch your contest and start driving brand engagement straight away. Request a demo