Social media contests benefit everyone involved.
Participants have the chance to win amazing prizes they might only dream of, while the brands running them gain access to new leads and customers.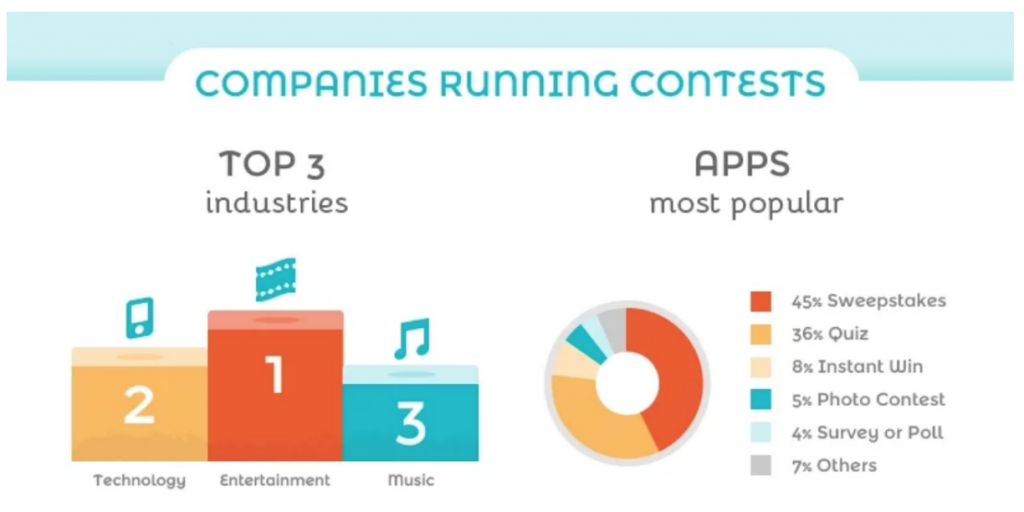 They're so popular, in fact, that the vast majority of brands have implemented a contest of some kind into their social media strategy.
Today, consumers are savvier than ever and are constantly seeking out deeper connections with the brands they follow and buy from. Bonding with customers is vital if you want to generate a strong and loyal following – and social media contests help do exactly that.
As well as encouraging engagement around your brand and products, they also emphasize the rule of reciprocation. 
This means that, if you give today's consumers something, they automatically feel like they should give you something in return.
For many brands, social media contests have brought incredible benefits, including: 
More online engagement

– contests inspire people to make the first digital move and interact with your brand

An increase in email subscribers

– social media contests are an amazing form of lead generation. In return for the chance to win a prize, consumers are more than happy to hand over their contact details 

Going viral

– virality is the dream for many brands, and social media contests inspire this. If your contest is fun and exciting, people are automatically going to want to share it with their friends and family
Here's some real-life contest inspiration to get your creative juices flowing. 
1. #ImNotABox
World-famous shoe brand Zappos hit the big time with their social media contest #ImNotABox that encouraged followers to come up with and share their most creative uses for their empty shoe boxes.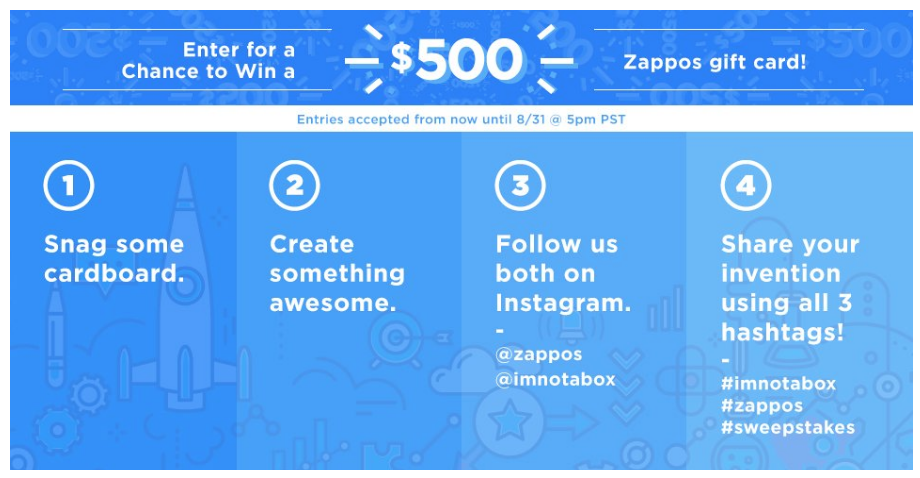 The contest actually went viral and, off the back of it, Zappos created Box Home, a short, artsy film that captured the creativity and emotion shared in the contest entries. 
In it, a young boy builds a cardboard home out of materials found around the house for a homeless man. The moving piece of content shares the brand's values with its followers and builds a deeper connection with potential buyers.
Why the #ImNotABox Contest Worked So Well
Zappos didn't just stop with the campaign when the contest finished.
Instead, they leveraged the success to kickstart additional content that showed a different side to their brand.
You can use the entries you get from your contest to create engaging pieces of content and move seamlessly into your next campaign.
This also keeps contestants engaged and following along, because they already have an invested interest in the topic since they took the time to enter themselves. 
The prize was a $500 Zappos gift card. 
2. #WaveVideoADay
Getting people to enter your social media contest can be a struggle, but Wave.video overcame that barrier by bringing an influencer on board.
They hired the help of Facebook pro Mari Smith to host their #WaveVideoADay contest that encouraged people to create a video every day to improve their video making skills.
To enter, contestants simply had to link out to their video on the contest post and the selected winner got free access to Wave.video services for a month.
In the end, more than 1,700 people entered the contest, boosting Wave.video's following and user base. 
Why the #WaveVideoADay Contest Worked So Well
Wave.video is a platform that helps marketers create videos for their social channels without any prior experience or skill. 
The goal of the contest was to boost awareness of the platform by showing people how easy it is to create engaging videos with just a smartphone. 
When Wave.video set up the contest, Mari Smith was making headlines in the Facebook world by encouraging business owners to use video in their Facebook ads. 
It was a no-brainer to bring her on board. 
Mari's pre-built audience consisted of people who were interested in video, so the collaboration was a match made in heaven. Wave.video got access to Mari's followers, while Mari benefitted from being further solidified as the go-to Facebook video guru.
3. Holiday Park's New Zealand Brand Trivia
Part of running a successful social media contest means attracting high-value customers and qualified leads rather than anyone and everyone who's looking for a freebie. 
This reduces the possibility of attracting and populating your list with people who have zero interest in your brand.
To get around this, Holiday Parks New Zealand ran a brand trivia contest. 
The series of questions qualified people who were interested in camping and the outdoors, and the winner was selected from a pool of contestants that answered the questions correctly.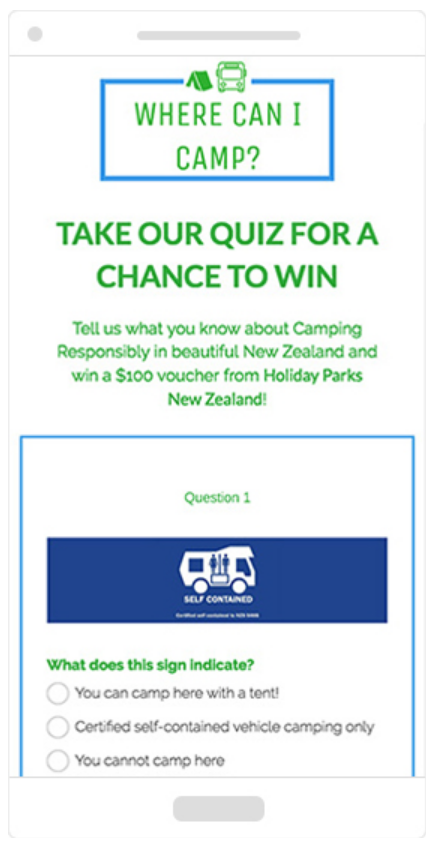 Why the Holiday Parks Trivia Quiz Contest Worked So Well
Take a leaf out of Holiday Parks New Zealand's book and test your customers' knowledge of your brand. This means your leads will all be people who know about your business and are therefore more likely to invest in your brand.  
You don't have to make your trivia just about your brand, though. 
Instead, create a series of questions relating to your industry or a relevant topic in general. 
The big benefit of this is, as well as generating engagement with your quiz, you can collect a ton of decent information about your followers and help educate an interested group further in the topic. 
Not only will you be able to pick out contestants that know your brand inside out, but you'll also be able to segment them on your email list to create highly-targeted campaigns especially for them. 
On top of that, the results of the trivia will give you an insight into what your audience does and doesn't know about you and your industry. This gives you plenty of content inspiration for future blog posts and videos. 
4. #GoProMillionDollarChallenge
GoPro is the king of contests, and rightly so. 
The adventurous nature of their brand lends itself perfectly to high-energy contests and amazing user generated content. 
Their #GoProMillionDollarChallenge tapped into this by encouraging people to submit their active videos filmed using the new HERO 7 Black. 
They used the hashtag #GoProHERO7 to collect all the entries in one place and to further promote their latest product, which the campaign was made to celebrate. 
However, unlike the other social media contests listed here, there wasn't just one winner. 
Instead, to align with their #GoProFamily core beliefs, the brand selected a series of winners. The chosen creators were featured on GoPro's Instagram page and each won an equal share of a million dollars.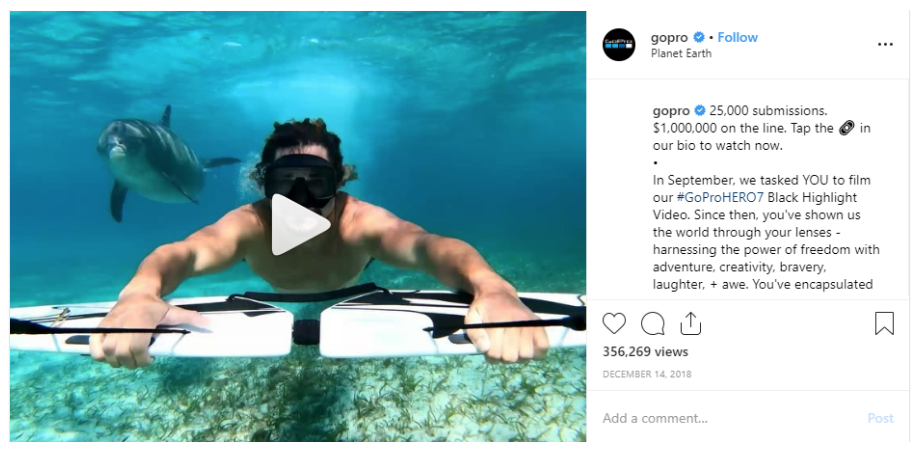 Why the #GoProMillionDollarChallenge Contest Worked So Well
Keep your brand and product front and center.
It's easy to run a generic contest just to get as many subscribers as possible, but GoPro used the #GoProMillionDollarChallenge to solidify their brand personality and to bring together its audience from all over the world.
While doing this, it kept its product at the forefront of consumer minds.
In order to enter the contest, users had to create a video with the HERO 7 Black and then use the product-focused hashtag to share it. 
5. Lego Space Theme 
Lego is well known for its creative social media endeavors, and its Space Theme contest is one more example. 
One of the key things Lego prides itself on is making sure fans and followers feel like they are an important part of the brand's story. Much of their social media content is user generated, and they regularly ask fans to share new ideas for products.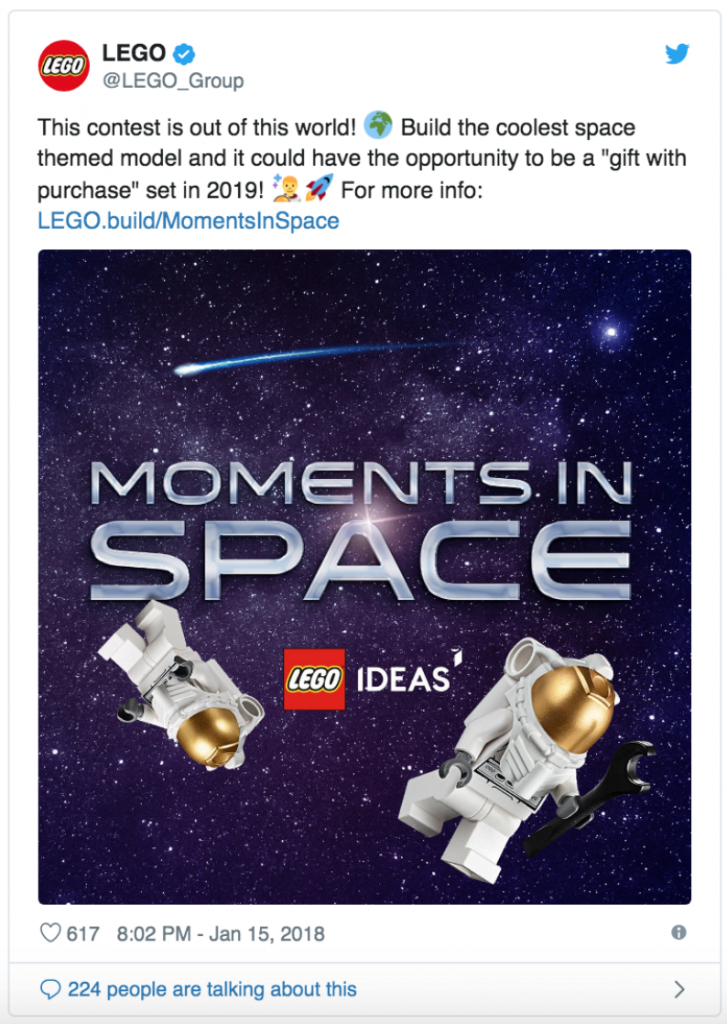 As part of the contest, entrants were asked to submit their space themed models for a chance to have them sent out as a free gift with future purchases. 
The prize is something that Lego fans could only dream of winning. 
This goes to show that your prize doesn't have to be monetary or epic in order for people to get excited about it. In fact, this is probably one of the best prizes Lego could have given its died-hard fands. 
Why the Space Theme Contest Worked So Well
Lego always manages to create a sense of community around its brand with its social media campaigns, and the Space Theme contest was no different.
Not only did they get a unique batch of user generated content to share across their social channels and website, but they also used the contest to listen to their audience and get feedback on their products.
The space models that were entered into the contest could then be used as future product inspiration, again reiterating the important role Lego's customers have in its story.
Everybody Wins With Social Media Contests
If a social media contest isn't on the horizon for your brand, it's time to change that.
The benefits are too interesting to ignore. 
Not only do you get to increase exposure for your brand (and have a go at that much-coveted virality factor), but it's an incredibly powerful way to generate qualified leads that are engaged and invested in your brand. 
All you need to do now is get started – and we've got just the thing. 
TINT's new Experience Builder is the perfect tool to help you launch your contest and start driving brand engagement straight away.