Academic graduations and commencements have been held as significant scholastic ceremonies for over 800 years, but in the face of COVID-19 virtual graduation has become the new normal. Academic events are important cornerstones of society. UNESCO recognizes these social practices as major cultural structures in the lives of communities. It is part of an important intangible heritage that marks the stages of a person's life. For many, walking the stage as a graduate is the pinnacle of public accolades in their lives. 
Academic event organizers have been feeling the crush. 2020 Trends tracked by Hootsuite Insights, a social trends and digital listening tool, saw a major spike in the online mentions of "Virtual Events" used in combination with "Higher Education".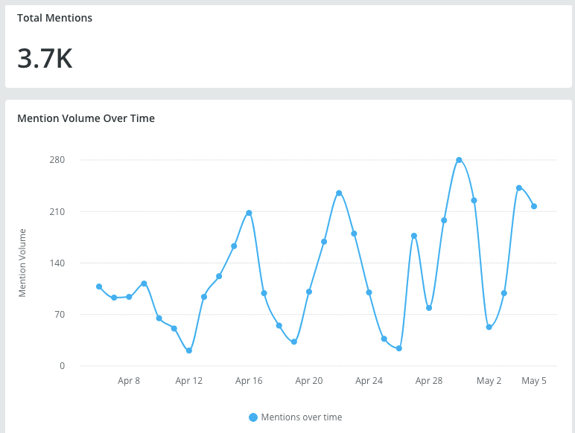 Moving graduation online should not be an intimidating task. The same practices hold true, with a slight change of venue. Let's talk virtual commencement and graduation.
How does virtual graduation work?
Virtual graduations are online celebrations that stream or otherwise webcast a mix of prerecorded and live content. In recent years, many educational institutions have included live-streamed elements of their graduations to create additional opportunities for family and friends of graduates to participate in the ceremonies.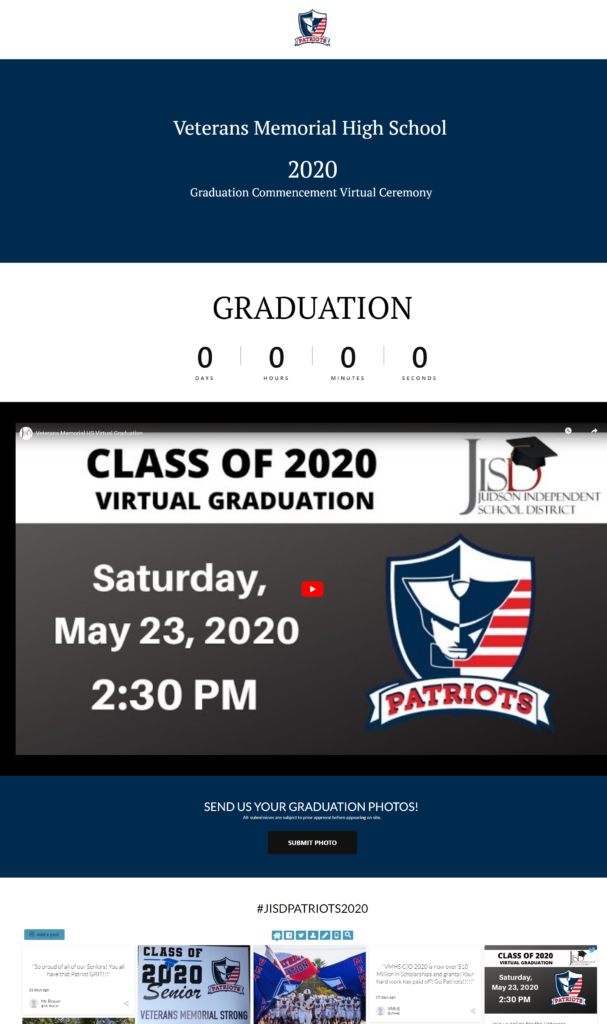 What makes a great virtual commencement?
In the face of the global pandemic, a vast number of schools have moved their matriculations online. The overall increase in access to high-quality video cameras (cellphones) and streaming software has made it easier to capture content to be spliced into a single video.  As virtual commencements and graduations mature as a more commonplace strategy, more and more institutions are adding specialized elements like microsites, simulcasting to social networks, interactive content, and social media integrations. 
The Site
Virtual graduations, like any graduation, should feel like a special event. Great virtual graduations are often hosted on standalone or dedicated microsites such as the example of edX's #GlobalGraduation. The deployment of minor theming may require some technical support, but the extra step is greatly appreciated by all stakeholders.  
Possible Microsite Theming Ideas 
School Colors

School Mascot

"General" Graduation ( e.g. mortarboards and tassels) 

Community Icons and Iconography (City, Neighborhood)
Social Destinations
An important element of virtual graduations is creating avenues of accessibility. A common question is "Should I stream live on my social pages like Facebook or just on my microsite?". The quick answer is Yes, but it depends. There are several important criteria that should be considered. 
Should I Stream my Graduation on Social?
Are there any technical limitations to the streaming software that would make it difficult to push to social?

Some streaming software has native integrations that allow the quick and easy "push" to social with the click of a few buttons. Other suites may require transcoding or transmuxing, the repackaging of a file format before the stream can be sent elsewhere.

Do you have the staff capacity to monitor social sites?  Every placement of your stream requires some degree of monitoring. People monitoring these streams should be watching for stream quality and engagement. If your team is small, it may make sense to avoid having to watch comments or quality concerns on sites other than your live stream.

Does your microsite translate well to mobile? You should never assume that all your community members have access to computers or high-speed internet. If a significant portion of your community demographic has possible connection issues, your microsite should be highly optimized to mobile devices. If your site does not work well with mobile, it may make sense to stream to popular social networks that have native mobile applications that make your content more accessible.

Is there any content that would cause your stream to be canceled?

If you're planning to use copyrighted music or video clips, be mindful of the policies of your target streaming destination. Some sites like Facebook or Twitter are relatively lax in their consideration of copyrighted content. Other sites, like Youtube, are draconian in their enforcement, quick to issue strikes against offending accounts that could result in punishments like demonetization or account deletion. 
Social and Community Engagement
Commencements and graduations are community celebrations. They are opportunities for people, connected by a common educational institution, to share their hope for the future. The best virtual graduations will find a way to capture this and celebrate it. 
Ways to incorporate community engagement
Encourage students, families, faculty, and staff to submit graduation photos using a hashtag.

Ask students to create a micro-video of their graduation moment using TikTok. 

Give family members the opportunity to "sign" an online yearbook with meaningful comments for the graduates. 

Allow community members and local people of influence to submit short videos that are included as part of the ceremony preroll or cutaways.
Best Practices from the TINT Virtual Graduation Season
TINT has had the opportunity to support hundreds of both in-person and virtual commencements, graduations, and ceremonies. We've collected some of our favorites that showcase best practices for anyone planning virtual graduations. 
The NYU Graduate School of Arts and Science is a masterclass in virtual graduation.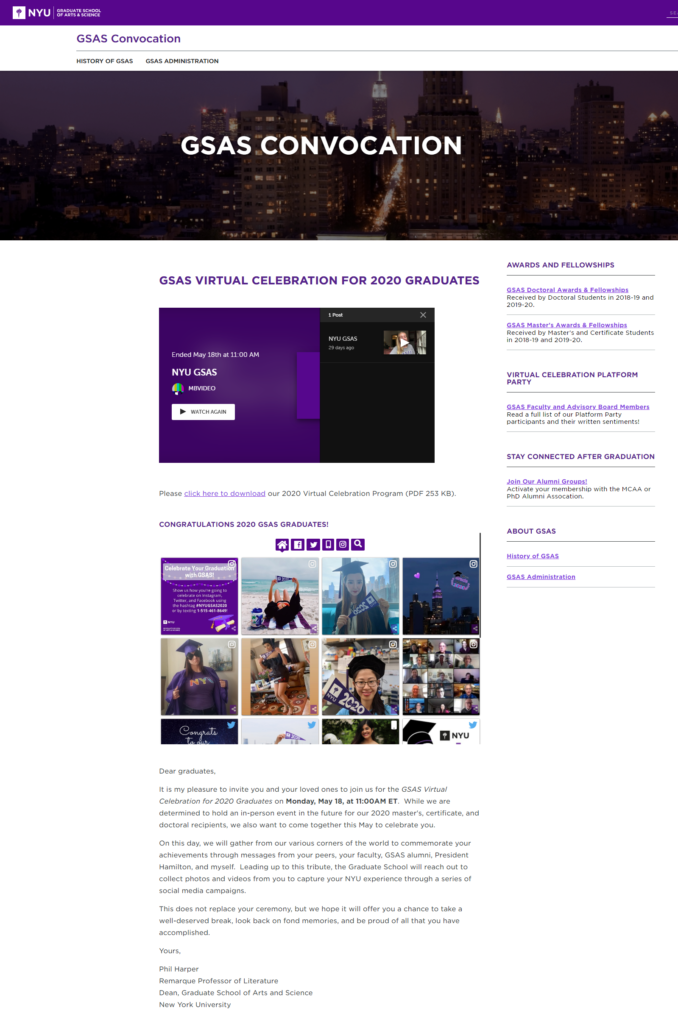 The New York University Graduate School of Arts and Science translates all the elements of graduation into a digital space. Their graduation page could serve as a checklist for a great virtual graduation. 
Elements from NYU GSAS
Streaming Video

Social Aggregation: Content from students, faculty, and staff collected from across multiple platforms including direct submission by text message. 

A letter from the Dean

A downloadable PDF of the Event Program

A list of congratulations and written sentiments from Faculty and Advisory board members

Special callouts for Awards and Fellowship recipients. 

A clear call-to-action to join Alumni groups. 

A mobile-optimized site.
edX turns its Global Graduation Yearbook into a content engine. 
edX is an education platform that delivers massive open online courses (MOOCs) to users around the world. These courses are available in almost every discipline and dozens of languages. With over 120 educational partners like Harvard and U.C. Berkeley, edX is a global standard for online learning. 
By its very nature, edX classes consist of globally disparate learners united by their coursework. To celebrate the academic milestones of its users, edX launched the virtual #GlobalGraduation hashtag. Individuals from across the globe were able to share photos and thoughtful sentiments, increasing the sense of community.
After submission, the team at edX was able to get permission to use some of these testimonials as social proof of the efficacy of their programs. 

Judson ISD keeps graduations going with well-crafted microsites
The Judson Independent School District serves almost 50,000 students in a large swath of South-Central Texas. They have five high schools in the district, each with a distinct identity. Using TINT Virtual Event Experience Builder, JISD created five individual microsites. Each was specifically themed to the colors and mascot of the specific school.  Since the asset types required to generate each microsite were identical it was an easy lift for district personnel. 
Parents were excited to share content and engage as the graduation took place. 
—
Discover how TINT can make your virtual commencement, graduation or online activation truly memorable. Schedule a demo with our specialists today.