User-generated content from the beginning was a good idea, because:
UGC was helpful for filling in gaps in content calendars. 

UGC showed promise in its engagement and conversion rates, in comparison to brand-created content.

And UGC helped brands keep tabs on how customers were feeling about their products.
But user-generated content (UGC) is much more than just a "good idea" these days.
It's not a nice-to-have either.
It's a must-have because the UGC trends and themes shaping the future of marketing rely on it.
In the State of UGC 2022 report, our research uncovers 5 consumer trends shaping the future of marketing and the marketing themes we're seeing in 2022. From marketers vying for more engagement and ROI to not having enough team power to keep content published… user-generated content will continue as the MVP of marketing this year. 
More people are creating content online than ever before, even claiming they want brands to tell them what photos, videos, comments, testimonials, and feedback they need. UGC is where consumer trends are heading, and what brands can't ignore. Here are the consumer UGC trends you need to know, straight from our State of User-Generated Content report. 
Download: The State of User-Generated Content
5 Consumer Trends To Shape Your User-Generated Content (UGC) Strategy
#1: Prioritize Personalized Shopping Experiences 
Personalized shopping became a trend in 2021, and an expectation from consumers. Companies realized all the data they had on social media users and their customers told them exactly what their customers were looking for. Even with iOS 14 changing how much data is available from third parties, companies were still using emails and cookies to get to know their subscribers and customers on an individual basis. 
77% of shoppers are more likely to buy from brands that personalize their shopping experience
76% of consumers have purchased a product because of someone else's recommendation before, which personalizes their experience
72% of consumers believe that reviews and testimonials submitted by customers are more credible than the brand talking about their products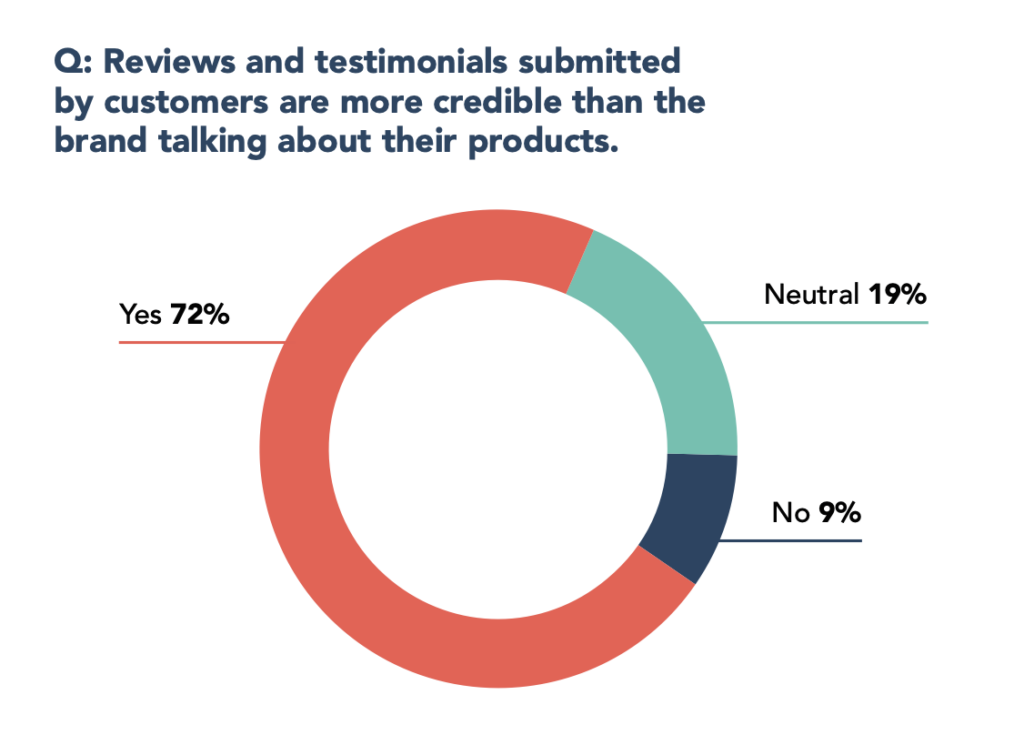 Despite opting out of personalized advertising across platforms thanks to the iOS 14 update, people are still interested in companies giving them a personalized shopping experience. This can be achieved by learning from the individual user, as well as showcasing UGC to similar consumers.
#2: Create Real Connections through User-Generated Content
Sixty percent of people in a consumer study wished brands would tell them what type of content to create and share. Followers, subscribers, and customers want connections with their favorite brands. Instagram Story shares, mentions, tags, and reposting their content is desired (as long as you have UGC rights management). It's up to brands to recognize this opportunity and incorporate user-generated content into their marketing strategy and across channels. 
Here's how to quickly launch a UGC strategy:
Specify to your audience and customers how to create UGC you'll repost.

(Tip: This can be done implicitly simply by re-sharing UGC.)

Collect, organize, moderate, and distribute content across your marketing channels using the

TINT UGC platform

.

Create social experiences

 and

social walls

to motivate your fans, audience, and customers to keep creating UGC after they've purchased products.
#3: Showcase Priority on Diversity, Equity, and Inclusion
Marketers learned in 2020 how much their customers cared about diversity, equity, and inclusion (DEI). People aren't scared to ask their favorite brands to prove they're doing their part to equal the playing field for people of all backgrounds. The brands that continuously showcase their aligned values with their fans, audience, and subscribers can create real, long-term relationships. 
65% of consumers agree that it's important to them to see brands channeling diversity in their brand.

6 in 10 marketers feel that their organization could do a better job at highlighting participation in social issues
And let's not forget that 72% of consumers believe that reviews and testimonials submitted by customers are more credible than the brand talking about their products. This could certainly be because they like getting input from users that look like them. So, by showcasing a diversity of UGC, you're helping more people to find what they can trust and relate to.
#4: Use Social Media to Spark Relationships
Social media can build multi-million person audiences for startups, small businesses, and large, well-known companies. In the past two years, we've seen Dunkin' and Chipotle use social media to cultivate a stronger relationship with their Gen Z customers. Through strategic partnerships with influencers like Charli D'Amelio, these brands have turned their social media platforms into user-generated content flywheels. The data says the best way to nurture audience relationships is on social media, particularly through video.
Consumers are 3X more likely to engage with a brand's social media content than any other type of content

63% of consumers believe that visual testimonials are more credible than written testimonials

62% of consumers report that they are more likely to click on content like ads, websites, social posts, or emails, that feature customer photos rather than an image created by the brand.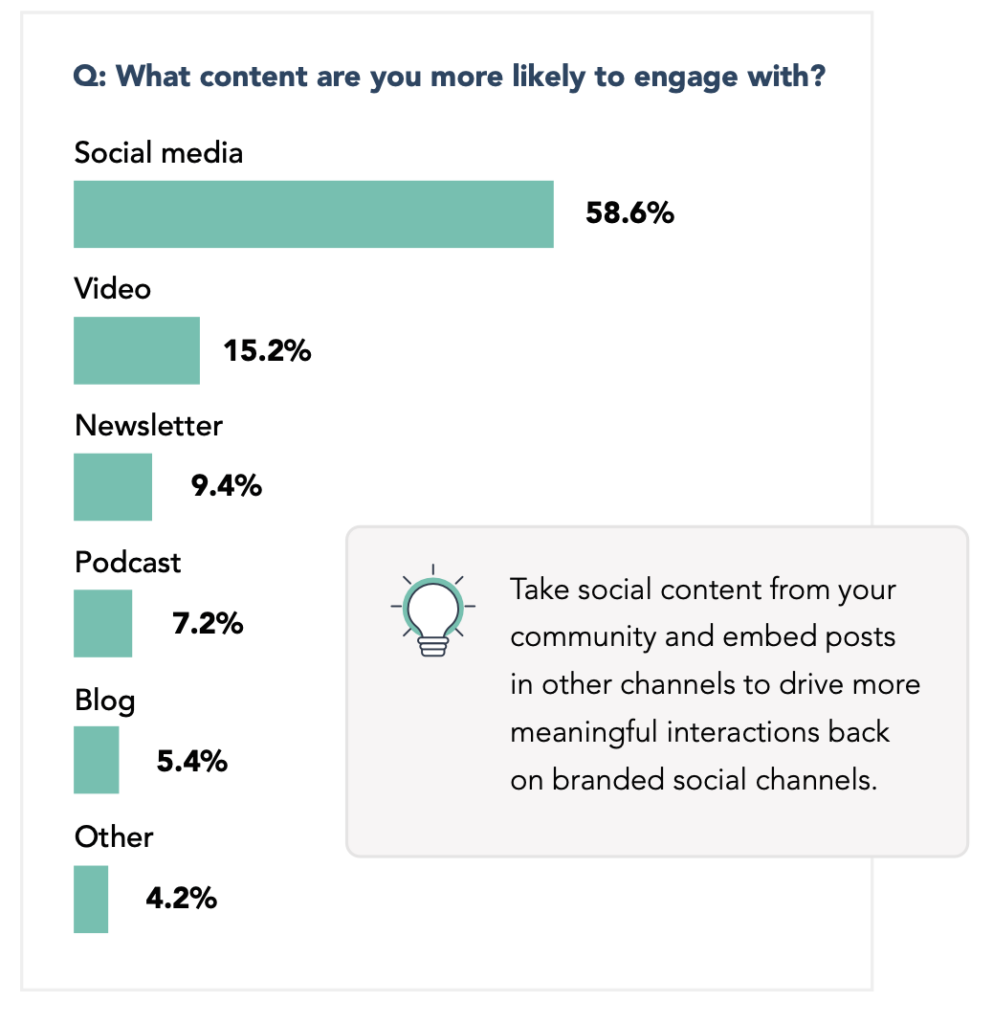 Related: Learn how Krispy Kreme increased their Instagram followers to 1.6M with TINT and UGC
Related: Learn how Chipotle increased engagement with TINT
#5: The Rise of the Informed Consumer
Influencer marketing is a household term. Gen Z to Boomers are tapped into the reality of their social media feeds, even when there isn't #ad in the caption. Informed consumers demand marketing transparency and company transparency. People don't want to be tricked into watching a sales pitch—and if they are, it could lead to lower brand sentiment (for both the brand and influencer). Consumers are more informed than ever, and they're not easily trusting paid ads or influencers anymore.
Here's how to market to informed consumers:
Use video user-generated content testimonials to showcase raving fans happy with their purchase and brand experience.

Add customer voices to your marketing, through written copy and audio.

Regularly showcase your sustainable and DEI efforts.
Overall, consumers expect more personalization, more authenticity, and more content they can relate to. And that's where user-generated content becomes a key player for marketing in 2022. It's a strategy that doesn't involve a bigger content product budget or another 3 people on your team. It can integrate into what you're already doing, and help you get more content published without having to schedule content shoots, videographers, editors, and more.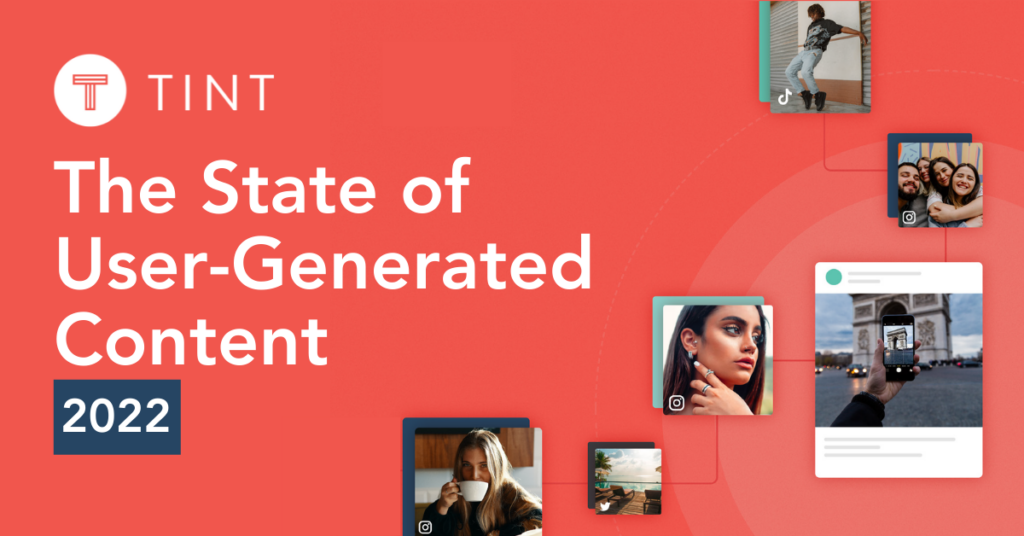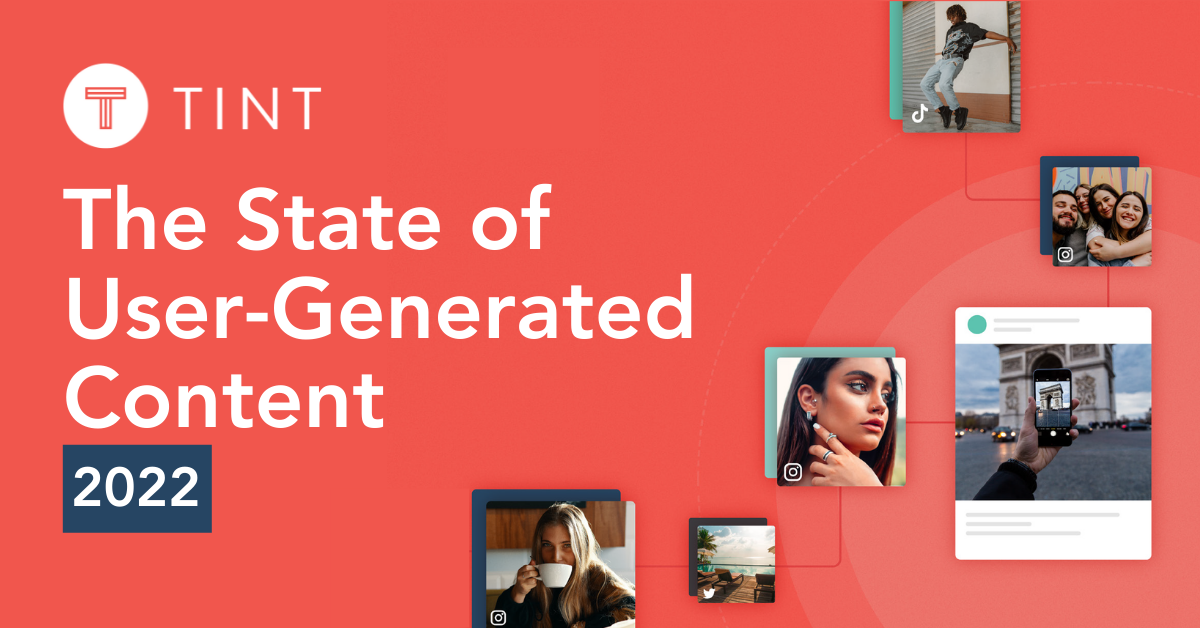 These consumer trends and stats come directly from TINT research conducted for our State of User-Generated Content report. Download the report to go more in depth, see the marketing themes we're seeing, and learn winning strategies catered to consumer expectations.
The Future of Marketing is Community
All these user-generated content trends point to community as the future of marketing and the best way to connect with and meet consumer expectations. It can even save the day for marketers by:
Allowing them to create personalized messaging around specific products and offers

Not having to produce branded content that won't perform as well

Providing a platform for diverse voices that deserve the pedestal

Navigating the dilemma of marketing to informed consumers who can spot an ad campaign in seconds
Is your brand making the most of social content? With TINT's experts in your corner, we can help you ideate and execute engaging campaigns that boost your conversions and excite your audience. Organize, get rights to, and repurpose your UGC to your marketing channels—without bringing on an entire team to do it.
Schedule a demo with a TINT specialist to see how your brand can stay on top of consumer trends and the future of marketing.