Summer is here! The sun is out, barbecue is king and people are spending more time on their social media accounts. Out of 466 users surveyed by Social Soup, 51 percent said they posted more during the summer and 57 percent said they shared more. This should come as no surprise—school's out for the summer and Americans are traveling more than ever since 2006.
As you'll see below, there are many ways to approach and create a successful campaign. Social media is the key with all of these examples. None of them would have reached the amount of users they did without utilizing social networks such as Facebook, Twitter and Pinterest. Here are four companies and organizations that subtly used our summer excitement to promote their message or product.
Urban Decay
Back in February of last year, the makeup brand Urban Decay hosted a Coachella ticket giveaway on their Pinterest. In order to enter, users had to follow the company on Pinterest, submit their email address to an online form, create a board called "Electric Festival Style with UD" and, finally, pin clothing they would wear to a music festival.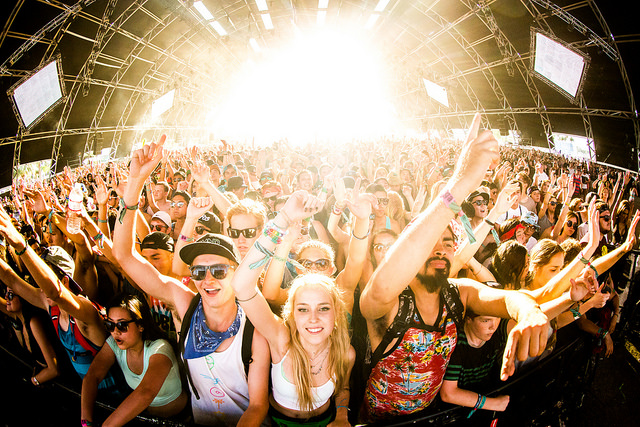 Coachella 2014, Thomas Hawk
The grand prize was "two tickets to a summer music festival, a stockpile of UD summer essentials and a pair of exclusive UD Skullcandy headphones." They also selected three more winners who received various UD summer goodies. Urban Decay targeted both their key demographic and Pinterest's: young women.
The board has over 63,000 followers and many of the pins on their "Festival Style" board were shared hundreds of times. Urban Decay was able to promote a new eyeshadow product and drive traffic to their Pinterest page and likely their website as well. All while making a few winning customers very happy.
Arizona Tourism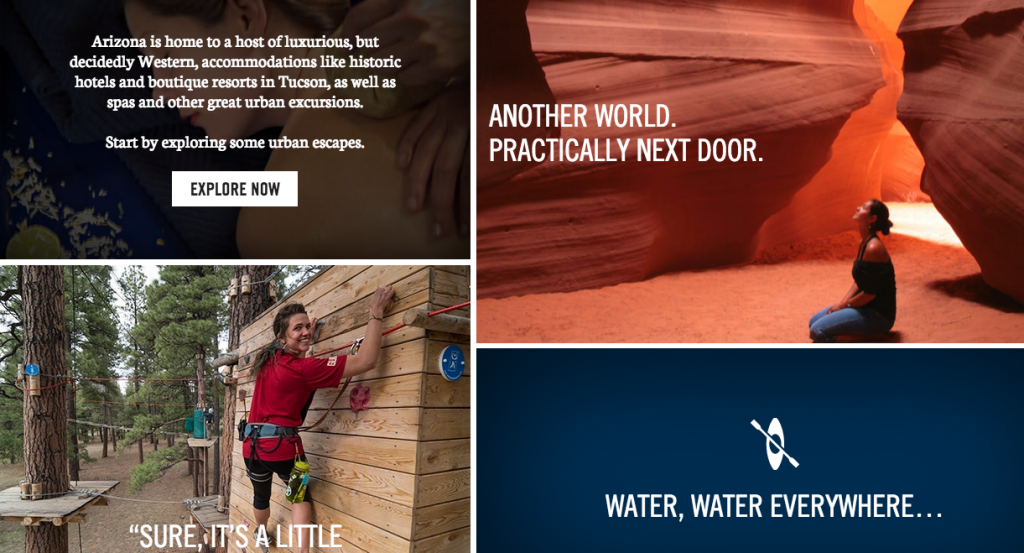 summerinaz.com
The Arizona Office of Tourism launched "Summer in Arizona" earlier this year to promote recreation and travel in the state. The website includes guides for things like "Sightseeing Excursions," "Family Fun" and "Urban Escapes." It's incredibly smart to focus both on the natural wonders of Arizona and also man-made, urban areas. They're making sure they don't leave any kind of explorer out of the fun.
Pinterest, Twitter, Facebook and Instagram are all being used so visitors can share their adventures to family and friends through social media. On Twitter, they are giving away GoPro Cameras as part of a contest. To enter users must tweet about what they are doing in Arizona with the hashtag #summerinaz2015. The website also allows visitors to share their summer adventures on Instagram with the #VisitArizona hashtag.
This is a great example of an immersive summer campaign. Summer in Arizona gets to interact with users through retweets, giveaways and website guides. They're also actively encouraging people to visit the state by showing social media users how much fun visitors and residents are having.
Lonely Planet
Last September and October, Lonely Planet ran a successful social media campaign across  several platforms including: Facebook, Twitter, Instagram, Vine and Google+. "Your Best Place to be Today" invited people to talk about the moments they were experiencing, regardless of where they were.
Participants had to tag their experiences with #bestplacetobetoday and could post on any of the platforms mentioned above, as many times as they wanted. The winner of the contest got to choose from a "curated collection of travel experiences in more than 1500 destinations" via Viator, a travel website.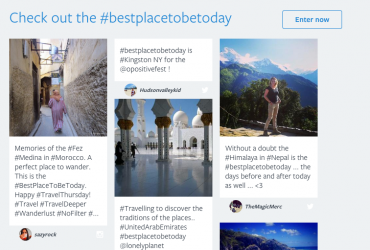 As part of the contest, Lonely Planet included a huge travel guide that visitors can browse. It's separated into categories such as art and culture, budget travel, ecotourism and travel shopping. Each guide includes informative articles about the topic, related products and much more. The pages are laid out in a way that is visually interesting and easy to navigate.
The content generated by the contest tied seamlessly into the content Lonely Planet was already producing. The entries essentially recreated and reimagined this content, provided additional photos, and brought the content into the social sphere, where it could be liked and shared by others.
The landing page for the campaign curated all of the content from across the networks. There, visitors can easily browse through the images and videos, expand content they are interested in, and interact with it like they would any piece of content or social media post.
The campaign featured Lonely Planet's book, The Best Place to be Today, which includes travel suggestions and ideas for every day of the year. The campaign and hashtag effortlessly brought name recognition to the publication they hoped to promote.
Even though Lonely Planet's contest is over, they've created a website that will continue to help people planning a vacation or those who simply want to look at various travel destinations and topics. If you're interested in launching a summer campaign, you might consider following their lead; create something sustainable, something that will last long after the campaign is over.
Krispy Kreme
Krispy Kreme has taken a more subtle approach. They're giving away a pop-up party for their 78th birthday celebration. In order to enter, participants must use the hashtag #WinKrispyKreme and "tweet a creative, imaginative, compelling, or funny photo, video or shout-out depicting why your city, or hometown should win."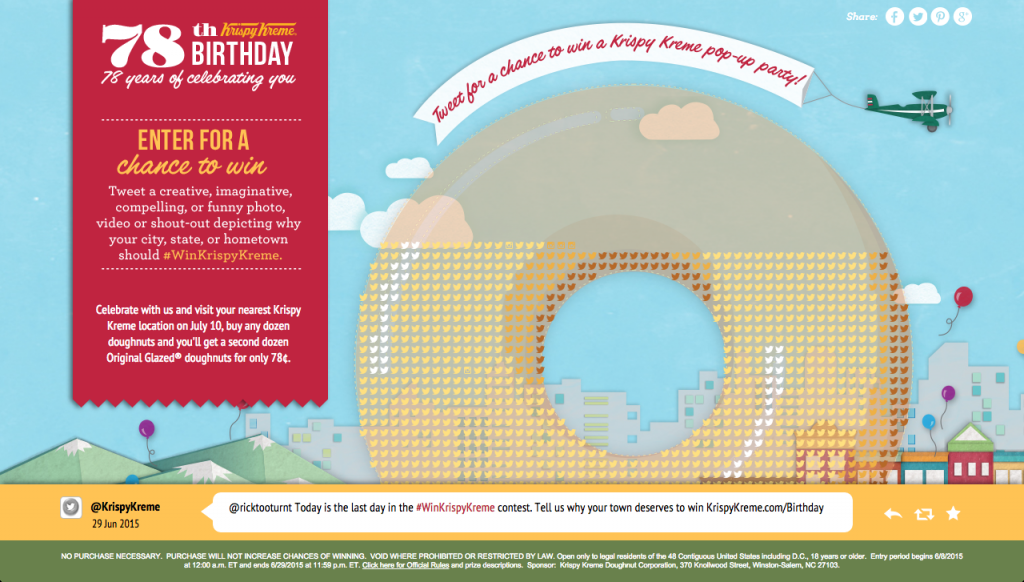 It's also possible to enter once via email or by mailing a postcard, which provides easy alternatives for those who aren't on Twitter. In addition to the grand prize (a Krispy Kreme pop-up party for the winner's town), they're giving away smaller "prize packs" to several first prize winners.
The campaign isn't explicitly a "summer campaign" but the graphics on the landing page communicate the summery tone: they're bright and inviting—balloons float in the air and the sky is blue and mostly clear.
Like with the Lonely Planet webpage, it's easy to browse through contest entries — this time, they are tiny twitter icons which slowly fill up an enormous glazed donut. And even if you don't enter or win, the company sweetens their birthday celebration with a prize for all of their customers — anyone who buys a dozen donuts from Krispy Kreme on July 10th will get another dozen glazed donuts for 78 cents. That's what makes this campaign great — it shows they care about all of their customers, and keeps the tone of the contest celebratory, rather than aimed exclusively at generating content.
It doesn't matter if you're running a travel website, a donut company, or a makeup brand: it's possible to run a successful summer marketing campaign. Even though some of the examples above used several social media platforms, more isn't always better if you aren't using them efficiently and effectively.
Sometimes, as is the case with Urban Decay and Krispy Kreme, all you need is one. It's entirely up to you how you want to run your campaign and use your resources. Hashtags and Pinterest boards can help keep all of your social media momentum in one place and can help focus a campaign. As Lonely Planet and Krispy Kreme demonstrated, social media display tools like TINT  (that's us!) can gather your social content all in one place to engage visitors on your websites and also allow for moderation and control over the user generated content.
No matter how you choose to approach your campaign, remember: have fun and make it memorable, just like summer should be.