I'm Rocco Balsamo, TINT's newest software engineer. I found TINT through Hired.com, a recruitment service that claims to find you 5-15 tech job offers with compensation numbers provided up front. Since Hired has only been around for two years, there was very little information available about people's experiences, so I wanted to share my review in hopes of helping other tech job hunters.
But first, a little background about myself. My first eight years of development I wrote C++ code for console video games — including some blockbusters like Rock Band 3 for Wii and Death Jr. for PSP. But four years ago, I made the jump into web-startup land. I worked on HTML games, web based diagramming software, and now social feed displays with TINT.
Headhunting Woes
I've witnessed both sides of recruitment — I've been the person recruited and the interviewer. As an interviewer, it can be quite difficult to source senior candidates with 10+ years of experience. On the flipside, as a candidate, dealing with headhunters can get quite exhausting. There are many unwelcome cold-calls and emails from salesy recruiters attempting to contact you with opportunities that are weakly related to your experience and career goals.
Headhunters usually get paid by the employer doing the hiring as a percentage of a candidate's first year salary. The payment to a recruiter can easily top $20 or $30K, meaning that there's twenty or thirty thousand reasons to put together a deal — even if it isn't the perfect fit for employee or employer.
It is a broken system ripe for disruption.
How I Found Hired.com
Hired.com must spend a boatload of money on targeted advertising because I heard about them through multiple channels. I've seen them at tech conferences; they've advertised all over programmer forums; and they sponsor an industry podcast that I listen to regularly, The Javascript Jabber. They also offer a 2K signing bonus, which is bumped up to 4K with the podcast referral.
But I'm a skeptic. What kind of company would give you a job offer with salary up front? What about Hired.com? Would they follow through with their hiring bonus? Was this just another scam to get me to sign up with another traditional recruiter? There wasn't much info online–the best info I could find was this Quora post.
Taking the Plunge with Hired.com
In late August, I decided it was time to change jobs. There was very little to lose by trying Hired, so I signed up and created a profile. I spent a few hours writing a catchy introduction and porting my resume over to Hired's platform.
I also needed to choose a requested base salary. This was tricky. I wanted a low enough number to get a bunch of bites, but a high enough number that I wouldn't short-change myself for my education, experience, and hard work. So I settled on a number a little bit higher than market rate for my years of experience.
Things moved quickly from there. I finished the profile on a Thursday, I was accepted to the site on a Friday, and has my first "offer" on Monday morning.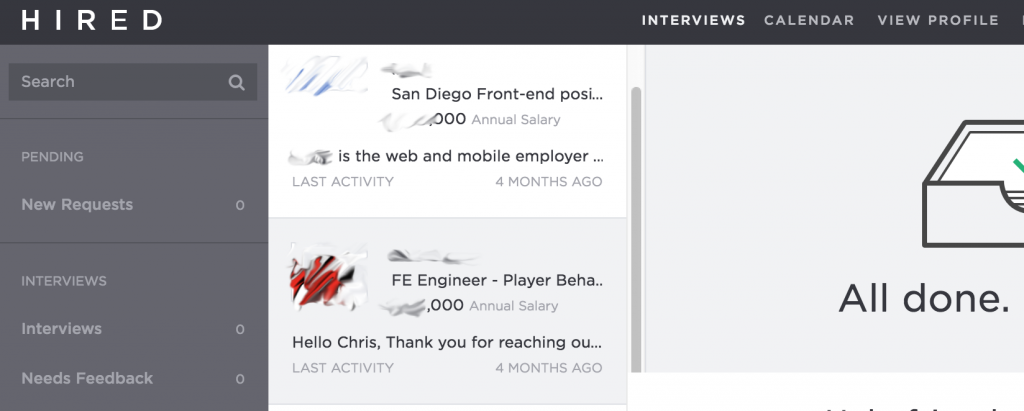 Hired works in "batches." If you are accepted, you'll be added to a fresh batch of developers for employers to review on the following Monday. You're only added to one batch. I like this because it keeps the marketplace fresh. It's filled with candidates that are actively looking for a job, and employers that are looking to fill a position now.
Lots of Offers
I got five "offers" Monday, five Tuesday, and five more that trickled in over the rest of the week.
Sidebar — are you wearing your tinfoil hat? You should be, because more than a third of my job offers were from analytics companies. That is, companies that track your every move. One even did location based analytics. They bounce a signal off your smartphone and track your movements around retail stores.
Anyway, Hired suggests that you respond to prospective employers within 48 hours. I was fairly open to introductory discussions with almost anyone that contacted me, but to keep things sane I set up phone interviews with half of the companies.
This is where Hired totally shined. I was able to take off a single day of work and schedule eight back-to-back phone interviews the following Thursday.
When phone-interview-insanity day rolled around, I was prepared. I managed to survive by following a simple 15-minute formula:
Play with the company's product or trial or do as much research as possible into what they make.

Open up these tabs in my browser:

My Resume

Company Website

LinkedIn of the Interviewer

LinkedIn of the CEO or founders

Any Crunchbase or similar article I could find about the company
I'd estimate that having this virtual cheat sheet put me above 90% of the competition. Interviewers are people. They enjoy talking about themselves, their company and their tech stack at least as much as hearing about your achievements. Armed with LinkedIn, the company website and founder information it's simple to make small talk and build rapport.
Most of the phone interviews were "soft"–very little coding / math / logic problems. But when those come up, the best approach was to crack out my ninja skills as much as possible, but admit what I didn't know. After all–what is the point of wasting a vacation day in an in-person interview if it doesn't make sense for either party?
Choosing TINT
After a bit of back and forth, the list got whittled down to two companies: TINT and a company that did augmented reality advertising. I went on in-person interviews at both of the companies. Both interviews were pretty technical, but TINT took extra time to learn about me as a person — what makes me tick, and how I could go above and beyond a simple technical role at the company.
I received two "Final Offers" on Hired.
My videogame background and the sheer coolness of the technology at the augmented reality company might have lead me in that direction, but the overall thoughtfulness of the folks at TINT as well as their commitment to company culture definitely caught my attention.
About three weeks after I started my Hired.com campaign, I met with Tim, TINT's CEO for some lunchtime ramen. On the walk from TINT to Lava Lounge my gut confirmed what my brain had been telling me since the first phone interview. I was going to talk to him about stock options, company valuation, and insurance plans before making my final decision. But in reality, I turned, thanked him for the job offer and accepted it on the walk over.
Employer's Perspective on Hired.com
From my perspective, Hired.com was a great way to match me up with an employer that I would not have otherwise found. The marketplace ensured that candidates were actively looking for jobs and that the employers were actively looking to hire.
But Hired is just as expensive as a traditional recruiter. They charge 15% of a hire's first year salary or more. So I wanted to get the perspective of Nik Aitharaju, our CTO & cofounder. Here's what he said:
Before we started using Hired, we used AngelList and a lot of other private recruiting firms. We haven't had too much success with either. AngelList didn't have the quality of applicants we were looking for and recruiting firms referred us candidates who a) turned out to be bad culture fits or b) were not actively looking for newer opportunities.

What we like about Hired –

The quality of candidates on Hired is top notch; we found 3 extremely qualified candidates from Hired, something that didn't happen while using AngelList

Hired has a very transparent portal where we can learn in depth about the candidate and ask them questions even before we request an interview.

Hired has become our go to portal when a new job opportunity opens up and we're looking forward to finding many more talented individuals from Hired.
Champagne and Four Thousand Bucks
I enjoyed the experience at Hired.com. It cost me nothing, and I avoided lots of pushy calls from recruiters. I got to hear about a whole bunch of companies who were looking for help, that I would not have otherwise found. The active marketplace made sure that I only heard from employers actively looking to hire.
Compensation numbers up front really helped me out too. There was no use looking at an employer if the money they were offering was not enough to pay my San Francisco rent. They also provided me with a talent advocate who provided regular email checkins and offered to speak with me on the phone at a few key points during the process (thanks Scott!).
Hired also has a kickback system where you get a signing bonus and a really nice bottle of champagne.
Most importantly, I got a fabulous job working with the folks at TINT.
And hey, we love our friends at Hired, but if you're interested in working at TINT, let us know first.
---